Five Questions And Five Answers: Defense 2015
Previously: Podcast 7.0. The Story. Quarterback. Running Back. Wide Receiver. Tight End And Friends. Offensive Line. Defensive Tackle. Defensive End. Linebacker. Cornerback. Safety. Special Teams. 5Q5A: Offense.
1. So what is this defense again?
Last year Michigan moved from the 4-3 under they deployed in Mattison's first three seasons in Ann Arbor to a 4-3 over. DJ Durkin seems set to return Michigan to a defense that's going to seem a lot like Mattison's earlier outfits. Whether you call this a 4-3 under or a 3-4 is mostly a semantic issue. However, it's one that's driving me nuts every time a writer for the Wolverine talks about Michigan's forthcoming 3-4 transition.
The disconnect here appears to be based on one spot, the "BUCK". Many, many teams have a fancy name for their weakside end. It often designates a guy who is a LB/DE hybrid:
"Watching film on Dante (Fowler) and experience this position has been a ton of fun," he said. " The BUCK is like the hybrid on the field. You're sometimes standing up and sometimes have your hand in the dirt. Wherever you're at at that position, you're expected to make plays. You gotta get to the quarterback as quickly as you can and make tackles."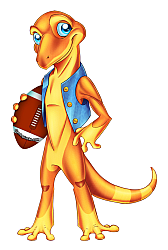 Durkin apparently calls his fancy spot the "buck linebacker." Therefore 3-4. Durkin's buck linebacker last year was 6'3", 260 pound Dante Fowler. Fowler almost always rushed the passer from a three-point stance. Sometimes he would drop into coverage or fold back into a run fit.
In this he is exactly—exactly—like what Michigan did with Frank Clark in the under. We even have a mascot for this, Slanty The Gecko. Slanty was inexplicably the first hit in Google Image Search for "line slant football" and has featured in multiple posts that describe Michigan's nominal weakside end going SYKE LINEBACKER MORPH and dropping back as the SAM plunges willy-nilly into the defensive line. Here is an example:
According to Mattison, Michigan did this on maybe 40% of its snaps from a 4-3 in his first year at Michigan. I'd say the BUCK concept is that only more so, but I don't think it can in fact be more so.
To me the real distinction between a 3-4 and a 4-3 is in your interior line. Are your guys planet-shaped gentlemen? Do you have Louis Nix? You're probably running a 3-4. Do you have Ryan Glasgow? You're probably running a 4-3. People will talk about multiple fronts, and Michigan will run multiple fronts. All of those will be efforts to confuse the offense as they inject their DTs into gaps and get penetration.
The upshot: this is not a big change, if it's even a change at all. It is a nomenclature tweak.
[After THE JUMP: additional strategically located Peppers talk.]
2. But what about PEPPERS?
This was a PBU [Patrick Barron]
Ah yes. Now that is a change that could be seismic in its implications. I've probably beaten you all to death with this Hybrid Space Player stuff already. It is worth repeating, since it promises the ability to:
mitigate issues with Michigan's pass rush as it opens up a new suite of blitzes
allow James Ross to play SAM without being a quasi-DE
nerf the spread screen game
cover the slot when opponents try to hit big plays based on your aggressiveness
Collectively these abilities answer many of the questions spread offenses pose defenses. Running an eight man front also helps you clog up the run game against pro-style teams.
To do all of this you need the kind of superlative athlete that is basically a linebacker and a cornerback at the same time: Eric Berry, Charles Woodson, Patrick Peterson. Jabrill Peppers. You also need a free safety who is able to cover big swathes of ground in the middle of the field without giving up big plays—check. You need cornerbacks you can leave on an island. Check and… uh.
3. Shouldn't the idea of running man press coverage without a second cornerback give me hives?
You are no doubt remembering this kind of thing from last year:
Michigan's defense last year had one enormous hole, that being the corner opposite Jourdan Lewis. That single hole was enough to bomb the defense out of its professed hyper-aggressive approach, returning them to something approximating their 2013 coverage with Lewis nose-to-nose a lot.
I am relatively sanguine about this position despite the position switch near-starter situation going on with Jeremy Clark because if they do have a huge problem there, Peppers goes to boundary and Delano Hill enters the starting lineup. That will work just fine against a traditional offense. It does not get you out of trouble in nickel packages or against spread offenses, but the downside there is not, say, the kind of downside Michigan was facing without Jake Rudock's transfer.
That hypothetical switch does nerf most of the exciting things mentioned in the last question and probably means Michigan's defense isn't elite. They clearly do not want to do that, because they want all of the hybrid space things. It would be okay.
Meanwhile, Michigan does have a chance with Stribling and Clark. Both are much rangier than Countess was, giving them a large margin for error, and those guys are probably equivalent athletes. We saw Stribling stick to receivers as a freshman; Countess was getting blown out of the water by everyone from Freddy Canteen to Will Fuller to Leonte Carroo. Change of direction might be an issue; we'll see.
One advantage these guys have are two longtime NFL DBs as coaches. Last year the corners coach was Roy Manning, who had never coached or played the position. The other secondary coach was Curt Mallory, who probably would have gotten fired if Hoke ever fired anyone—remember when he was up for the Western Illinois job? He was encouraged to look around. In particular, Greg Jackson's track record in San Francisco was terrific.
But yes, this is the spot that freaks me out more than anything else, and WDE is the only thing even kind of close.
4. Aren't we a bit light on the interior?
Harbaugh will miss Mone's beef [Eric Upchurch]
Minus Brian Mone, yes. This is exacerbated a bit by Michigan's decision to flip their biggest guy out to DE. (Some people have dismissed that as a bit of depth chart hijinks, but I doubt it. Michigan's coaches have consistently maintained that Henry has been playing both three-tech and end; Henry played end during the open practice; the two spots aren't that much different; there is no gamesmanship advantage from falsely claiming the two guys have flipped.) Ryan Glasgow and Chris Wormley are both around 300 pounds but neither has demonstrated the ability to burrow down against an extended double team.
One or the other may do so this year; players are not static. I am still concerned about what happens when Michigan's defensive line meets the two ranked teams on the schedule, MSU and OSU. Both like grinding interior runs. Both overwhelmed the spine of Michigan's defense last year. Jeremy Langford had 35 carries for 183 yards with a long of just 27; Ezekiel Elliott and JT Barrett combined for 32 rushes for 218 yards.
Henry was a non-factor in both games and should help, as long as he's healthy. Otherwise the situation looks to be little different, as pretty much the same MSU and OSU OL will take on pretty much the same Michigan DL. Michigan will have to get better faster than their opponents to cope.
The 30-pound downgrade at WDE doesn't help matters, either. Michigan will have to make up for that with Peppers—see above—and hope that the Ryan/Morgan switch gives them a stouter and more reliable linebacker against the run, even if he's not quite as explosive.
This is not a situation where we can rely on a coaching upgrade. Brady Hoke was excellent at finding and developing defensive linemen, and Greg Mattison is in charge of them now. They'll be good—they were already good last year. They aren't the kind of world-wreckers that Stanford has used to beat Oregon, when they beat Oregon.
I mean… probably. Henry could get there.
5. Well?
Last year I projected they would kick ass. They did not because Countess was so far off expectations and Peppers got hurt, preventing him from stepping in. This year they've got Peppers back and damn near everyone else… except Clark. And that is a big loss.
If Willie Henry busts out, which I think he will, that will eat up a bunch of Clark's production. It is unlikely to get all the way, leaving Michigan trying to juggle blitzes to get adequate pass rush. That'll expose the three deep members of the secondary to repeated tests. I have faith that two of those guys will cope well… and then there's the second corner.
That spot will rankle all year, preventing Michigan's D from being truly lockdown. The good news is that the wide receivers in the league this year fail to intimidate—as do the quarterbacks. Teams that can expose that weakness will be few and far between.
More concerning is the interior line holding up against elite OLs. They did not last year. They probably won't this year, leading to a smattering disappointing performances interspersed with dominant ones.
With arrows:
BETTER
Older Glasgow, Wormley > younger Glasgow, Wormley
Older Bolden > Younger Bolden
Healthy, older Willie Henry >> Willie Henry (or ==, I dunno)
Power Mushroom Ross > Ross/RJS
Peppers >>> no Peppers
Older Hill > Clark/Hill
Stribling/Clark/Peppers in case of emergency > Countess
SAME
Desmond Morgan == Jake Ryan
Jourdan Lewis == Jourdan Lewis
Jarrod Wilson == Jarrod Wilson
WORSE
Ojemudia/Marshall/RJS <<< Frank Clark
Last Year's Stupid Predictions
Clark is not quite Brandon Graham but he is very good. Willie Henry busts out in a big way.
Clark was very good, but for reasons outside of his control didn't have the statistical year his play justified, and then he got kicked off the team. He was still drafted in the second round—not quite as high as Graham.
Willie Henry did not bust out largely due to injury; before that he was looking like he might be on his way. Incomplete.
Ryan makes a ton of flashy plays and in general plays at an All Big Ten level but there are a number of chunk runs that Michigan suffers because he screws up a run fit trying to be a Viking.
Correct-ish, but the problems were more in the pass game, where Ryan often got out of a zone drop.
Peppers has four sacks and seriously cuts into James Ross's playing time. We like him a lot and he is nice to have on the team. He starts off a bit shaky before rounding into a terrifying form midseason.
Peppers got hurt.
Jourdan Lewis does wrest a starting spot away from one of the incumbents by midseason and has a breakout season himself.
Michigan ramps up the aggression significantly. Sacks head to the top 20.
They tried to, but they had to back off when Peppers got hurt and Countess couldn't hack it. Sacks were 49th, but a large part of why had to do with the coverage, not the rush.
This is a top ten defense.
Technically correct in one sense: Michigan was 7th in yards per game allowed last year. In a broader sense, close but not quite. Michigan was 14th in YPP allowed. In an advanced stats sense, close or just no: Michigan was 18th in S&P, 41st in FEI. Big Ten offenses were terrible last year. I blame Peppers getting hurt.
This Year's Stupid Predictions
Jourdan Lewis plays lights out and ends up in a position to consider entering the draft. All Big Ten.
Willie Henry delivers on his promise this year, leading the team in sacks from a tough spot to do so.
Ross == senior Stevie Brown, to put something on the record that I've implied several million times already.
The front four demolishes teams with middling offensive lines, which will be everyone except Minnesota, OSU, and MSU; they have struggles that are deemed uncharacteristic against those three teams.
Stribling holds the corner job, but tenuously. He gets beat a lot short because he's trying to to screw it up.
Now it's a top ten defense that still gives up a bunch of points to OSU.