With the season in the rearview and a new playcaller on the payroll the coaches have wasted no time in putting some new names on the offer board. Five new scholarship offers were extended within the past week, three from the 2015 class and two from 2016. Four of these young men will be recruited primarily by linebackers coach Roy Manning and from all accounts that is a positive thing. I was able to chat with each new offeree about the offer among other things.
Juval Mollette
Position: Wide Receiver
Ht/Wt: 6'4" / 187 lbs.
Location: Randleman High School (2015) – Randleman, NC
Offers: Clemson, Duke, East Carolina, Georgia Tech, Michigan, North Carolina, NC State, Ohio State, Tennessee, Virginia, Virginia Tech, Wake Forest
Ranking: ★★★★ .9163 (247 Composite)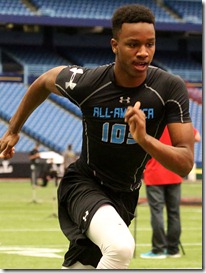 If the Michigan coaches had a machine that created wide receivers, one might walk out that looked like Juval Mollette. He's built a lot like Drake Harris, Csonte' York, Jaron Dukes, and Moe Ways. At 6'4" he's your typical long-striding, high-pointing type of receiver. He has good straight line speed but won't lose anyone in a phone booth. He definitely does know how to use his frame to get position and make catches in traffic.
Coach Manning was the coach to offer the junior over the phone and Juval feels like Michigan is a good offer to add to his list. "My interest in Michigan is pretty high, but I really have the same interest in all of the schools that have offered me at this point." Growing up in North Carolina, a state without much college football success, Juval didn't really have a favorite team growing up and admits to not even really watching football until his freshman year. Because of that, and as you might expect he doesn't know much about Michigan just yet. "I honestly don't know too much. I know they have a great tradition of winning. I'm sure I'll start to learn more." Juval said Coach Manning made it a point to emphasize how important he was and that they don't offer just anybody.
Based on his lack of interest in watching football and not really being a fan of anyone I'd say his recruitment is wide open. He has a solid offer list already with Michigan and Ohio State being the only non-ACC/SEC teams to show that level of interest. He's never been to Michigan in any capacity and until he visits I think there's a low probability of him becoming a Wolverine. 
Minkah Fitzpatrick
Position: Cornerback
Ht/Wt: 6'0" / 185 lbs.
Location: St. Peters Prep (2015) – Jersey City, NJ
Offers: Alabama, Boston College, UConn, Florida State, Georgia, Georgia Tech, LSU, Maryland, Miami, Michigan, Mississippi State, Nebraska, North Carolina, NC State, Ohio State, Penn State, Pitt, Rutgers, South Carolina, Stanford, Syracuse, Vanderbilt, Virginia, Wisconsin
Ranking: ★★★★★ .9859 (247 Composite)
Jabrill Peppers 2.0? Like Peppers, Minkah Fitzpatrick hails from New Jersey, plays a myriad of positions, looks far better than almost everyone else on the field, and is just a special athlete. I first made contact with him during my M Block days and honestly wonder why it took so long for the coaches to offer this kid.
From Fitzpatrick himself he says he already draws comparisons to Richard Sherman of the Seattle Seahawks and prides himself on his Sherman-like physicality. Completely different from Sherman, Minkah thinks he needs to be more vocal on the field with communication and leadership.
Coach Manning once again was on the job and spoke to Minkah and his coach deciding to extend an offer to play at Michigan. I have heard great things from many recruits about Coach Manning and Minkah was no different. "Yeah I talked to him a lot. he seems like he would be a great leader and a great coach."
Coach Manning won't be the only person trying to bring Fitzpatrick to Ann Arbor as the aforementioned Jabrill Peppers reached out to Minkah immediately following his tweet about the Michigan offer.
Need I say more?.. RT @minkfitz_21: Michigan has offered!! #GOBLUE 〽️

— Breez (@JabrillPeppers) January 9, 2014
Jabrill and Minkah do have a bit of a relationship, he explained to me with a laugh. "We communicate a little bit but not too often. He's tried recruiting me before though. I might ask him a few questions about Michigan but that's about it. Or we'll see how much he tries to recruit me." And all Michigan fans rejoice.
With a look at his offer list Fitzpatrick has Michigan among many others to choose from and I asked him how the Maize and Blue stack up against the rest. "It's a great program and I always liked the way they play. I'm really excited about the offer! I always try and do my research with every school and now that I have an offer I can start learning a lot more." Part of that learning process will involve a first visit to Ann Arbor that Fitzpatrick hopes to take in the spring.
Fitzpatrick is going to have scads of options to weigh before he makes his decision but he really doesn't want it to drag out if he can help it. "I would like to get it done before my senior season but if I don't find the school that fits me best before then, I would probably have to wait until signing day."
Fitzpatrick seemed genuinely interested in Michigan. He did admit to me that he also likes the Buckeyes quite a bit. I couldn't help but notice him tweeting about them during their bowl loss. That being said I think Michigan has a real shot with him. He's going to be able to go wherever he wants but the coaches have done well in New Jersey as of late and with Peppers in his ear that can't hurt. Coach Manning appears to have made a great early impression and if he makes that visit in the spring I expect Michigan to be in it until the end.
 Jalen Dalton
Position: Weakside Defensive End
Ht/Wt: 6'6" / 235 lbs.
Location: West Forsyth High School (2015) – Clemmons, NC
Offers: Clemson, Duke, East Carolina, Florida State, North Carolina, NC State, South Carolina, Tennessee, Virginia, Virginia Tech, Wake Forest, West Virginia
Ranking: ★★★★ .9553 (247 Composite)
Born and raised in North Carolina, defensive end Jalen Dalton was a name I was not very familiar with. After seeing his name attached to an offer I watched his film and liked what I saw. He has a fantastic frame for growing into a beast of an edge rusher and uses it to perfection against much lesser competition in high school. Dalton describes himself as a physical, pure pass-rusher with a knack for deflections.
In his area of Winston-Salem he's often compared to local star Kareem Martin, a first team All-ACC'er that just finished his senior season at North Carolina with 20 TFL and 11 sacks. After looking at Martin a little bit I can definitely see it. Dalton does a lot of things very well for a young pass rusher.
Coach Manning has made another solid impression on a recruit and Dalton couldn't say enough about him. "My coach called me on my way to school and told me that Michigan had offered. Later that day I had PE so we called Coach Roy and we talked for a little while. He is a good man, really down to Earth. He seems really cool and laid back. That's what I like in a coach. I really don't know a lot about Michigan but I know I like Coach Roy."
Dalton really wants to take a trip to Michigan and hopes to do that as soon as plans can be made. He said he's big on the "vibes" that he feels when he visits a school. "Schools in my top list just have to give me that good vibe. I'm not sure how my recruitment will really play out but I'm going to start working on a bit of a timeline and ideas for visits soon and might know some by Tuesday."
Dalton kept things pretty short and sweet but it was clear that Roy Manning did a very good job with him. He seemed to be quite proud about being born and raised in North Carolina which makes me feel like he might be tough to pull away from ACC country, especially when you look at his offer list containing both in-state schools, Clemson, and Florida State. We'll see just how much magic Coach Manning has as Dalton's recruitment progresses. 
Thiyo Lukusa
Position: Offensive Tackle
Ht/Wt: 6'6" / 310 lbs.
Location: Traverse City West High School (2016) – Traverse City, MI
Offers: Akron, Michigan, Michigan State, Wisconsin
Ranking: NA
I almost always approve of Michigan following suit when Michigan State and Wisconsin offer offensive linemen and that's exactly the case with in-state product Thiyo Lukusa. At 6'6" and 310 lbs. he figures to be a future tackle prospect and has performed well in that arena at several camps to date.
Lukusa has been open about how much he wanted an offer from the Wolverines, telling me that it was indeed a big time offer for him. He was informed of his offer by a phone call from Coach Hoke and almost all of the rest of the staff.
He wouldn't call Michigan his leader but he did say, "they're at the top though." To me that sounds like the same thing, but I digress. I mentioned to him that 100% of the Crystal Ball picks at 247 think he's a future Wolverine and he responded with, "MSU had a great season though, so I can't say anything." Seconds later he admitted to growing up a huge Michigan fan, "for sure!". He said growing up a big Michigan fan will factor in to his decision….but not as much as roses. "Roses smell so good."
I am 99.9% sure this will be a Wolverine/Sparty battle all the way. He's got just the four offers right now but the way he spoke about both in-state schools it just seemed obvious at this early stage of his recruitment. Michigan State's on-field success has clearly impacted the big lineman prospect but if Michigan can right the ship over the next two seasons, I believe Lukusa will be joining fellow tackle prospect Erik Swenson in the trenches in Ann Arbor.
Kareem Walker
Position: Running Back
Ht/Wt: 6'1" / 193 lbs.
Location: DePaul Catholic High School (2016) – Irvington, NJ
Offers: Michigan, Penn State, Rutgers, Temple
Ranking: NA
Another New Jersey product, Kareem Walker is the first running back to receive an offer in the 2016 class. This kid came off to me as incredibly humble and genuinely grateful for an offer from Michigan. From Jersey, he also has a connection with Jabrill Peppers and already relates to him. "I'm from Irvington, New Jersey, it's not a good neighborhood at all, kind of like Jabrill. As it comes closer to me getting ready to commit it will be helpful to know Jabrill because he will already be there and he will be able to tell me certain things."
Ok, don't freak out but on the field Walker actually reminds me of Denard with how he runs the ball. It's not just because he has dreads, although that helps, but he does a lot of the same insane cuts, displays similarly quick feet, and like Denard, when there's an opening he's to it and through it before the defense knows what happened. This is how he describes himself. "I'm a person who you can't take your eye off or you will miss out. I won't quit no matter what the score is. It can be 100-0 and I still won't give up on a play. I will continue to play with intensity and try to make big plays." His high school coach compares him to Eric Dickerson, but I'm going to stick with Denard.
Like a lot of kids, from Michigan or not, their Wolverine knowledge begins and ends with Charles Woodson and The Big House. "I know a little about Michigan, mainly Charles Woodson. He kind of changed the face of college football by playing both ways and just going crazy in The Big House. I know that stadium is live and I hear the atmosphere is like no other."
It's obviously very early in the process for Kareem and he plans to take as much time as he needs to make the right decision. "I don't really have a set time frame. I plan on taking my official visits and then talking it over with my parents and family before deciding. It really could be at any point after that."
------------------------------
I had already had limited contact with each of these young men in the past except for Jalen Dalton, but after some in depth conversation with them I wouldn't mind if they all committed today. On film they look great, they all seem to be grounded guys, and some of their best qualities seem to be off the field.
I've also learned more about how good of a recruiter Roy Manning seems to be. First impressions aren't everything but he appears to be a pro at them. Maintaining a solid relationship and closing with some of these guys will bring his skillset full circle and solidify him as a quality recruiter in my mind.