First Look: 2013 Offense
DEPARTURES IN ORDER OF SIGNIFICANCE.
goodnight sweet prince
QB Denard Robinson. Michigan's career leader for yards per carry (6.3, tied with Jon Vaughn, would best it if sacks were accounted for properly). All-time national record-holder for most rushing yards by a quarterback. Three-year starter. Only player who could run for more than two inches per carry behind last year's offensive line. Kind of a big deal. Did not start last five games at QB, which mitigates blow significantly since Gardner was a revelation.
LT Taylor Lewan [assumed]. Future first-round pick was near flawless in pass pro his last two years. Penalties returned after refinement as a sophomore; got beat painfully against OSU, but nearly shut out Clowney in the bowl game.
WR Roy Roundtree. Never really recovered his prominence after rampant 2010. Did bounce up to 31 catches as a senior at a nice YPC clip. Had clearly become the #2 option by the end of the year.
OG Patrick Omameh. Four year starter was probably Michigan's best interior OL. Lacked desired power for manball run game. Pass protection was solid. Probably replaceable. Probably not getting drafted.
TE Mike Kwiatkowski. Don't-call-him-a-walk-on tight end was Michigan's most effective blocker at the spot; not targeted much in the pass game.
OC Elliott Mealer. Last minute switch to center didn't smooth over issues; seemed to mess up a bunch of line calls starting in the Nebraska game; graded out as an extensive downgrade from Molk.
OG Ricky Barnum. Not very good. Got run over a lot.
RB Vincent Smith. Throwback screen merchant and pass-protector extraordinaire was never a great runner but leaves a hole at third down back. Admirably managed to not dissolve into component atoms after Clowney hit.
[end contributors]
FB Stephen Hopkins. Seemed to lose his job to Joe Kerridge and left the team after the OSU game.
TE Brandon Moore. Barely played.
WHAT'S LEFT
we gon' throw
QB Devin Gardner. Blew in from wide receiver after Nebraska debacle to start final five games of the season, completing nearly 60% of his passes for 9.7 yards a pop with 11 TDs and 5 INTs. Added a couple hundred yards on the ground, sacks excluded. Those were mostly on scrambles. Fluctuating accuracy a concern.
WR Jeremy Gallon. Gardner's favorite target was on pace for 80 catches and 1300 yards once Denard hurt his elbow. Diminutive but capable of leaping past defensive backs; quick enough to get open against almost anyone.
RB Fitzgerald Toussaint. Gruesome break of both bones in his leg should actually be healed by fall. If available, Michigan needs the 2011 version of him badly.
LT (presumably) Michael Schofield. Early struggles as he transitioned back to tackle did not last; established himself a good pass protector and adequate run blocker. With freshmen populating the depth chart everywhere on the OL, will likely move over to Gardner's blindside, allowing a burlier kid to play RT.
TE Devin Funchess. After breakout Air Force game use steadily declined; he finished with only 15 catches for 234 yards. Did lead the team in receiving TDs with five. Passing game priority one needs to be getting the Devins on the same page.
WR Drew Dileo. Sticky-fingered Louisiana gnome should have been targeted more. Catches quickly, gets upfield, small target but extremely reliable.
TE AJ Williams. High school tackle was supposed to be Michigan's blocking TE but displayed horrendous technique and probably would have redshirted if Michigan had any options. Needs a big step forward with Kwiatkowski out the door.
FB Joe Kerridge. Thumping fullback of the walk-on variety will be frequently used as Michigan transitions back to pro-style.
RB Thomas Rawls. Flashed some tackle-breaking power in garbage time against Purdue and Illinois; proceeded to average under two yards a carry once forced into the lineup late in the year. Passed by Justice Hayes in bowl game and will likely fall behind freshmen when they arrive on campus.
WR Jeremy Jackson. Lumbering possession receiver can't get separation from DBs.
WHAT'S NEW, OR CLOSE ENOUGH, ANYWAY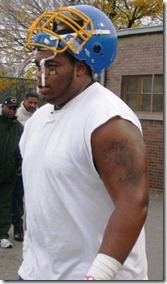 Kalis, Bryant, COME ON DOWN DERRICK GREEN
The offensive line. With Lewan taking his twosie to the next level, Michigan is left with Michael Schofield and a bunch of guys who haven't seen the field. Two fellows seem like locks to start:
Redshirt sophomore Jack Miller at center. It's possible Blake Bars moves over to challenge, and vaguely possible that Patrick Kugler—son of former Steelers OL coach and new UTEP head coach Sean—enters ready to play on day one. Miller has to be considered the heavy favorite. The coaches love his nasty, Molk-like disposition; they may not love his Molk-like size. He does have the asset of being a center from the get go, unlike the candidates in 2012.
Redshirt freshman Kyle Kalis at guard. I bet if Michigan had to do it over they would have put Kalis in the mix to start from day one. Instead they preserved a year of eligibility for him, which will benefit them down the road. If Kalis, a proverbially nasty road grader, doesn't win a job with ease, it's time to start worrying about living up to the hype.
A third is not quite a lock but has a healthy lead in my head:
Redshirt freshman Ben Braden at right tackle. Braden is a mountain of a man better suited to crubberate people off the ball than classmate Erik Magnuson, who's more of a left tackle type. Scuttlebutt reaching my ears is that the coaches are extremely high on him. Magnuson does have a shot.
The fourth is up in the air between these folk:
Redshirt sophomore Chris Bryant, who remains a 320, 330-pound mauler. He missed the season with a leg fracture. Availability in spring will be key.
Redshirt freshman Blake Bars, who's a lot smaller than Bryant and will probably have to wait a bit longer for a shot at the starting job. He was a 3/4 star borderline kid.
True freshman Kyle Bosch, this year's edition of Kalis. While he's not quite as hyped, he's enrolling early and should find himself on the two-deep immediately. He could push through.
Redshirt junior Joey Burzynski. I'd be surprised if a 6'1" kid can move past the aforementioned trio and into the starting lineup. That said, he's got the most on-field experience in this grouping.
Breaking in four new OL, three of them likely to be freshmen, is scary. On the other hand, it's not like they can be worse at run blocking.
A dang running back who can run the dang ball. Maybe this is Toussaint. It seems more likely it's either DeVeon Smith or Derrick Green, particularly the latter guy if he does indeed end up in Ann Arbor like it seems the world expects him to. Running backs don't need a lot of seasoning, and Green is college-sized and then some.
Also here's my candle for Dennis Norfleet, third down back kthx. Get some Muck in you, kid, and there's a job waiting.
African refugee wide receivers. Amarah Darboh pointlessly burned a redshirt; Jehu Chesson kept his. With no immediate help from this WR class likely, last year's folk will have to break in. I was pretty high on both those dudes, with Chesson a co-MGoBlog Sleeper of the Year with Braden. They both provide relatively big targets, and Chesson might have deep speed.
WHAT'S ROD STEWART 1972
Gardner to Gallon. As mentioned above, that connection was red-hot over the last five games of the season, and not just against tomato cans. Gallon's best game of the year was the nine-catch, 145-yard, two-TD outing against a top-shelf SEC defense in the bowl game. Those guys are in tune.
Just running one offense, thanks. No longer will Michigan be at war with itself about what it wants to do. A section a bit later in this post hopes they'll run the QB some; this should not detract from the fact that Michigan moves from a system Borges never quite got the hang of to his bread and butter. Gallon's performance once Michigan had a quarterback who could stand in the pocket and deliver entices.
Presumably large improvement from the tight ends. Devin Funchess and AJ Williams got thrown into the fire a year too early; now they can add 20 pounds each and learn how to block and add a couple new guys in the hopes of Stanfordizing this offense.
Funchess seemed like a matchup issue last year, but if you were a defensive coordinator considering him a wide receiver, how wrong would you have been? Not very. Getting him to a point where he is a credible blocker is what'll get him open on seams and whatnot.
WHAT'S ROD STEWART 2013
Offensive line depth x2. This isn't quite as bad as it was last year, when there were essentially no backups—the sixth OL was a walk-on. It is still not good. If you make the reasonable assumptions that the freshman class redshirts and Bryant wins the other guard job, Michigan has Burzynski, Bars, and Magnuson available. Freshmen and that walk-on. Suboptimal.
But hey at least next year this problem goes away: Schofield's gone; everyone else returns.
Offensive line starters, probably. Four new ones; asking a lot for all of them to be good from day one.
WR depth? I'm not entirely sure this is a huge problem with Gallon stepping up and Dileo presumably establishing himself an excellent slot option. But they need some other guys; the incoming class provides little immediate help, so then it's down to Darboh and Chesson. Either or both could break out—Michigan needs one to.
QB depth. Bellomy or a true freshman.
WHAT'S HEISENBERG ROD STEWART UNCERTAINTY
The offensive line can't be worse, right? The running backs didn't help sure but when you return a thousand-yard rusher and his YPC average dips almost two yards a carry, the finger points squarely at the blocking. Lewan will be missed. The other guys are replaceable.
But replacing them is not a great thing. Michigan needs an upgrade.
How accurate is Devin really, and how much progress can he make in one offseason as the man? The overall numbers are good; his last two games left a bit to be desired. Hopefully he can refine down those misses by 20-30%, at which point Michigan is in the proverbial business.
How hard are we jamming the pro-style pedal down? Petrified at the prospect of having Gardner go down when it seemed like the alternative was Jack Kennedy, Michigan all but dumped quarterback runs from its playbook once Gardner entered the game. Was that circumstance or preference? And if it was the former, how comfortable will Michigan be incorporating Gardner's legs as an intentional part of the gameplan if the alternative is Shane Morris?
We won't know that until fall. I'm hoping Michigan keeps the inverted veer around, because that's a pretty good play.
FOR THE LOVE OF GOD CAN ANYONE OTHER THAN DENARD ROBINSON PICK UP THREE FEET ON THE GROUND? Freshmen will get opportunities, yes. Toussaint may be back. The youngsters will be a bit older, and at least Hayes and Norfleet came with some scatback hype—though I wouldn't be entirely surprised to see Hayes move to slot receiver since there's no one on the roster who won't be a senior next year. Only the seeming likelihood that Michigan acquires Derrick Green prevents this from going in the Rod Stewart 2013 category.
MANDATORY WILD ASS GUESS
Improvement as long as Gardner stays on the field. This edition of Michigan limped to middling numbers everywhere. Next year's offense figures to have a better fit with the offensive coordinator, a better offensive line if only because of reversion to the mean and having non-walk-on options outside of the starters, and at least equivalent playmakers at the skill positions with an outside shot at much better if the running back situation gets an injection of talent.
So then, how are you feeling about Denard Robinson's legs versus Devin Gardner's arm+legs? I'm thinking that's a push once turnovers are accounted for and we bake in an offseason of Gardner improvement. Guy was the #1 dual threat QB of his class, after all, and displayed some excellent potential on the ground in his tenure as a starter. And in a Borges offense, there's no comparison in the passing game*.
A lot rides on Jack Miller and the tackles; I figure the guards will be an upgrade. I'd guess we see an improvement—not that it'll take much to get that with Alabama sliding off the schedule and hopefully not having a half against Nebraska where the offense goes to die. Gardner bails Michigan out from some tough times.
*[Let's say we had that argument about the spread 'n' shred and not have it, okay?]