A First Date with Bo, an Excerpt from Best of Bacon by the Titular John U.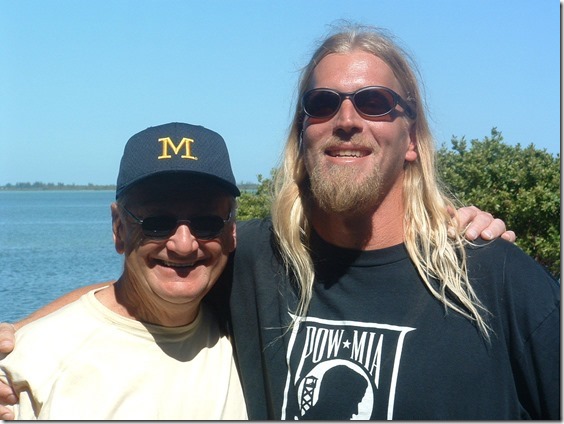 Bo visiting Steve Everitt in 2003 [courtesy of Amy Everitt via]
Oh you think you've got the whole Bacon collection do you? Your Bacon shelf has the Bo one, the Rich Rod one, the aww poor Urban can't get the pwiddy widdle Borens to like him one, the Cirque one, and a first edition of Brandon's Lasting Lessons from when it was still called Endzone. You've even got that hockey one from back in the day, the Saunders one, and the more recent one where they blew up Halifax during WWI and Michigan (spoiler alert) got a hockey program.
You don't have it. Bacon's been at this writing thing longer than your favorite bloggers have been drawing breath, and before there were books there were articles for a dozen regional and national publications tracking Bo Schembechler, Gordie Howe, Ernie Harwell, and Tom Izzo, plus first-person stories about getting killed playing the U.S. Open golf course, skating in a Detroit Vipers hockey practice, and lifting in Michigan football's weight room.
But you can have it because he put his 40 best articles in a book (and the 41st is slated to appear in ours). This best-of Bacon book is called, incidentally, Best of Bacon. He gave me first crack at an excerpt and I've chosen the one below.
This excerpt, "Bo's Back Where he Belongs," describes Bacon's first week following Bo Schembechler, back in 1996, which led to Lasting Lessons (the Bo one).
Bacon Tour 2018: Bacon will be appearing at the Ann Arbor District Library May 11, Chicago May 23, Traverse City's Indigo Hotel May 29, and Nicola's Books in Ann Arbor June 12. You can find more info on johnubacon.com.
On with the shew
-------------------------------
Bo's Back Where He Belongs
I first met Bo Schembechler in 1975, when I was a ten-year-old kid asking for his autograph at a Michigan hockey game—so nervous I could not think of my own name. I met him again in August of 1996, when I was writing a section on Fielding Yost for a book on Michigan football. We got along, and he agreed to let me tag along for a week in October of 1996—a very generous offer, to say the least.
By mid-week, I already knew I had a great story, and called my editor at the Detroit News from a pay phone (that'll date you) in Grand Rapids, urging him to spare all the space he could. He did, giving me 2½ pages, and the story earned national awards. When I met Bo in his office four days later, he told me, "Well, Bacon, you didn't screw it up—and frankly I'm surprised." In the next breath he asked if I wanted his papers—16 big boxes' worth, with everything from correspondence to transcripts to game plans. I soon realized he had given me the raw materials for the book we would write together ten years later, my first bestseller. But it started with this story.
[the article AFTER THE JUMP]
November 3, 1996
The Detroit News
The last time Bo Schembechler 's name was at the top of the sports page, he was at the bottom of his life. Tom Monaghan had just fired him as president of the Detroit Tigers, and Bo's wife Millie was dying of adrenal cancer. According to Lynn Koch, Schembechler 's secretary of twenty-seven years, "Bo was just devastated."
Four years later, the Millie Schembechler Foundation has raised over a third of the $3 million necessary to establish an adrenal cancer research center at the University of Michigan Hospital. Bo is married to the former Cathy Aikens, who's got him eating right, exercising regularly, and dressing like a Ralph Lauren model. He's incredibly busy raising money for the Foundation, helping his former players any way he can, giving speeches around the country, and simply enjoying the fruits of his labor.
In short: Bo is back.
In early 1990 Schembechler retired as Michigan's all-time winningest football coach, with a record of 194–48–5. At the same time, he stepped down as U-M's athletic director and became president of the Tigers. Two years later the Tigers' organization had unraveled, with Schembechler serving as the fall guy for the decision to fire Ernie Harwell and the lightning rod for those protesting a new stadium.
In February of 1992, fed up with Monaghan and the Tigers, Bo and Millie flew to Hawaii for a three-week vacation with Jim Brandstatter and his wife, Robbie Timmons.
"At that point," recalls Brandstatter, "Bo was just beginning to say, 'To heck with this mess,' and smell the roses with Millie. One week later Millie gets sick."
The timing was cruel, but the disease was merciless. Adrenal glands are almost insignificant, roughly the same size, shape, and weight of almonds. If the doctors discover adrenal cancer soon enough, it's relatively easy to remove the glands altogether. But if they don't, the cancer spreads like a brush fire to the liver and lungs. That's why medical texts describe the disease with terms like "grave" and "rapidly fatal," saying, "Only rare patients survive more than a few years."
"Bo's the kind of guy who wants to fix everything," secretary Lynn Koch says, "and the cancer was like beating his head against a wall." Schembechler has always relied on effort and integrity to solve problems, but those weren't enough to battle two tiny, cancerous glands. "He was at the hospital all the time. He was just a broken man."
Monaghan fired Schembechler on the same day Bo and Millie celebrated their twenty-fourth wedding anniversary. Millie Schembechler died a few days later, on August 19, 1992.
"After Millie died," Bo admits, "I didn't do anything."
Bo, Millie, and son Shemy [UM Bentley Library]
Schembechler had lost his characteristic spark, he wasn't active, and he looked gray and flabby. If mourning is measured not by days but by depth, the nine months following Millie's death were an eternity.
Concerned about Bo's condition, some friends invited him down to their home in Florida, then took him out to a party where everyone knew him. Everyone, that is, except Cathy Aikens. She had been widowed five years earlier herself, but was still financially secure and eye-catching. She had plenty of suitors, but no one who captured her imagination.
"I guess I had just about given up on finding someone," she says. "It's tough when you're older and alone."
Bo noticed Cathy across the room and asked someone about her, but before he could meet her he headed back to his friends' house to watch the Michigan basketball team play in the NCAA tournament.
Bo's eager friends called him at halftime. "We heard you were asking about Cathy," they said, and tried to arrange a meeting. Problem was, Schembechler was going to the Bahamas for a fishing trip the next day. "Okay," they said, "we're going to pick you up at eight for breakfast, and she's going to be there."
"I didn't know anything about this dating business," Schembechler confesses. "I actually showed up for that breakfast in my fishing gear."
"He looked awful that morning," Cathy says, demonstrating her ability to give Bo a good ribbing—a hallmark of all his close friends.
Cathy is more interested in literature than linebackers, so when Schembechler told Cathy he was a football coach, she asked, "Is that all you've done?" Bo laughed and said, "Lemme tell you something: that was a full-time job!"
The two hit it off that morning, but afterward Schembechler stalled. Three weeks later, when Schembechler 's plane stopped in Minneapolis for a two-hour lay-over, he told himself, "If you've got a gut in your body, you'd call her."
He did. They met again two weeks later at her Florida home. They were supposed to go out to dinner, but instead sat on her couch and talked—and talked and talked—until it was midnight. At that late hour, Bo challenged her. "I came down here to see the ocean, and it's right out that door. If you've got a gut in your body, you'll put your swimsuit on and we'll go swimming in that ocean.
"Well, she did it! I was splashing around in the water. I felt like a kid again!"
Schembechler slept on that couch that first night—and the four nights that followed.
"We talked about everything," Bo recalls. "We have a lot of the same interests, we think alike. She's well-read, she knows a lot about a lot of things. And she's even more conservative than I am!
"Now, I may not know much about dating, but I do know recruiting. I know if you're in that house for five days, something good is happening." Cathy felt the same way. "Bo's the first man I've completely trusted—ever."
Bo's friends are unanimous: Cathy was the right person at the right time to get Bo back to being Bo. Even President Ford, a former U-M football player, weighed in with his approval. "It seems Bo's got a little extra pep in his step since he met her," he told me.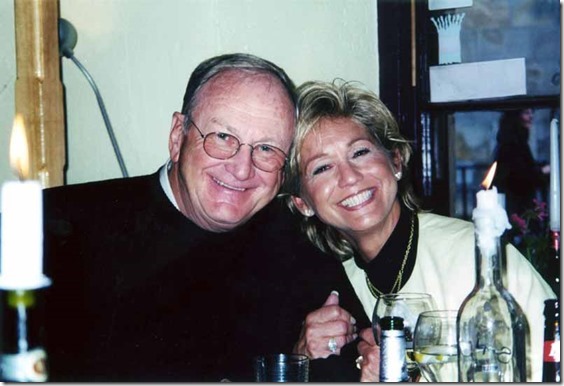 Bo and Cathy at Bo's 61st. [UM Bentley Library]
After more than two decades of Oprah-esque weight fluctuations, Bo says his diet now consists of "skim milk, no sugar, no butter, no fun." Combined with his regular workouts, Bo is now "197 pounds of blue twisted steel," as he says.
[ED: YES, THIS ARTICLE IS WHERE THAT COMES FROM –Seth]
"He looks twenty years younger," says John Wangler, one of Bo's favorite quarterbacks, who still talks to his old coach every few weeks. "It's a godsend that those two met. Bo would be miserable by himself. It's great to see him get a chance to finally sit back and enjoy the fruits of his labor. You can just see the light in his eyes."
Contrary to his "football-mad" reputation, Schembechler is interested in virtually everything, from the Ann Arbor bus system to teacher training to racehorse breeding to politics. He's a voracious reader, with a weakness for Tom Clancy books, and also loves music, from Cole Porter to Tina Turner (no kidding). Wherever Bo goes, whatever he's doing, it's a safe bet he's humming some song or other. It resonates in his chest, and occasionally bubbles up to form a verse, which he delivers in a deep baritone, with extra vibrato. "With you, I've gone from r ags to r iches, I feel like a million-air e," then returns to humming while he files some papers.
For all the recent changes, friends will tell you the biggest change since he met Cathy is not his renewed health or spunk, but his attire. "He's dressing a lot sharper since he met Cathy," Wangler says. "He finally got out of all that damn seventies polyester and into the natural fibers, and I'm really impressed."
"If I go into the office," Bo told one audience last week, "I promise you it's going to be an interesting day."
When Bo's in town, he'll drive to Schembechler Hall about 10:00 a.m., park in "Reserved Space 01," and trundle down the second-floor hallway to his office. Schembechler might have been a great coach, but he'd make a terrible spy; he has a complete inability to whisper, sneak up on anyone, or speak anyone's name in lower case letters. "Hey, MARY!" he bellows at one end of the hallway, "Howya doin'? Hey, BIG JON FALK! What's the good word!"
Schembechler walks into his modest, comfortable office, but before he can even get his black Polo jacket off, the phone starts ringing.
He leans forward, snaps up the handpiece and shouts, "Hel-lo! This is he! Heyyyyy! How the hell are ya?!" and leans back contentedly in his chair, wearing his famous teeth-clenched grin. Chances are good he's talking to one of his 640 former Michigan players, like Rob Lytle, Tony Gant, or Brad Cochran, all of whom called last week. Or he might be interrupted by visits from Jamie Morris, Rick Leach, or Carlitos Bostic, who stopped by.
Whether they were all-Americans or walk-ons, Schembechler invariably remembers their names, their positions, their hometowns, and what they were up to the last time they talked. Follow him for a few days and you'll hear a dozen people marvel at his ability to remember his former players. Not surprisingly, virtually all of his former players keep in touch.
When his phone conversation ends, no matter what kind of mood he's in, he slams the handpiece down on the receiver like he's spiking a football— bang!—every time. Of the dozens of phones in Schembechler Hall, only Bo uses the ancient, chunky model, and it's a good thing: those fancy, sleek devices wouldn't last any longer in Bo's hands than his old headsets.
don't make 'em like they used to
When Schembechler's not answering calls, he's answering mail—stacks of it. He opens about twenty pieces a day, mostly requests for autographs. These come from charities like the Rock and Jock Celebrity Auction ("I suspect I'm among the rocks," he jokes), or from idolizing fans. They usually neglect to include a photo or a return envelope, which he finds frustrating, but they always include a gushing letter, which he finds embarrassing.
"'Dear Coach,'" he pretends to read, "'You are the greatest person who ever lived in the history of the game.' Man, some of these letters are too much." He also gets letters from old friends ribbing him for some ad they recently saw him on, former players asking for recommendations or inviting them to their wedding, and from lawyers. "I always open the ones from law offices," he cracks.
Second only to the requests for his autograph are the requests for Schembechler's time. When he checks his calendar, he sees a grid filled with about twenty-five hours of commitments each week—interviews, speeches, appearances, recruiting help, foundation work, you name it— and every one of them is highlighted in fluorescent yellow.
"That's so I don't forget 'em!" Schembechler explains.
But Coach, they're all highlighted. "Hey! If I told 'em I'm going to be there, I've gotta be there!"
The phone rings again. It's Ryan White, a writer for U-M's student newspaper. "So, you wanna be a sportswriter?" Bo says, a mischievous grin on his face. "Yeah? Now Ryan: didn't your parents have higher aspirations for you than that?"
He laughs, finishes the interview, and slams the phone down—bang!—and it rings again.
"Hel-lo! This is he! What? Let me get this straight: They want me to do a speech for the University of Wisconsin Alumni Club of Milwaukee? Who the hell's idea was that?" After declining, he hangs up—bang!—and chuckles. "I can't believe some of these requests."
Bizarre or not, Schembechler answers them all, which is why he rarely leaves the office before 5:30.
Schembechler is mystified by the public's demand for him. "Hey, I'm not Jonas Salk," he says. "Football coaching should not have so much status attached to it."
Schembechler doesn't get it. People are not attracted to him because he was a successful football coach, but because he's Bo.
Here's proof: a couple years ago Schembechler received a letter from a university professor in Poland, who read one of Bo's books to improve his teaching. The professor didn't care about Schembechler's Big Ten titles (nor, mercifully, his anemic Rose Bowl record), but about his passion, his humor, and his values.
Winston Churchill once said of Franklin Roosevelt, "Meeting him was like opening your first bottle of champagne." Meeting Schembechler is like busting open a whole crate of the stuff. As much as possible, Schembechler tries to splash himself around so everyone gets a sip. Some men build a fortune over their careers, and spend their retirement giving it away. Schembechler spent his career building a philosophy, which he has been sharing with thousands since he retired.
Despite getting a D in his college speech class at Miami of Ohio ("I was so petrified I skipped class when it was my turn"), Schembechler can now command up to $10,000 for a speech. However, his fee is considerably less for former players, colleagues, and almost anyone who works for the U-M hospital or cancer research: nothing.
One such request came from Craig Mutch, an attorney who played linebacker for Schembechler twenty-three years ago before his knee gave out. When he asked his former coach to give three different speeches in Grand Rapids last week, Bo readily agreed.
"I gotta admit, I like this kid an awful lot," Schembechler explains on the drive to Grand Rapids. But when he sees Mutch, he doesn't tell him that. Instead, he growls, "You're late!"
"No, I'm not!" Mutch says. "I've been here for twenty minutes!" But he can't help checking his watch to reassure himself—three times.
"Okay, you're safe," Bo says. He smacks Mutch in the chest. "God, you look skinny. I hope you're not going around telling people you played linebacker for Michigan!"
Mutch (#34) playing linebacker for Michigan vs. Illinois in 1973 [UM Bentley Library]
After catching up over some iced tea, Mutch escorts Schembechler to Grand Rapids Christian High School, where his son plays tight end. A few adults walk over to expound on Bo's legacy. Bo listens politely, but lets it all blow past him without comment.
"I hate that stuff," he tells me later. "It's embarrassing."
Bo is much more comfortable joshing with the kids. To one player he says, "Your dad's a judge? Well I guess you ain't getting away with much!" and pokes him in the chest.
In front of Craig Mutch's son, Bo asks the head coach, "Tell me about Chris Mutch: is he worth a damn? Because his dad sure wasn't."
When Bo addresses the Eagle players, he says, "Let's listen up here, men. My name's Schembechler. How many of you remember who I am?" They all raise their hands, which surprises the famous coach. He talks for about fifteen minutes about teamwork, honesty, fundamental values; how integrity, above all else, is what they should be getting out of football.
Then he gets to the business at hand. "Gentlemen, your record is not good. One and five is nothing to brag about. My understanding is you've been close in a lot of games, but haven't quite pulled it off. The difference between winning and losing is a little more hard work—then you start winning those games. There is no greater feeling in all the world than to go back to that locker room with your teammates after a victory. You'll know then that the extra effort is worth it.
"I hope you win those last three games—and I'll be checking on you!" His message apparently sunk in. Two days later the Christian Eagles crushed their opponent, 46–6.
After Schembechler 's talk to the team, Mutch whisks Schembechler to a reception for the boosters, where Bo spends an hour kibitzing with the guests before speaking.
Hobie Loranger, thirty-five, is one of the sixty people who spent $100 to attend this fundraiser for the Grand Rapids Christian football team. Loranger sports a maize-and-blue Nike shirt, a ready smile, and a stainless steel wheelchair he's been using since a car accident paralyzed his legs when he was fifteen. He tried to attend Michigan, but found getting around the expansive campus too difficult. But, thanks to Michigan Stadium's user-friendly ramps and platforms, Hobie's been going to Michigan's football games for more than two decades. Three years ago he met his wife, Tammy, in a Grand Rapids bookstore; today he's about to meet the man he calls a "god."
As soon as he sees Hobie, Bo says, "Hey there!" He shakes Hobie's hand, and asks his name. "Hey, Hobie!" Bo points to the Michigan helmet in Hobie's lap. "Betcha want me to sign that? Well then that's what we'll do." Bo also signs Hobie's videotape, The Schembechler Years, then tells him, "You gotta watch this once a year!"
"That's all I wanted for Christmas this year," Hobie happily confesses. "Aw, c'mon, Hob! You gotta want more than that!" Bo cracks, and they both laugh. Bo asks Hobie where he works, how he likes it, and what he thought of the Northwestern game. In mere seconds Schembechler has transformed their relationship from one of a god and his disciple to just a couple guys talking Michigan football.
Bo is pleasantly surprised to see two of Mutch's former Michigan teammates, Jim Hackett and Gerry Szara, at the reception. They should know by now that they will be fair game.
"Everyone asks what I'm doing these days," Bo says to open his informal talk to the boosters, "and it seems that I'm as busy as you people with jobs!
"Since I retired it's very difficult for me to say no to one of my players, especially a guy like Craig. Everyone says Michigan players are just getting ready for the pros, but look at these three guys," he gestures behind himself to his former players. "These guys weren't in it for a pro contract—and it's a damn good thing! The objective is to have a meaningful experience, to learn how to play together, to fight together, as a team—and that's all good. So I think you're doing the right thing supporting your football program. I really think I missed something by not coaching high school kids—because they'll listen to you!"
After telling a half-dozen stories, Schembechler says for the third time, "Okay, this is going to be my last story!" and the crowd laughs again.
"This past weekend I went down to Ohio State for the thirty-fifth reunion of the 1961 Buckeye team, which Woody coached and I assisted. The organizers said, 'We've invited you every five years and you've never come because there's always some Michigan game that weekend. Well, we checked your schedule this time, and Michigan ain't playing. You're coming down for the Wisconsin game!'
"So I'm in the stands sitting next to Ann Hayes [Woody's widow]. She's eighty-three, and she's still coaching up a storm—'Bo, they should've done that, and Bo, they should've done this.' The reunion guys tell me, 'Bo, we're going to introduce you at halftime.'
"I said, 'I don't think you guys understand.'" He waits for the laughter to subside. "'Like hell you are! They're going to boo me out of there!'"
"'Oh, no they're not,' they tell me. 'They really want to see you!'
"So they announce my name—and sure enough, the crowd boos me! At the reception afterword I said, 'I told you guys they'd boo me!'
"And they said, 'No, no, Bo—that was the Wisconsin fans!'"
When the laughter finally dies down, Bo asks, "Okay, any questions?" "Hey Bo, are you still in the pizza business?"
Bo claps his hands and says, "That ends this little speech!" The crowd erupts. He chuckles and waves goodbye, then heads out the door for his next speech.
On the drive to the Calvin College auditorium, Bo says, "Now, think about that Hackett for a minute. He didn't play much, but he worked hard, and I loved that kid. Now he's the CEO of Steelcase, the largest manufacturer of office equipment in the world, and every one of his fourteen hundred employees—from the janitors to the vice presidents—can call him up and get an appointment.
"Wouldn't you be proud if you had three great kids like those guys? Jesus! Wonderful!"
After being introduced at the Calvin College auditorium, Schembechler gives them the ten commandments of teamwork, Bo style. Although the speech is tailor-made for a corporate meeting, its universal themes of selflessness, commitment, loyalty, and goal-setting are eagerly absorbed by the diverse group of five hundred people who paid five dollars each to attend.
Unlike a lot of corporate speeches, there's nothing calculated or cynical about Schembechler 's message. Everything Schembechler says he believes in passionately, and has experienced firsthand. The speech is a classic—a local radio host will play it on his show the next morning—but Bo's delivery is just as fascinating.
Everything Bo's college speech teacher tried in vain to teach him, he does naturally now. He builds resonance by repeating phrases. He gradually raises his voice to a crescendo, then suddenly brings it down to a hush. He walks casually around the stage, then plants his feet firmly on the edge of the broad stage to make his point. He rattles off a litany of evidence, then stops cold for the conclusion. If you remember the opening scene of Patton, in which George C. Scott delivers his famous speech in front of a huge American flag, you're halfway there.
"You must have a job description for every single player," he says, punctuating the sentence with his finger. "If I'm talking to Anthony Carter, your job is to catch a lot of passes and score a bunch of touchdowns. If I'm talking to Craig Mutch . . ." Bo gestures toward Mutch sitting down on the stage, shrugs his shoulders, and puts his palms up, then lets the laughter roll over the two of them.
"Hey, look at Jim Hackett, CEO of Steelcase. Look at Gerry Szara, director of human resources at Steelcase. Look at Mutch—he's a lawyer, and I apologize for that."
By nine-thirty, Schembechler has talked for ninety minutes, without a single lapse in energy or focus. Schembechler never goes longer than ten minutes without pulling your heartstrings or tapping your funny bone. The audience has tracked his entire speech. His masterful performance makes you wonder: what are the guys who got As in that college speech class doing now?
"Have I talked long enough?" he asks, looking at his watch. "My god! I've talked over an hour! And you should never do that—especially when you're not getting paid!"
After another rousing close, Schembechler receives his third standing ovation of the evening.
When he stops at a restaurant on the way home, he doesn't talk of the audience response, his busy day, or the money raised for Mutch's group. He talks about Hobie Loranger, the thirty-five-year-old car accident survivor in the wheelchair. Bo is still impressed by Loranger 's pluck and good humor.
"Ol' Hob," Bo says, shaking his head, grinning. (The two would stay in touch the rest of Bo's life.)
When it's time to recharge his batteries, Schembechler returns to his humble office in Ann Arbor. He's not there to bask in his accomplishments, but in the camaraderie of old friends who know they can find him there.
"My memories are not in a plaque or a trophy or a ring," he says, explaining why none of those things are displayed in his house, in his office, or on his hands. "Mine are running into someone I coached or worked with. That's the best way to have memories."
This is not to say Bo's reminiscing would be appropriate on a Hallmark card. Most of Bo's friends can take it and dish it out with equal aplomb. Shrinking violets don't last long around these offices.
When retired assistant coach Tirrell Burton walks into his office, Bo takes him on immediately. "Burton, if you had a backbone in your body—which you don't!—if you weren't gutless, yellow, and just plain scared, Burton—you'd be man enough to do battle with Bo Schembechler on the golf course!"
"Just so long as I give you fourteen strokes, right?" "Yeah, that too," Bo says.
Schembechler sees veteran U-M equipment manager Jon Falk walk past his open door, and yells, "Hey, FALK!"
Falk with former Bo assistant Jack Harbaugh at the 2016 QB camp [Eric Upchurch]
Falk comes in, and within seconds they start swapping stories.
"Best story about Falk," Bo says. "A couple days after I left for the Tigers, I came down here to work out, and my name had already been removed from my locker! I said, 'Jon, what the hell is this?' And he just shrugs and gives me a line from The Natural: 'They come and they go, Hobbs, they come and they go.'"
They come and they go, but Bo came back.
Everyone knows where to find him, just like the old days.
"I think that's the real reason he came back here," Lynn Koch confides. The secretaries say you can't count how many of his old players return to see him.
And if Schembechler feels like taking a break from all the calls and the letters, he'll yell, "'Hey, Koch! C'mon in here!' And we'll just talk," Koch says. "He's the kind of person—and there aren't many—that you could just sit down and listen to for hours."
Even fewer people are honest—truly honest, all the time, to everyone, regardless of the cost. Henry David Thoreau once wrote that he'd happily walk several miles through the woods just to meet such a man.
If there's one thing every player and colleague of Bo's agrees on, it's this: "You may not always like it, but with Bo, you always know where you stand." Honesty has become so rare in a society that prefers image over substance, glad-handing over conviction, that Bo's bedrock values seem almost extreme to us now.
What's more surprising is how likable, how compassionate, how humble he is when you meet him in person. As they say, some men are like mountains: the closer you get to them, the greater they are. Schembechler impresses people not by playing the star, but simply by being one of the guys.
Bear Bryant used to lord over his visitors by sitting behind a six-by-eight-foot desk, and looking down on them sitting in a soft couch, two feet lower.
Schembechler takes the opposite approach. When he was still coaching, Bo used to help out the Special Olympics in town by playing basketball with mentally handicapped kids. He loved it because they had no idea who he was, and didn't care.
"I was just some old guy who came down to play basketball with them."
And that's how Schembechler sees himself now: Just some guy who coached football.
We know better.