[Ed: I said on WTKA this morning that I didn't think this should cost Tressel his job, but I changed my mind upon reading the Hayes piece that contained details of exactly what Tressel did in the months between April and now.]
So I was pretty pissed yesterday. It was one of those moods that's obscure until suddenly it isn't, and the moment of clarity came when one of the Eleven Warriors guy pinged me on IM, suggesting that I must be happy today. I responded that I'd be happy if Ohio State's prospects for the near future had actually been affected… and there it was.
Jim Tressel was dishonest and his team benefited to the tune of a Big Ten co-championship and a BCS bowl victory; Ohio State's response to this was to suspend him for games against Akron and Equivalent. Ask Georgia fans who watched their team stumble to 1-3 start absent the services of AJ Green how that feels:
As a partisan, my immediate reaction to the complete bullshit which emanated from last night's Ohio State presser was a question:  what was Jim Tressel's first thought upon hearing the news that A. J. Green had been suspended for the first four games of the 2010 season?  "Suckers"?  "There but for the grace of God go I"?
I'm a partisan too but a couple months ago I went on the Bucknuts podcast and told them I though Tressel was a top five coach who had created a problem I never thought I'd have as a Michigan blogger: lack of material. I bought the Senator act wholly. My biggest complaint was that he was boring beyond belief.
I've now reverted to default partisan conspiracy-mongering and hatred. It's hard not to when the mea culpa press conference features Tressel lying his ass off about emails now in the public domain, forcing out stumbling answers that are such obvious crap that not even the state of Ohio thinks Tressel got what was coming to him: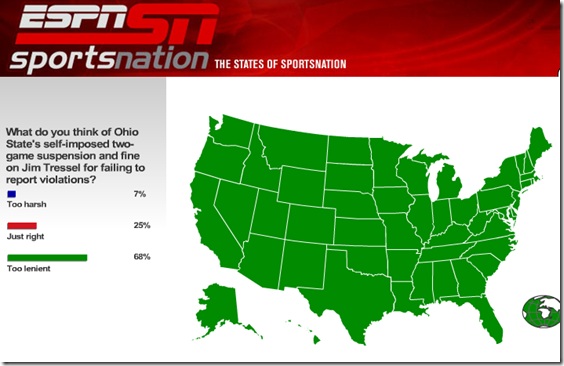 Even the deepest red section of the country looked at OSU playing see-no-evil to a BCS bowl victory and said "uh-oh." In no way is OSU's response proportional to the crime. That's what pisses me off. Michigan eventually proposed penalties that were reasonable given precedence and were accepted essentially as-is by the NCAA. (The committee added a third year of probation, as they are wont to do.) Ohio State proposed functionally nothing for a far worse offense. Twelve coaches have violated the NCAA bylaw Tressel did in April, and eleven were fired.
What's more, they spent the press conference announcing their gentle wrist massage lying. Tressel invented a fiction about how he couldn't look into the matter because of "confidentiality" that absolutely would not prevent him from interviewing the accused or finding out whose frickin' names were on the pawned memorabilia and then suspending them for the proverbial violation of team rules. This would not have exposed anyone to lethal payback from ruthless drug dealers or whatever, not that anyone was actually in danger.
Ohio State's trying to pull a fast one, and the NCAA should hammer them. A show-cause for Tressel is just as viable as the one widely speculated to be heading down the pike at Bruce Pearl. Tressel's lies were repeated. OSU's official letter to the NCAA lays it out. As summarized by Matt Hayes:
• Tressel signed a document on Sept. 13, 2010 that said he was not aware of NCAA violations.

• He failed to tell school officials on or around Dec. 9, 2010 about emails he received in April explaining players' involvement in selling memorabilia.

• He failed to tell school officials about the emails — or his knowledge of players selling memorabilia — when specifically asked on Dec. 16, 2010. He also misled school officials that day when stating he "did not recall from whom he received the tip," and that he "did not know that any items had been seized." …

Another significant — and potentially more damning — issue: In a Feb. 8, 2011 interview, Tressel admitted it was "inevitable" that players named in the email had committed NCAA violations and would be ruled ineligible. In other words, Tressel knew the players were ineligible and played them anyway.
Whether it's a lie of omission or commission it's a lie, and Tressel's had a much larger effect on his team than Pearl lying about whether or not Aaron Craft was at his house. It is impossible to believe he did not remember the repeated correspondence from this lawyer. He probably sent it up the chain, making this a department-wide decision, but we have no proof of that. We do have proof that Tressel had at least four opportunities to come clean, starting with the day he got the first credible email from that lawyer, and failed to take any of them. As a result Ohio State won a Big Ten title.
With serious benefits should come serious repercussions; Ohio State's incredibly weak self-sanctions are an insult to the NCAA. If the association doesn't want to make themselves a joke they will come down hard on OSU with a thorough investigation stretching back to 2001 with the potential for vacating multiple years and a show-cause penalty that should make it impossible for OSU to continue employing Tressel as their head coach. That's a punishment that fits a very serious crime in the eyes of the NCAA—eleven of twelve fired before the NCAA had a chance.
The NCAA should use this and the Pearl case as a warning.