you're the mascot now, dog
Michigan's mascot should clearly be a giant middle finger named "Tradition." Imagine the photographs. This won't happen, though, because I've triple-trademarked the idea and will only sell it for one million dollars.
We'll have to crowdsource it, then. The Detroit News is way ahead of us, having already launched a contest and announced a winner, which is a werewolf in the #1 jersey. Braylon says this aggression will not stand.
Your options:
VARIOUS WINGED-FACE AMBIGUOUSLY GAY FURRIES
It's like a normal mascot except the winged helmet is part of its head. Except for the one where it isn't, and that one doesn't even have a tail.
Pros: Ammunition for 4chan. Slight possibility meme launched. If actually named "Furriester" I will die laughing.
Cons:  This is why you picked Michigan, so you could go to a sporting event without thinking of… the incident. It all comes rushing back now: one night in Venice with hairy thighs and scratch marks and shame imprinted on your soul. Shame deeper than the catacombs, broader than the sea, shame you ran and ran and ran from until you stopped, panting, in Ann Arbor.
I guess that's it, then. Time to buy some whiskey and a gun.
HELLO WOLVERINE
DO YOU LIKE FOOTBALL I LIKE FOOTBALL TOO I JUST WISH THEY WOULDN'T BE SO MEAN I LIKE NICEBALL WHICH IS LIKE FOOTBALL EXCEPT INSTEAD OF HITTING SOMEONE YOU GIVE THEM A LOLLY
Pros: Michigan becomes Japan's team, gets own video of hot girly pop stars frolicking with related paraphernalia.
Cons: Michigan's record under the watchful eye of Hello Wolverine will be 3-89 because he cries every time someone falls down.
WHERE THE WOLVERINE THINGS ARE
Mascot has a hissy pregame and flees to a world of his own devising containing 110,000 magical friends.
Pros: Canned music in stadium now exclusively Arcade Fire. Stadium becomes breathtaking wonderland of childhood delight…
Cons: …which falls apart as soon as someone takes a mud clod to the face, leaving everyone in the stadium a harrowed emotional wreck in need of some soup and a hug from mom.
Actually, this has already been our mascot for quite a while.
HELLO ANIME HORROR
It's incredibly cute for a demon, I'll give it that.
Pros: Dismembered Brutus one-ups the Ohio Bobcat, and according to Brady Hoke Ohio is our great and true nemesis.
Cons: Your soul is next.
PIG… WEREWOLF… CHEERLEADER… GUY
Pointy teeth: check. Bear ears: check. Bulbous nose: check. Tail: check. Are those horns? What is going on?
Pros: Block M on nose is consistent with branding initiative. May be able to lead locomotive cheer.
Cons: Is hideous interspecies mule that only wants two things: a Michigan victory and the sweet release of death.
CAT… DOG… CHEWBACCA… THING
Even its big weird clown shoes have teeth.
Pros: Seems happier about its status as a genetic outcast, at least. Downright jolly. Good at comforting: "yeah, we just lost to Ohio State for the million time in a row, but all of your chromosomes have matches! I wish I was so lucky."
Cons: Will rip your arm off if you beat it at chess.
NICE TRY, SUPERFAN
No, dude, seriously, even the winged helmet has wings. They're recursive wings. I'm totally not Batman.
Pros: Cheap. Recursive wings briefly stoke engineering interest. Is actually Batman so don't try anything, buddy.
Cons: Keeps cutting his feet off at the ankle when he tries to run. Camera flash reminds him of his parent's murder.
I SEE WHAT YOU DID THERE
This is a skunk. It was submitted by someone in Ohio.
Pros: Might confuse Ohioans into killing and eating it. Hideously malformed right arm would give Michigan the nation's first handicapped mascot.
Cons: Everything else.
UNDEAD BIFF
What's even friendlier than a live wolverine in a cage at a football game? A zombie version thereof.
Pros: Would forever end discussions about who has the manliest mascot in all the land. Forces band to play "Thriller" every home game. May distract Joe Paterno from games against Penn State as he seeks elusive zombie bestiality romance.
Cons: Zombie bestiality romance. 110,000 people plus one rabid zombie biting machine is pretty much asking for a zombie apocalypse. In the aftermath survivors would walk around screaming "we didn't listen."
UNCLEAR ON THE CONCEPT, OR GENIUS?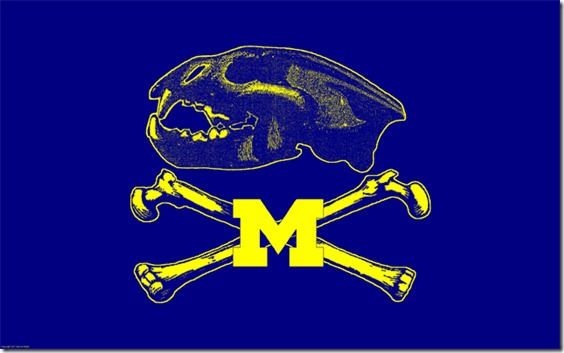 If I had a pirate ship, this would be its flag.
Pros: It's original. I kind of want to put in in the store minus the lawyer-baiting block M. Could lure Mike Leach to campus to be the OC.
Cons: It's original because it is a Jolly Roger flag with a block M and a wolverine skull instead of, you know, a mascot. Unless it was Marvin Riedel's intent to make a Michigan mascot that was entirely notional, which… whoah. I'm feeling all deconstructed.
THE WINNER
I vote for the giant, barely anthropomorphized block M:
Pros: Remove the eyes, pretend she's female, and call her "Emmy." I wouldn't even be mad about this. If Michigan had a giant, armless walking M accidentally smashing into cheerleader pyramids it would be awesome.
Cons: Is not giant middle finger named "Tradition."