Fee Fi Foe Film: Wisconsin Defense
Author: still definitively not Ace. Previously: Wisconsin Offense
Two weeks ago:
One week ago:
Football is stupid. Wisconsin has kept every opponent but two under 300 yards: opener Utah State and Nebraska. Most recently they gave up 3/5ths as many yards to Iowa as Ohio State gave up points to that same Iowa one week earlier.
I watched the 33 yards game and mostly Iowa was doing it to themselves. I also watched the Maryland and Nebraska games. I think this defense is really, really good, but it's hard to tell because all of their opponents so far are liable to fall down and go bonk. It's a lot like watching a 1970s Bo or Woody defense chew through the Little Eight and extrapolating what they'd do against each others' pass-averse offenses: Do they have any holes? I guess we'll find out in the bowl game.
Personnel: My diagram [click to embiggen]: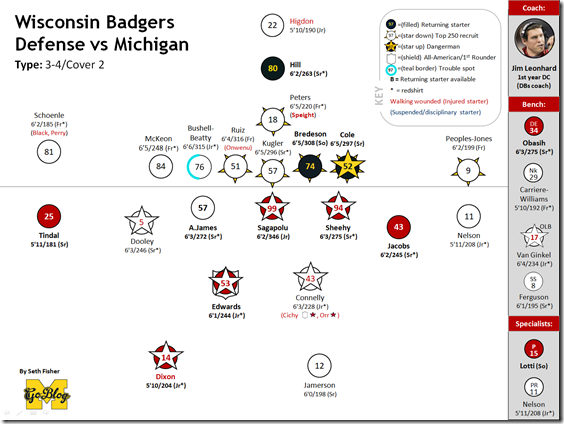 BadgerGen Cloning Services has been doing work in the linebacker department, splicing Watt brothers genes with walk-ons to create the deepest three-assed pool of linebackers I've ever seen. Even with All-American Jack Cichy out, and Cichy's backup Chris Orr out, there are stars all over the linebacking corps, including the guy who replaced Orr. WLB Ryan Connelly loves to shoot a gap when he sees one, and that tendency, though wild at times, is perfect for this defense where the linemen are taking doubles. MLB T.J. Edwards is every bit the coverage star PFF's made him out to be, and perhaps underrated as a run-stuffer.
SOLB Garrett Dooley (6.5 sacks, 9.5 TFLs) is just as scary off the edge as Schobert '15 or Biegel '16 and perhaps better in coverage. The only LB I didn't star was SOLB Leon Jacobs, the one they moved to fullback last year, and he's got 8.5 TFLs (he can get squished by big OL I thought but he was close to a dangerman star too). Jacobs's oft-used backup Andrew Van Ginkel has nearly as many sacks and TFLs as Dooley in half the snaps, but he's more of a Uche pass-rush specialist.
Nobody on this front is less than solid. The secondary is ask-again-later since they haven't faced any team yet, but it's a potentially big deal whether questionable SS D'Cota Dixon can play this week.
------------------------
Base Set? 3-4. They lift the nose tackle when they go nickel for a 2-4-5 look, as 3-4 defenses do:
[Hit THE JUMP for the rest of the breakdown.]
Man or zone coverage? They're a mix based in Cover 2, with zone blitzes showing Cover 3, though not always. I was asked on Twitter yesterday if they run a base Cover 3 and I responded most three-man front teams do some sort of odd coverage because they're starting from an odd formation, and because covering the Cover 2's seam/hook zone (red zone below) is hard to do when you're trying to look like an edge rusher.
I was incorrect: Wisconsin can run a good ol' safe Cover 2 because Garrett Dooley  (SAM #5 on the line of scrimmage at the top of the formation) can handle it:
I know they blew the coverage but that's not a mature way to handle it, Nathan. Now you pick up that ball you dropped and…oh, your friend did it for you.
Wisconsin can turn any linebacker or safety into a plus pass rusher or plus cover guy (or in the case of Edwards, elite cover guy) on any play. This means they can disguise their coverages and bring heat from everywhere. If they screw one up—and that happens plenty—usually the quarterback is so already overwhelmed by all the blitzes and stunts and shifting that he won't find the too-large zone cushion until death already be upon him:
no YOU stop using every vague excuse to post that again
Pressure: GERG or Greg? Dr. Blitz. I tracked their heat while doing the Maryland offense against them last week and the average first down attack was 4.49. Third down would look higher but they do sometimes leave just three.
As the platonic ideal of a college 3-4 Wisconsin's three down linemen are not expected to bust through, though Iowa's terrible OL managed to let them do so plenty. They're built to disguise and threaten pressure from everywhere, with super-quick linebackers screaming in from anywhere and ruining your protections.
I know someone floated a rumor that a healthy Onwenu could push Ruiz to center this week—I don't think you want a true freshman in charge of setting line calls for this one. They are coming from all over and they're coming in quick:
…including from the secondary:
Iowa RB #20: oh he's coming? imma just gonna walk away.
------------------------
DANGERMANS:
Of all the linebackers I was most impressed with MLB T.J. Edwards, whose zone prowess has been talked about around here since PFF named him the nation's best coverage LB as a sophomore. There are places where I think PFF's system fails them—a reader in the comments of yesterday's offense post noted that I'd cyan'd the right tackle who's also named Edwards when PFF a month ago had the same guy the #2 OT in the country. That's a warning as much about my scouting as theirs.
On this Edwards, PFF and MGoBlog are allied against the draftniks who keep putting 10-15 other LBs in front of him. Get this guy into the first round, both for his run defense:
#53 the top middle linebacker
…and for the fact that his coverage is EA Sports game-breakingly good:
That from the overhead cam:
/throws controller
/ejects NCAA 2010 disc
/gives it to dog
I'm also a fan of the guy next to T.J., 3rd string WLB Ryan Connelly, another former walk-on (of course!) BadgerGen infused with Watt genes. Jason Galloway of Madison.com wrote a good breakdown of Connelly and Edwards this week that saw (and clipped) the same things I did. After all the hesitant dudes of the last few weeks Connelly's quick reads and ability to get to the ball were just whoa:
I covered Garrett Dooley above and clipped a Van Ginkel play. It's hard to find any front seven players I didn't like, really. WLB Leon Jacobs can get sideline-to-sideline and covers well, and they can platoon him with Van Ginkel to make up for Jacobs's comparatively pedestrian pass rush.
The defensive line is supposed to be space-eaters, and they're very good at that. Iowa did manage to double-team all of them off the ball at times (see NT 99 and DE 57 on the play I clipped above) but that is by design: the DL will give some ground as long they can remain engaged with two blockers. That keeps the linebackers clean and able to read and shoot. This is how a 3-4 works, and it can be jarring if you're used to 4-3 style gap-attacking defenses.
Ideally however those guys will stand up to the doubles or split them, and WDE Connor Sheehy is boss at that. He's in the clip above too, #94 lined up just to the right of the nose tackle, in one of the rare instances he gets to be a one-gapper. He blasts past the guard trying to reach block, taking out that guy and bonking the fullback too for good measure.
At 6'2"/346 NT Olive Sagapolu seems like he, not Sheehy, would be the guy least likely to be moved downfield, but there were a few plays like the above where he didn't get leverage and gave up space to make sure he wasn't letting anyone into the linebacker level. He'll also cave in a pocket if you leave him with only a puny center:
I gave your quarterback a chance, guy
Lastly SS D'Cota Dixon is a smallish, highly instinctive, highly athletic little dude who likes to stick his face into your run game or cause havoc on blitzes. When healthy Wisconsin really likes to make use of his ability as a fourth tiny spacebacker, but he's good enough in coverage to do that and take a Cover 2 deep zone. His injury status could be a big deal because of the drop-off from him to the backups. In his stead they were using a combination of walk-on S Joe Ferguson and their regular nickelback Dontye Carrierre-Williams, who seemed to be the culprit on successful pass plays.
I wasn't able to get a read on the cornerbacks given the jabroni quarterbacks Wisconsin has faced every week. It does appear that the new starter, Nelson, is better than the returning one, Tindal. I couldn't tell which one Brian hates for wearing a hoodie because they're never on screen.
------------------------
OVERVIEW
This is the platonic ideal of a 3-4 defense. The only weaknesses I can possibly see in it that Michigan can use is the DL—including the moster nose—do give away. Last year's SDE Chikwe Obasih is now the low man in a basically equal rotation with Alec James. Both are a bit undersized for this job, and Nebraska especially was able to exploit this for some chain-moving runs.
You can't attack that too much because the middle linebackers will start to blast it, but that does open up some play-action opportunities to find receivers underneath the generally soft coverage. Wisconsin's approach reminds me a lot of the canonical Bo defenses, where the linebackers were vicious hunters and the defensive backs were tasked with making sure any whiffs don't result in more than a modest gain. Eventually they'll get through and put you in a long situation, pull the nose, and destroy your protection scheme.
The way to attack that is be sound in your blitz pickups and chip away under the coverage with short passes and good routes. With a wet freshman quarterback and iffy pass protection going into a hostile environment, I don't think Michigan is the team to do that to them. There should be some effective power running at times, and because of that I don't think we're in for the self-inflicted hamblasting that Iowa took. But this year's young Michigan offense is not well equipped to deal with this yet.
------------------------
honey?
yes?
why does the dog have a CD in his mouth?