Fee Fi Foe Film: Rutgers Defense
It was late one night when Ace suddenly remembered "Hey, I'm the basketball-covering guy" and alighted to cover the year's first scrimmage. Posthaste he made arrangements for another to take his notes on Rutgers's defense, which in Year 2 under Chris Ash's tutelage is up to a respectable 33rd in S&P.
"Sure," said I, "But which game were you watching?" Surely not Washington; we hath no Jake Brownings here. Not Eastern, or Morgan State, or Ohio State. Nor Purdue, unless Harbaugh's hatred for Rutgers extends to Brohmian gameplans.
So what would it be? A 27-17 loss to Nebraska and Tanner Lee? Or…oh. Oh dear.
why doesn't your right tackle have arms?!?
Thus Illinois, whose offensive line is ours if the right tackle situation spread to the guards and other tackle, whose quarterback I wouldn't take over John O'Korn, and whose receivers would all be starting at Michigan. Oh and O'Neill and friends were officiating. So while Ace ponders a Simmons-Wagner offense and formulates informed opinions on Charles Mathews, let's watch some Rutgers-Illinois, and LEARN THINGS from this!
[a voice]: get out! get out while you can!
Personnel: My diagram [an embiggen is a click away!]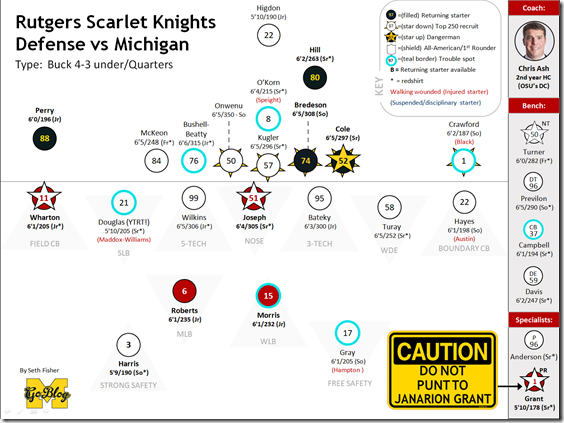 I should note that the 5'9" strong safety Jawuan Harris is a returning starter…at slot receiver. He put two-year starter Kiy Hester on the bench against Ohio State, and is not a problem on this defense.
The linebackers are. Trevor Morris earned a cyan circle last year and is still basically Obi Ezeh with worse pass protection: he was routinely blown out on edge protection, and picked on in coverage. When Rutgers added him to the blitz he tipped it, and spent so long picking through traffic he was irrelevant to the pass rush and opened up big passing holes. Washington had an entire touchdown drive picking on that guy. His middle linebacking cohort Deonte Roberts was really up and down; sometimes Roberts shoots a gap and creates havoc, sometimes he eats a block or doesn't get enough depth on his drops. Morris and Roberts are used interchangeably.
The other OLB, who to be fair is an injury replacement, you should recognize: Ross Douglas. Yes, THAT Ross Taylor-Douglas. The cornerback Brady Hoke flipped from Penn State is still very much secondary-sized, and that went how physics says it must whenever he ate a blocker. Crack sweeps twice wiped him out by 10+ yards; Illinois ran a bunch of Harbaugh stuff (traps, shift-to-power) to exploit this and that mostly worked. Douglas made one very nice spacebacker play on a pin & pull in this game but he really shouldn't be playing anything heftier than strong safety.
The free safety is another injury starter; K.J. Gray was so torched by Mike Dudek's moves he swapped with Wharton (about whom more later) several times late in the game. Grant Perry can get open on these guys.
The defensive line is solid though. Longtime nose tackle Sebastian Joseph has emerged into a star and it really showed against Illinois's awful guards. His backup, redshirt freshman Julius Turner, is a stout smart bugger who rotated in liberally and reminds me of Renes. The other DL rotate regularly through the basically interchangeable DT and SDE spots, and are all over 300 pounds.
Rutgers entered the season with two good cornerbacks. The one, Isaiah Wharton is for real. The other is injured; replacement Damon Hayes was burned some in this game but Michigan doesn't have anyone as productive as Ricky Smalling or Malik Turner at receiver and yes I am crying as I write this. The nickelback Zane Campbell was beat every time he was in.
[Hit THE JUMP if you want more RUTGERS versus ILLINOIS hot BIG TEN ACTION]
Base Set?: 4-3 under with a standup WDE.
They'll flip often between over and under, but at its core this is the same thing Ash ran at Ohio State. If you're parsing between the Dantonio school of Quarters and this, MSU/Pitt will have a thick MLB and more compressed linebackers, and a leaner, edgier SDE who aligns outside a TE—a true old fashioned 4-3. Ash's personnel are on the opposite (almost a true 3-4) extreme of the 4-3 spectrum: the SDE and DT are interchangeable pluggers, and the weakside end stands up and drops into coverage. The SLB will split the alley between a TE and slot receiver, and come down all Jake Ryan-like against two-back sets.
Note the stand-up DE at the top of the screen. That's Kemoko Turay, the twitchy raw talent best known around these parts as my stupid draft pick years ago. He's still not much of a pass-rusher outside, though Illinois's gawd-awful OTs weren't hard to edge.
Rutgers will have Turay play like a 3-4 weakside LB (or like Durkin wanted to play the Buck linebacker). That means he will drop into coverage quite often, and will also carry a running back out of the backfield—a natural athlete, he managed to stay with the Illini backs (Illibacks?) just fine. This play is supposed to get the RB free in the flat but Turay picks him up and that's all she wrote:
defensive end #58 at bottom of screen
That puts a damper on hopes for this being an easy game for O'Korn (or Peters) to play pitch and catch in the flats, which is the natural response to a Quarters team with bad OLBs. It does provide an extremely elementary introduction to Wisconsin's 3-4.
They do a ton of stunting, and often line up their DT half a yard off the line of scrimmage so it's not a tip when he loops. Of course this has a drawback…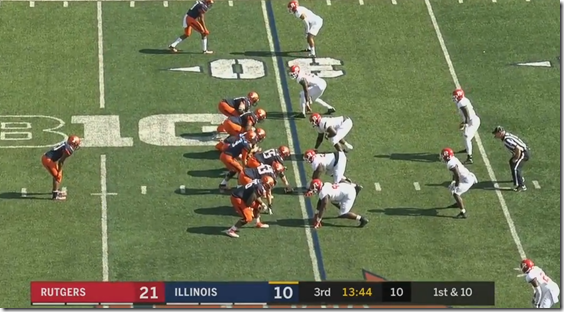 Illinois flipped their TE to the other side to put Rutgers in an over alignment, and ran right at that DT. Rather than having to move a 300-pound dude that far against his will, the Illini guard merely had to fire into him while the center (#53) ran a trap pull to blow out Turay.
This was already a big gainer when Morris (#15) overran the hole. Rutgers can't really shelve the stunt stuff because it's their only pass rush, however I expect far less of it when facing Harbaugh. Michigan's heretofore consistent power running game will have some chances to boom on Saturday.
Man or zone coverage? It's Quarters with a bunch of actual cover 2 and some cover 3 worked in. In this game however the safeties weren't stepping forward at the snap, so there was a lot more passing between the linebackers. Illinois had most of their success from running guys across the formation and stressing the WLB and FS, who were both liable to bug out after anything deep and leave a crosser unmolested. Big loping McKeon and Gentry passes beckon.
Pressure: GERG or Greg? Very GERG. Rutgers usually rushed four, and often just three. When they brought a linebacker it was usually accompanied by the WDE dropping into coverage, and to little or zero effect. This may have been an Illinois thing—Joseph or someone would break through that line given enough time—but (sigh) you've seen our pass protection right?
They also got complicated with all sorts of stunts and loops. I even saw one of Don Brown's "Dog Green" plays in there. Illinois didn't probe the middle much against this because asking their guards to do anything was suicide; Michigan should make them cut that out except for 3rd and long. The JBB vs. Turay matchup will be interesting since Turay's very much a one-trick (run by you) pony, but Bushell-Beatty has not been very good against that trick. When the OL won that matchup George had a clean pocket until a DT could bull his way through.
Dangerman: Two there are, along with an apprentice.
Let's get Isaiah Wharton out of the way first because he's not hard to categorize: he's an excellent cornerback who's excellent in run support. This was an impressive recovery to force a catch OOB after WR pushes off:
This was the only long completion against him:
That is a ton of space to the sideline with no help until the hash, and Wharton forced Jeff George Jr. to make a DO+ throw.
Then there are the nose tackles. Sebastian Joseph is a 5th year senior and has been a starter or heavy rotation player all four years of his eligibility. He's very smart, stands up to doubles, and is probably going to push Kugler around in this game. Joseph played this game with a broken hand wrapped up in a massive claw and still would have graded out like a +20/-2 in a hypothetical UFR. Watch #51 on this two-play sequence against Michigan's base running plays:
Illinois flipped the formation and ran power away from him—the SDE (#99) won his block in the all-important B gap but Joseph's initial punch made the backside guard have to slow up to dodge his center's leg and now the RG is in the way of where the back needs to bounce instead of blocking a willing linebacker.
Inside zone against him went worse:
Joseph plants the center a yard in the backfield and that allows the 3-tech and 5-tech to converge despite the linebackers eating blocks. The tendency of Michigan's young OL to release without helping would be bad.
Here's Joseph's Renes-like backup, Julius Turner, creating a TFL all by himself with a great push-pull technique:
Despite his squatness Turner was also nifty on those stunts, though Illinois's guards (especially in the 2nd half when their decent starter was replaced with a gangly freshman) were so stiff and off-balance it's hard to credit that properly.
OVERVIEW:
The advanced stats would lead you to believe this is an above-average outfit but no more: 44th against the run, 51st against the pass. They have a big gap between standard downs (64th) and passing downs (14th) and therein lies how they're doing it.
This Rutgers defense can get pushed around and chunked, but once they've got you in 3rd and long they dial up those stunts with Joseph pushing the pile, and it's hard to shake a guy loose before they get home with Wharton erasing your best option. When not stunting, their standard pass rush isn't scary at all—they're 103rd in Front 7 Havoc. If Joseph blows up your pull, your back can still usually squeeze out a couple wherever the linebackers should be.
The hybridization of Kemoko Turay is an interesting development. The book on Turay two years ago is he's really fast and athletic, and someone needed to teach him football. Maybe that would have happened elsewhere but he's been a ghost the last couple of years before re-emerging as a stand-up DE. Having that guy go into coverage complicates blocking protections and can blow up things you expected would be easy (see the rollout I clipped above).
The rest makes for a rather good matchup for Michigan. Look what happened when Lovie tried some of that good Harbaugh stuff:
Illinois flips the meat of his offense to the side with Kemoko Turay standing up and Bateky half a yard off the line of scrimmage, then runs power into the huge space between them.
This crack sweep would have broken big if not for excellent run support from Wharton:
Watch it, and then watch it again to see how far the tight end (at the top of the screen) managed to crack Douglas (#21) from the play.
The Ross Douglas thing is a thing. If you squint you can see why they like him out there over whoever the next backup linebacker object might be. This is spacebackeriffic:
#21 spacebacker inside the top hash
This is a dude who shouldn't be at linebacker:
#21 at the top on the line of scrimmage
The idea of a spacebacker is he has to be able to survive the latter so you can use him like the former. Peppers's first drive against Michigan State last year is Ross Douglas's life right now, and Douglas can't teleport past blockers with enough regularity to make up for it.
QUICKLY, SPECIAL TEAMS:
Don't punt to Janarion Grant. You should know this already. Also their kick-off guy can Foug it.
Foug'd it.