The bye week is (mercifully) over, and it's time to break down Purdue so I can set my internal "fear level" gauge to the appropriate level of paranoia. Of course, two weeks ago I was feeling mighty confident about Michigan's ability to match up with MSU, and then, you know, trash tornado, but I'm putting myself out there again in the hopes that this week's breakdown doesn't make me want to tear out what little hair I have left come Saturday. This week, I watched the important, non-blowout parts of the Boilermakers's loss to Notre Dame and victory over Illinois. On to the breakdown...
OFFENSE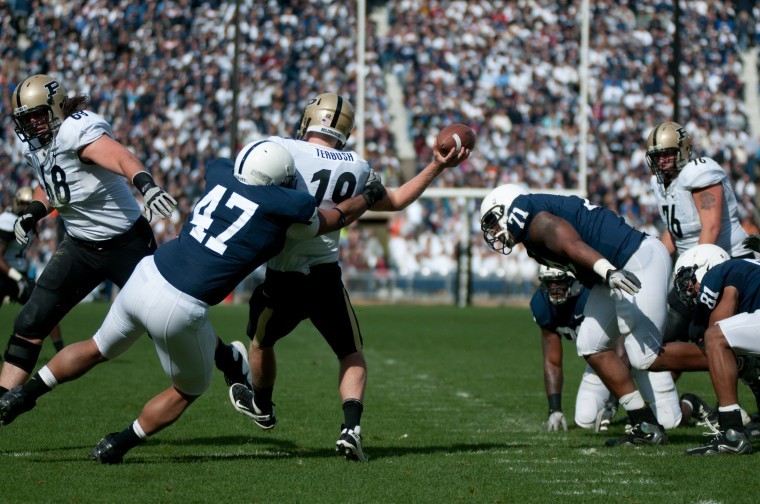 What happens when Purdue doesn't roll out their quarterback.
Spread, Pro-Style, or Hybrid? Spread, with the occasional dash of relatively-ineffective I-form (why, no, that doesn't sound familiar at all).
Basketball on Grass or MANBALL? Pretty much 100% basketball on grass—Purdue runs a ton of zone read, inside zone, and outside zone, and the rest of their running game is based on handing off to speedy wideout Antavian Edison from various spots on the field.
Quarterback Dilithium Level (Scale: 1 [Navarre] to 10 [Denard]):  Caleb TerBush has established himself as the starter and went the whole way against Illinois. He's nimble enough that you have to account for him, but not exactly an athletic marvel—I'll give him a 6.
Dangerman: I guess RB Ralph Bolden (#23), though Justin Siller still haunts my dreams despite being a pretty mediocre second wideout and occasional wildcat QB.
OVERVIEW: Notre Dame got out ahead of Purdue early—thanks to a terrible interception by TerBush—and forced the Boilers to pass a lot more than I think they'd prefer, and it showed—TerBush and the now-benched Robert Marve combined for 5.1 YPA on 38 throws. When Purdue was able to get a lead against Illinois, their offensive philosophy altered dramatically, as they were able to run the ball 42 times (despite only averaging 3.0 YPC) while throwing just 25 passes, mostly on rollouts and play-action. The key for Michigan here is simple: Don't allow a mediocre rushing attack to get an early lead, and force TerBush to try to throw the ball downfield to keep Purdue in the game—he's relatively accurate on short passes, but appears uncomfortable with any throw beyond ten yards that isn't going to a wide-open receiver.
The Irish were able to shut Purdue down completely, holding them to just 276 yards on 4.2 yards per play and not allowing a touchdown until the outcome was long decided. The Illini—despite allowing touchdown drives of 91 and 88 yards—held the Boilermakers to 304 yards on 4.5 ypp (Purdue's third, and ultimately winning, touchdown came after the Illini punter muffed a snap at his own 14). This is not an explosive offense, but instead one that hopes to somehow obtain a lead and then grind out the game on the ground, whether or not the rushing attack is actually effective (this is the spread version of "three yards and a cloud of dust").
For the rest of this week's FFFF, hit the jump.
PLAY BREAKDOWN: So, we've covered that Purdue does a ton of zone running out of the shotgun, and I don't think I need to show you what that looks like, especially when it's only going for a few yards each time against decent defenses. Instead, I'll focus on the passing game. Purdue's offensive line had consistent difficulty against both ND and Illinois protecting the passer, often allowing immediate pressure, and the Boilers have chosen to combat this by rolling out the quarterback on nearly every passing play. Here's a successful example, the first completion against ND after TerBush threw his awful interception:
Note that the offensive line blocks this as if it's a running play—instead of the tackles dropping back to form a pocket, they're moving forward after the snap. I'm not sure if TerBush has a run/pass option here—even if he did, he isn't particularly dangerous scrambling out of the pocket—and I didn't see Purdue do any designed QB runs off the rollout, so I think this is just their way of throwing off the defense and keeping their QB upright.
On the play above, TerBush hits his receiver on a slant for the first down, and this appears to be the route he's most comfortable throwing—he throws almost exclusively underneath, with a lot of slants and inside hitches, and rarely chucks the ball beyond ten yards. Below, you can see a different route combination that Purdue utilized when Marve was in the game against Notre Dame:
Again, you get the QB rollout, but this time the two outside receivers run short, inside hitches while the slot receiver loops around them on a wheel route, and Marve delivers a really nice throw. Marve, if we happen to see him on Saturday, definitely has the higher ceiling than TerBush—he had probably the three best throws I saw of any Purdue QB over the two games I watched—but his inconsistency and inaccuracy is his downfall. TerBush won't light it up, but (despite the one terrible throw against ND) he won't make too many mistakes and can hit all the short throws.
OFFENSIVE BULLETS:
Expect several different players to get carries for Purdue, though Bolden is the clear-cut number one back. His backup, awesomly-named junior Akeem Shavers, actually has a slightly better YPC (5.00 to 4.85) and three more touchdowns on 17 fewer carries, but he did nothing to stand out in either of the two games I watched. The Boilers will line up receiver Antavion Edison as the halfback in the I-formation, where he brings a speed element that the other backs lack, and also could get a jet sweep or two—he doesn't have great vision when running the ball, but he's quite fast, so Michigan must be better prepared to defend the jet sweep than they were against (ugh) Eastern Michigan and State.
Edison is also the main target on pass plays, and TerBush sometimes locks on to him—that's what happened on the ND INT. He actually has fewer catches than Justin Siller, who is more of a possession guy (or, at least, less of a deep threat), but he seems to be targeted more often. Siller is a big target and a threat in the red zone, but he's not a dynamic athlete like Edison and dropped a couple easy passes. I'd expect to see J.T. Floyd matched up with the bigger, more physical Siller while Blake Countess deals with the speed of Edison.
One thing to watch out for is the very quick pace at which Purdue plays. They're no Oregon in terms of actually moving the football, but they get right up to the line after each play and get the snap off with alacrity—Michigan may have a tough time rotating in D-linemen, and I expect we'll see the nickel package get far more snaps than the base defense.
DEFENSE
Base Set? 4-3. Purdue usually will go to a nickel when faced with three- or four-receiver formations, but they also sometimes stay in their base set as the situation dictates (notably, on first down against a run-heavy team like Illinois).
Man or zone coverage? Almost exclusively man, which worked not-so-well against Michael Floyd but they stuck with it anyway.
Pressure: GERG or Greg? In other words, rush three or bring a bunch of blitzes? Purdue doesn't generate a lot of pass rush with their front four, so they'll bring a fair amount of blitzes, often bringing a man from the secondary (more on that later). So, Greg.
Dangerman: NT Kawaan Short (#93)
OVERVIEW: Purdue is really intent on playing man coverage on pretty much every play, and this killed them against Notre Dame as Michael Floyd ran rampant through their secondary. The real issue is with their run defense, however, which couldn't stop Notre Dame's zone running attack (more on that later, as well) and also gave up nearly 6 ypc against Illinois when sacks and muffed snaps to the punter are removed from the equation. The Illini were shut down not as much by Purdue's defense as they were by their own doing—after falling behind early, Illinois completely abandoned the run game despite having ample time left in the game (remember, this is a team that bases their whole offense off the triple option with occasional huge passes to A.J. Jenkins) and Nathan Scheelhaase looked ineffective and uncomfortable.
They do have a couple quality players—nose tackle Kawaan Short is a nimble guy for being a run-stuffing space-eater, and he made a few very nice plays on interior runs against both Notre Dame and Illinois. Cornerback Ricardo Allen is just a sophomore, but he's already Purdue's most effective corner and does a solid job in man coverage. Outside linebacker Joe Holland is the team's leading tackler and displays good instincts against the run. Other than those three, no players really stood out to me—this is a relatively mediocre unit, despite the misleading score in the Illinois game.
PLAY BREAKDOWN: Hello, zone running plays. Michigan hasn't been able to get consistent production from their running backs all year, but Purdue starts a redshirt freshman at strongside DE and a 235-pound fifth-year senior on the weakside, and it shows in their run defense. The below is all from the same drive, and actually wasn't the worst effort Purdue put up against the run versus ND (on one three-play drive, Jonas Gray took a quick toss for 12 yards, an outside zone for another 12 yards, and then an inside zone for a 55-yard TD, with both DEs getting manhandled on the last couple plays):
Since Purdue plays man at pretty much all times, spreading the field with four receivers really opens things up in the middle of the field. It'll be interesting to see if they switch things up when faced with Denard Robinson at quarterback, but even if they keep in two linebackers against four-wide the numbers still favor Michigan when Denard's running ability is added to the equation. The Boilermaker safeties also showed a disturbing (for them) tendancy to take terrible angles when running backs reached the secondary, so we could see some big runs on Saturday from both Denard (a given) and the running backs (not so much).
To make up for their lack of a pass rush, and also to defend the rollout (take note, Al Borges), Purdue often brings a defensive back off the edge to get a little pressure and also help with their run defense. The problem, as you'll see below, is that their safeties have the habit of tipping the blitz early. On the first play in the video, Tommy Rees makes a check at the line when he sees the safety barreling towards the LOS, and the blitz is easily picked up while Rees hits a receiver for a solid gain. On the second play, the safety again tips the blitz, this time by running down to cover the receiver who will soon be vacated by the blitzing nickelback—Rees checks to a run away from the blitz, but a great play by Holland stuffs the play in the backfield:
With Michigan's major difficulties in timing their snap count against Michigan State, we'll see if Purdue attempts to get aggressive with their blitzes—there will be space to exploit if Denard has the ability to scan the field pre-play and make a check if necessary. Also, hopefully Purdue's consistent edge blitzing discourages Borges from calling a bunch of bootleg passes—I think we've seen enough of those.
DEFENSIVE BULLETS
I really think Michigan will have success running the football in a big way. The linebackers, other than Holland, display pretty poor instincts and are often too passive in getting to the football—many runs hit the second level and met no resistance until a safety came up to make the play. Combine this with the DEs tendency to lose the edge—which happened often against Notre Dame—and I have a hard time seeing Michigan not moving the ball on the ground in big chunks.
While Purdue's man coverage got them burned against Michael Floyd, the cornerbacks actually are pretty solid when not facing future NFL stars. Since Michigan doesn't have any of those at receiver, Denard is going to have to be careful with his reads and not force anything that isn't there (duh, I know). The good thing is that he shouldn't have too hard a time reading the coverage—probably 90% of the time, Purdue is going to be in man coverage with either one or two safeties (often just the one, especially against four-wide) helping over the top.