Fee Fi Foe Film: Ohio State Defense
Previously: Ohio State Offense
When half of your defensive depth chart gets requisitioned by the NFL it's usually a bad sign. Somehow, Ohio State is getting even more production out of the replacements. Without Joey Bosa or much in the way of blitzes, the Buckeyes are tops in the nation in power success rate and stuff rate, and 14th in Havoc.
Whereas the offense was relatively young with lots of stars covering up a few big holes, this defense is relatively young with lots of stars and a few guys I had to explain why they didn't get stars.
My search for visual evidence was inhibited by the decision to shoot the whole Wisconsin game in that annoying sideline angle-vision:
…which I guess directors love because the formations are perfectly framed, and people trying to watch football hate because you can't see anything once the ball is snapped. Getting a read on the secondary was especially tough, since you literally didn't see them until the same second they're making a play on the ball. The tradeoff for pore-o-vision was Wisconsin ran a ton of heavy sets, power, and jet sweeps. Michigan's best hope to crack this nuts defense is with RPS, and the Badgers did just that.
Personnel: The diagram is nuts.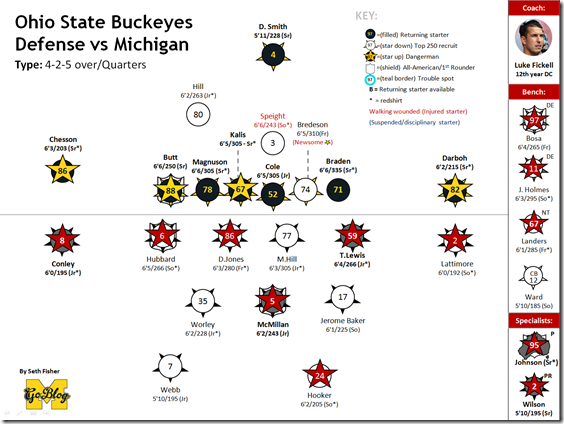 click for bigger, open in new window for bigger-bigger
The only guy who wasn't at least close to a star is strong safety, Cass Tech alum Damon Webb, who came from cornerback to win an all-offseason position battle rife with negative heuristics. Webb is a –4.1 in pass coverage to PFF and about zero overall. Zero is hanging in there; he's the weak spot only insomuch as McCray is Michigan's, and like McCray, Webb's weakness often takes the form of getting beat to the flats. Troy Fumagalli had 7 catches for 84 yards in this game.
Worley is fine, not spectacular. Baker is discussed below. Also discussed below: three starry "backup" linemen who rotate as heavily as Michigan's DL. The backup CB, Denzel Ward, is a speed demon who was neck and neck with Lattimore through fall camp; OSU fans think he's a future Jourdan Lewis. Dime corner Damon Arnette made an appearance and was promptly beat on a fade on 3rd and 9.
Base Set? They're a nickel over (think Michigan State) team with a hybrid space player to the weak side and the DL aligned to formation, with the SDE over or outside the tight end. Wisconsin brought out a lot of heavy sets so Ohio State responded by walking down the overhang DB as a 4th linebacker.
The LB about to blitz there is the HSP, Baker, in an attempt to use aggression to solve the fact that he's safety sized. We'll see this play again in the overview section.
On passing downs they remove the DTs and put their four best pass rushers (Bosa, Hubbard, Holmes and Lewis) out there with wide splits. Ramzy said they call it the "Rushmen" package, which is far too lame for something so terrifying. The "Four Next-Bosas" is more apropos:
Or maybe "The Dogs of Ramsey Bolton":
Wisconsin never found a way to deal with this other than take a 10-step drop and hope to survive the tsunami. And try like hell to stay out of passing downs.
[You are welcome to hit THE JUMP if your doctor says it's alright. Tell her you're taking a lot of Harbaugh.]
Man or zone coverage? This is a Michigan State-style Quarters defense, where the cornerbacks play press and the safeties take the inside receiver if he goes vertical. They have the same response to trips as MSU, leaving the boundary CB in no-help man-to-man coverage and playing quarters with the rest. They mix in a ton of Cover 3 and Cover 1. The linebackers are all excellent in pass pro.
Pressure: GERG or Greg? Gerg, but when you can break out the Teenage Mutant Ninja Truck-Drivers (hey that's a good one!) who needs blitzing? They'll bring a linebacker here or there and drop an end into coverage, but of the LBs only McMillan isn't comically bad at timing those, and McMillan is just bad.
Dangerman: Like the whole team.
PFF gives us their numbers in these big PDFs where green means a guy is performing really well (+5 or higher) and red (-5 or worse) means he's not. I've never seen so much green:
Somehow Ohio State lost both DTs and Joey Bosa, and didn't drop off in DL production. Their DTs are good; they're as deep at the ends as Michigan is with tackle types. Credit is due to Larry Johnson Sr., a legendary position coach who shook loose from Penn State when James Franklin arrived. You just saw Penn State's DL run off a cliff when the last Johnson kids graduated; now you're seeing the maturation of his handpicked Buckeye recruits.
Starting with the heavies, nose Michael Hill (+5.8) is an immobile anchor but doesn't add much pass rush. Tackle Dre'Mont Jones (+16.8) is a budding Adolphus Washington. I like their backup Robert Landers (+9.2)—he's got great explosion off the snap which caused Wisconsin more problems than either of the starters. He also got stood up some.
The ends are Michigan-at-DT-level deep. Tyquan Lewis (+16.7) isn't Taco but isn't far off, with 27 hurries and 7 sacks this year. His most significant accomplishment however is what he's been holding on the bench. You may have noticed my graphic has a dude with a shield on the bench. By now I'm as sure as ever that Joey Bosa collected his NFL check and is now back at school pretending to be a long lost cousin or something. "Nick" Bosa has just about the same dimensions, and is the same ludicrously unblockable player that he was when he went by Joey. They didn't even change his number. Seriously Ohio State, it's not that you cheat, it's that you're so obvious about it. Bosa doesn't technically start but he's got the highest PFF score (+23.4) on the team; he's a "backup" only in the way that Maurice Hurst technically is. They've got a Wormley-like guy too in SDE backup Jalyn Holmes (+15.8), who can play inside or out.
To focus too much on Bosa and Holmes is to ignore the other man who starts ahead of them, and you ignore Sam Hubbard (+22.8) at your quarterback's peril. Dude killed 2/3 plays on that eventually decisive successful goal line stand at the end of the first half: exploding past the RT so fast on 1st and goal that Hornibrook couldn't wait for a mesh to get open, then blowing by Ryan Ramczyk to force a bad pass that could have been a running back walk-in. Watch the first and third play here:
The 2nd down play was killed by another star, Raekwon McMillan, who might just be the best middle linebacker in a conference absolutely silly with them. McMillan is fast, incisive and agile. He can take on blocks, and is adept at picking through traffic. Even when you don't see him he's making a play. In the video above he directs Worley where to go, then dives into the lead blocker and sticks the RB for no gain. The former 5-star's only a +15 to PFF but I've seen enough of this guy to know when I'm watching one of the greats.
Moving on to the secondary they had to replace both safeties and the new guys…
/NUMBER 24 SCREAMS ONTO SCREEN!
/PERFECT FORM TACKLE IN BACKFIELD!
/BUCKEYE EGG TWITTER CALLS HIM BETTER THAN PEPPERS!
Sigh. Malik Hooker made a name for himself with some ridiculously athletic plays in coverage. He also does this on the regular:
He's well on his way to a shield next year.
The cornerbacks are closing in as well. Gareon Conley, last year's boundary cornerback, is taking the field side this year and at times they barely miss 10th overall pick Eli Apple. Conley is excellent over the top and will convert wobblers into interceptions. However his run defense was exploitable when he wound up the overhang guy. When he committed to Michigan we billed him as a faster Channing Stribling, and that scouting report has borne out to be surprisingly accurate—Wisconsin's long run at the beginning of the game was 9 yards of RPS and 59 yards of Conley missing a tackle. In pass defense this was Conley's better games, though he did allow an uncharacteristic reception between an athletic PBU and picking off a Mitch Leidner special.
The new Conley on the boundary side is Marshon Lattimore, who's got a Lewis-ian +17.8 PFF score. In this game there were a lot of pressured throws downfield where Lattimore was in good position and nobody had a shot at the ball. He was also the better run defender.
Also Cam Johnson remains the best punter in college football, perhaps college football history. The consummate Aussie is netting 42 yards with only a quarter returned, and is so ludicrously accurate he's had only 5 touchbacks on 43 punts. Fortunately he's out of eligibility after this year. PFF has him a –13.8.
---------------------------------
OVERVIEW:
Barring an epic day from Speight and some major Harbaugh, we gonna die. The end.
Dude, c'mon, Wisconsin had 450 yards and 23 points in this game. Tell us how.
The refs forgot they can flag holding until the penultimate minute of regulation.
Nothing player-related?
There was that one Webb coverage bust:
And nothing else?
Well there was some major Harbaugh.
As State did against Peppers, Wisconsin went extremely heavy, moving pieces before the snap to get better matchups, and putting linebackers attuned to defend spreads out of their comfort zone.
This counter play catches Ohio State trying to hide its small guys away from then strength; it catches a 5'10" safety playing a Jake Ryan-esque SAM, a 225-pound hybrid space player getting blocked by a center, and a cornerback trying to tackle a truck:
Success happened in bursts—Wisconsin would crease them for a big gain when a blocker appeared where a linebacker wasn't expecting, then sputter while probing for more. Like Michigan the Bucks got got on those Jazz Peavy jet sweeps:
Big gains on jets early in the game froze Ohio State's excellent DEs for the rest of it, and then it was a matter of popping Clement through a tiny hole before the OLBs realized it existed. Both OLBs had trouble getting past lead blocks. Worley did a much better job than hybrid space player Jerome Baker, the victim above, who had a really rough game.
Baker's +15 (virtually identical to McMillan's) to PFF is a problem for me because in this game he was constantly winding up way out of his lane and on the wrong side of tight end and fullback blocks. He didn't see receiver crack blocks, and when they encountered him he moved. He may be an anti-spread ninja who wasn't prepared for manball in his time—Baker was Peppers-like in shooting past two OL to kill a screen. But this can't be that different from corralling slot receivers:
In this case the lingering "OR" with injured Dante Booker all season seems a more relevant heuristic than PFF's super-high score.
Speaking of screwing up jet sweeps, watch 97 on this one:
I capped that despite the atrocious camera work because it's funny and because that was literally the only bad play by Bosa all day, and I may never get the chance to laugh at that guy again. The good news is the Bosas aren't the Glasgows; after Nick's eligibility expires in 2018 we've got a reprieve until the next generation. For the present, uh, get the ball out quickly.