Fee Fi Foe Film: Northwestern Offense 2018
Despite what many Northwestern fans say while shaking fistfuls of their own hair at you, the Wildcats' play-calling isn't the only problem with the Northwestern offense. But going from Scott Frost to Mick McCall in a week is jarring.
The film: The Wildcats opened the season with a 31-27 win at Purdue then lost 7-21 to Duke and 34-39 to Akron. Michigan is nothing like Purdue. Akron is 111th in S&P+, had 140 penalty yards, scored three return TDs, and caught Northwestern with and without several injured linemen. So: Duke. Duke is currently 27th in S&P+ and runs a tight man-1 defense. This also means your author had to spend several hours listening to Medill grads talk about what a great thing academics are.
Personnel: My diagram (Official depth chart):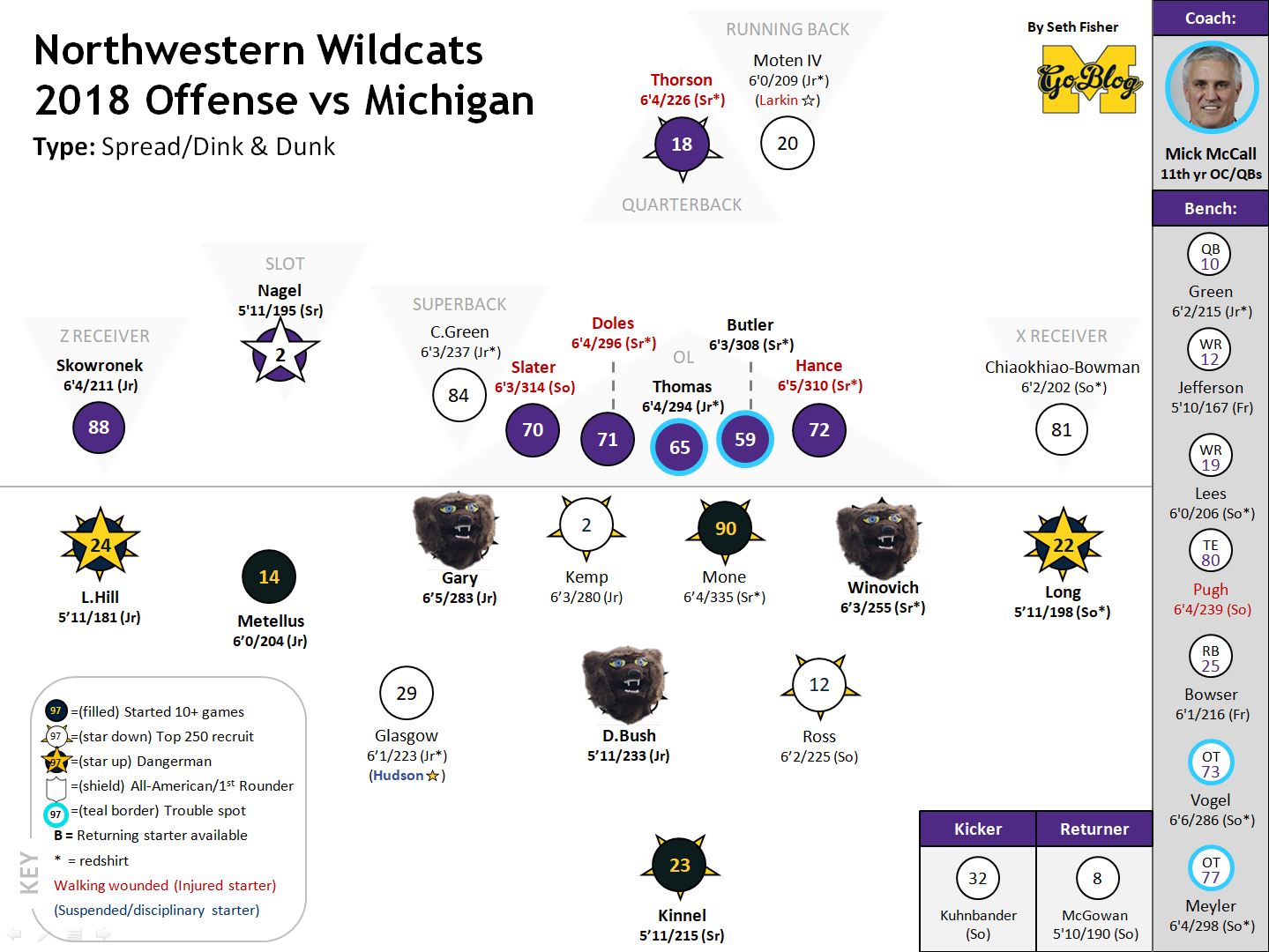 PDF version, full-size version (or click on the image)
The bye week came at an opportune time. Northwestern has three viable offensive linemen, and limped to the end of the Akron game without all of them. Senior four-year starter QB Clayton Thorson has been on a "pitch count" this season as he recovers from an ACL tear suffered at the end of the last one, with mediocre TJ Green inserted for a depreciating percentage of snaps. Green was in for a third of this game and a fifth of Akron. The plan may have been to phase Thorson back in completely by this game.
Not everybody made it back. This week running back Jeremy Larkin medically retired from football. This is a Big Deal. Northwestern likes to lean on one running back like it's 1979. Recently graduated Justin Jackson had 1142 carries in four years, ceding just 84 touches to freshman Larkin last season. The next guy, John Moten IV, had 17 carries for 3.24 YPC in 2017. Larkin this year has accounted for 85% of their non-QB running game. He was also one target shy of tying slot receiver Flynn Nagel as his quarterbacks' top passing target. Moten this year has 21 yards…on 12 carries. It's a Big Deal.
[After THE JUMP: Inside the mind of a non-genius]
------------------------------
Spread, Pro-Style, or Hybrid? Spread, as you might have guessed from a dynasty that's just one generation removed from Randy Walker. They have duly adopted every subsequent spread invention (and RPOs, which began in the NFL). Against Duke, Northwestern spent a lot of time in a trips look to give their WRs free releases for pick plays.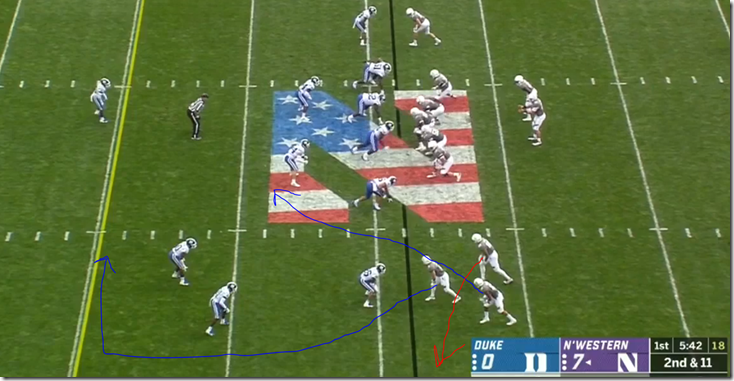 They'll stay in 11 (three receivers, one TE) personnel, going 4-wide by putting the TE way out on the edge and 5-wide by adding the RB as a slot receiver, often motioning him back into the shotgun. They ran a ton of Mesh and twist-to-vertical routes, but the receivers are not very athletic and the Duke DBs were expecting this—when the picks worked it was because a crosser took to flat-out blocking his buddy's tail.
Northwestern still calls its tight end a "superback"—an anachronism dating back to when Randy Walker adopted Tulane offensive coordinator Rich Rodriguez's spread 'n shred offense, which used a runny-catchy-blocky fullback in the backfield. The last vestige today of the superbacks' fullbackian roots is Northwestern's goal line formation, an Ace set from which they'll motion a tight end into an offset-I.
Fortunately Northwestern got their annual "Let's Pretend We're Patriotic by Wearing Ugly Uniforms and Flagging Up the Midfield 'N'" day out of the way early this year  
Basketball on Grass or MANBALL? They're a Power/Outside Zone running team, though even with Larkin they significantly cut back on running. When they did run I counted 11 from the power tree, 6 outside zone, 4 split zones, 3 inside zones, 3 runs from the jet package, 1 draw and a speed option. The two zone reads were filed as outside zone since the defense did not respect the possibility of a keeper and the QBs gave them no reason to.
I didn't chart the last T.J. Green drive against a prevent defense down two scores with under a minute left. This came out to 65% passing.
| Formation | Run | RPO/RSO | PA | Pass | Total |
| --- | --- | --- | --- | --- | --- |
| Shotgun | 17 | 7 | 5 | 49 | 94% |
| Wildcat | 3 | - | - | - | 4% |
| Heavy | 2 | - | - | - | 2% |
| Down | Run | RPO/RSO | PA | Pass |
| --- | --- | --- | --- | --- |
| 1st | 11 | 4 | 2 | 15 |
| 2nd | 6 | 3 | 3 | 14 |
| 3rd & 4th | 5 | - | - | 20 |
Much of that had to do with the non-success of their 1st down running plays—only a third of their 2nd downs were within 6 yards of the 1st down or goal marker. It also represented a stark shift in McCall's play-calling in the first half of the game (75% run or RPO on first down) and the second half of the game (22% run/RPO on 1st down) when they got down by two scores.
I quickly ran the run/pass ratios from Akron as well and yeah, it seems McCall's instinct when he gets behind is to all but scrap the run, even when it's working better than his passing game and he's got plenty of time left. Remember both of these games were never more than two scores apart:
Duke
 
Akron
1st Half
Down
Pass
Run
 
Down
Pass
Run
1st
5
11
 
1st
9
8
2nd
10
5
 
2nd
6
7
3rd
7
3
 
3rd
7
3
4th
1
-
 
4th
-
2
Total
45% run
 
Total
45% run
2nd Half
Down
Pass
Run
 
Down
Pass
Run
1st
12
4
 
1st
21
4
2nd
7
4
 
2nd
10
7
3rd
8
2
 
3rd
6
3
4th
4
-
 
4th
2
1
Total
24% run
 
Total
28% run
The evidence is mounting: Mick McCall is the AI from NCAA 2014. I bet he counts sacks as runs.
Hurry it up or grind it out? No-huddle that takes its time lining up but will occasionally speed that up. Northwestern's adjusted pace this year is –1.91 (national average is zero), making them the 31st most tempo team in FBS. They were 36th last year. It's uppish-tempo.
Quarterback Dilithium Level (Scale: 1 [Navarre] to 10 [Denard]): Neither quarterback is much of a run threat so zone reads have almost completely disappeared from the offense. Ace gave freshman Thorson (yes it's been a few years) a 6 for being involved in the run game but that was before the knee injury. Today he drifts out of the pocket only rarely and gingerly; there's a reason he was limited. Thorson gets a 1, Green is a non-tall guy with two functional knee ligaments so he gets a 3.
Zook Factor: Fitz has been known for some bizarre clock management. I didn't quite know whom to blame for this play:
I filed it as a "BR" because he got soft coverage on the trips (other) side for an easy 10 yards and out, and nothing can come from this pass except maybe he gets out of bounds. But maybe he was throwing it away and the WR idiotically went up for it? People on the sideline are clapping.
Fitz has also been on tilt this year. Not counting comeback hour, he went for it on 4th and 9 from the Duke 40 (good), 4th and 3 from the Duke 36 (sure), 4th and goal from the Duke 6 (okay), and 4th and 11 from the Duke 29 (something wrong with your kicker?). They tried five 4th downs against Akron, and while four of those were defensible, the 4th and 3 from the Akron 16 when up 21-13 was pretty aggressive; I guess the worst that can happen is you'll throw a pick six (he threw a pick six).
For the record their kicker Charlie Kuhbander was 13/16 last year but is just 1/3 this year after missing from 35 and 43 against Akron.
Dangerman: The strictures and conventions of Foe Film demand I name one, and I'll explain why Thorson doesn't get a star in the ThorsonChart section. Since we are also deprived of Larkin, the honor goes to Flynn Nagel, who is everything his name implies.
As we were reminded by the announcers whenever they needed a talking point besides "these schools like academics a lot" Nagel was a middling 3-star (578th on the composite) who decommitted from Duke to sign with hometown Northwestern. He had 16(!) targets in this game and if you add the one Jet carry that equals the number of white guy adjectives the announcing team used to describe him.
His connection with Thorson is the best part of this offense. I didn't capture it but there was a communication between the two of them right before this snap when Nagel saw the nickelback (#26) come down into the slot to threaten a blitz.
That's an NFL pre-snap check to convert to a corner route, which is undefendable when the cornerback is in man coverage with no leverage. Nagel may not be super fast but he's got the route chops to make a guy look bad:
(Thorson underthrew this but with a fast overhang safety who'd been giving them fits all game I don't fault him for wanting to minimize the time the ball is in the air here.)
As befits a gritty heady smart savvy cerebral sneaky athletic out-hustling high-IQ gym rat grinder winner lunch pail guy with a lot of heart and good fundamentals who plays the game the right way, Nagel is a scrappy blocker:
#2 the slot receiver
HenneChart:
Clayton Thorson has been starting at Northwestern since Jim Harbaugh arrived at Michigan. While contemporaries like Rick Leach have all retired by now, Thorson is just now finally reaching the end of his college eligibility. Because he is tall and stands in the pocket delivering accurate passes to open receivers underneath the coverage, the NFL talk began in 2015 and only subsided when an ACL tear in last year's bowl game put his career in jeopardy.
His best season was 2016, when he completed 59% of his passes for 5.75 yards/attempt and 22 TDs to 9 INTs. That was the year he had gritty scrappy etc. Austin Carr. Post-Carr it's been a grind full of checkdowns.
NW vs Duke
Good
 
Neutral
 
Bad
 
Ovr
Quarterback
DO
CA
SCR
 
PR
MA
 
BA
TA
IN
BR
 
DSR
PFF
Thorson
1
14+(3)
-
 
8
2
 
1
4
3
4
 
58%
-
Green
2
2(3)
-
 
3
1
 
-
3
-
2x
 
44%
-
Note all the pressure and throwaways. A lot of this charting came when one or both starting tackles were injured, the backups were terrible, the other starters disintegrated too, and McCall kept throwing long-developing man-beaters anyway. Quickly neither quarterback trusted a pocket and started getting rid of it as soon as he felt pressure. In Thorson's case that was usually the correct move; Green tended to abandon ship at the first sign of a leak, and while it's hard to blame him, it ruined his efficiency. They don't tend to get very much to begin with; when 55% of your pass plays get three yards or less you're gonna have a bad time.
Given that offensive line you should be surprised to learn that according to Bill C's numbers Northwestern has yet to give up a sack on a passing down (the only team in the country). That's not quite accurate—there was a sack on 4th and Goal from the 6 in this game—but more evidence that McCall has trained his quarterbacks to be extremely conservative. Note the total lack of scrambles in this game: When pressure comes they check it down or throw it away.
OVERVIEW:
Both tackles and the tight e—sorry, Superback—were out of the game by the last quarter. What was questionable pass protection devolved into a crisis every down. Their offensive coordinator did them no favors, going almost exclusively 4- and  5-wide and calling long-developing man-beaters and fly routes. If the trainers were committed to returning Clayton Thorson to his new bride after the game, Mick McCall seemed equally determined to make her a widow.
I would like to see Thorson in a better offense. Other than Gritty McEksteinpants the receivers are tall, creaky, and get no separation beyond that provided by the playcall or a successful pick. Leading WR Bennett Skowronek is the kind of guy you want to put 30 more pounds on to see if he's a tight end. Redshirt freshman WR Ramaud Chiaokhiao-Bowman (RCB to all) is a guy you put at split end so the defense has to cover the width of the field, then forget about. TE Cameron Green is a blocky converted WR I didn't get to scout much because he left the game in the 2nd quarter for targeting, but he was also just a guy. The backup TE Trey Pugh, who also left this game later on and missed the Akron game, is a decent blocker with stone hands:
That throw can't go anywhere else at any other moment. Thorson deserves better. He has thrown the ball 1,323 times at Northwestern, 54 short of Chad Henne's Michigan career. He knows how to make checks, read a defense, move around in the pocket, and deliver a catchable ball. He can probably lead a receiver downfield but there's nobody on his roster who can keep a cushion down the sideline. The emphasis there is "catchable"—he rarely will fire them into tight windows and he doesn't bother to provide a shot at YAC unless it's a screen. His downfield throws usually drop a few yards ahead of his receivers because any shorter and it's a potential pick.
The one "DO" I gave him was charitable since a more aggressive cornerback or a receiver who doesn't shield it this well turns this into six points for the defense:
(the penalty was holding on the other side)
Also he had to throw it with a stunting DE in his lap that he couldn't avoid because his right guard was also beat.
This is a good opportunity to have the talk about offensive line, and RG Tommy Doles in particular, because Doles is the guy making preseason watch lists for starting forever, and he's representative of the line as a whole. Here are the Doles-related incidents I charted:
Doles(-2) thrown 3 yards into backfield, blown up
Thomas(+1) and Doles(+2) successful scoop, but Butler(-2) slow out of stance, stood up in backfield and Larkin can't get to the beautiful hole
Bad blocking, Doles(-1) and Hance(-1)
Doles(+1) zone blocks (gets away with hold) well
Doles(+2) great scoop
Nagel wide open, throw is short because PR from Doles(-1)
Hance(-2)'s guy around at 3 yards, can't step up bc Doles(-2) blown back into his lap
Doles(-1) and Hance(-1) both let guys inside them
Doles(-1) and Vogel(-2) ruined by a twist, he chucks it to where his guy might break, it's CAUGHT! DO. Lees+2 (this is the play clipped above)
Doles(-2) misses chip, Thomas(-1) and Butler(-1) also shed quickly. Green chucks it as he's being sacked by all 3
Meyler(-2) loses his guy immediately, Doles(-1)'s guy sheds and loops around to force throw
Wiederkehr(-2) and Doles(-2) beat
Wiederkehr(-1) and Doles(-1) both take one guy, other guy pressures
Doles(-2) chucked
The pattern here: Doles is a good zone blocker, at his best when attached to a linemen and moving his feet around him. At pass protection however he was constantly overwhelmed, especially when the starting RT went out, the run game disappeared, and Duke's defense was allowed to pin their ears back and stunt around Doles and some poor backup Doles was trying to help. Eventually they took to pulling LG J.B. Butler to the backside on pass plays to get some blocking. Somewhere in that adjustment they got so discombobulated they didn't block the DT at all on a three-man rush:
Thorson was given one second to find the open guy in an 8-man coverage before his ribs accepted their fate. And you know what? He did.
And the guy dropped it. :(
All five of these linemen have returning starter-level experience although the current configuration didn't come about until a reshuffling last year. That shuffle finally put now-C Jared Thomas, who had been a disaster at right tackle, on the bench for then-true freshman RT Rashawn Slater. Graduation of last year's center put Thomas back on the line where his limited athleticism keeps him protected better from edge rushers, but Slater is just 6-3. LT Blake Hance doesn't look good in the DolesChart but he was fine. He and Doles also missed the Akron game and while expected back for Michigan neither one can afford to lose a tick of athleticism right now. LG J.B. Butler was a consistent sore spot, and being paired with Thomas hasn't helped.
#59 and #65
So how can an offensive line with 108 combined starts between them be so bad? To begin with they're not very long—Hance is 6-5 and the rest are about 6-3. And a couple of them—particularly Butler and Thomas—are not very strong.
Mostly however I think they're just doing way too much of what they're not good at. Going 4- and 5-wide and chucking it short is a strategy—it's how you move the ball against a Mattison-era Michigan defense if you're Akron. Going 3-wide with two backs and zone reading and outside zone blocking is a strategy too—it's how Randy Walker kept Northwestern in the Big Ten title hunt after Barnett left. Going "eff-it" and alternating between quick screens/RPOs and deep chucks to huge receivers is another good strategy—it's how Penn State got good on offense when their OL was still being hampered by scholarship restrictions.
Going spread and alternating between mesh routes and deep stuff with play action that threatens inside zone runs that you don't really run is not strategy, it's an invitation for the defense to tee off on your quarterback.
Do they have RPOs? I think? Thorson was reading this for a long time with the ball at the mesh point:
Sorry I got no clip of this because my recording was shortened and I had to turn to BTN to watch chunks. But I've seen this RPO run often against Quarters teams: you read the backside safety and if he steps down there's a post to the receiver behind him. They're running it against a Cover 1 team that spends most of the day in Cover 1 and hasn't brought their safeties down all day because there's no fear of the run. They get Cover 1. Practice time well spent, guy.
They're not terrible—they tend to look terrible because they're badly coordinated. For example this Power run that pulled the center punished Duke for those stunts against the right side of the line.
That made the Blue Devils cut it out for a quarter then ran a different stunt in the 2nd quarter where their nose tackle pulled to the frontside when he keyed the center pulling. Thus RPS'd, Northwestern shelved the play, and Duke went back to their frontside twistyblitz games unchecked. 
The Wildcats also got a 40+ yard gainer from zone when Thomas turned a guy:
That's a +2 block made a +3 because of Larkin's footwork, and if Thomas had been given any more chances to do that I wouldn't have cyan circled the guy for getting lost in pass blocking all the time. Also his protection reads wouldn't be so wrong all the time if Duke had any concern about lane integrity.
Northwestern fans have been yelling futilely about McCall for years. Sippin' on Purple has been rebranded "Inside NU" on SBNation and is well into the Henri zone.
At times, the fans, the students, and even Northwestern's precious media figures seem as devoid of narrative agency as the giant slabs of glass on the lakeshore. What are we going to do, not show up? If no Northwestern fans showed up for the Michigan game out of protest, would anybody even care? If Northwestern had a game and no actual Northwestern fans showed up for it, would the school even lose money? If an angry Northwestern fan posts "Fire McCall" on Twitter and nothing happens, did the tweet ever really exist?
The "giant slabs of glass" refers to the Ryan Fieldhouse, the gorgeous new lakefront indoor football practice facility in the lead photo that should by rights hereafter be referred to as the Dave Brandon Center for reasons made apparent at that link. Fitz was wise to stay in Evanston, where he can run his program how he likes and fire his assistants in his own time. Except for a vocal Xennial portion of the fanbase who define the football arrangement of 1995-2000 as normal, this is fine.
You never know—a bye week and some self-reflection could mean McCall gets his part of the show back up to par. I really don't want to send the impression that this is just a bad offense with bad players. What they needed most is a week off to heal—they got that—and a run game that isn't shelved the first time it short circuits so Thorson can operate. There's an efficient West Coast offense in here somewhere. I don't think they'll find it with McCall.