Fee Fi Foe Film: Indiana 2018 Defense
Previously: The Offense
Resources: My charting, IU game notes, IU roster, Bill C profile, CFBstats Also a huge thank you to MGoArchive for providing the footage.
Tom Allen's single-year turnaround of #CHAOSTEAM can't be understated. It earned him the head coaching job when Kevin Wilson was let go. Last year proved it was no fluke; Allen's defense finished just outside the Top 25 in most fancystats, and littered my diagram with stars.
This year was expected to be the rebuild, Discount 2017 Michigan, if you will, when the Indiana Hills and Longs and Bushes and Winovichia replace the inherited Lewises, Striblings, Gedeons and Tacos, take a step back because they're all sophomores, but portend great things once Allen's guys in Allen's system are all shaving. So far, those guys are all no-shows. Other than some part-time starters in a shaky secondary everyone on the field either was in Bloomington or committed to be before Allen was.
The film: What if Michigan was an up-tempo spread team with a stand-and-deliver quarterback who got the ball out quickly to his slot receivers all the time? And then imagine if it went against Indiana's defense? What would that even be like? I was wondering the same thing so I found…okay you got me. Also I've been using Tom Allen's defense as a stand-in for Michigan's all year so I didn't bother wasting precious The Game scouting time for another game.
The diagram:
PDF Version, full-size version (or click on the image)
Whereas last year Indiana had a star on every level this year each position group has a problem. The official depth chart has NT Mike Barwick starting over NT Ja'Merez Bowen but both rotate equally, with Syracuse transfer NT Kayton Samuels occasionally spelling them. DT Jerome Johnson split time last year with DT Jacob Robinson who is expected back for this game. None of these guys is liable to do more than push back and maybe knock a lineman upfield. Ditto SDE Gavin Everett, but his pass-rushing freshman backups are a huge liability on standard downs. WDE Allen Stallings and backup WDE Nile Sykes have just 4 sacks and 8.5 TFLs between them.
Linebacker issues were expected, and are extant. MLB Dameon Willis is that undersized guy we played last year and gets positive press for being second on the team in tackles, but PFF (54 grade on the year) hates him, and my charting (+6/-10) was hit-and-miss, with lots of missed tackles and coverage issues. Both of his ILB mates might be out. WLB Reakwon Jones (+10/-13 in this game) is volatile: a knife when he knows where to go and hesitant when he's got to read something. He is listed as questionable and the less likely to be available. Backup WLB T.D. Roof, a Georgia Tech transfer, returned from his own ding against Maryland but is back to questionable this week. He's also hesitant and tends to wander out of his lanes. The next guy on the depth chart, LB Thomas Allen, is a redshirt freshman and played some in this game but I couldn't get much of a read on him. LB Micah McFadden is a true freshman and  "Husky" #HybridSpacePlayerTerms Marcelino Ball is a serious athlete but much less of a threat now as a cover 2 slot defender, which exposes his tendency to bust assignments. Backup HSP Cam Jones is another in Ball's mold.
The corners are all guys who've started opposite Rashard Fant, and none are Rashard Fant. CB Andre Brown is better at Fant's boundary role than he was playing in all that space. The two guys who used to start ahead of him, CB A'Shon Riggins and CB Raheem Layne have to be driving Allen mad: Riggins gives up a ton of cushion while Layne tries to pick off everything. Both strategies are justifiable in this defense because they're often covering for SS Khalil Bryant, a lost puppy who was finally replaced last week with redshirt freshman SS Bryant Fitzgerald, who is a younger lost puppy. Classmate Juwan Burgess was supposed to win that job, but has been grooming instead to replace FS Jonathan Crawford, who has been starting so long he features on Jehu Chesson's highlight reel, and is back to his photobombing pictures of other peoples' touchdowns ways. If CB Jaylin Williams (#23) steps on the field throw at him immediately.
[after THE JUMP: meh]
Base Set: Like Michigan they're a 4-2-5 over, but they've gone to a much more two-high look this year after all the graduations hit the back seven.
They are mostly content to spend all day in their 4-2-5, though their opponent was content to spend their entire day in 11 (1 RB, 1 TE, 3 WRs) personnel so that doesn't tell us much, so I'll show the line shift instead:
2018 Indiana vs OSU
D Shift
 
Safeties
 
Rushers
Situation
Over
Under
Odd
Other
1-high
2-high
3
4
5
6+
Normal Downs
29
11
5
11
20
36
3
39
13
2
Passing Downs
11
8
3
4
10
16
4
12
9
0
Total
49%
23%
10%
18%
37%
63%
9%
62%
27%
2%
That is a big departure from last year's approach. They were blitzier and more under-ish against Michigan State FWIW. They still surprised with some cool formations. This was what I meant by "Odd":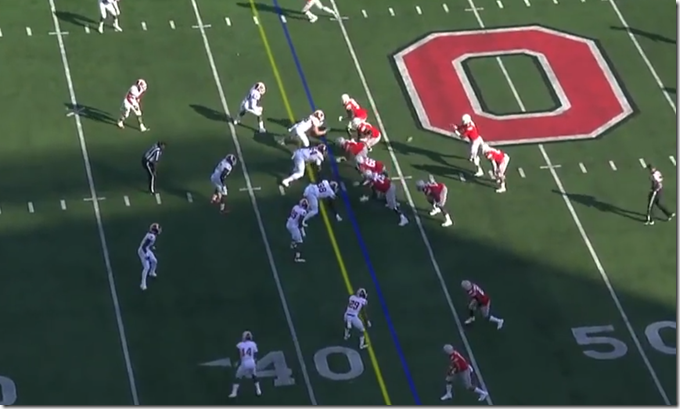 That's a 3-3-5 sorta. The standup guy on the bottom edge is a regular DE. The guy at the top is the middle linebacker. As for "Other" most of those were even fronts or wide split evens but I also spotted this exotic alignment a few times.
That was a passing down thing that tempted the quarterback to scramble into a linebacker waiting for it.
Man or zone coverage: Surprisingly more zone, again a huge departure from last year. Their corners are not good at press and can't be left alone on an island, so Indiana was leaving two high most of the time and living with what happened underneath. What happened underneath was usually a 7-yard pass. That's better than what was happening when they were still running Cover 1 with this crew:
Pressure: GERG or GREG: Again, this is not like them at all, and here I blame the opponent for a gameplan built around not getting their quarterback to take any contact. On the other hand, Hi, I'm Michigan. I've gotten my starting quarterback healthy through The Game exactly once since 2007.
The thing they'd like to do is bring Ball
#42, the slot defender on the upper hash
They call this blitz "America." They used to have all sorts of other fun blitzes too, but Ball isn't up on all the newfangled motion techniques:
I mean, I think Ball (#42, the slot guy) is supposed to take Campbell coming across the formation but it could easily be #43, the middle linebacker who had to swap with the WLB when Parris jetted across. That would make more sense schematically (the #3 receiver often goes to an inside LB) and also make no sense from a matchup perspective because Parris Campbell versus your Mike means you're gonna have a bad time. Neither answer is good so Allen mostly leaves this stuff in the barn.
Dangerman: I guess it's still Ball? PFF gives him a 78 for this year and he's the third-leading tackler behind the free safety(!) and the MLB. Ball's certainly the best athlete on the team, but he's not super-instinctual or anything. When he comes on America it is kinda scary.
OVERVIEW: The strictures and conventions of Foe Film demand I make the opponent sound fearsome, even if they're 74th in rushing S&P+, 107th in passing S&P+, 94th in highlight opportunity rate, 102nd in stuff rate, 107th in passing efficiency defense, 101st in explosiveness, 66th in completion rate, 76th in standard downs, 110th in passing downs, 108th in sack rate, and look like it:
✔ DT blown out by a double.
✔ DE caught on a tight end
✔ Cornerback with no idea where he's supposed to be
✔ WLB facing the wrong way
✔ MLB staring at the play until it's too late for him to do something about it
✔ Strong safety missing a tackle
✔ Marcus Ball arriving from the opposite side of the field just in time to witness the end of the play
✔ Good pursuit
Normally I can point to something the defense does well consistently to justify fears of a Michigan underperformance. For these guys all I can come up with is they're 21st in the country at 3rd and short, and Tom Allen knows what he's doing.
Well, usually. His wards weren't even ready to defend the passing play Ohio State loves so much we drew up in this year's HTTV: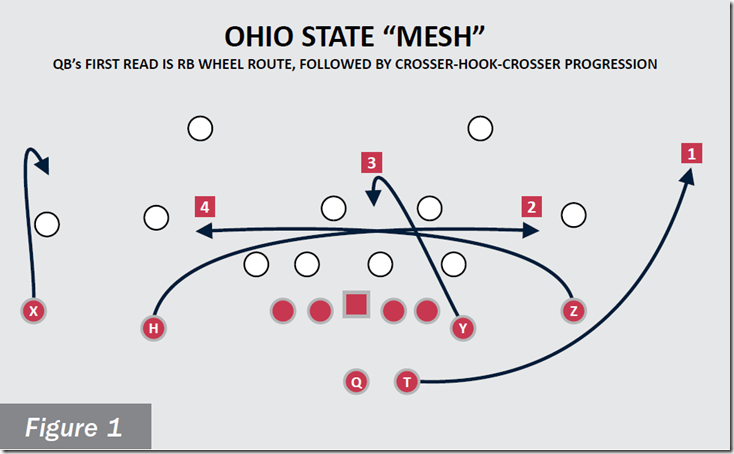 What does it say is the first read Tom? Did you even order Hail to the Victors 2018 Tom? Tom?
Really I can only think of one thing Indiana's defense has that Michigan should be at all worried about. It's a little thing called…
America.