Fall Camp 2011: Practice and Presser Notes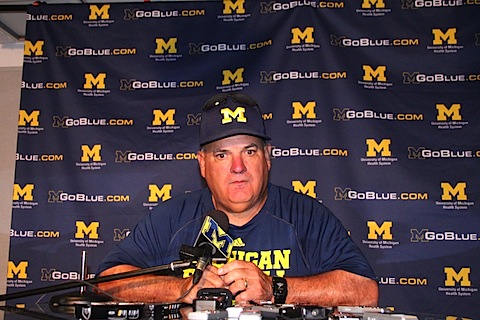 startled Borges is startled, from file
Al Borges
Does he still draw up plays? - "I'm always. I'm obsessive... I just, I like that part of the game. I like the tactics. I like to scribble." Denard's talent poses some interesting options in terms of new plays. The defensive-oriented head coaches tend to give the OC a little bit more freedom. "Brady know what we're doing, understands what we're doing, and monitors everything."
"There's so many frustrations out there" because guys aren't consistently performing perfectly yet. "It's just the way it is this time of year."
On Denard - "He's playing good. He's kind of a kick to coach. He's upbeat all the time." He's been receptive to every bit of coaching since he's been here. Timing is getting better in the passing game every day. The guys worked in the offseason, but there was room for improvement. "It's not there yet, but it's showing some promise."
On the tailbacks - "We still don't have a starting running back, but we've got a nice field to work from. Getting a little closer to that, I think." They'll cut down the running back competition when they start game-planning, instead of just going through camp.
There are nice inside and outside runners. "Michael Shaw, Stephen Hopkins, Fitzgerald Toussaint, Michael Cox, all of them have just shown some great flashes. ... Cox and Shaw are very similar in that they've got some home run threat to them. Toussaint's a tough kid that makes no concessions to the defense. He to has a nice burst and he can go. Vincent's as diverse as any of them." Thomas Rawls is a tough inside guy, like Hopkins, and Justice Hayes has good cuts.
3rd-down role - Vincent Smith - "He's certainly a candidate." Not big, but can block and pass. He's in the running for starting RB too, because he's so dynamic. Need an RB who can test out a nickel back in passing situations. "You've gotta run tight routes and catch it when they throw it to you."
If it takes multiple games to find a starting running back, so be it. "This is a collaborative effort." Hoke, Borges, Jackson - everybody will have a say in it.
The biggest issue with young RBs is protecting the QB. They can see running lanes pretty well, but there are so many things defenses will do that figuring out who to block is the hardest part.
"We're moving some folks around" to figure out some of the fullback race - they're keeping it under wraps for now who is moving and from where. John McColgan is the primary guy.
On Wideouts - "We've got some guys that are playing well out there. Some of the guys played some last year. Jeremy Gallon, Kelvin Grady has done a nice job. Jerald Robinson who didn't play much, but he seems like he's got a future here. Drew Dileo, all those guys have worked their buns off." Receivers need to be able to play special teams to make travel squads. They've gotta block on the outside, as well.
"You always like to have a few rangy guys" at wideout, but any size is OK. "We would take a smaller, faster guy" at previous stops, because you get 6 points for a TD no matter how tall you are.
On the OL competition - With 5 top guys, "it kinda is what it is right now." There's a chemistry that's important to line play. You'd like to find five guys who can get used to each other. Michael Schofield will be a contributor, it's just a question of when.
Greg Mattison
Guys are demonstrating the want-to. They understand that they need to get to the level of Michigan expectations. "You never know when it's going to happen. The guys are consciously trying to work to get there. Whether that work is good enough right now? I can't say yes to that." Need to see more guys getting over "the hump."
Playing with great technique, playing with tremendous effort, and being very physical are the three most important factors. "We do those three things, now we're playing Michigan defense."
On Tackling - "It's always something that we have to work on." Had a couple disappointing reps on the goal-line drills today. Were just one wrapped tackle away from making some stops. Safeties, corners, etc. understanding to not give up big plays.
On playing rotations - the coaches need to determine throughout camp how many consecutive plays guys can play at their top level. "When they're tired, somebody else will come in for you. Get your rest, you're not demoted." Specifically along D-line. At Florida, had 6 guys who were worthy of being called starters, even though 4 played at a time. Helped to have a good rotation.
Defensive linemen need to be consistent. "We have to be a defense that you play with great technique on every player. Unless you are a dominant athlete."
On Mike Martin - "I think he's working hard, and I say this about every player on our team: they can work harder and they will work harder." Won't say anybody has "elite talent" until they prove it in games. "I don't know if we have any, and I don't know if we don't have any."
On Will Heininger - "I think he's much stronger. He's shown some signs of being very physical and strong at times." Like everybody else, he needs to develop consistency.
On Nathan Brink - "Played like a Michigan football player... This guy here has come out every day as tough as he can." He hit his weight goal of 260 by coming into camp at 264. "In the spring, it was mentioned a number of times, because his toughness showed up. He was only 250 at the time."
On walk-ons like Nathan Brink and Tony Anderson - "Everybody's a scholarship football player to us. The best 11, the best 12, the best 13, best 17 - those guys are gonna play." Doesn't matter if a guy is a walk-on or a 5th-year guy, they'll play.
On WLB -  "That position - and again I hate to ever say anything positive - I love how those guys are playing at times. At times they're playing with such energy, such speed, and such explosiveness." That's a battle.
On Cam Gordon - "He's working really really hard at the physical part of playing SAM backer." He's working hard to meet the standards.
On the secondary - Safeties play a number of coverages, but priority is always to keep the ball inside and in front of him. Jordan Kovacs comes to work every day ready to do things the right way. All of the other safeties show flashes, but lose concentration at times. They need to improve their consistency.
Courtney Avery comes out trying to get better every day. "When he makes a mistake, it bothers him, and he tries even harder next time." Guys are learning that they need to have great technique.
Position changes - "Not drastic. We'll look at an outside linebacker who's kinda a hybrid to the rush backer, and we might switch those guys at times." There are no big, permanent changes.
Freshman contributors. "We've got some pretty good freshmen. Some of them have caught your eye," but they also make big freshman mistakes. They need to show consistent great talent to get on the field as soon as possible. "Frank Clark is a very talented... freshman." like all freshmen, he needs to do it right on every play.
Practice Notes
Martavious Odoms still has a cast on his left arm, although it's coming off in the next week.
Vincent Smith, Terrence Robinson, Justice Hayes, Kelvin Grady, Thomas Rawls, Je'Ron Stokes, and Jerald Robinson were the players taking reps catching "kicks" from the jug machine. Fred Jackson made them all run through a couple different variations on the drill (turning around as the ball is launched, running five yards then turning around, etc.)
The defensive backs were working on proper alignments with coach Curt Mallory. He was running a group of DBs through their responsibilities as far as alignment, adjusting that alignment to motion and different offensive formations, and then their responsibilities depending on what certain offensive players would do. It was a very detail-oriented instruction.
During stretching (woo stretching!), one of the strength coaches reminded the players that they needed to take it upon themselves to have a good practice, saying "You don't have a great day by accident, you have it on purpose."
Also during stretching time, Brady Hoke was making his rounds and talking to a few players. He stopped and gave Stephen Hopkins a pat on the helmet and had a short conversation with him.
During the few plays of offense v. defense, it seemed there was a mixed group of starters and backups on the defensive side of the ball. Mike Martin and Ryan Van Bergen were flanked by Jibreel Black and Nathan Brink on the DL (Will Heininger rotated in as well), with Jake Ryan and Brandin Hawthorne in at LB with Kenny Demens. Jordan Kovacs and Thomas Gordon (deep - Carvin Johnson also rotated in) were the safeties, with Troy Woolfolk and Courtney Avery at corner. A few expected starters rotated in with the other group, including Craig Roh.
Offensively, it seemed the units were a little more in line with expectations of a first and second unit. Fitz Toussaint and Michael Shaw got the first-team reps at RB. There were a couple plays of I-form, some shotgun, and a mix between run and pass as well.
On the "second" units, Michael Cox, Jeremy Jackson, and Tony Anderson were among the notable players. Shaw got a couple reps with Gardner's offense as well.
Photos