Fall Camp 2011: Al Borges Presser Notes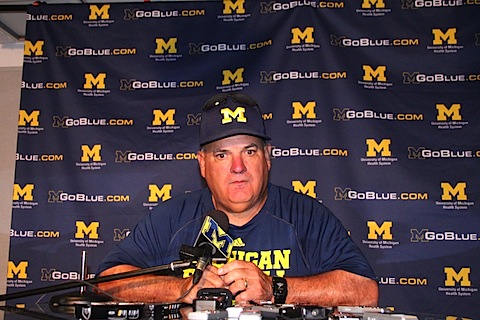 Notes from Al Borges's meeting with the media. I'm a master at taking pictures of him in which he looks startled.
QBs
Happy with QBs. Things are registering much faster mentally than they were at the end of spring: you can tell they worked over the summer. "I'm kinda fired up about it. We're not arrived, it only three days and we've got a long way to go. But I'm happy with the dedicated effort they've shown."
Denard's footwork is much better. They're trying to continue getting him to step up in the pocket. "It not only allows him to see a little better, but he can threaten run better once he gets underneath the rush." Denard is on schedule to be where they want him. "Because he's so athletic and he can create... now he has to understand about creating, yet don't try to do something that simply isn't there."
QB - "it's always competitive. We don't hand it to anybody. But this kid has proven he can play." The coaches have to tap that, and Gardner is proving himself as well. QBs know more now than when they left in the spring. They clearly worked in the summer.
Denard will still be running the football, with a lot of the same plays they ran last year. The power offensive style will reduce his carries, and they want to keep him healthy. The offense last year just wasn't the same when he came out of the game.
"I'm not committing to anything" in terms of number of carries for Denard. "Less" is a clear goal, but how much is still in question. Try not to get him beaten up, but want him to make plays. Not sure where the fine line is between those two. Sometimes you need to remind Denard to get out of bounds when he's running. He won't do a lot of sliding, but there are times to avoid taking punishment. "With the ball under his arms, anything can happen," so you don't want him sliding down in front of a guy he can juke past. "You coach Denard different than you coach Ryan Lindley."
RBs
Doesn't like a rotation of RBs, but "if two guys are on an equal plane, then we may do it. I'll never say never. But it's never been my preference." They'll narrow RB race down a little bit before they worry about choosing a number 1. It's tough to tell when 5 or 6 guys are dividing reps. "They know. We've made it clear" that they're competing to be 'the guy.' It's time for them to seize the moment.
Can't tell anything about who's stepping up because nobody's been tackled yet. Need to see the freshmen, too. "The kids, from understanding our protection schemes, are much better. That part of it is improved." Won't know a go-to guy until tackling comes around. You'd like to know as soon as possible who the guy is, but they're willing to wait so they make the right choice. It could take a couple scrimmages to find out what they're capable of.
"The ability to win in the open field, break tackles, make people miss, understand our protection scheme, receiving skills are a part of it too. It's not at the top of the list, but it's part of it, a guy we feel like we gan go to that can give us some of the same things Denard gave them last year and that he's going to give us this year."
3rd down backs - "everybody's got a role. Sometimes the 3rd down back is the same guy that can play on first down. Sometimes he's not." Everybody brings something to the table, and they'll use those skills.
Freshman RBs - A bit of a disadvantage because they weren't here in the spring. Young guys can play, and not have to do every part of the position. "There may a few things he can do until he completely understands what we're doing."
Some RBs run better behind a fullback. Great backs like Barry Sanders can do it both ways, but some guys have a preference. "It's a vision position. As long as you give them an opportunity to see the cuts, they can usually make the cuts."
FB - "We got a couple young guys, and then we've got Stephen Hopkins who's kind of a hybrid. He can play in there, too. John [McColgan] is as consistent a player as we have on our offense." He's not going to make amazing plays, but he's going to be consistent, give the best effort, and be tough.
WRs
Jerald Robinson - he knows what he's doing better than in spring. Has a chance to make a contribution.
WRs: "They're the same guys that played here a year ago. Junior Hemingway can go get it, Roy can go get it, Tae Odoms can go get it. Grady, we've got some speed guys." It doesn't look like the cast is affecting Odoms's play.
Michigan was more vertical in their passing structure last year, because it fit that offense. This year they'll do more short cuts. Passing routes fit what each offense was trying to accomplish. If QBs can deliver the ball accurately, the receivers will get some YAC as well.
TE
Tight ends other than Koger: Brandon Moore has done a nice job. Still climbing, improving every day. Steve Watson is a solid payer. "Because Kog got hurt in the spring, those other guys got a lot of reps." It's too early to say if Chris Barnett is in the mix.
OL
Lewan - "moving around good." Haven't hit, so it's hard to evaluate too much. Need to see how he understands all of what they're doing offensively, because they're firing off the ball differently. "Until we get the opportunity to play some close-quarter football, we're really not gonna know where those guys are yet. But I like what I see so far."
Having Molk and Lewan back from missing some spring helps OL cohesion. Koger considered part of that unit, too. Improved from spring.
General
"The only thing I've really got a bead on so far is how much more they know." The players have worked to understand the offense. They still don't know enough, but every team in America is at that point three practices in.
Going full pads on Friday: "Physicality, toughness, 'who is that back?,' have we got closer... how much have we improved since the last time we got in full pads?" See who can perform with contact.