Exit Rich Maloney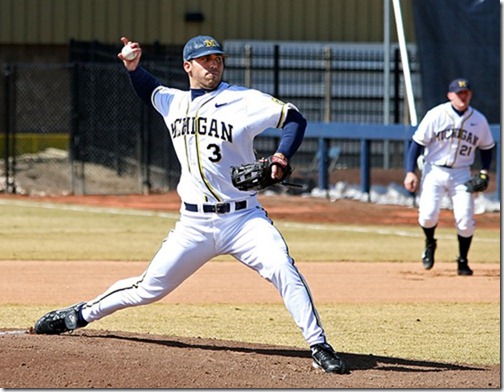 Where have you gone, Zach Putnam? [Via Roar of the Tigers.]
Michigan fired baseball coach Rich Maloney yesterday,  a precipitous fall for a guy who was being heavily courted by SEC schools a couple years ago. Tennessee interviewed him five years back, whereupon Maloney signed the contract that just expired. Back then there were a number of future major-leaguers on the roster. Now not so much.
What happened? I have a little inside baseball (HAIKM) on this one: when his assistant Jake Boss was hired at Eastern Michigan this crippled his recruiting. Reports from guys being recruited at the time say it was Boss who was the face of the program and that Maloney did not have a boots-on-the-ground approach to recruiting. It's kind of like what would happen to Red if he lost both of his assistants, played in a mid-major league, and was not Red Berenson.
Boss was boss enough for Michigan State to pick him up after just one year and the turnaround in their fortunes has been obvious:
Year
Michigan
MSU
2005
42-19, NCAA bid
22-31
2006
43-21, Big Ten double, NCAA bid
24-29
2007
42-19, Big Ten title, reach super-regionals
25-26
Boss leaves for EMU
2008
46-14, Big Ten tourney title, NCAA bid
26-30
Boss joins MSU
2009
30-25
23-31
2010
35-22
34-19
2011
17-37
36-21, Big Ten champs
2012
22-34
35-19
MSU's coach before Boss left to be the pitching coach at LSU. They weren't going to get rid of the guy just for going .500. They loved that. The year before he arrived they were ninth in the league. That's the kind of program we're dealing with. Boss's title year was the sixth-most wins in the history of the program. Their 2011 title was their first since 1979. This is not quite as impressive as Purdue breaking its streak of not winning since 1909(!!!), but it's still pretty impressive.
Meanwhile Michigan cratered a year after Boss left, finishing tenth in the league the last two years. Wisconsin doesn't have a program, so that's last and second from last. It was time to let the guy go.
What's Next
I won't pretend to have my pulse on the beating heart of college baseball, but it's doubtful Michigan can recapture the magic they had in the middle of the last decade when a couple of local stars who both pitched and hit (Putnam, Abraham) decided to stay local. Their impact on the program was huge, especially Putnam. Unless the balance of college baseball recruiting changes drastically for no good reason, that's the kind of thing that has to happen for Michigan to be the kind of team that can host the charity northern regional.
Failing that, being one of the two or three or four (now that Nebraska is around) Big Ten teams in contention for the league's autobid year-in and year-out is something to shoot for. I doubt they'll make a run at Boss—that might ruin Brandon and Hollis's golf outing—but they probably should.
If they don't latch on to Boss they should hire someone who can make it warm in February. Nothing else is going to help the Big Ten other than leaving the NCAA entirely.