Exit Greg Frey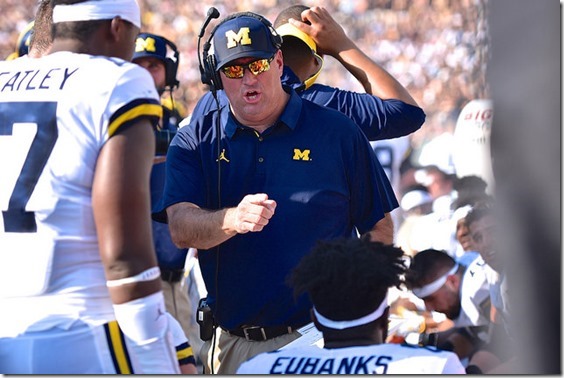 Frey will return for halftime, and only halftime, of the 2025 Indiana game [Bryan Fuller]
Greg Frey's second stint at Michigan was shorter than his first:
SOURCE: #MIchigan offensive tackles/tight ends coach/run game coordinator Greg Frey will be the new #FSU O-line coach & will come home at work back at his alma mater.

— Bruce Feldman (@BruceFeldmanCFB) January 4, 2018
It's not exactly his fault that he walked into a Harbaugh team after years of basketball on grass and the transition didn't go particularly well, but hoo boy did it not go well at all. Michigan's ground game improved midseason when it more or less abandoned everything slightly reminiscent of Frey's approach and inserted mauler Juwann Bushell-Beatty at right tackle.
Meanwhile his impact on Michigan's pass protection was either negligible or terrible, since those are the only two options. If he was brought in mostly to be Michigan's Kevin Wilson insider, that might have worked out okay, but with that knowledge downloaded and the offense seemingly uninfluenced by him there wasn't a compelling reason to keep him around. For Frey's part, he doesn't have to be the other OL coach and can return to his alma mater under Willie Taggart.
Former Michigan OL and Arkansas OL coach Kurt Anderson has been rumored as a potential replacement. His resume is pretty thin, with a couple of grad assistant years at Michigan during the dying days of the Carr regime followed by four years as the OL coach at EMU—the ultimate knife-at-a-gun-fight situation— and three years as the assistant OL coach with the Bills before he landed at Arkansas in 2016.
There he coached PFF fave-rave Frank Ragnow, by their estimation the best C in the country for two years running, and coulda-shoulda-been Michigan Wolverine Hjalte Froholdt, who moved from the DL and developed into an elite-level OG:
The 2017 PFF All-SEC First Team Offense pic.twitter.com/ts35FSCyOj

— PFF College Football (@PFF_College) December 6, 2017
Arkansas had a top ten run game per PFF... and was 89th in pass protection. He's clearly not working with the same level of talent he'd have at Michigan, so make of that mixed bag what you will.