Exit Dennis Norfleet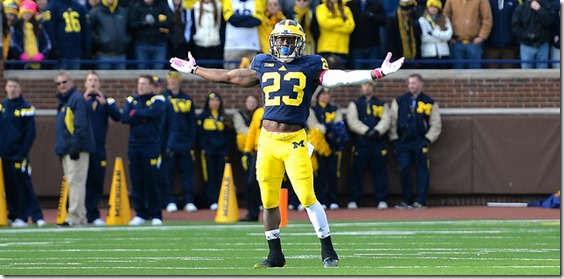 the last of the famous international playboys
This rumor had been floating around for a couple weeks now, picked up steam on Rivals this morning, and has now been confirmed by Nick Baumgardner:
ANN ARBOR -- Dennis Norfleet is no longer a part of Michigan's football team, according to his former high school coach.

Martin Luther King High School football coach Dale Harvel told MLive on Tuesday that Norfleet has been dismissed from Michigan's program by coach Jim Harbaugh.

"Evidently he was dismissed from the team, Dennis informed us he was no longer on the team," Harvel said Tuesday afternoon. "Something about a disciplinary thing between him and coach Harbaugh. Whether it was academics or something internal, I'm not sure. He just said they had a disagreement and he was let go."
I have heard it was academic. Not sure if that's a slackness that is now verboten under the new regime or a Norfleet morale issue leading to breakdowns elsewhere. [UPDATE: Steve Lorenz says he skipped "more than one final."]
The writing was on the wall as far as Norfleet's career went when he featured as a tiny cornerback in the spring game and was mercilessly picked on for the only offense of the day. With that secondary and that WR corps, the fact he was on defense was a death knell. He may have continued returning kicks and punts; even that job was going to be put under major threat by Jabrill Peppers.
This does get Michigan to 85 scholarships, give or take a walk-on. With a couple of medical hardships likely to be on the way, there should be room to add a fifth-year WR or two, as Mike Spath has suggested might happen.
I will now go sit by myself in a dark room and listen to the Smiths.