Every Love Story is a Ghost Story: Mel Pearson's Journey to Yost and Back
[courtesy U-M Athletics]
It's a cooler than usual Monday in September outside Yost Ice Arena, nature's heavy-handed hint that hockey season is just weeks away. Inside, the new head coach's office looks decidedly less new than it did a few weeks ago. The smell of leather fills the air—new chairs—albeit less so than in July. The built-in book cases have filled up with years of accolades and other snapshots from a life in hockey.
Framed photos line the upper shelves, but Mel Pearson doesn't reach for those. Asked how he first got involved in hockey, he rises from his chair and plucks a photo from the top left corner of the furthest shelf to the left. It's propped up in front of another picture, the lone unframed photo in the bunch. Pearson lays it down on his desk next to the neatly organized stacks of paper, presumably drills and practice plans and  scouting reports that bear the emblems of teams from all over; one of the stacks is topped with a sheet that has the Pittsburgh Penguins' logo in the top corner. "You're just sort of born into it," Pearson says, pointing to the back row of the photo. "This is Coach Berenson—this is an All-Star team up in Saskatchewan—and that's my dad, so they actually had some history. It's awesome. So they played together."
It feels like a foundational event, a peek behind the curtain, the revelation of the moment that destiny staked its claim on a kid from Flin Flon, Manitoba. In reality, Pearson's point is that the hockey world can be an awfully small place. George "Mel" Pearson's son was about to criss-cross North America, a party to his father's dream, soon to discover that sentiment was more true than he ever could have guessed.
[After THE JUMP: ties, timing, and the moment it all came together]
[Red Berenson (back row, third from left) and George "Mel" Pearson (back row, last player on right)]
Pearson's father started his junior hockey career in 1955 with the Flin Flon Bombers of the Saskatchewan Junior Hockey League. He was one of the league's brightest stars by the 1956-57 season, leading the league with 59 goals. About 700 kilometers away, another teenager was making a name for himself in his first SJHL season: Red Berenson. The two became acquainted through All-Star games, but there wasn't a great deal of time to forge a deeper friendship than that; Pearson would soon be moving to a different league. He split time between the QHL's Trois-Rivieres Lions and the AHL's Providence Reds in 1957-58. The elder Pearson then spent the 1958-59 season with the WHL's Vancouver Canucks, and in February of 1959 the Pearson's travel squad increased by one with the birth of Mel.
The following is a brief travel log of Pearson's formative years: one season split roughly two-thirds with the Trois-Rivieres Lions (now of the EPHL) and one-third with the New York Rangers, two seasons with the EPHL's Kitchener-Waterloo Beavers (plus a short stint with the Rangers), two seasons with the AHL's Baltimore Clippers (and a few more stints with the Rangers), a season with the CPHL's St. Paul Rangers (and a few games with New York), one season with the AHL's Buffalo Bisons, a season with the WHL's Los Angeles Blades, five seasons with the WHL's Portland Buckaroos, and one season with the WHA's Minnesota Fighting Saints. The hockey world may feel small, but that certainly isn't the case geographically.
All that moving can be tough on a child, but it helped Pearson advance a few skills beyond his years. "I think it was great because you got to see a lot of different areas, you got to meet a lot of different people," Pearson says. "I think it helped you become a little bit more independent and you had to make friends in a hurry if you could."
Pearson would use his ability to relate to anyone to great effect throughout the course of his coaching career, but that was years down the road. Pearson's family stayed in Edina, Minnesota after Mel's father's playing days were over, and Pearson had the fortune of playing for the legendary Willard Ikola, a member of the US Hockey Hall of Fame, a 1954 Olympian, and a two-time national champion at the University of Michigan. Ikola's success piqued Pearson's attention. Though he didn't realize it at the same, some of Ikola's foundational principles were being absorbed and would go on to help shape Pearson's coaching philosophy. "Some things I learned from him obviously are discipline, accountability, and the practices: really hard, short, quality practices." Ikola was, however, less successful when it came to influencing Pearson's college decision.
Willard Ikola
Pearson's top two choices were the University of Michigan and Michigan Tech. In a life-as-screenplay moment, even his two linemates were unable to help him make his decision; they were both trying to recruit him, as one was headed to Michigan and the other to Michigan Tech. "Michigan Tech had just played in three final games in the NCAA Tournament. It was a small town, I came from a small mining town, grew up in a small mining town in Manitoba and Houghton, Hancock, Keweenaw is an old mining community, and John MacInnes I think had a big influence on me," Pearson says. "And I knew some people there. It's weird. Speaking of such a small world, there were a couple guys on the team at Tech that our fathers had played together. As much as Coach Ike probably wanted me to go to Michigan he was really good at helping me through the process."
Ikola couldn't steer Pearson to Michigan (whose head coach at the time, Dan Farrell, was coincidentally a Michigan Tech alum), but Pearson ended up under the tutelage of a Michigan Man regardless. John MacInnes, like Ikola, is a US Hockey Hall of Fame inductee who played two seasons at Michigan (1945-46 and 1949-50) and had already won three NCAA titles, two Spencer Penrose Awards, and five WCHA Coach of the Year honors by the time Pearson arrived in Houghton.
Pearson found a role for himself as a winger who bounced between the second and third lines. He was a diligent defensive player who chipped in a bit offensively—he recorded 56 points in 97 games—and developed a positive reputation for the consistency of his game. "His teammates always thought highly of him. They always liked him," says Jim Nahrgang, one of Pearson's assistant coaches at Tech. "Mel was there to compete every night. He wasn't going to whack anybody over the head with his stick but he wasn't going to back down from anybody and he just kept his nose clean and played the game."
His reputation caught the eye not only of his teammates but eventually of Nahrgang himself. John MacInnes retired at the end of the 1981-82 season and Nahrgang was promoted to head coach. Forced to put together a staff, Nahrgang called Pearson in for an interview. He says that at that time, his main concern when hiring an assistant wasn't Xs and Os; there wasn't the sophistication in systems that is present in the game today. Nahrgang was looking for someone who could relate to parents and players both. Pearson fit the bill, possessing what Nahrgang terms "instant likeability."
"When the assistant coaching job came open we interviewed several people and Mel was hands-down the first choice," Nahrgang says. "Primarily I knew his style and I knew how he related to people and how he got along with people. As an assistant coach he was only a few years away from playing, so he could relate pretty easily to the guys, not only the freshmen he was recruiting but the guys who were playing were just a few years younger than him, so I think it was an easy choice in that regard."
That proximity in age certainly had its benefits, but it could occasionally make for awkward days at the rink. "I was probably coaching some players that were probably older than I was and obviously I coached a lot of players that I had played with for two years at Tech, so that's a little weird—guys you're going out on a Saturday night after the game with and now you're trying to tell them to cool it," Pearson laughs.
John MacInnes
Proximity also played a significant part in Pearson's growth as a coach during his first year as an assistant, albeit due to physical placement, not age. Pearson's first office as an assistant coach was shared with the recently retired MacInnes. "Just being able to share some ideas and listen to him and his thoughts, whether it was systems or just how he ran a team, was invaluable," Pearson says. "I learned a lot of things when I played for him, but that year after there where we shared an office I probably learned a lot more."
Pearson saw a common thread that ran through his coaches, from Ikola to MacInnes and even, he would soon learn, to Red Berenson. "None of them ever embarrassed individuals. If they had an issue, they'd do it on the side. How they treated their players, I think that's why all three men are respected the way they are by their former players," Pearson says. "They all treated you like pros and they were always there for anything. They were always approachable, so as disciplined as they were and as accountable as they were, they always made you feel like you could talk to them, whether it was hockey-related stuff or stuff away from the rink, too."
By 1988, Pearson had been an assistant at Michigan Tech for six years and worked for two head coaches; Nahrgang resigned after the 1984-85 season and assistant Herb Boxer took over the top spot. Pearson was thinking about exploring other opportunities around college hockey after his fifth season at Tech in order to expand his knowledge of the college game from a less familiar perspective when he heard there might be an opening at Michigan. After talking to an assistant coach at Michigan, though, he decided it wasn't the right fit; Pearson thought they were adding a second assistant coach, but in actuality the one assistant Berenson had was moving on. One season later, though, things fell into place. Michigan decided to add another assistant and Pearson decided to apply. He had run into Berenson while recruiting and the two were easily able to chat thanks to the connection between Pearson's father and Berenson. Pearson didn't know much about Berenson's coaching style at the time but Red's reputation preceded him, and Pearson saw the situation at Michigan as one of a sleeping giant in college hockey.
[courtesy U-M Athletics]
As history would have it, Pearson was right. Michigan made their first NCAA Tournament appearance in 13 years in Pearson's third season as an assistant, and they didn't miss the tournament again during his 23 seasons in Ann Arbor. Michigan made the Frozen Four 11 times, twice winning the national title during Pearson's tenure. When a program is that successful, though, suitors come calling with frequency.
That's what happened in 1999, when Miami (NTM) tried to bring Pearson on as their next head coach. He decided to stay at Michigan, however, and was given the title of associate head coach. This arrangement held until the end of the 2010-11 season when, as with so many things in Pearson's life, the timing of his next move just worked out right.
Michigan Tech coach Jamie Russell had resigned after the 2010-11 season, leaving Tech in the market for a new head coach. Pearson was just days removed from an appearance in the national title game when Tech's athletic director contacted him about the opening. Pearson knew people in the department well and was able to talk to them fairly directly about what the program needed, and he felt that they'd follow through. Aside from Tech being his alma mater, the move was palatable logistically for his family. "The kids were all gone out of the house, out of high school, so that was easy," Pearson says. "It's always hard to displace your family, and I had gone through that growing up. As much as it was good at times I didn't want to displace my kids at certain times in their life." With his family on board, there was one final, critical component in Pearson's decision that wasn't actually his decision at all: he had no idea when Berenson would decide to retire.
Pearson accepted the job and was officially hired at Michigan Tech in May 2011, but he was doing the necessary legwork to assemble a staff shortly before taking the job. He drew on his Michigan connections, reaching out to former Wolverines star Bill Muckalt, who had retired from professional hockey and was three seasons into his coaching career.
"I'll never forget, I was coaching in the North American Hockey League with the New Mexico Mustangs and the phone rang and the phone rang and I remember turning to my assistant coach going, 'Oh, he must want to play at the country club or the kids want to go to the pool'," Muckalt says. "He said, 'Hey, I've been offered a job at Michigan Tech. Haven't decided if I will take it or not but I wanted to know if you'll come with me.' I said yes, I would. He was kind of surprised. He goes, 'I just gotta ask you why.' Meanwhile, I'm pulling up on the screen the thing and I said, 'I followed you once and it's the best decision I ever made. I believe in you.' And so that was great and I kind of chuckled and we had a good laugh and I said, 'You know they're statistically dead last in almost every category except for losses, where they were first. He goes, 'That's okay, I know we'll be better than that.'"
Pearson then hired Steve Shields, who had wrapped up his professional career and was considering a few coaching opportunities, and former Michigan State director of hockey operations Damon Whitten. His staff was assembled. Now he just had to learn how to be a head coach.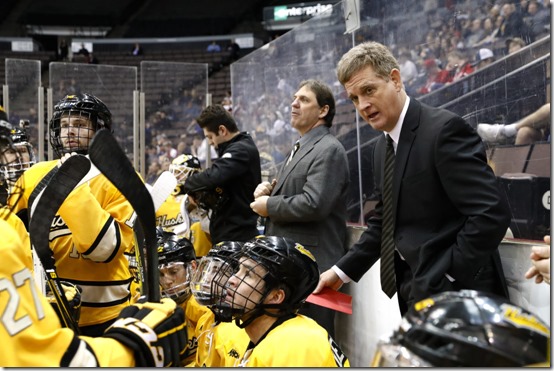 Three or four years ago, Pearson pulled Berenson aside at the Great Lakes Invitational tournament in Detroit. He recalls telling Berenson how assistants who coach long enough think they know everything about the division of labor between assistant coaches and the head coach (hint: the assistants, who put hours upon hours into scouting trips, have some opinions). Pearson told Berenson that even he, with 29 years of experience as an assistant, was surprised by some of the issues you face as a head coach. Most noticeable, Pearson said, was the fact that the buck stops with the head coach on every decision.
"I think that was one of the hardest things for me transitioning from an assistant, where you've got to be the go-between between the players and the head coach and you've got to be more approachable, then all of a sudden you're maybe not the bad guy but the players are coming to you as an assistant wondering how come I'm not playing, how come I'm not getting more ice time to now I'm making the decision, so I think I really learned a lot about how to handle players," Pearson says.
Goaltending coach Steve Shields, who played for Pearson when he was an assistant at Michigan, echoes Pearson's thoughts. "What I find that people don't really notice or they don't think it would be what Mel's about is as an assistant he's a friendly guy: the players can go talk to him; he's a great guy to be around; he tells you, as an assistant, mostly positive things," Shields says. "He does that as a head coach as well, but when you're the last guy and the buck stops here it never really occurred to me that it's got to change that much but up at Michigan Tech he made it easy for you to be an assistant. There's only one guy that has to really be hard on the players and that's the coach, and it makes our job easier to come in and help the player identify what he wants from them and help them perform that way."
Pearson was clearly a quick study, as he turned a four-win team into a sixteen-win team in his first season. By 2014-15, Tech made the Tournament for the first time since Pearson was in his final year of eligibility. "I think he expects to win. It's the process that goes into winning and to get the results and I think he understands that," Muckalt says. "He's been around success and it's consistently about wanting to get better and it's attention to details and it's recognizing how to improve and how to treat players with respect so they'll want to play for you and how to get them to collectively buy in, and I think that's a real strength of Mel's is to identify it and then chip away to help make our players better."
Recruiting was on the upswing, too, which was no surprise to those who had spent time around Pearson. "I think the recruiting part of college hockey is where he excels past other coaches," Shields says. "He's done it for so long and he understands what he wants, as opposed to younger coaches like myself who think you can change everybody and bend them to your will. I think Mel is very perceptive of the fact that you have to have certain qualities in a player and he's been successful at doing that and he pushes the right buttons when they get here."
Pearson knows that his network of hockey contacts, the network that he started to build moving around the country to each of his father's new teams, has also helped him recruit over the years. Having two assistants who played in the NHL and another who was a former director of hockey operations for a CCHA program helped boost recruiting during Pearson's time at Tech as well; always quick to redirect attention away from himself, this is one of the first things Pearson mentions when discussing his success at Michigan Tech. Perhaps more importantly, though, was understanding what the Tech program could provide and what type of player would be looking for that. "I thought we did a good job," Pearson says. He pauses for a few seconds, growing more uncomfortable with the certitude of his last sentence. "Can always do better, but we did a decent job."
It's not just about the profile of the players recruited, though, and Pearson understood that. "I think Mel's got a sense for what it takes on an individual basis to make a kid feel comfortable as quickly possible," Nahrgang says. "So you create an environment that's welcoming and supportive and you give each person what they need, and some need more than others."
By 2016-17, Pearson's success at Tech was eclipsed only by his mentor, John MacInnes. He holds the record for second most wins in program history, and he's the only Tech head coach since MacInnes to win the conference tournament (once) and appear in the NCAA Tournament (twice). "I think there's a very noticeable line between the way he casually is, which is the way he is most of the time around the guys which is the way he's like in person, but when it's time to compete he wants to win and he wants the guys to do well as much as any coach I've seen," Shields says. "To find the difference between that personality and when it's time to work is what I notice about him as a person, which is why I think it's been so easy for him to do it as a [head] coach, when you're in control of the message all the time."
Susie Pearson, Mel's wife, can certainly attest to his competitiveness. The two met when they ran into each other during their high school days in Edina, Minnesota. They were each the new kid; he had just moved to Minnesota from Portland, and she had just moved from Atlanta. Susie didn't know anything about hockey when she moved to Minnesota, but she quickly learned what the game can do to those who love it.
Mel cites Susie as one of the most influential people in his life, the person who grounds him and knows when to look him in the eye and set him straight on something. As evidence, Pearson recalls a time during his head coaching tenure at Michigan Tech. It was his birthday, and members of his family and friends had traveled from all over to spend the weekend in Houghton together. Tech lost, leaving Pearson gutted. "I remember, I went up and went into my bedroom and just sort of curled up into the fetal position and that was it," Pearson says. "I was not interested in socializing but basically she came in and told me that all these people came here to see me and celebrate and quit acting like a little spoiled brat and get your ass out there."
Nights like that were few and far between during their time in the Copper Country. By all accounts, things at Pearson's alma mater were going fantastically. Then, after long-term deals and rolling one-year deals and long-term deals and one-year contracts once again, the one thing that the college hockey world had been trained to believe would never happen happened: Red Berenson retired.
Speculation went into overdrive as soon as Berenson's announcement was made public. Pearson wasn't just a leading candidate for the job, he was the leading contender and had been for years. According to a Michigan Daily article, Lloyd Carr once talked to Pearson about what a great opportunity he might have in being able to succeed Berenson… eight years before Carr retired as Michigan's head football coach. To say this moment was years in the making is a rare undersell of a cliché.
Pearson immediately felt the pressure. Not pressure to take the job—he's quick to note that he has never done anything in hockey thinking it would lead to something else and had planned to retire from Tech—but the pressure that builds when those surrounding you have a certain expectation and ask about conclusions they've drawn in their own minds. And then they ask again. And again and again and again. Recruits wanted to know what Pearson was going to do. Friends openly wondered. His team at the time wanted to know. Social media was abuzz with rumors of who was taking the job and who wasn't taking the job. All the while, Pearson wasn't even waiting for The Call; he was waiting for a call.
Most around college hockey speculated that there was some sort of agreement in place for Pearson to take over the Michigan program when Berenson retired. Some insinuated that it was as good as done, and that stance was re-upped season after season in the late 2010s. Pearson, though, insists that isn't the case. He says that there was never even the promise of an interview for the Michigan job when he left for Tech. Over six years, there was one time Berenson and Pearson talked about it, and even then specifics were vague and limited to likely being able to expect a call for an interview. This past April, the phone rang. It wasn't The Call, but it was a call.
The Call came soon after Pearson interviewed. Berenson retired in early April and Pearson was named the new head coach of Michigan hockey before the month was out. To borrow the metaphor he used in his introductory press conference, he had finally been handed the keys to the family car. As soon as they were his, he got in, adjusted the seat, and put the pedal to the floor.
Recruiting is the lifeblood of any collegiate sport, and Pearson needed to pick up where the old staff left off while also forging ahead with his own efforts to add to the roster. Dividends were seen immediately, as Pearson reaffirmed the commitments of 2017 first-round NHL Draft pick Josh Norris and projected 2018 top-ten pick Quinn Hughes. Pearson and his staff were also able to flip the commitment of projected 2018 first-rounder Bode Wilde. They recruited and recruited and recruited some more, all the while doing what they could to get to know the players already on the roster.
To say the first few months on the job are a blur for Pearson is both accurate and an understatement. "It's great to get the job but it's what you do with it that matters," Pearson says. "You kick into that phase right away."
In the dead of a summer night, though, things finally slowed down. Pearson had just gotten back into Ann Arbor after a long recruiting trip and had to stop by Yost to switch keys and pick up his car. He headed upstairs to his office to get his keys. He could have left. It was around 2 AM and no one else was around. But that's exactly it. No one else was around. It was just Pearson and, as he calls them, the ghosts of Yost. He made his way downstairs and went onto the ice. "It was peaceful. Probably from the time I got the interview and everything, it was the first night that was maybe peaceful."
Pearson looked around. To one side was the bench where he spent two decades standing next to Berenson. Above him were the banners, those pieces of cloth stitched from countless hours of practice and preparation and backwoods scouting trips. From Houghton to Ann Arbor to Houghton to Ann Arbor again, Pearson was back. He was the head hockey coach at the University of Michigan. "You walk down and you go on the ice and start looking at the banners and you go this is pretty neat, pretty special. Unbelievable opportunity at a special place," Pearson says. "Just don't screw it up."