ESPN Report: Regents To Discuss Brandon Tomorrow, AD Candidates Contacted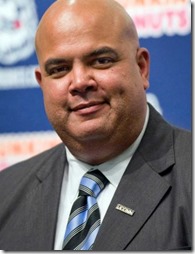 Jeff Long and Warde Manuel: already contacted?
ESPN is reporting that the regents will discuss Dave Brandon at their previously scheduled meeting tomorrow, as revealed to them by regent Denise Ilitch herself. This may very well be the beginning of the end (or the beginning of the end of the end) for Brandon, as Ilitch had this to say about the Shane Morris situation:
"The systems failed and there are a lot of issues we have to review," Ilitch told WWJ CBS TV in Detroit.
The money quote, however, came at the end:
Sources told ESPN's Brett McMurphy that someone on Michigan's behalf has contacted three possible candidates to replace Brandon to gauge their interest in the job.
Arkansas AD Jeff Long, UConn AD Warde Manuel, and Boston College AD Brad Bates are the obvious candidates to be those three people, with Texas Tech deputy AD Joe Parker as a possible dark horse.