"Endzone" User Q&A With John U. Bacon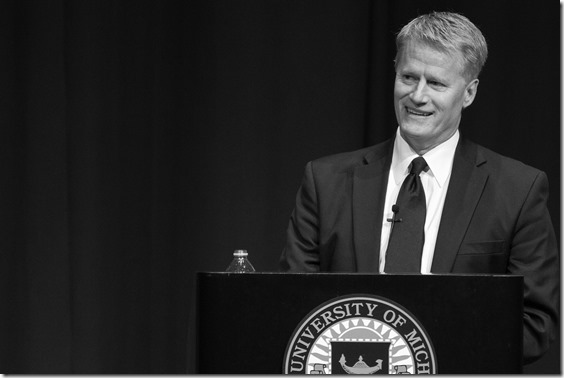 Last summer, Bacon dropped "Endzone" (Amazon link), a nonfiction book that chronicles many of the things that had to go wrong to produce the Dave Brandon Era, and many more things that had to go right for Michigan to emerge from that disaster even stronger than before. By early September enough readers had pieced the bits of their blown minds back together enough to be like, "wait…what?" so we offered you the opportunity.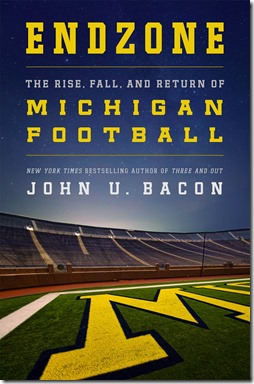 Questions were asked in that thread or emailed to Brian.
One football season later, we have answers. Sorry it took this long—mostly the delay was due to one of the most questions that couldn't be answered without a few more months of data. Also Bacon was all over the country promoting the book this year, and had a kid in the interim. Plus there was football, so we held onto this for a little longer.
--------------------------
1. Why not BRANDON'S LASTING LESSONS?
In Seth Fisher's review here in MGoBlog – which I found thoughtful, well-written, and unusually good at getting beyond the surface—Seth mentioned that, at the book launch at Rackham on Tuesday, Sept 1, he'd heard I really didn't like the faux title, "Brandon's Lasting Lessons."
Actually, I find it amusing, and I get the point, too. As I've written before, if you were to compare Bo's Lasting Lessons to "BLL," the contrast would be striking. And if Michigan – and other power athletic departments – don't learn the lessons this time, shame on them. The future will not be bright.
But it's probably not wise for any author to refer to his book as something other than its actual title. Further, I don't want to come off as flip or snarky toward Brandon. The entire book is not about him, of course, and I did my very best to be as fair as I could possibly be to him and his record, throughout. But if other folks find BLL funny, I will not begrudge you your fun.
[After THE JUMP: the attempt to interview Brandon, typos, and what happened with MSU moving to odd years?]
2. DID YOU TRY TO INTERIVEW BRANDON?
Of course, I tried to interview President Mary Sue Coleman, Dave Brandon, and Brady Hoke. One of President Coleman's assistants responded within a day, politely declining my request, as she had for the previous two books. Brady Hoke declined to respond. I dropped it only after I was assured he'd received my request, and was not going to reply.
As for Brandon, I saved him for last, as is the usual protocol for handling a central figure in any non-fiction narrative, to make sure I had every question I wanted to ask him, and he would be able to respond to everyone else's comments if he wanted to. I wrote, in part:
"Hello, Dave,

Congratulations on your appointment as the CEO of Toys R Us.

I would welcome the chance to talk with you and get your take on what happened and why. As I do for all my interview subjects, I would send you your quotes before publication to ensure their accuracy."
The next day, he wrote back. He thanked me for the congratulations, explained that they were packing to move to New York City, and asked if there was any chance I could email him my questions, "and I could respond in that manner?"
Some journalists will decline that – as The Ann Arbor News did when President Coleman offered to do so for their investigation into academics -- but I thought it only fair for Brandon and the readers to allow it.
So I spent a day putting together 23 subjects he might want to address, complete with the context, relevant statistics, and quotes from others, spanning five pages. When he didn't reply, I sent another email five days later, asking if he planned to answer the questions.
The next day, he replied that he would need "more time than I have right now" to answer the questions, and because "you are likely under some time pressure to meet deadlines, I will be unable to participate."
I responded immediately that "We have not given you a deadline. How many more days would you like?  Please let us know."
After getting no response, five more days later I wrote him again, "Dave, I'm writing again to see if you want to respond to the questions I sent you 12 days ago, and if so, how many more days you'd like to do so? Please let us know. Again, thank you."
I have not heard from him since. Whether he sincerely wanted to answer the questions, or simply wanted to get a sneak peak of what he could expect to see in the book, is impossible for me to say. But there is no question we would have given him all the time he wanted, even if it meant pushing off the publication date. As it was, he had almost a month to respond before we went to the printer.
It's a mistake, however, to assume Brandon answering my questions would have automatically improved how he came off in the book. In many ways, it's like taking the stand in your own trial. If you have a good story to tell, and can clear up misconceptions, you're probably wise to do so. But if you don't, you're better off taking the Fifth. And that's what Dave Brandon did.
However, to make up for this, I interviewed over two dozen friends, allies and colleagues of Brandon's, including players, employees and Regents, to get as much of his side of the story as I possibly could.
I also get asked if I've heard from President Coleman, Brady Hoke or Dave Brandon since the book was published, and the answer is no, and I wouldn't expect to.
Four years ago, when I finished working with the literary attorney on every page of Three and Out, I asked him, "So what happens next?"
He said, "If you screwed up, I'll hear from their attorneys the week the book comes out."
"Is there an alternative?" I asked.
"Yes. If you didn't screw up, you'll get the best review possible from the people who might have been tempted to sue: silence."
And that's what I've heard after four years, and three books.
3. How did Michigan get stuck playing at Michigan State two years in a row, and the season ticket holders get stuck with the 2014 season, that had none of Michigan's three rivals in it?
Of course, the ostensible reason is the Big Ten's expansion to 14 teams, and with it, the need to realign the divisions. However, I believe Michigan's sinking status among its peers was a factor, too.
Former Michigan State AD Doug Weaver once told Peg Canham, Don's widow, how the Big Ten meetings used to go when Don Canham was Michigan's AD.
"You have to understand what goes on when the Big Ten ADs get together in Chicago," Weaver told her. "It's like this: We introduce a topic, we start talking, everyone goes around the table, talking away, talking away, talking away, trying to make this major decision – and there's Don at the far end of the table with his cigarette, just leaning back and keeping his silence to let everyone talk. Then everyone turns to Don and says,
'So?'
"And he'd say, 'It's not gonna work.'
"'Why?'
"And he'd explain why, and everyone would say, 'Well, you're right.'"
"But you know why?" Peg Canham asked me. "Because Don sat in on all these committees around the country. He sat in on TV committees, Big Ten committees, NCAA committees – you name it, he was on it. So he had a say in all of this stuff, in stead of letting them dictate what happened at Michigan. 'Wait a minute,' he'd say, 'This is what's going to happen.' And they listened!"
Suffice it to say, seven athletic directors later, none of whom since Schembechler had ever worked in an athletic department before, Michigan has no such clout in the Big Ten or the NCAA. (Though it must be said that by far the most successful of them, Bill Martin, had the pull to play a central role in the creation of the Big Ten Network, and other major decisions.)
Until Big Ten Commissioner Jim Delany himself says the league changed the Michigan-Michigan State game to odd numbered years in Ann Arbor to irritate Brandon, no one can prove it. And, of course, even if Delany did it for that reason, he'd never say it. I doubt moving the Michigan State game to odd years in Ann Arbor was a plot against Brandon, but I also doubt it ever would have happened if Don Canham or Bill Martin had been athletic director. They had the respect of their peers and the Big Ten office itself, and could negotiate things in Michigan's best interest that Brandon obviously could not.
This pattern started within minutes of Brandon's first Big Ten meeting. According to a few Big Ten athletic directors I've talked with, when Brandon introduced himself at his first meeting, he said, "Hey, I'm the new guy. I'm just going to sit back and watch."
But no sooner had they started discussing the first item on the agenda, than Brandon interrupted another AD to tell them how they did it at Domino's, and based on that, how they should do it in the Big Ten.
This prompted one of the veteran ADs at the table to say, "What happened to the 'new guy'?" This got a good laugh from everyone in the room, except Dave Brandon.
Brandon had little pull with his peers, the league office, and the BTN. It wasn't just that he was powerless. Most of them simply did not like him, for the same reason many University of Michigan leaders didn't: he did not always play well with others.
Once that happens, you're at the mercy of decisions like playing Michigan State and Ohio State on the road in the same year – bad for the team, bad for the fans, and bad for the bottom line.
4. Typos
I'm very proud of this book, having started working on December 23, 2014, when I got the contract, then conducting over 100 interviews, marshaling some 16,000 verifiable facts, and writing 460 pages by July 18, 2015, a total of 209 days. I'm grateful that both sales and reviews have been very positive.
But when people ask me if I'd change anything, that brings us, alas, to the damned typos, missing words, grammatical glitches and the like. As you might imagine, the lion's share of the blame falls squarely on my shoulders. I jammed the production people by turning in a thick manuscript, three months later than we'd hoped. Further, on the final pass, when you're supposed to be making the smallest, fewest changes, I was making substantial edits in red ink, with arrows pointing here and there, words and sentences cut and added, and often whole paragraphs inserted or slashed. This is playing with fire, because it forces the production people to do far more work, and do it far faster, than they normally would.
When I got back my first copy of the actual book in early August, I buzzed through it in a couple days, and that's all I needed to see what the readers would see weeks later: more simple mistakes than I've had in my previous six books, combined. I catalogued dozens of such errors, far more than any reader has sent me. Easily the most wince-worthy: "Michigan" is spelled incorrectly four times. (I am pleased to report that I've been spelling "Michigan" correctly for several years now.)
Even with all the pressure I had put on the production people, by making so many changes so late, the number and kind of mistakes I marked in the actual book still didn't make sense. I was seeing mistakes I knew I hadn't made myself in the final draft – like misspelling Michigan. If any reader had gone over the final pass, they would have caught most of the typos I had.
When I brought this to my editor's attention, he came back a week later confirming what I suspected: something else had gone wrong in the process, beyond the rate of errors. He sent me the following (reprinted with his permission):
"With the extremely short turnaround time, we created an extra pass to help us review any and all last minute corrections. Unfortunately, in the creation of that additional pass, new errors were introduced into the pages. Since we weren't looking for them or expecting them, they were never caught."
And there's your answer: after I had handed it in, new errors were actually introduced into the final copy.
My editor agreed to incorporate all my fixes into the second printing and eBook, which will cost the publisher (and yours truly) time and money. This is not standard operating procedure, because most manuscripts don't get corrected until the paperback comes out a year later, but we all agree it's worth it.
I was waiting to turn in this Q&A until I had final word on when that would happen, and we just heard from production this week [ed: week of November 20]: The cleaned up version will be available in eBooks in two weeks, with the second printing coming out soon thereafter. Later than I'd like, of course, but still glad to get closure on that front.
The good news is the research and interviews that took so much time have held up very well, and all but a few readers have greatly enjoyed the book and appreciated the work involved.
5. How much damage did Brandon do to the department, how much has Hackett's administration fixed, and what is going to happen next with Hackett and the department?
This is one of the most common questions I hear from readers.
My answer: in some ways, we won't be able to assess the damage done for years, maybe decades, based on the performance of the department personnel, and the attachment of fans to the program years from now.
As for how fast it will get fixed, that all depends if Jim Hackett wants to be the permanent AD or not. My take: if he did want to be the permanent AD, he could have asked President Schlissel for the job after hiring Harbaugh, and probably gotten it. The fact that he hasn't done so, after more than a year on the job, tells me he probably is not dying to be the full-time athletic director. He and his wife Kathy have lived in Grand Rapids for decades, his son and grandchildren live in L.A., and he has other business interests he might want to pursue. In his case, "Spending more time with my family," is not a dodge.
Hackett has made a few substantial changes. He hired Jim Betts, a star player under Schembechler, to serve as Michigan's first paid liaison to the lettermen; he hired Kurt Svoboda, a full time PR man from Stanford; and veteran PR man Dave Ablauf is back working with the football program – all smart moves, I believe.
But so far, none of the 143 employees Michigan lost in the Brandon era have returned, and at this stage I doubt any will. Further, I don't see any sweeping personnel changes taking place until Hackett is either named the permanent AD, or a successor is named. Hackett was a 20-year CEO of Steelcase Furniture, and he knows such big moves should only be made by a permanent A.D. – the next one, in all likelihood.
If my hunches are correct, then you'll likely see a search committee formed in early 2016, to find the next athletic director. Michigan will have a lot of good options, including five candidates who have close Michigan ties, and strong experience administering college athletics: Brad Bates at Boston College; Warde Manuel at U-Conn; Jeff Long at Arkansas; Joe Parker at Colorado State; and Diane Dietz, a four-time MVP of the Michigan women's basketball team, who is now a higher-up at the Big Ten – a very strong list.
If I was the AD? The first three things I'd do would be to unplug the billboard, end the ads in Crisler, and open the Big House to the people during the week – for free. In other words, turn back the clock a few years.
6. How long will Harbaugh stay?
I get this question only every Monday, when some guy on Twitter – often a professional journalist, amazingly – starts reporting that Harbaugh is going to Indianapolis or somewhere else. Michigan fans better brace themselves for these rumors cropping up every time Michigan wins a game, and any NFL team loses one. In other words, every single week.
My take is simple, based on the research in the book. When I asked Harbaugh why he returned, he told me, "I would say that I didn't pick Michigan because I thought they were going to pay me the most. We didn't wait around for teams to start some bidding war, or even make offers."
So why did he come?
"Earlier that week," he told me, "I was talking to my dad on the phone, and I finally cut to the chase. 'Well, whatya think, Dad?' "
"Well, Jim," his dad said, "you make great decisions; you always have. I'm not going to tell you what to do. Follow your heart."
"And that," Jim Harbaugh said, "is what I did.
As they say, some jobs are for God and country. For Hackett, and Harbaugh, Michigan is it.
So if Harbaugh didn't come back to Michigan for the money, why would he leave for the money? His parents are moving back to Ann Arbor, Harbaugh lives a few doors up the street from Schembechler's old home, and his kids go to his old elementary school. Those are not accidents.
No one can predict the future, but my very strong hunch is that Harbaugh will coach Michigan for at least four years. After that, I believe, it will depend on his relationship with Michigan's next athletic director. Therefore, for those reasons and more, that will be a crucial hire. If he forms a good relationship with the next A.D., I believe this could be Harbaugh's last job.
7. What was the biggest surprise you encountered researching and writing ENDZONE?
There were too many surprises to count – things no one could know until you sat down with the people who saw what was going on from the inside. Even the people in the book – including the players, the employees, and the Regents -- have told me they were surprised by what they learned was going on outside their domains, when they read the book. We were all surprised to learn, for example, that things inside the department were, in many cases, a lot crazier than we even had imagined.
But the biggest surprise, for me, was how many things had to fall exactly into place for Michigan to land Harbaugh. First, Michigan had to suffer countless setbacks, on and off the field, for Brandon to resign, and Hoke to be fired. Then Michigan had to hire an A.D. who could land Jim Harbaugh. President Mark Schlissel hired that man, Jim Hackett, before they had even met in person. Then Michigan needed the San Francisco 49ers' owner and general manager to seemingly go out of their way to alienate Harbaugh, and to help the 49ers miss the playoffs, which they did.
Finally, Michigan's lettermen, Regents and others had to help ensure Harbaugh's return by flooding his phone with messages and calls from famed Michigan Men, urging him to come back to Michigan to restore the program. They had to "show the love," as they told me.
You add it all up, and that's one hell of a moon shot. But they made it, didn't they?
8. "I know you said you are wrong every time you think writing the next book won't be as difficult as the last one. So I was just wondering some things about the actual writing process of this book: What was the most difficult sections to write? How do you organize your notes and interviews into a cohesive, sequential 400 page story?
"Lastly, how the hell did you do all of this in six months??"
The most difficult sections for me, usually, are the financial break downs, since I have to rely on a handful of very smart, informed financial whizzes who know more than I do, and pester them endlessly to check my work, and make sure it all adds up – literally.
The other tricky section, for this book, is probably obvious: The days before and after the 2014 Minnesota game, when Shane Morris suffered a "probable, mild concussion." I went over those days minute by minute, with more than two dozen players, staffers, Regents and medical personnel. It was painstaking – for both me and the poor folks I visited and called back and emailed again and again and again – because everything happened so fast, and so much was unclear when it happened in real time. Further, the subject was very sensitive, and people's careers and reputations were in the balance. I'm pleased to report that, from all the people who contributed to that section, and others who witnessed it, we got those crazy days depicted accurately.
For organizing, I have a system of taking notes, then going back over them to identify what was most interesting, and where it might go in the final draft. That involves outlining again and again, with a lot of movements and cuts. Then you simply go over everything eleven times, which is how many drafts I produced.
I also do something that only one other journalist I know of, USA Today's Christine Brennan, also does: I send all interview subjects their interview notes, to make sure I got everything right, and that whatever they need off the record, is off the record. (The only exception is when subjects record the interview themselves.) Sometimes, I can persuade the subjects to keep something on the record, or at least let me paraphrase the gist of it. So ultimately, I believe, I end up getting a lot more valuable information on the record, and in the process, no one ever says their quotes were false, supposed to be off the record, or were taken out of context. That's a nightmare I've seen other writers deal with, that I never want to.
Alas, this process is also much harder and slower than the usual approach – Will Hagerup and I, for example, ultimately spoke for more than 20 hours – which is partly why I put the crunch on the production staff by turning my copy in much later than we wanted. But if I had to choose between a few typos –as painful as they are for me – or a mangled interview, it's no contest.
As for how I researched and wrote a 480-page book in 209 days, that answer is easy: A lot of great help from my editor, Marc Resnick, my wife Christie, and dozens of good, smart friends – including Brian Cook and Ace Anbender -- and very little sleep! The last three months, I was getting about four or five hours a night, which is not healthy, but that's what it took, and I'm glad I did it. The book has been very well received, for which I thank you.
Thank you for reading, and allowing me to continue doing work I care about very much.