Eleven On Eleven
10/13/2018 – Michigan 38, Wisconsin 13 – 6-1, 4-0 Big Ten
Like anyone still standing after a 2-15 run against Ohio State, I have withered into a cynical-ass bastard more tree than man. We are the Michigan ents. The Ments. But even though this heart was long ago replaced by lignin, by God I felt it beat when Roy Roundtree and Denard Robinson popped up on the video board before the game. They talked about night games at Michigan Stadium in general. They also talked about one very specific game. I had feelings.
I did not know I had just been handed the most critical bit of the gameplan. Wisconsin did not, either. Wisconsin apparently did not know quarterbacks were, like, allowed to keep the ball. I feel like they should have known this. Even if they were completely unaware of the last 20 years of college football, surely their review of Michigan's game tape would tip them of that yes, occasionally the quarterback guy runs with the ball, and faster than you'd think.
Nope.
Patterson pulled twice more, once for a redzone touchdown and once for another chunk run. The last saw Wisconsin actually respect the idea of a pull, somewhat, but Patterson was able to outpace a wrong-footed Badger defensive end anyway.
Then the backups came in and things went from intriguing to bizarre and hilarious. Dylan McCaffrey is slashing inside a block and outrunning an All-American linebacker to the endzone! Okay!
TJ Edwards is sad in the background [Eric Upchurch]
Joe Milton, who had approximately zero rushing yards in high school, is switching fields and outrunning the whole Badger defense to the other sideline! I thought this was Diet Coke, not Meth Coke! Who put meth in my Coke? Did you also give some to Paul Chryst? Ah that's fine then, good move.
-------------------------------------
Michigan's season-long con took in both the Badgers and your author; now revealed, it resets season expectations. Harbaugh noted the impact it had on Wisconsin's run defense when they suddenly had to play 11 v 11:
Coach, you had two quarterbacks that were a big part of things as far as running the ball. Was that element added to this game?

"Yeah, it was big. Shea (Patterson) really got things going in the first quarter with the long run. And the touchdown run he had, he was — allowed us to stretch their defense, get all their gaps, make them cover — make them account for as many gaps as we could. So that was a gameplan well-executed."
Michigan spent most of their short yardage snaps in this game in a two-tight-end shotgun look that had everyone in Michigan Stadium agonizing about the absence of Ben Mason, but aside from one bad decision from Higdon to press outside Michigan converted every time. Frequently this was accomplished by a running back cutting back behind Juwann Bushell-Beatty, who was paving his man, as a Wisconsin defender gave Patterson his newfound due.
Maybe I'd been primed by the pregame video, but I thought about Michigan's approach in Denard's other Notre Dame masterpiece, the one on the road: after a slant to Roundtree set Michigan up at the two on Michigan's winning drive, shotgun, QB zone stretch, easy cutback, TD.
Patterson's not Denard Robinson but he's certainly fast enough to demand someone account for him. When that gets combined with a mauling right side of the line and a rapidly developing whole, you get something. You get 320 rushing yards. You get nearly 240 of those in the second half. You get fourth quarter drives on which Wisconsin knows you're going to kill the clock and can't stop you on six straight runs; the clock only stops getting stabbed to death 40 seconds at a time because you accidentally score a touchdown.
With the mesh point suddenly a real thing, possibilities open up. Ends can't charge willy-nilly at the quarterback. You can make those token play actions into defense-crippling ones with the extra time that buys you—something that Ohio State just struggled to defend this weekend. The corner that Michigan could turn to become a juggernaut offense is there, shockingly in sight.
HIGHLIGHTS
AWARDS
Known Friends and Trusted Agents Of The Week
JBB is almost out of this shot, which is good [Fuller]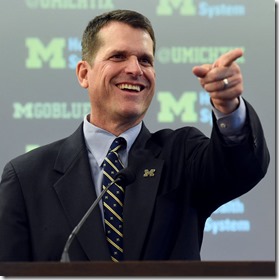 you're the man now, dog
#1(t) Juwann Bushell-Beatty and Jon Runyan Jr. Seriously. Not ironically. Not even in a throw-these-guys-a-bone sense. Patterson was iffy, Higdon fumbled, the defense didn't have a guy contributing except in scattered bursts: JBB and Runyan were the Michigan players most consistently helping Michigan down-to-down.
I don't think either gave up a pressure. JBB paved guys on a series of plays that cut to his side of the line; he was also the source of some of those zone stretch cutback runs. Meanwhile Michigan was usually running to Runyan's side of the line.
DOD was low with Wisconsin in desperation mode at DE, but I be like dang all the same. Both guys get three points because they're made up and don't matter and also this portion of the writeup is indeed me throwing them a bone.
#2 David Long. Both Long and Hill were avoided all night until the late Wisconsin TD drive when Hornibrook went after Hill's excellent coverage. Long didn't suffer those Mr. Tight Windows slings and arrows and was able to sell him twice on man coverage that turned out to be a trap—more below—that turned into a PBU and an interception.
#3 Karan Higdon. Did fumble. Did miss a hole or two. Also went over 100 yards and made some nice zone cuts; his ability was a major reason Michigan won a game in which they had four second half passing yards.
Honorable mention: The Spirit of Denard. Paul Chryst.
KFaTAotW Standings.
7: Chase Winovich (#1 ND, #3 SMU, #1 NW)
5: Karan Higdon (#1 WMU, #3 Nebraska, #3 Wisconsin).
4: Devin Bush(#3 ND, #1 Nebraska), Rashan Gary(#2 WMU, #2 Nebraska), Shea Patterson (#3 WMU, #1 Maryland).
3: Zach Gentry(T1 SMU, #2 Maryland), Juwann Bushell-Beatty(T1 Wisconsin), Jon Runyan Jr(T1 Wisconsin).
2: Ambry Thomas (#2 ND), Donovan Peoples-Jones(T1 SMU), Josh Metellus(#2 SMU), David Long(#2 Wisconsin).
1: Will Hart (#3 NW), Mike Dwumfour (T2 NW), Kwity Paye (T2 NW), Josh Uche (T2 NW), Khaleke Hudson(#3 Maryland).
Who's Got It Better Than Us(?) Of The Week
That would be a game-sealing pick six. Alex Hornibrook has to be sick of watching Michigan defenders spear his passes with one hand.
Honorable mention: 81 yard Patterson run; McCaffrey touchdown; Interception #1; DPJ almost breaks another punt; Wisconsin roughs the snapper; various Paul Chryst punt decisions.
​MARCUS HALL EPIC DOUBLE BIRD OF THE WEEK.
Wisconsin busts a jet sweep to tie the game and momentarily give people the willies about whether Michigan can stop this run game at all.
Honorable mention: The two stunning Winovich holding calls that didn't get made; Michigan's inability to capitalize on the first INT; ESPN having the Chainsmokers on to pick games instead of Denard.
[After THE JUMP: What are you doing, Turtle?!]
OFFENSE
All hail Ed Warinner. Patterson had all day against a very bad pass rush. That's one thing. That is a reasonable expectation at this point in the season. Getting to this point was a minor miracle but we're here now. What has Ed Warinner done for me lately?
/watches 238 second-half rushing yards
ah, that but what about
/watches Michigan successfully run zone stretches for the first time since David Molk with an offensive line that's 3/5ths bowling ball
Mother of God.
The pleasure of watching a good outside zone is exclaiming "nice cut!" when the running back slashes upfield, and this was duly accomplished. The remarkable thing is that the guy creating the gap that Michigan running backs were hitting was Bushell-Beatty. JBB was able to get enough of a reach block on the backside DE to make that cutback fairly consistent. That DE is a miscast nose tackle, so making him run was going to be a problem for Wisconsin. Getting JBB to actualize that problem is something else, man.
Then Michigan came back with belly plays where the DE would start running to cut off that backside stretch gap and find that JBB was instead clubbing him across the formation. The run gameplan was on point. Someone fling a ceremonial title and contract extension to Warinner.
tactically beaten above [Eric Upchurch]
Tactical ups and downs. Outside of Spirit of Denard items, I was kind of... eh about the offensive frippery. The above shot is a fade in the endzone that didn't work out. It was from the quads formation Michigan ran out a half-dozen times; Collins was the isolated receiver away from the quads. The situation:
Michigan runs a slant to Collins from this on third and forever after a Patterson sack, setting up a field goal.
When Michigan shows quads again, Wisconsin drops an OLB into the slant zone pre-snap.
Wildgoose doesn't have to worry about the slant and does an excellent job covering the fade. (There were interference grumbles; but those are not relevant to this section.)
That was a push at best; Michigan got some yards Wisconsin was probably willing to give on third and a mile and then Michigan's endzone shot was very hard from the start.
Meanwhile the two backup QB plays before garbage time were both sniffed out. Joe Milton came into run in a situation where pretty much every college defense thinks "wildcat"; Dylan McCaffrey ran a flare that was supposed to imply double pass before Michigan threw a tunnel screen the other way. Neither worked.
Milton's was probably worse since every college football team who sees a weird guy at QB immediately assumes wildcat; neither was great. Dave mentioned this on the podcast: you'd rather have Michigan just throw that threatened flare screen to McCaffrey after other events.
Other events. Dylan McCaffrey outran a Nebraska defensive end a few weeks ago, and that was impressive. Smoothly cutting inside a block and then redirecting out to run by an All-American linebacker is more impressive. QB room is suddenly very crowded after a long time in the desert.
yoink [Fuller]
Digging it out. Michigan had a couple of circus catches in this game. The first, from Higdon, is pictured above. It was momentarily a refereeing OUTRAGE until one guy overruled the other guy, and that says a lot about the catch itself. Higdon clearly made it, but you could understand how the one guy thought he hadn't.
The other catch that'll get filed as a one came from DPJ when a deep out got deflected just before it got to him. DPJ was able to catch the deflection before his momentum took him OOB.
Patterson's not pulling the trigger. This game was a reversion to Northwestern. Patterson saw a lot of zone, wasn't comfortable pulling the trigger, and bugged out of clean pockets. I thought he had Gentry and Collins on Michigan's first drive, or at least had them open enough to try throws in the #buttzone. Neither was made.
Later, Patterson badly damaged two Michigan drives by taking sacks that were mostly on him. He broke the pocket on one but did not throw the ball away despite having forever to make a decision; the second was another incident where he couldn't find anyone early; on that one he got the ball punched out from behind as he tried to escape.
There were a couple more incidents where Patterson really had nobody—one was another max pro vs a three man rush thing—but the number of plays that had to go off script is concerning.
DEFENSE
The Hinton shot. One of my favorite nouveau college football traditions is Matt Hinton tweeting out various college football shots at the tail end of a Saturday. This has shaped my viewing of photos, and goldang if this isn't a Hinton shot right here:
[Bryan Fuller]
Eight helmets for Michigan, plus Metellus warily observing. Thematically fair to everyone except Taylor, who probably turned this –2 yard run into 4 yards.
The DT ceiling. The first half felt pretty bad for 30 minutes in which you only give up seven points. Jonathan Taylor had 11 carries for 79 yards, most of those directly up the gut, around the bodies of fallen Michigan defenders. Wisconsin's OL was as advertised: nobody had a shot at holding up against doubles; linebackers were robbed of angles; Michigan resorted to flinging safeties at the line of scrimmage. A couple of otherwise successful runs were mitigated when Tyree Kinnel made contact about a yard downfield, which is not a thing that Michigan's had to do in a long, long time.
The main, if erratic, exception to this was a returning Aubrey Solomon. He had a couple of second-half snaps where he was able to drive a Wisconsin OL to the backfield and muck plays up. The other guys found the sledding extremely tough.
The good news is that there doesn't appear to be an OL on Wisconsin's level on the rest of the schedule. Penn State and Michigan State were 7th and 13th in the Big Ten by PFF's reckoning after five weeks. Even Ohio State, who PFF ranks sixth nationally, is way behind:
Wisconsin leads the Big Ten in PFF pass-blocking and run-blocking grades, are the only team in the conference with PFF grades of 80.0 or above for both and have a team run-blocking grade 6.8 points higher than the next best offensive line. Simply put, they have the best line in the conference, and it's not really that close. In center Tyler Biadasz (86.3) and right guard Beau Benzschawel (84.1), they have the two highest-graded starters on the offensive line in the conference, with the pair combining to allow just six pressures so far this season.
OSU has a few guys in the low 70s by comparison—and one of them, Isaiah Prince, is probably going to drop quite a bit after getting worked by Minnesota this weekend.
feet not set == spray [Fuller]
Off his spot. Alex Hornibrook had the worst game of his career. Wisconsin's late, sad touchdown drive was what I expected: infuriating dimes to receivers with zero separation. Those 75 passing yards were bad ass, most of them gathered against Lavert Hill in wetsuit-level coverage. They were also three-quarters of Hornibrook's game total.
The rest of the night Michigan obliterated Wisconsin's passing attack. About half of this was a level of pressure Hornibrook rarely has to deal with. Michigan didn't get a ton of sacks; they were able to press the pocket and get Hornibrook moving. Mr. Tight Windows turns into a pumpkin when he can't set his feet—nobody has ever attacked him with a broom, I guess—and suddenly throws were going any damn place. One of his errant attempts to convert third and short went wide because two different OL got pushed into him; he couldn't follow through. The ball zinged wide.
[Upchurch]
The other half: spooky zones. James Light has been tweeting about Don Brown's "trap" coverages since his hire, but they were rarely called and rarely made an impact in his first couple years. In year three with a bunch of veterans they've become more prominent, never more so on the Metellus interception. Herbstreit got this exactly right on the fly:
Long aligns in press presnap and appears to run man against the outside receiver, but
He falls off as Michigan baits the very throw Hornibrook made and the deflection falls kindly to Metellus. Long would get another PBU on similar action in the second half.
In addition to this stuff on deep outs, Michigan ended what I expected to be a night full of slants before they even began. On Wisconsin's first third down of the night, Devin Bush buzzed a slant and got a deflection. (Wisconsin actually caught that deflection, but short of the sticks.) That might have been Wisconsin's last slant of the night? I can't remember any completed, or even attempted, afterwards.
Michigan started the year getting a bunch of RPS minuses when Notre Dame successfully attacked their man coverage; since they've been far more crafty about mixing in changeups. It feels like a fully armed and operational battle station.
Speaking of crafty. Brandon Watson had another rubbin's racin' draft on a drag route that could well have led to another pick six if Hornibrook's throw was accurate. It was not, so Watson running the WR's route for him didn't pay off as spectacularly. Like the Maryland event, Watson got a subtle grab in as the WR entered a refereeing deadzone that allowed him to more than make up the gap the WR had created on his break. It was so subtle against Maryland that even after I pointed it out in the UFR a bunch of commenters claimed that no rubbin' had in fact occurred on that particular racin'. Sirs. False.
It's a low downside, extremely high upside gambit that will probably draw a flag in the near future. Brace yourself.
Holding detente: over. Statements that "Wisconsin holds every play" are bad. Wisconsin put a lot of Michigan players on the ground in this game via perfectly legal means. There was actually a relative lack of plays that I thought were borderline; mostly the Badgers just whipped up on Michigan's DL.
The two exceptions, however, were boggling. Both happened to Chase Winovich on rushes that were probably headed towards sacks. The first saw Winovich rip to the inside and then get frozen in place because the RT had both his hands on Winovich's shoulder pads and absolutely would not let go. The second caused the extremely justified conniption fit pictured above, which followed on from Winovich getting the ol' neck tackle in full view of the guy in the white hat.
In this week's edition of WTH were the refs watching, Chase gets hog tied, fave mask yanked, and then thrown to the ground. pic.twitter.com/1vDdkj6JVz

— Due# (@JDue51) October 14, 2018
That's infuriating, especially after Michigan had a TD wiped out last week for far less from Tru Wilson.
SPECIAL TEAMS
All hail the Cheese Man. Good job getting knocked over. That was a Wisconsin turnover, and I think the second time in three years they've done this against Michigan.
Nordin done wobbled. The 54 yard miss is fine, that happens. Going 3/4 on field goals of reasonable length is mostly fine. The nature of those kicks is a little worrying, though. Almost all were knucklers with no spin that ended up hooking. Seems impossible to be accurate if you can't control the direction the ball is going to curve.
The Infinite Lab Of Trying To Screw With Kickoffs. My favorite nearly-meaningless college football subplot of the past decade is the War on the War on Kickoffs. The NCAA makes some rule changes to make touchbacks the sensible thing; football coaches do anything in their power to scrape one yard of field position out of the new rules.
After the NCAA moved the touchback out to the 25, this space correctly forecasted that teams would try the James "Doug" Foug method where you pop it up to the one yard line on the sideline. Once that became prevalent enough to ban, fair catches inside the twenty-five were made equivalent to touchbacks.
In response, teams have started giving various middle fingers to upbacks. Northwestern did it to Michigan a couple weeks ago. This week, Michigan thunked a kickoff directly to a blocky/catchy guy after a penalty sent them back to the 20; he fell on it at the 30, which was a good trade.
When not doing this Michigan was hitting liners to about the 10 or 15 that the returner had to rush up and get. One time he almost fumbled after misjudging the ball. Another time he grabbed running forward at a full sprint—dangerous. I would rather not give the opponent the opportunity at a big play when you're up 14, as Michigan was at that juncture. But by God, we'll screw with these kickoffs yet.
Going for two. Michigan went for two up 19-7 with about ten minutes left in the third quarter. That's earlier than usual but I thought it was the right call. Missing only hurts you in the event that Wisconsin gets a touchdown and two field goals, which seemed like a very distant possibility at the time. In a game that short—Wisconsin ran only 49 plays—five minutes in to the third quarter is more like the tail end of the third in a more normally-paced game.
The Badgers ended up getting five more possessions but one of those was the result of a pick six, and in the universe where the Badgers end up driving the field they're probably doing so at a glacial pace behind Jonathan Taylor, eating up big chunks of clock.
MISCELLANEOUS
This. This is a fullback. Behold:
[Patrick Barron]
What are you doing, Turtle? The game preview diverted from its usual assertion that "intangibles" are just that, here's a cat, to mention that Paul Chryst appeared to be dirt-dumb when it came to fourth down decisions. It further warned that those decisions may end up being correct against Michigan in that Kirk Ferentz way where dude suddenly turns into Mike Leach against Michigan and OSU.
Nope. Paul Chryst punted in the following situations:
4th and 2 from the Wisconsin 46 early.
4th and 2 from the Michigan 42, down two TDs late in the third quarter.
4th and 2 from the Wisconsin 38, down 31-7 with 10 minutes left.
Wisconsin literally had not been stopped on third and short this season entering the game. Wisconsin was paving Michigan's DTs all night. Wisconsin was a ten-point underdog that had an obvious advantage at gaining 3 yards a pop as soon as the ball was snapped. All of these decisions are indefensible. Paul Chryst kind of looks like a turtle, and acts like a turtle, and now he's Turtle.
In addition to the above. Turtle is throwing the ball on third and two! With Jonathan Freakin' Taylor! And that offensive line! One of the fourth down events above followed on from literally the first time Wisconsin had not converted on third and short all year, because they asked Hornibrook to throw with their #74 sack rate OL.
ALSO IN ADDITION TO THE ABOVE. Turtle didn't take a timeout at the end of the first half. It was fourth and fourteen. Michigan was lining up for a 54-yard field goal. If they missed, which Michigan did, Wisconsin would have the ball at the 36 with 40 seconds left and two timeouts, ie, plenty of time to go get something of their own with little downside. They could even run it some.
SIX. Jonathan Taylor had six second-half carries. SIX.
OKAY I'M OUT OF STUFF BUT EVEN SO. It takes some doing to make me furious at an opposing coach for sabotaging his team against Michigan, but here we are. There's a version of this game that is terrifying and down to the wire if Turtle is FBS average. This was a debacle.
Let's party, security gent. Who is Lavert Hill pointing to in this shot?
[Upchurch]
This guy:
Lavert Hill low-fived the cop after his pick six. pic.twitter.com/icqj9NBbPk

— Alex Roux (@arouxBTN) October 14, 2018
HERE
...while I was marginally optimistic in the preseason that Warriner's track record plus the fact you can sort of "rep your way to competence" on the line (because it's so much about communication, knowing your spots, etc.), I certainly wasn't banking on them being any better than below average. And on top of that, I figured they'd be manhandled by offensive lines like Wisconsin's, which we all sort of assumed would be full of mashers and All-American linebackers who are in the backfield before Ruiz has turned his head up.

And yet, as I sit here on October 14th, 2018, Michigan has given up about 1.5 sacks a gameand are a top-25 sack rate to S&P+. Last year? Michigan gave up nearly 3 sacks a game and were 117th in adjusted sack rate. And true, they haven't faced a particularly ravenous slate of pass rushers this year, but (a) there aren't a ton of those on the horizon either, and (b) they've shown significant improvement even against the middling pass rushes they've seen versus last year, where they gave up 3 sacks to Minnesota, 4 to Purdue, another 4 to MSU, 7 to PSU, and what felt like way more than 5 to OSU. There were multiple times during this game where Wisconsin rushed 4 and Patterson had all day to survey the field and look for receivers, a seemingly-innocuous occurence to people who hadn't watched 2017 Michigan give up pressure to those basic front in seemingly every game. JBB and Runyan have their ceilings, but whether by maturation, coaching, luck or some combination of those three, they've raised those bars to the point that Michigan had the second-best pass-blocking effiency in the conference a couple weeks ago and have since mashed both Maryland and Wisconsin into the ground. Maybe a hitherto-unnoticed shoe will drop, or Michigan will suffer some rash of injuries that limits their line play, but at this point it's getting hard to deny that Michigan's offensive line is pretty good, certainly good enough, with all the other facets of this team humming along, to beat anyone on the schedule and bring home some hardware.
The State of our Open Threads:
A few stats from 2017 Wisconsin, just for giggles:

- 452 fucks

- 168 shits

- 82 damns

- We sucked 71 times

  - We wanted someone fired 44 times

Now, let's contrast that to last night:

- 124 fucks

- 49 shits

- 20 damns

- We only sucked 13 times

- Only 6 calls for a firing
ELSEWHERE
Zach Shaw asserts there were three pressures on 24 snaps for Wisconsin. Michigan up to 4th in S&P+, sliding ahead of OSU. Wisconsin does not lose like this:
Wisconsin loses games, like everyone else. But the Badgers don't lose games like this.

Their last seven losses had come by three, six, seven, seven, seven, six, and four points. The teams that have beaten them by more than 10 points since 2009 heading into Saturday: Ohio State twice, Alabama once, and that's it.

Alex Hornibrook has bad games, like everyone else. But he doesn't play like that.

For most of the last two seasons, he has been one of the country's more underrated passers. He finished 2017 with a 148.6 passer rating, top-25 in FBS. He struggled earlier this year in the upset loss to BYU, but his passer rating heading into Saturday was still 151.7.

Hornibrook's passer rating on Saturday night in Ann Arbor during a 38-13 Michigan win: 73.5. Before a garbage-time touchdown drive, it was 9.2.
Another fairly incredible stat:
4. Michigan. Flattened Wisconsin 38-13. Reduced Alex Hornibrook to a turnover-spitting shell of himself. Ran for 320 yards, which is not only the thing Wisconsin is supposed to do, but is also the most ground yardage given up by a Wisconsin defense since 2011's Rose Bowl against Oregon. Didn't pass the ball really well, but that's like having a subject in your sentences. Not really necessary when you're flexing like Michigan is right now. Kinda superfluous to be honest.
Centers.  Among the many legendary offensive lineman on prem to be honored and support the squad – these two.  On a distinguished list of the baddest mofos who've ever snapped the pigkin here at Michigan.  I give you Captain Molk and Steve Everitt:

They actually tried to sync up on dress code before the game
UFER SPIRIT CHAMPIONS – You –  the fans –  were OUTSTANDING Saturday night.  You made The Big House BIG and it was quite a sight to see!  From great signs on the set of College Gameday in the morning to the way you energized Michigan Stadium at night was just awesome!  Great job!!

I don't know about you, but as the clock ticked down the final seconds of the game, I teared up a bit.  I mean, how long has this Michigan fan base been waiting for a performance like this?  The entire nation was watching this game and the Maize & Blue delivered – just like the fans did that showed up in full force!  So cool to see & feel!!
ESPN chose the Chainsmokers as guest pickers, and got what they deserved:
Iowa over Indiana

"Yeah, we're gonna go with Indiana also. They have a great bar called Dunkirk that we've spent many nights at, so Indiana let's go."

WVU over Iowa State

"There's really no good reason why." At least they are honest.

UCF over Memphis

"UCF as well, yeah, that's a tight school." Help.

Texas over Baylor

"Yeah Texas, we went with them because they're a really big school, and we don't want that many mad people at us."
The Gameday crowd mercilessly booed their every word, as they should have. Hoover Street Rag. Maize n Brew. Michigan –7 over MSU. MGoFish with a recruiting roundup.