Drunken Sailor Assault Basketball
Notes, items, and errata. You know, things bold at the beginning of them from the Indiana game and etc.
2/12/2011 – Michigan 73, Indiana 69 – 16-10, 6-7 Big Ten
 
via
At the moment Michigan is a drunken Popeye of a basketball team: prone to stumbling around aimlessly for long periods of time but in possession of giant, windmilling fists that smash things into bits when they hit. They landed heavy blows against Indiana, then ran out of spinach and almost hurled the win back up.
They did choke it back down and this is the Year of Comprehensive Youth and Understanding Fans, so okay. To paraphrase Chad Henne, wins are good but… uh… we love perfect, being better.
Items!
The dip. The queasy feeling you've had at about the five minute mark of the last two games in graph format. First Northwestern:

And then Indiana:
Michigan was coming from so far ahead in the IU game that the steady erosion of their lead didn't show up much in the win probabilities until that part right at the end where Indiana had it to a one-possession game with Morris heading to the line.
Does this mean much? I'm not sure. All basketball teams go through stretches where they seem terrible, and Michigan's are a bit longer than most because of the youth and lack of depth at key positions. I'm with Beilein when he says the free throw issues are just a weird thing that shouldn't repeat, and if Michigan makes a reasonable number down the stretch we're talking about the slight annoyance of letting a 22 point lead get whittled down to ten.
On the other hand, Michigan had big second half leads against MSU and Iowa* they let get whittled down and led OSU by six a few minutes into second half before getting a run in their face. Even excluding the latter, in four of the last six games they've suffered dips of varying severity in the last ten minutes.
*[Okay, Iowa's a little bit of a stretch but what happened in that game would have been what happened in the IU game if Michigan could have hit a free throw.]
Tourney chances. Tim will cover this in detail later today. In brief: by holding serve these last two games Michigan's more than doubled their shot in Kenpom's view, going from 10% to ~25%. You can think that's a bit pessimistic since the team is young and therefore should be improving more rapidly than older teams if you're so inclined.
Hardaway killswitch still engaged. So Tom Crean says Hardaway "punked" his team, which means Hardaway had forcible prison sex with them. This is true (26 points on 9 of 11 shooting) and also something elderly white guys probably shouldn't be saying for the same reason they shouldn't show up at 50 Cent shows wearing bandanas. Still, dang, dang, dang:
In the last five games, Hardaway has averaged 18 points, 4.2 rebounds, shot 55.2 percent (32 of 58) from the floor and 50 percent (17 of 34) from the 3-point line.
The Hardaway vs Harris post suggested Hardaway's TO rate, eFG%, and efficiency would go up as he reduced his bad shots and drove to the hoop more. It didn't suggest it would happen right now, in buckets. The recent tear has popped Hardaway's 3PT% from 30% to 34% and his 2PT% up a couple points, too.
Hardaway's going to come down to earth before the end of the year. I repeat this so I will not be disappointed when it happens. In the meantime I'm tapping my fingers waiting for Kenpom to update its individual stats, because I think there's a good chance that Hardaway's offensive rating* will at least temporarily match the ~106 Harris put up in his last two years. [Update: Kenpom updates; Hardaway's up to 105.9 with the same Shot%.]
Again, that's not to say he's a better player since his usage will drop and it's pretty easy to have a massive ORtg when all you're doing is throwing down dunks other people generated for you—see Brent Petway, 2006. In the context of the team, having a high-but-not-monster usage freshman equaling the previous star's efficiency should mean the ceiling the next couple years is higher than it was the last couple—possibly much higher.
*[Got a couple questions about what the hell that was. It's… um… complicated. So complicated that most people won't even try to show your the formula because of its insane complexity. The closest thing to an explanation I found is here. It's a way of wrapping all of a player's offensive stats into a single number that should correspond to number of points produced per 100 possessions used. It seems to work pretty well as a proxy for being good at stuff, with the caveat that the number is heavily dependent on usage.]
Suddenly B-52s. Michigan's epic run of three-point bombing continued with an 8 of 15 performance against Indiana; they poured in seven of ten attempts after halftime. Why is this happening? Candidate reasons:
Actual in-season improvement as shooters.
A reduction in bad threes taken after winging it around the perimeter for 30 seconds.
An increase in wide open threes generated by the team's increased penetration.
A reversion to the mean.
A reduction in threes attempted by poor shooters.
All of these have some impact but I think #2 and #3 are the main reasons. Amakerian possessions spent 30 feet from the basket have been reduced to a few here and there—usually when Morris is getting his two minutes per game on the bench. Michigan broke out of its slump by bombing MSU (10 of 21) and Iowa (14 of 28) into oblivion. After watching that OSU came out with a gameplan to limit three-point attempts at all costs. This worked to an extent but Michigan has adapted—even thrived—as opponents focus on limiting threes until they figure they have to limit Morris and Morgan, at which point they give up a bunch of threes:
Those are three game moving averages so they lag slightly but the trend is clear. Michigan starts off taking a lot of threes and hitting a decent number, take even more and make way too few. They double down, taking a billion threes and hitting a bunch of them, at which point opponents are like "uh oh" and start limiting their opportunities but not their success.
There's a bit of a chicken and egg thing going on here—Michigan beat MSU thanks to a number of contested threes, and while Iowa wasn't as good defensively that two-game blitz seems to have convinced the rest of the league to keep on the shooters, at least insofar as they can.
Epic wallpaper. You must have it.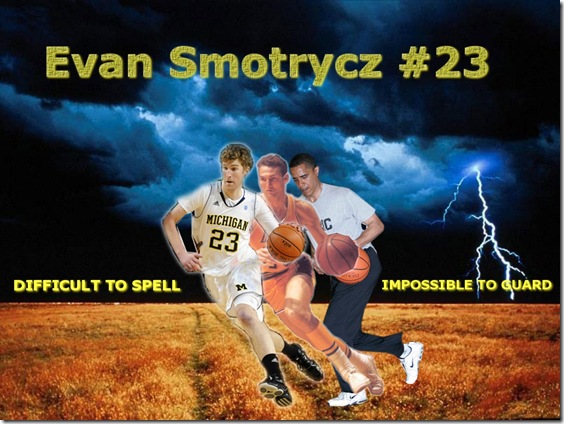 Elsewhere
Five key plays feature Hardaway, three pointers, turnovers, and FT misery. UMHoops scouts potential 2011 PF target Larry Nance, Jr. and recaps the Indiana game. Wojo on the NCAA question. Mets Maize also tackles Indiana happenings. Epically long Darius Morris profile from AnnArbor.com.