Draftageddon: It Continues To Continue
PREVIOUSLY ON DRAFTAGEDDON: Many defensive linemen went off the board early, and then there was a big run on tailbacks inexplicably kicked off by Venric Mark. Trash was talked about Shilique Calhoun, because that's how we do this business. Trash was not talked about MSU in general because obviously.
ROUND 5 - PICK 1: Trae Waynes, CB, MSU
O: QB Braxton Miller (OSU), RB Melvin Gordon (UW), WR Stefon Diggs (MD)
D: DT Carl Davis(IA), CB Trae Waynes (MSU)
BRIAN: To kick off the fifth, I'll grab the last member available from last year's lights-out MSU secondary: Trae Waynes. I trashed Calhoun, and I think justly, so let me explain how MSU is so good on defense: their secondary is impeccable. The safeties are super aggressive, often forced into man coverage as BISB mentioned. This means that the corners are on an island constantly. Waynes was opposite future first-rounder Darqueze Dennard and more than coped, with three INTs and very few derp moments. You have to be good to be in island man coverage all damn day and be part of the #2 secondary in the country when it came to YPA. 
The NFL is also itching to get their hands on Waynes. Fox's Peter Schrager likes him better than Dennard and projects him 11th. Pete Prisco says he might be better and has him 26th. And why not? He's 6'1" and his fake 40 is so so fake at 4.3. Even if Ace was betting on a tailback dropping to him, NW LB versus MSU DB should be no contest.
ROUND 5 - PICK 2: Ameer Abdullah, RB, Nebraska
O: RB Ameer Abdullah(NEB), WR Devin Funchess (M), LT Brandon Scherff (Iowa)
D: DE Shilique Calhoun (MSU), LB Chi Chi Ariguzo (NW)
ST: KR/PR Ameer Adbullah
ACE: Dammit, Brian. Waynes was the other guy I was considering with my last pick—my decision came down to the respective depth at linebacker and cornerback—but you have a point here about Waynes' pure talent level. I might've over-thought that one.
Thankfully, Seth Millen either really under- or over-thought the Mark selection, so I still get to mock somebody and get one of the best backs in the country. Abdullah led the conference in rushing yards and averaged over six yards per carry last season even though his quarterback was either Taylor Martinez playing through turf toe so bad he failed an NFL physical eight months later, Tommy Armstrong Jr., Ron Kellogg III, or—for one glorious five-yard completion—something called a Ryker Fyfe.
In addition to being a superlative runner, Abdullah's a solid receiver out of the backfield; he cracked 100 yards of offense in all 13 games, and hit the century mark on the ground alone in all but two of them. If you've got a little time to kill, here are 14 minutes of Abdullah highlights from 2013 set to a quality selection of hip hop instrumentals—you won't be bored:
Mark's 2013 highlights, meanwhile, come in JPG form:
Oh, I almost forgot: Abdullah's also a really dangerous return man, averaging 26.1 yards with a TD on 47 career kickoff returns and 10.2 yards with another TD on 31 punt returns. Nebraska didn't utilize him as a returner last year because of his workload at running back, but there are no such limitations in hypothetical MGoB1G fantasyland.
RB/KR/PR Ameer Adbullah it is. Hello, Heisman candidate in the fifth round.
[AFTER THE JUMP: HAAAAAAAAAIIIRRRRRR, Seth drafts more Northwestern skill players for some reason.]
ROUND 5 - PICK 3: Kenny Bell, WR/KR, Nebraska
HAAAAAAIR
O: QB Devin Gardner (Michigan), Kenny Bell (Neb)
D: DE Joey Bosa (OSU), Kurtis Drummond (MSU), Jake Ryan (Michigan)
BISB: Quick: name every player in the Big Ten who is coming off of consecutive 50-catch seasons. The correct answer, of course, is "Kenny Bell" (though we will accept "Tacopants" for partial credit). The guy is just a really good all-around receiver. He only averaged 11.1 yards per catch this year, but he averaged 17.3 the year before when he wasn't saddled with Tommy Armstrong Jr., Ron Kellogg III, and T.J. A.J. R.J. Backslashinfourth V. He runs solid routes, finds ways to get open, can work underneath, and can take the top off the defense. Despite being relatively thin, he's physical and a willing blocker. He's also a pretty good kick returner.
ROUND 5 - PICK 4: Taiwan Jones, LB, Michigan State
ROUND 6 - PICK 1: Christian Jones, WR, Northwestern
O: RB Venric "Don't hate me because I'm more NORFLEET than NORFLEET" Mark (NW), Jason Spriggs (IU), WR Christian Jones (NW)
D: DE Randy Gregory(NEB), DT Michael Bennett(OSU), LB Taiwan Jones(MSU)
SETH: Entering 2012 people were writing about how MSU senior caption/coverage OLB Chris Norman would be among the better backers in the conference. By the end of the season Norman was relegated to nickel duty. It wasn't because Norman was bad, but because then-RS sophomore Taiwan Jones simply beat him out for the job (notably, by outperforming him in a game against Indiana). At 6'3/250 he's a thumpin' run stuffer whose game was being impossible to block. His pass defense developed in 2013, when Jones was nearly as much a part of MSU's great passing defense as those guys in the secondary. This year Taiwan will be moving into Max Bullough's old role of Mike/opponent's playcaller.
Heart and soul of Michigan State's defense: I'll take it.
And I'll take another Jones besides. I never thought I'd see the day when MGoBloggers make fun of tiny slot bugs. Also BiSB completely forgot about the Joneses of Northwestern: Christian: 54 catches and Tony, 55. This general disrespect for Northwestern's passing game is interesting, since the Cats are transitioning this year from the Kain Colter show to a passing spread featuring Unstoppable Throw God Trevor Siemian. From my Hokepoints today:
TOP BIG TEN RETURNING RECEIVERS BY RYPR
| Receiver | Team | Tgts | Rec | Yds | 1st | YPT | Tgt Rt | 1st Dn% | RYPR |
| --- | --- | --- | --- | --- | --- | --- | --- | --- | --- |
| Devin Funchess | Michigan | 92 | 49 | 748 | 33 | 8.1 | 23% | 36% | 107.0 |
| Christian Jones | Northwestern | 77 | 54 | 668 | 40 | 8.7 | 20% | 52% | 93.5 |
| Tony Jones | Northwestern | 80 | 55 | 616 | 31 | 7.7 | 21% | 39% | 86.2 |
| Shane Wynn | Indiana | 65 | 46 | 633 | 23 | 9.7 | 14% | 35% | 86.2 |
| Devin Smith | Ohio State | 73 | 44 | 660 | 25 | 9.0 | 20% | 34% | 84.1 |
| Levern Jacobs | Maryland | 72 | 47 | 633 | 22 | 8.8 | 17% | 31% | 84.0 |
| Stefon Diggs | Maryland | 56 | 34 | 587 | 24 | 10.5 | 14% | 43% | 77.9 |
By the way, Kenny Bell was another five spots down, behind two more Maryland receivers. Maryland has lots of receivers. This has been your Maryland or Rutgers fact of the day.
JONES JONES JONES JONES JONES JONES JONES!

INTERLUDE
ACE: WRONG NORTHWESTERN RECEIVER, SETH.
a wild Prater appears!
This message has been brought to you by the Friends of Heiko Yang Foundation.
ROUND 6 - PICK 2: Noah Spence, DE, OSU
OONTS OONTS OONTS OONTS OONTS
O: QB Devin Gardner (Michigan), WR Kenny Bell (Neb)
D: DE Joey Bosa (OSU), S Kurtis Drummond (MSU), LB Jake Ryan (Michigan), DE Noah Spence (OSU)
BISB: Hey, what are you still doing here little fella?
I don't love Noah Spence. He's athletic as hell, but he suffers from the same thing a lot of Buckeye defenders do, which is to just go crazy chasin' stuff. He's not great against the run, as he is easily rerouted (which tends to happen when your first and only instinct is CHHHHYYYAAAAAAAAAAARRRRGGGEEEget'emget'emget'em) and when he gets engaged with a blocker, he has rollerskate tendencies (). But if there's a better pure edge rusher in the B1G, I haven't seen him. He can play either WDE or 3-4 OLB, he can drop in coverage, and he can ruin some days. And at pick #22, I may have grabbed him lower than he'll go in the NFL draft. That, my friends, is value.
As for Christian Jones, numbers often lie (SHUT UP ESPN YES THEY DO). Of his 668 yards and 54 catches, 182 yards and 13 of those catches came against Illinois. That's more than a quarter of his yards nearly a quarter of his catches, and they basically came against Saline High School. I like Jones, and considered him over Bell, but he's no Kyle Prater. Though I do appreciate your attempt to recreate the offense that finished 84th in the country in scoring.
ROUND 6 - PICK 3: Maxx Williams, TE, Minnesota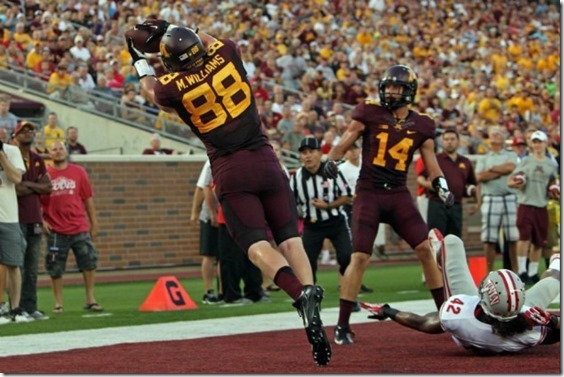 O: RB Ameer Abdullah (NEB), WR Devin Funchess (M), TE Maxx Williams (MN), LT Brandon Scherff (Iowa)
D: DE Shilique Calhoun (MSU), LB Chi Chi Ariguzo (NW)
ST: KR/PR Ameer Adbullah
ACE: With Devin Funchess most definitely a wide receiver, Jake Butt out until midseason, and the Polish Hat and Jacob Pedersen off to the NFL, there's a serious dearth of talent at tight end in the conference. Only two returners at the position broke 400 receiving yards in 2013: OSU's Jeff Heuerman and Williams, who managed the feat in one fewer game.
Despite playing in an offense that ran the ball nearly 70% of the time with a pair of QBs that combined to complete just 51.3% of their passes, Williams led the team in every major receiving category (25 catches, 417 yards, 5 TDs), hauled in 62.5% of his targets—and, impressively, upped that number to an even 70% on passing downs, when he was Minnesota's obvious top target—and averaged 10.4 yards per target. He did all of this as a redshirt freshman who had to expend a considerable amount of energy blocking in the run-heavy Gopher offense.
Williams has the size (6'4", 254) to hold up at the line of scrimmage, the athleticism to make big plays up the seam, and the jump-ball skills to be a red zone terror:
Good luck fielding a back seven that can handle the size/athleticism combo I'll be putting out there with Funchess and Williams. My quarterback, who will be a very lucky man indeed, need only the ability to lob a ball very high in the general direction of one of my long-limbed giants. Also, with players named Maxx, Shilique, and Chi Chi, I've already locked up team-wide NOTY honors in this draft.
BiSB has done the requisite trashing of Seth's pick, so I'll just point out that among weakside DEs, there are still plenty of solid pass-rushers out there: Minnesota's Theiren Cockran, namely, is a hell of a value pick that just dropped into Brian's lap because the rest of us saw the bright shiny objects at WDE and failed to account for depth. Hope y'all find a way to clone Heuerman or run a no-TE offense.
INTERLUDE
BISB: Ah yes, you have sprung your trap by snatching Mitch Leidner's favorite target. Surely all is lost.
/rends garments, gnashes teeth.
ACE: Despite being Mitch Leidner's favorite target, MAXX is still one of the two most productive tight ends in the conference.
Mitch Leidner will not be my quarterback.
Anything else?
BISB: Well, he was a productive tight end for Philip Nelson (before Nelson transferred to Rutgers and kicked a dude's head in). And while I like Maxx quite a bit (he was on my "get this guy unreasonably early" list), at the end of the year his numbers are going to belie his talent because Mitch Leidner.
ACE: And, at the end of the year, he'll still manage to be All-B1G, even if it's partially by default.
BRIAN: /says nothing about Minnesota tight ends
ROUND 6 - PICK 4: OT Rob Havenstein, Wisconsin
O: QB Braxton Miller (OSU), RB Melvin Gordon (UW), WR Stefon Diggs (MD), OT Rob Havenstein(WI)
D: DT Carl Davis(IA), CB Trae Waynes (MSU)
BRIAN: I'll start my offensive line with my attempt to Cheesebend by grabbing Wisconsin's right tackle to go with Wisconsin's running back who, again, ran for just under eight yards an attempt last year. You may remember Havenstein from a mutual flirtation with Michigan back when he was a recruit; in four years at Wisconsin he's gone from nearly 400 pounds to 327 at 6'8". He was second-team All Big Ten a year ago, and with most of the competition graduated he's a good bet to be on the first team.
He is not a Lewan-esque left tackle wall in pass protection but for my team the road-grading right tackle is just as important, if not more so. And his pass protection was at least decent a year ago, as Wisconsin only gave up 16 sacks on 355 passing attempts.
I know I'm supposed to snark but I am shakin' the old fist that Ace snatched up Maxxxxx. To have those numbers with those quarterbacks and not be an obvious problem in the run game is a hell of a debut.
NEXT TIME ON DRAFTAGEDDON: People try to reassemble various offenses in whole, including Northwestern for some reason!
A Michigan player is taken! Seriously! We might be in trouble you guys!