Draftageddon: The End Is In Sight
The goal of Draftageddon is to draft a team of Big Ten players that seems generally more impressive than that of your competitors. Along the way, we'll learn a lot of alarming things, like maybe Maryland is good? Full details are in the first post.
PREVIOUSLY ON DRAFTAGEDDON
CURRENT SITUATION
ROUND 19 - PICK 2: Levern Jacobs, WR, Maryland
O: QB Connor Cook (MSU), RB Ameer Abdullah (NE), WR Devin Funchess (U-M), WR Levern Jacobs (MD), SLOT Dontre Wilson (OSU), TE Maxx Williams (MN), LT Brandon Scherff (IA), LG Kaleb Johnson (RU), RT Tyler Marz (WI)
D: WDE Shilique Calhoun (MSU), SDE Andre Monroe (MD), NT Darius Kilgo (MD), DT Adolphus Washington (OSU), OLB Chi Chi Ariguzo (NW), OLB Matt Robinson (MD), CB Desmond King (IA), S John Lowdermilk (IA), S Jarrod Wilson (U-M), HSP Earnest Thomas III (IL)
ST: KR/PR Ameer Adbullah (NE)
ACE: With the return of Stefon Diggs and Deon Long from injury, not to mention Maryland's less-than-stellar quarterback situation, I'll admit to being hesitant to make this pick. After all, while Levern Jacobs led the team in receiving in 2013, he did so while making just four starts, all after Diggs and Long went down (he would've made a fifth, but a concussion held him out of the Virginia Tech game). After the spring, Jacobs sits behind Diggs on the depth chart, as expected. Nigel King, though much less impressive statistically, is slated to start across from Long on the outside so the Terps aren't trotting out a South Carolina-esque Lollipop Guild of starting receivers. Taking Jacobs, admittedly, is a risk.
It's a calculated risk, however. Without the benefit of Diggs and Long taking attention away from him, nor the chance to pad his stats with starts against the non-conference dregs, Jacobs still caught 46 of his 71 targets (64.8%) on a team that completed just 55.3% of its passes, and these weren't just dink-and-dunks—he averaged nine yards per target and 13.9 per reception.
His huge game against Clemson is what convinced me to make the pick. The normal starting QB, CJ Brown, sat out with an injury. Brown's replacement, Caleb Rowe, went just 19-of-45 for 282 yards with three TDs to two INTs in that game. On the year, Rowe completed just 48% of his passes. He was not a very good quarterback.
Jacobs caught eight of those 19 completions for 158 yards and this touchdown, which shows that one false step against him will lead to DEATH. He's dynamite after the catch, with that Breaston-style long stride and some nifty moves in tight spaces. Any concerns about his hands, meanwhile, should be alleviated by his catch rate and this:
Jacobs caught 34 passes over his final five games, capped off with a seven-catch, 100-yard effort against Marshall in the Military Bowl; that game featured a touchdown in which he displayed excellent route-running, finding the hole in the middle of the defense with a couple sharp cuts and easily outrunning everyone to the goal line, as well as a great bailout of his QB. He's not at all afraid to go over the middle or go up for the ball in traffic, and when he gets the ball in space it's a freakin' laser show.
While Jacobs is primarily a slot receiver, I could get away with a Funchess/Jacobs/Wilson receiving corps, and with Wilson fully capable of lining up in the backfield my last skill slot is probably getting used on an outside receiver anyway. And if you think I haven't considered the Wildcat possibilities with Abdullah and Wilson (and even Jacobs, who got a couple jet sweeps last year and even took a triple option pitch for a solid gain in the bowl game), well, think again. Even if Jacobs sees a drop in his production this fall with Diggs taking away a lot of his snaps, he's the best big-play threat left on the board, and I get the feeling Maryland will find a way to get the ball in his hands after his breakout sophomore year.
Round 19, Pick 3 - Pat Elflein, OG, OSU
I'm BATMAN
O: QB Devin Gardner (UM), RB Jeremy Langford (MSU), RB Tevin Coleman (IU),  WR Kenny Bell (Neb), WR Shane Wynn (IU), WR Deon Long (MD), OT Donovan Smith (PSU), OT Jack Conklin (MSU), OG Pat Elflein (OSU), C Austin Blythe (Iowa)
D: DT Louis Trinca-Pasat (Iowa), DE Joey Bosa (OSU), DE Noah Spence (OSU), LB Jake Ryan (UM), LB Mike Hull (PSU), CB Sojourn Shelton (Wisky), CB Jabrill Peppers (UM), S Kurtis Drummond (MSU), S Sean Davis (MD)
ST: Bell (KR), Peppers (PR)
BISB: It's fun when you can predict the exact reaction your fellow drafters will have to a pick. In this case, that reaction is almost certainly a momentary "lol, THAT GUY?" and then an attempt to snark before realizing 'I know nothing about that guy.' And then they watch this film of him against Michigan State (he's the right guard, #65 in your program), and they're like 'eh, I guess he looks pretty good.'
When starting guard Marcus Hall... uh... departed the Michigan game, it seemed like it might actually create a weakness in Ohio State's otherwise solid line. After all, OSU's OL depth is a questionable proposition. And yet Carlos Hyde still ran the ball straight up the gut 27 times for 226 yards. How? Sophomore Pat Elflein stepped in and had a really, really good game. And when Urban Meyer suspended Hall the following week against Michigan State in the Big Ten Championship Game for his "Notable Moment," Elflein played even better, and Ohio State ran for 273 yards at 6.8 YPC. Elflein did everything. He pulled. He pass blocked. He down-blocked. He wham-blocked. He worked to the second level. He made thousands of curly fries. And if we're talking about trials by fire, having your first start on the interior be against Michigan State is about as much as you can ask of a lineman.
He's mobile and engages well in the run game, and does a good job of sealing defenders and getting angles. He sinks well in pass sets, and is strong enough to keep his form against interior linemen. He's definitely a guard at 6'3, 300, though Ohio State seems to think he's pretty versatile as they had him repping at right tackle last year. He's one of only two guaranteed starters on OSU's OL next year along with Taylor Decker.
[AFTER THE JUMP: it's a run on guards. Get it? I don't. Help me.]
ROUND 19 - PICK 4: Jake Cotton, OG, Nebraska
ROUND 20 - PICK 1: Warren Herring, NT, Wisconsin
O: QBs Nate Sudfeld and Tre Roberson (Ind), RB Venric Mark (NW), WR Devin Smith (OSU), WR Christian Jones (NW), LT Jason Spriggs, LG Jake Cotton (Neb), (Ind), C Brandon Vitable (NW), RG Jack Allen (MSU), RT Taylor Decker (OSU).
D: DE Randy Gregory (Neb), DE Marcus Rush (MSU), DT Michael Bennett (OSU), NT Warren Herring (Wis), MLB Taiwan Jones (MSU), WLB Steve Longa (Rut), SS Corey Cooper (Neb), FS Adrian Amos (PSU), CB Blake Countess (Mich), CB Eric Murray (Minn)
ST: Mark
there are a truly improbable number of pictures featuring Jake Cotton's belly on GIS. I had to leave like four out.
SETH: I'm still going off the idea that we're drafting teams, not spreadsheets of stats, and with the addition of this last, important piece, my team has just about the best offensive line you can make in this conference for the offense I intend to run (up-tempo zone).
Oh, I can appreciate Brian's Men of Cheese--with the caveat that a group of All-Stars should outperform 3/5ths of what should be the conference's best total unit--but they're not my style. I would have liked Scherff, obviously, and Donovan Smith is a heck of a player except Penn State's fast tempo last year saw him committing a lot of false starts--natural progression means that's a diminishing gripe. Even Elflein is a smart value pick--if someone took Cotton before I addressed more pressing matters I had plans for that kid. What I wound up with is five guys of the seven I really wanted, and specifically the guy who would end up Nebraska's most important lineman last year.
That is weird to say since the Huskers had five seniors with starting experience going into 2013: Spencer Long, Andrew Rodriguez, Brent Qvale, Cole Pensick, and Jeremiah Sirles. Regardless, Cotton won a starting job out of fall. He was hurt early in the Northwestern game and missed that plus the Michigan and MSU games--you'll remember Michigan owning that side of the line right up until the fateful option play. When he came back, so many other guys were gone that Nebraska's offense was essentially stripped down to running Abdullah behind Cotton.
I re-watched the Gator Bowl last night to confirm this. In that game, Cotton mostly went against Garrison Smith, a DT-sized 3-tech with textbook-bad pad level(that's his tape vs Missouri last year) who just missed the NFL combine and signed to Miami's practice squad. Cotton got pushed back on the first play (FWIW he changed his shoes after the first drive to cope with the weather) and spent the rest of the afternoon scooping this dude and plowing into something in the second level, usually about the same time a pile with Abdullah in it was falling at his feet. When Nebraska ran right, they pulled Cotton nearly every time (and wonder to my Michigan eyes, he executed that well). Clearly he was the point man of their offense, and clearly they trusted him more than Moudy, who filled in for Spencer Long.
Importantly for me, like the rest of my line, his game comes from his brain--everybody on my OL has the experience and awareness to execute some complicated things (why I had him over Elflein). Jake's a plus downfield blocker, though it's rare he was able to release to the second level without finishing a combo block. In pass pro he was a wall; he's 6'6 and has played OT in his career. Nebraska had a 99-yard TD pass in this game--imagine if Michigan had tried such a thing! I don't see the nastiness here of other dudes--he's a technician, not a mauler--but in round 19/25 nobody's perfect.
Can he roll at my rate of fire? Nebraska gets to the line quickly but their tempo dropped way down once they were functioning with a freshman QB and freshman OL. Cotton's had plenty of practice and conditioning in a spread 'n shred by now, so not concerned.
Sorry if that's a lot of words about a left guard--for some reason I've been really interested in left guards this off-season.
Fortunately there isn't a lot I have to say about 6'3"/294 Warren Herring. Oh, Bennett would make a fine nose, and there are some DE/DT tweeners left out there with that lean, muscular... healthy physique. But we here at Seth's House of Quarterback Bloodsport realized we could maximize Bennett's sick ability by pairing him with a heavy...heavier man...that multiple OL will have to identify with.
Last year Herring split time evenly with nominal starter/late round draft pick/2012 Team Cook nose guard Beau Allen. And that's what I need right now: a big, space-eating, double-team-eating, low-centered being with a strong gravitational relationship to the plot of land between your offenses and yards. If it takes two OL to stop this guy, that means Messirs Bennett and Gregory and Rush get one apiece, and I find that prospect delightful.
Is Herring that? Well Wisconsin was 5th in rushing S&P last year, the handiwork of outstanding linebacker Chris Borland, yes, but importantly a clean Chris Borland. As the year progressed the Badgers began trying to get more snaps for Herring as a 3-3-5 or 3-4 (and okie) DE without taking Allen off the field. I noticed when they did this against South Carolina (start in the 2nd quarter of the next link), the Gamecocks often doubled Herring or went to the other side. When single-blocked at nose he got disruptive.
So he's not just a plug-you-up nose. A quick run down the list of interior DL with TFLs last year goes Monroe, Bennett, Trinca-Pasat, Kilgo, Herring. Impressively, half of Herring's 4 sacks came against Ohio State, one where he fought a double-team for 2 seconds, then ripped down the line and caught Miller on his way out of the backfield, and another where he swam right past All-American Corey Linsley.
Note to King Arthur, it CAN be done.
I won't snark him over DTs off the board--this is the right place to take him--but in context of the guys I've placed around him, and what the options look like from here, I'm quite comfortable putting my Gregory-Herring-Bennett-Rush juuust ahead of Brian's Cochran-Davis-Hamilton-Clark unit (I don't like his DEs--if Clark blows up this year I'm happy to eat those worse), and just behind Ace's impressive foursome of overrated-but-still-pretty-good Calhoun to underrated and pretty good Kilgo-Washington-Monroe. Since BiSB also appears to be in the market for an interior guy I'll reserve judgment on his Buckeye tandem on the edges and lunchpail middle. If anybody disagrees with this assessment, I'm happy to dance it out:
Round 20, Pick 2 - Zac Epping, OG, Minnesota
O: QB Devin Gardner (UM), RB Jeremy Langford (MSU), RB Tevin Coleman (IU),  WR Kenny Bell (Neb), WR Shane Wynn (IU), WR Deon Long (MD), OT Donovan Smith (PSU), OT Jack Conklin (MSU), OG Pat Elflein (OSU), OG Zac Epping (MN) C Austin Blythe (Iowa)
D: DT Louis Trinca-Pasat (Iowa), DE Joey Bosa (OSU), DE Noah Spence (OSU), LB Jake Ryan (UM), LB Mike Hull (PSU), CB Sojourn Shelton (Wisky), CB Jabrill Peppers (UM), S Kurtis Drummond (MSU), S Sean Davis (MD)
ST: Bell (KR), Peppers (PR)
BISB: My line is talented, but it is very young. With three juniors and a sophomore, it isn't 'Michigan's offensive line' young, but it could use an established veteran presence. Epping has made 34 starts for Minnesota (by comparison, Michigan returns 37 career starts. On the entire roster. Combined). The entire Gopher line has 105 career starts under its belt, and that is after losing Caleb Bak to a concussion-related retirement. They were 5th in the conference in yards per carry in '13, and that was with almost no threat of a ball being tossed in a forward manner (they threw for 148 yards per game, which is amazing).
Epping is more of a grinder than a mauler. His Pissed-off Technician style of play might remind one of a David Molk. He's very proficient at controlling his man and sealing him to the appropriate side of the play. When he engages, he only seems to disengage when he decides it's time. He's rather uninspiring in open space, but running in Minnesota's Stanford-esque clown car OL splits, this isn't a terribly big deal. He can play guard and center, though again at 6'2, 321 pounds he's prooooooobably not a tackle.
There is one slight caveat: he cheats. All the time. Look at this formation:
Epping is four feet off the ball, along with everyone else who isn't actually touching the ball. And this wasn't an isolated incident; this is the status quo. At some point, your formation is illegal. That point was a foot and a half ago.
ROUND 20 - PICK 3: Chad Lindsay, C/G, Ohio State
O: QB Connor Cook (MSU), RB Ameer Abdullah (NE), WR Devin Funchess (U-M), WR Levern Jacobs (MD), SLOT Dontre Wilson (OSU), TE Maxx Williams (MN), LT Brandon Scherff (IA), LG Kaleb Johnson (RU), C Chad Lindsay (OSU), RT Tyler Marz (WI)
D: WDE Shilique Calhoun (MSU), SDE Andre Monroe (MD), NT Darius Kilgo (MD), DT Adolphus Washington (OSU), OLB Chi Chi Ariguzo (NW), OLB Matt Robinson (MD), CB Desmond King (IA), S John Lowdermilk (IA), S Jarrod Wilson (U-M), HSP Earnest Thomas III (IL)
ST: KR/PR Ameer Adbullah (NE)
ACE: Remember how badly we all wanted this guy? (Blame Brian for jinxing the hell out of this, btw.) Instead of ending up at Michigan, Alabama grad-year transfer Chad Lindsay chose Ohio State, where he'll most likely fill Corey Linsley's vacated center spot.
One of the likely main reasons for this choice was Buckeye O-line coach Ed Warriner, who came over from Notre Dame in 2012 after a sub-par line couldn't produce an effective running game with a sophomore Carlos Hyde and freshman Braxton Miller and saw OSU rank 11th in adjusted line yards in his first year and first last season. What he did in his first year there was pretty remarkable:
The 2012 line featured a center (Corey Linsley) that had never started a game, a left tackle (Jack Mewhort) who had never played tackle before, a right tackle (Reid Fragel) who was a tight end in the previous season. The "experienced" guy was Andrew Norwell, who started at left tackle for the first half of his sophomore season before moving inside.
This [2014] group is miles ahead of the 2012 line. Taylor Decker and Chad Lindsay bring good experience competing on great lines, and Pat Elflein has valuable playing time in the two biggest games of the season. Even the two other guys (presumably Antonio Underwood and Darryl Baldwin) have been in the program for a few years now and are entering their third off-seasons with Warinner. They should be expected to perform at a high level from game one.
It shouldn't be too surprising that Elflein looked quite capable when filling in for Marcus Hall last year; Warriner's track record of quickly developing Fragel and Mewhort from major question marks into NFL-caliber tackles speaks for itself. OSU players, coaches, and fans love the guy, and it's easy to see why.
So despite the turnover—four starters depart from last year's OL—I fully expect the Buckeye line to be good again this year, and Lindsay will be anchoring itin the middle, with the flexibility to slide over to guard should the need arise. I'll take a redshirt senior center on what should once again be a powerful offense—yes, even without Hyde—in round 20 over, say, Iowa's center in round 10 (hi, BiSB) or another former part-time starter on a very good O-line in round 11 (hi, Brian). And if I decide to take another C/G type to fill out my line, I'll be doing what Seth did over ten rounds later without much dropoff in talent.
ROUND 20 - PICK 4: CB/HSP Doran Grant, OSU
ROUND 21 - PICK 1: LB Michael Rose, Nebraska
O: QB Braxton Miller (OSU), QB Christian Hackenberg (PSU), RB Melvin Gordon (WI), RB/WR Josh Ferguson (UI), WR Stefon Diggs (MD), WR Tony Lippett (MSU), TE Jeff Heuerman (OSU), OT Rob Havenstein(WI), G Kyle Costigan(WI), G Dallas Lewallen(WI)
D: DE Frank Clark(M), DE Therien Cockran (MN), DT Darius Hamilton(RU), DT Carl Davis(IA), LB Desmond Morgan(M), LB James Ross(M), LB Michael Rose (NEB), CB Trae Waynes (MSU), CB Jordan Lucas (PSU), CB/HSP Doran Grant (OSU), S Ibraheim Campbell (NW)
BRIAN: We saw the Ohio State secondary firsthand, and this is why we are avoiding it. But man I'm talking about a nickelback, man, and we've left a guy the NFL is cocking an eyebrow at on the board for nearly the whole damn draft. He is of course OSU's Doran Grant, and ain't nobody left at any position with NFL scouts saying things like this:
"Grant is one of the most dynamic athletes in college football."
...and ranking him one of the top ten senior DBs available next year. Yeah, the thing continues with buts...
If he continues to make strides in man coverage throughout his senior campaign, Grant could enjoy a meteoric rise up the charts this fall.
...but their buts should butt out. Grant's the fastest guy on OSU's team, and unlike Dontre Wilson, he's faster than some random OSU student. Position coach:
"He was better than average last year," Coombs said of the senior cornerback. "His improvement this year has been dramatic. I'm excited to see him play. He is a young man with incredible athletic ability. His combine-type numbers are going to match those of many of the great corners in the country today and those that have played here."
Dramatic improvement off of better than average from a former five star recruit. Okay, sold.
I'm not surprised that Rose is still on the board since he didn't emerge until halfway through his freshman season. After a test-run early against Illinois, Rose didn't return to the starting lineup for the 'Huskers until the Michigan game, which you are trying to forget but still remember. Rose was the starting MLB for the final five games of Nebraska's season, in which he collected 48 tackles--projects out to 124 for the year--as the previously-wobbly Nebraska run defense did this to finish out the season:
MICHIGAN: 36 attempts for... sigh .... -21 yards, -0.7 YPC.
MICHIGAN STATE: 3.5 YPC
PENN STATE: 3.9 YPC
IOWA: 3.5 YPC
GEORGIA: 2.2 YPC
Let's drop the USM, Purdue and Michigan games for heinous incompetence on behalf of the offense and see what Nebraska's run defense looks like pre-and-post Rose against teams that had top 100 rushing offenses last year:
PRE-ROSE: 5.1 YPC
POST-ROSE: 3.3 YPC
Not bad for a redshirt freshman thrust into the spotlight midseason. His 6 TFLs indicate a guy who is not just a run stuffer, and those should easily crest double digits with the increased playing time he'll see as Nebraska's man in the middle.
INTERLUDE
SETH: We all know the snark for this. Ace, you drafted him, you do the honors.
ACE: Obligatory: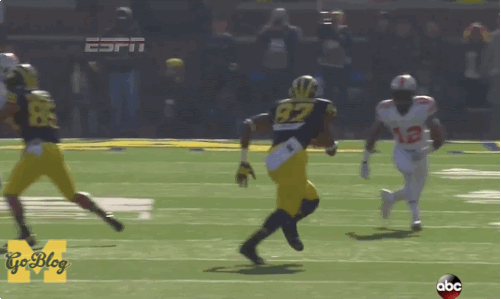 Sadly, this is a half-hearted snarking, as I very much planned to draft Grant with my next pick. Turnabout is fair play, though, and much like I robbed Brian of the chance at a decent safety, he's taken my preferred second corner off the board. The dirty little secret about OSU's secondary last year was the corners actually weren't that bad; the safeties, on the other hand, were horrible. (Note nobody taking former five-star Vonn Bell even though a lot of the safety picks have been... reaches.)
Now Rose, on the other hand, I can snark. The Nebraska defense definitely perked up as last season wore on, but I'm not sure Rose was the main reason:
He'll be less hesitant this fall, to be sure, but the Huskers also lose a fair amount from their defensive line; there's a chance he gets exposed in year two.
*** NOTICE OF ALLEGATION ***
BISB: It has come to the attention of the Committee on Infractions that one Brian Cook (hereinafter "Cook") may be in the violation of the strictures of the Draft O' Snark. To wit, when Ace Anbender drafted Jarrod Wilson in the 18th round, all draft participants other than Cook were in possession of the full complement of two (2) safeties. Therefore, Cook was obligated to acquire a second safety by the 21st round. However, in the 21st round, Mr. Cook eschewed this responsibility, instead taking a pretty bad linebacker from a really really bad run defense.
The penalty for this infraction, if proven, would be the loss of imaginary practice time and the forfeiture of one draft pick in the 2017 Draft O' Snark. Please respond with any exculpatory or mitigatory information as soon as possible.
SETH: Fire Brian? I hope he doesn't fire ME!
I suggest as punishment he has to go a year with Luke Fickell as his coach.
BRIAN: Since HSPs are very possibly safeties--Ace in fact has a safety HSP--the court rules I'm not in violation, as there are still holes to be filled with potentially safety-shaped objects.
Also, Nebraska's run defense was actually above-average in the Big Ten last year.
BISB: Don't make me quote you to you. You won't like what you said about Nebraska's run defense as late as November 8th:
"Nebraska has been very good at getting to the QB, which somewhat obscures how bad they've been against actual rushes. I smashed some stats together from CFBStats to fix that issue. Here is the Big Ten against ground games:
| Team | Att | Yds | YPC |
| --- | --- | --- | --- |
| Michigan State | 216 | 556 | 2.6 |
| Wisconsin | 234 | 823 | 3.5 |
| Ohio State | 260 | 967 | 3.7 |
| Michigan | 243 | 960 | 4.0 |
| Iowa | 306 | 1305 | 4.3 |
| Penn State | 288 | 1315 | 4.6 |
| Northwestern | 350 | 1644 | 4.7 |
| Minnesota | 281 | 1372 | 4.9 |
| Indiana | 371 | 1889 | 5.1 |
| Illinois | 340 | 1831 | 5.4 |
| Nebraska | 300 | 1626 | 5.4 |
| Purdue | 318 | 1733 | 5.4 |
Nebraska's been worse than Indiana over the course of this season, and basically equivalent to Purdue and Illinois. Moveable object, come on down."
And as Ace pointed out, in the Nebraska FFFFFFFF:
"The linebackers are a mess. This will be covered in more detail later—redshirt freshman MIKE Michael Rose made his first start against Northwestern and didn't fare well, getting out of his lane with regularity and eating blocks due to a lack of aggressiveness."
BRIAN: Both of those statements came before Nebraska's late-season surge towards run game competence, as I just detailed.
BISB: Sure, but the sentiment remains valid: the numbers belie how bad the run defense was. Sure they improved statistically. And they may have even improved in reality (though watching their linebacker play against MSU wasn't exactly a thing of beauty). But to say their run defense was "above average in the Big Ten" is a stretch. You have to look at the whole picture, most of which was bad. Shutting down the shattered husk of Georgia's offense looks a lot better in a statistical sense than it does watching the tape. Besides, drawing conclusions on causation from the insertion of Rose (who had played significantly before entering the starting lineup) forces people to locate relevant XKCD cartoons.
I'll give you credit for Grant, though. He wasn't good last year, but he was okay and less prone to "WTF was that?" moments than Bradley Roby. I've considered him at several points in the draft. But then I remembered the Funchess thing, and the fact that this is above all an exercise in snark.
BRIAN: Again, I'm betting on a redshirt freshman improving, as happens. Especially at linebacker, which is probably the hardest spot on either side of the ball to look like you know what you're doing at.
CURRENTLY CURRENT SITUATION