Draftageddon 2016: What We Learned About the Big Ten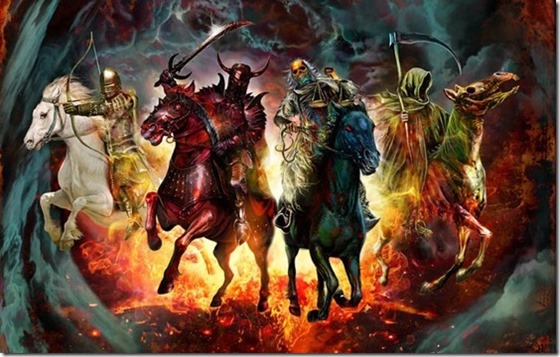 Not that this will stop the boo birds, but this post has no drafting—it's the informative portion where we discuss what this exercise tells us about the Big Ten this year. User trueblueintexas already beat us to the punch on this if you want more thoughts.
Previously on Draftageddon:
---------------------------------
Click for big on these:
By Position: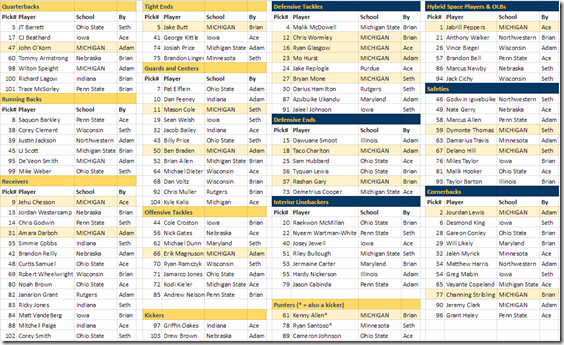 The Teams:
The vote: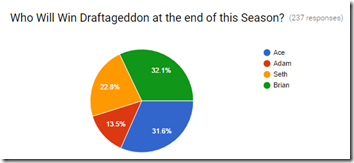 [Hit THE JUMP for what this all means and to share your thoughts on the conference this year. Also feel free to share any feelings you have about Draftageddon in the Kaepernick thread.]
---------------------------------
1. HOMER MUCH? Which Michigan picks did we overslot and why? Anyone we might actually regret NOT taking?
Seth: On the surface it's hard to justify taking two backup DTs when the conference is full of good interior DL. For my part I believe Mone is just that good--I grabbed him and Darius Hamilton in quick succession. Hurst however is a reach and one example of several times we leaned a bit too heavily on PFF. He went before Replogle and Hamilton, two more developed 3-techs.
Braden was a reach too. As for Mags and Kalis, those guys went kinda where they should have. OT is super weak this year, and once we're into PFF-hated Dan Voltz and Rutgers guards, a three-year starter and former 5-star in Year 2 under Tim Drevno is a better idea than the other bad ideas.
---------------------------------
Ace: Hurst was a reach because of the available talent and the potential for limited snaps, but at least we've seen him in games playing at a high level. For Mone to go in the seventh round in a draft that didn't see Jaleel Johnson selected until the 23rd—to Seth, again, because he's also playing Mone out of position as a 3-4 end—made little sense to me.
I'll repeat my belief that we overvalued interior linemen in general; it's one of the conference's deepest position groups, and while I understand taking the All-Americans (Elflein and Feeney) in the early rounds, Mason Cole going one spot after Feeney seems a little high to me—I'm optimistic he'll be a very good center, but we haven't seen him play there in a game yet. Braden going before all but one offensive tackle, meanwhile, might've been the biggest reach in the draft.
The good news is a lot of these guys are reaches based more on the other available talent in their conference than their actual skill level, especially in regard to the defensive linemen. I don't think we missed anyone we'll regret unless injury strikes, but Adam could come out looking brilliant for waiting on quarterbacks and ensuring one way or another he got Michigan's starter.
---------------------------------
Brian: I don't think Hurst is a reach at all; my grading in UFR had him just as good as any of Michigan's DL until late in the year when he was forced to be the starting nose tackle. Now that he's a year older, 295 pounds, and able to play three-tech I expect him to have a terrific season. Playing time is not a concern for me since Wormley is going to get a bunch of DE snaps; Hurst should get starter minutes despite being a nominal backup.
Taking Mone that early was the reach of the draft. He has played something like two dozen snaps in his career. Yes, he's hyped. He's also stuck behind Glasgow, a high-endurance and lethal NT. Every Michigan OL was over-drafted. All of them save Cole are Just A Guy... at best. It's not a great year for OL in conference but there was no reason to not wait until literally everything else was filled to take Michigan OL. The one guy who did go that late, Kalis, blew a ton of plays in the Citrus Bowl and probably shouldn't have been drafted at all.
---------------------------------
Adam: I think it's easy to forget how little Mone's played because of the veritable mountain of press conference hype he's received. Still, hype and on-field production are disparate things at this point. I don't think Seth will regret taking Mone, I do think he'll regret not waiting a while to take him. I'm in the same boat with Braden. I think he'll be improved enough this season to warrant being drafted, but the optics are bad. I got caught up in the rush to fill in the interior line to counter the manbears being drafted across from them and ended up taking a guy I could have waited quite a while on.
I don't see any guys we'll regret leaving on the board. There are some guys (Guys?) we passed over (Godin, McCray, Gedeon, et al.) who will probably be productive players this fall, but there's no way we could justify picking them because a) their respective position groups are pretty dang deep and b) they just aren't top-100 players in the conference.
---------------------------
2. Best players in the conference we didn't draft?
Brian: Three people playing for OSU who we don't know enough about yet to pick.
Ace: That's essentially why I drafted Malik Hooker.
---------------------------
Brian: Also Shannon Brooks, who was terrific as a freshman for Minnesota. He's slippery, he's got long speed, and he should  break out even further as a sophomore as long as Minnesota's offensive line can do anything. Brooks averaged six yards a carry and added 17 catches despite not being Minnesota's full-time tailback; I would have taken him over Justin Jackson, whose main asset is the ability to not erode.
---------------------------
Ace: As Seth reminded me today, last year I nailed the answer to this question by pointing to a specific position group (cornerback, with one being Desmond King, which would make me feel brilliant if not for the fact that I didn't actually draft him). This time around, we've left some promising running backs on the board. (Brian just mentioned one while I was typing this up.)
This is largely a product of the format—there's really not a need for any of us to take more than one—as well as many good backs being stuck in platoon situations. In addition to Brooks, I like Rutgers's duo of Robert Martin and Josh Hicks, and both MSU backs that weren't selected would see a lot more carries on less talented squads.
---------------------------
Seth: I was about to take Brooks until the OSU RB battle settled itself. I backed off from OSU's open secondary spots when they moved Arnette into the free safety battle. Webb is Ohio State's Kalis so far. Smith gets hurt tying his shoes. Lattimore gets hurt watching him. Burrows can play like five positions but isn't going to remind people of Peppers at any of them.
---------------------------
Ace: The rest of the guys that come to mind are mostly players who are potential breakout candidates this year, especially at receiver. If anyone on Maryland could get him the ball, Levern Jacobs would be worth a selection. If Penn State's quarterback situation turns out to be addition by subtraction, DaeSean Hamilton and Saeed Blacknall could have big years. Wisconsin's Jazz Peavy is another receiver to watch, and only in part because of his name.
Oh, and DeAngelo Yancey manages to be productive in Purdue's offense, which is quite the feat.
---------------------------
Seth: We left some RBs on the board because of format but we can't even claim that for linebacker, where we drafted 13 players and might've kept going for 10 more rounds. Wisconsin's Chris Orr might be James Ross or might be what we wanted Ross to be, and their new starting OLB is a Watt (not to mention I dropped T.J. Edwards, the best coverage LB in the country to PFF, at the whiff of an injury).
Minnesota's Jack Lynn and Cody Poock might get drafted in a weaker year as Desmond Morgan types. Nebraska's Michael Rose was drafted in years past, and he's only the 2nd best LB on the Huskers (Josh Banderas). Iowa's Ben Niemann had 6.5 TFLs, and Iowa fans expect WLB Aaron Mends to break out. State's got Jon Reschke next to Bullough, and might hoodwink the NCAA into an extra year for SAM extraordinaire Ed Davis. And then Dante Booker (replacing Josh Perry) and Chris Worley (the new Star) are two talented Buckeyes who actually have nailed down starting jobs and we didn't even have to take the risk.
---------------------------
Ace: Yeah, linebacker is super deep this year.
Also, in an attempt to continue my tradition of pointing out corners who very much should've been drafted, I came really close to taking Nebraska's Josh Kalu in the last few rounds. Bigger corner with some nice playmaking ability.
I bet he would've gone off the board if Nebraska's pass rush didn't hold back their pass defense last year.
---------------------------
BiSB: What about that Illinois corner who is talking smack to Jourdan Lewis? I'm sure HE is quite good.
Seth: We also skipped the annual Ohio State tight end who averages 12 yards per target on 20 targets, when this year's was one of the better blocking TEs in the country.
---------------------------
3. Other guy's pick you were particularly impressed with/mad about?
Seth: I hope Ace felt as confident when he drafted Nick Gates as the rest of us were nauseated at the drop-off after him. I think Gates has a good case for best OT in the league (Croston's in the pile of okays for me) and we were down to a D-III transfer and a new starter who looked terrible in spring and has only "Urban's tackles always end up fine" going for him in a few rounds.
---------------------------
Adam: I was certain that I was getting Jermaine Carter--Brian already had Raekwon McMillan on his roster--only to see him scooped up two picks before me; I ended up taking Hard Nickerson Jr., a guy who's great in coverage and should be alright otherwise but is certainly no PFF fave rave. I also was pretty frustrated when Ace grabbed Jalen Myrick two picks before I would have taken him, though Matthew Harris is a relatively nice consolation prize.
---------------------------
Ace: In the early rounds, Adam snapping up Dawuane Smoot and Taco Charlton on the round 4-5 turn was an excellent move—getting the top two pass-rushers in the conference in a year when there aren't many proven 4-3 DEs was quite a feat. While Adam already mentioned this, I also was waiting on Jermaine Carter; I didn't expect Brian to take a third ILB, and when he did I ended up shoehorning Brandon Bell into a role he doesn't play that often. Finally, while this was as much about timing as anything else, Seth getting Mike Weber in the penultimate round was a steal.
And, yes, I tented my fingers when making the Gates selection.
---------------------------
Seth: Yeah, Myrick and Harris going in succession hurt my plans way more than Brian taking Will Likely the turn before it. Brian probably made up for that blunder by taking Stribling way late though. Also Ace would never know this, but if he hadn't taken Beathard when he did I was about to Heiko this draft hard.
Ace: This won't be the last time in this review that someone expresses surprise at the Likely pick.
Seth: The book on him is don't punt to him, and only one of us drafted a punter. However Durkin apparently plans to make Likely a nickelback, which protects him somewhat and showcases his agility and excellent tackling in space. Last year they had him outside and brought their safeties down against the run every play. That was probably the best use of their safeties, but not ideal for a guy who's 5'9.
---------------------------
Adam: In terms of value for where they were selected, I thought Brandon Bell (57th overall), Matt VandeBerg (84th overall), and Marcus Newby (86th overall) were great picks. Bell's HSP-y enough to take a run lane or cover a guy; VandeBerg had pretty good advanced stats in 2015, and he has a luxury many B1G receivers don't in having a returning starter at QB; Newby was ranked sixth on PFF's list of 25 breakout players in 2016.
Ace: Yeah, I expected VandeBerg to slip a tiny bit more, and ended up having to settle for Mitchell Paige when Brian took him.
---------------------------
Seth: The afore mentioned punter probably deserves a mention in this section. Cameron Johnson is never not a good pick, and the amount of field position value he brings probably adds up to what a good running back gives you over replacement.
Ace: At the same time, I really liked Brian's Kenny Allen pick—even that early—because of the extra roster spot it afforded him. Usually pulling that move comes with a considerable cost to special teams but this time he took an actual K/P.
Seth: Oh come on: Santoso's a better kicker and Minnesota fans have been treated to the same punting exposition we've got on Allen, and I got that in 17 picks after Allen.
Ace: I liked that pick, too.
---------------------------
Seth: Damarius Travis was another good pick. Safety is a spot where the top guys are B+ and there's a lot of C options but until Adam made that pick I'd totally forgotten about that guy.
Brian: Jaleel Johnson slipping to #91 was stupid and I am angry at all of you for letting that happen after I had two DTs.
Ace: I'm pleading innocence due to Glasgow and Replogle.
Brian: Seth does not get points for that pick because it was mostly his fault because he took a sure backup who has barely played and 215 pound Darius Hamilton. Tiny person, tiny midget Darius Hamilton person.
Ace: He's made remarkable strides to get up to the size Mo Hurst was at last year.
Seth: That's why I made him basically an end. If Rutgers tries to make him a nose again, that's on them. Maybe they shouldn't be a Big Ten school.
Brian: Every year you have a mid-draft panic and end up running a three-man line with guys who play in 4-3s. I can't wait to see how you pull it off next year.
Ace: The best part about this is Adam grabbed by far the best 3-4 OLB before Seth even took a single DL. And, come to think of it, the way you could've made it kinda work would've been to take Kemoko Turay.
Who's still on the board.
Seth: Newby and Cichy are better players. But sure, keep arguing the 3-4 is a gimmick.
Won't lie though: Biegel and Ace taking Bell were fist-shaking moments. Ace has Bell playing middle linebacker and in order to play Biegel how he should be (as a quasi-end) Adam has Taco back at the DT-ish end spot we didn't want him at all last year. Not the worst fits but if we're going to argue about the best use of certain players... (edited)
Plus, if it ain't broke...
SETH'S 2015 DL:
Ace: At least Bell actually lined up at WILL (which is where I'm playing him; Jewell is my MIKE) on a number of occasions last year. And part of Brian's point is it is broke. Glasgow's a hell of a 4-3 nose but I'm not sure he'd thrive as a zero-tech.
Seth: We're getting 3-4 concept and 3-4 personnel mixed up again. Michigan actually called itself a "3-4" last year and we made fun of anyone who took that as more than "we play odd fronts."
Ace: But you don't really have 4-3 personnel, either. And last year you deployed Schobert as a 3-4 end.
BiSB: 34 OLB, no?
Seth: Yeah 3-4 SAM. Which is what he played. Biegel was the boundary guy last year and takes over Schobert's field side this year.
These days the line between a 3-4 OLB, a 1990s SAM, and a standard weakside DE is indistinguishable. D.J. Durkin's "Buck" linebacker was supposed to be one of these hybrids, but Michigan didn't have anyone like that. If Michigan had Schobert or Biegel right now they'd be weakside ends, or more specifically "Backers" and "Tractors" and "Cheetahs"—Winovich and Furbush and Uche.
---------------------------
4. Is this an accurate distribution of the conference's talent?
| School | Offense | Defense | Sp Tm | Total |
| --- | --- | --- | --- | --- |
| MICHIGAN | 10 | 12 | 1 | 23 |
| Ohio State | 8 | 5 | 1 | 14 |
| Iowa | 5 | 5 |   | 10 |
| Penn State | 4 | 5 |   | 9 |
| Michigan State | 4 | 4 |   | 8 |
| Wisconsin | 5 | 2 |   | 7 |
| Indiana | 6 |   | 1 | 7 |
| Nebraska | 4 | 2 | 1 | 7 |
| Maryland | 1 | 3 |   | 4 |
| Northwestern | 1 | 3 |   | 4 |
| Minnesota | 1 | 2 | 1 | 4 |
| Illinois |   | 3 |   | 3 |
| Rutgers | 2 | 1 |   | 3 |
| Purdue |   | 1 |   | 1 |
BiSB:
Seth: I'll say six Indiana offensive players and the kicker is an exactly accurate distribution of Indiana's talent. Also 4 of the 5 Wisconsin offensive players we drafted didn't play for much or all of last year, and the 5th was a redshirt freshman. Voltz it turns out won't play this year either, but I take this as evidence the Badgers won't be THAT bad again.
Brian: Looks good to me save for 3 or 4 too many Michigan players. (Should be noted that one doesn't really count since it's Adam picking Speight because of Michigan's uncertain QB battle.)
Seth: Is Iowa this good?
Brian: 8-4, 9-3 good, sure.
BiSB: They haven't finished higher than #29 in S&P+ in the last five years. They were #47 last year. So it depends on your definition of "good." But still, probably not.
Brian: They should be better than last year. They get a lot back.
BiSB: True, but they lose their two best OL and most of their receiving corp
Brian: Smith was hurt most of last year, VandeBerg is secretly very good, and Kittle helps paper over depth issues. I think they'll play better and end up with a worse record.
BiSB: If healthy Beathard is significantly better than sports hernia Beathard, 9-3 is possible. I'm just not optimistic
Brian: Big Ten West, man.
BiSB: But Northwestern... uh... and Wisconsin might... yeah, never mind. Talk to little Denard Robinson Cook about Undefeated Iowa.
Seth: As we said in HTTV:
---------------------------
5. What did we learn about the rivals? Are there any positions on Ohio State we would have drafted if we knew which guy would start? Ditto MSU?
Ace: I'm not sure we learned a ton about OSU and MSU outside of the expected: both teams have some very good players, both teams are replacing a lot, and OSU has more talent (especially proven talent) than MSU. We may regret not taking a skill player or two who emerges from a position battle, and even then we took fliers on the likes of Noah Brown and Corey Smith. Brian is the only one of us who didn't take a first-year starter from one of those two programs.
I'm trying to temper my optimism, but most of the position battles we didn't touch were for very good reason. OSU is starting a true freshman at guard, MSU might go back to Darian Hicks as their #2 corner, Tyler O'Connor didn't exactly wow anyone, and so on.
---------------------------------
Brian: Montae Nicholson could have the light go on and be very good. He remains very, very athletic and reclaimed his starting job late in the year. That coincided with a bunch of teams like momentarily-insane OSU and boring-ass Iowa who ignored the big flashing kick-me sign stapled to the MSU secondary, so we don't know if he actually improved much or not. Still, strong Dymonte Thomas potential.
As far as what we learned, the thing that jumped out to me is that MSU's lines look shakier than they've been in a while. We took four guy off of them; there is nobody else remotely on the radar. They took two DL grad transfers and are set to play one of them, a 275-pound DT from Nebraska. They're starting David Beedle, a converted DT, at one tackle, and that Machado JUCO guy we saw struggle last year. MSU's made chicken salad out of guys like Tyler Hoover before, so I hesitate to say they'll be outright bad. I'd be pretty nervous going into a season with MSU's setup.
Ace: This is where I start to have difficulty tempering my optimism.
---------------------------------
Adam: I can't think of a position battle that would have changed the way I drafted should we have known which way it would go. What struck me about both rivals is that they aren't just replacing one or two guys across a bunch of position groups, but are replacing the majority of a position group in many cases.
Of those, Ohio State's offensive line and Michigan State's receiving corps come to mind. State's rolling with presumed no. 1 receiver (in terms of returning production) RJ Shelton, who has spent his career as a third option. Ohio State will roll out a guy with a pretty recruiting profile and no experience at LT, a true freshman guard, and a guy who has played 30 snaps at RT. And that's coming from the guy who liked the LT's upside enough to draft him. There's a lot of talent on both teams, but most of that talent came with insufficient evidence to merit drafting.
BiSB: /in the distance, the Horn of Disrespekt sounds
Ace:
Whoops, wrong horn.
---------------------------------
Seth: I started scouting the Ohio State secondary battles hard--even bugging some OSU bloggers for intel--thinking they were hiding the next Eli Apple or whatever in position battle bluster. But the thing is the deeper you go into their FS and cornerback battle heuristics, it starts to look less like the 2015 QB battle royale, and more like the kind of uncertainty that ends with a position switcher. This goes for both Ohio State and Michigan State: you shouldn't run quarters with guys who haven't practiced it a lot. And then you factor in the absence of Chris Ash, and another year past Narduzzi's influence and...NO OPTIMISM NO! DOWN BOY!
The thing that prevents me from making fingertents is Urban Meyer is the Fielding Yost of our age, he's had awhile to prepare for last year's class to move on, he's got a lot of good clay to play with, and he's got until Thanksgiving to teach them all to play football.
I got nothin' for Michigan State--except for 2012 the last time they went into a season with so many holes was right after they hired Dantonio. Donnie Corley is a legit future star at wide receiver, but freshman Donnie Corley can't do any better than senior Aaron Burbridge against Jourdan Lewis. I don't doubt the power of irrational loathing, but can it block Taco Charlton, or threaten the Buttzone, or keep up with Jehu Chesson?
---------------------------------
BiSB: I can only assume that no one took Robert Martin or Kemoko Turay because y'all haters. Can't see past your unbridled hatred of Rutgers and fear of the #AshEra.
Brian: Mike Weber would have gone way way higher if Brionte Dunn was out the door when Draftageddon started.
Seth: Given our defensive lines maybe we're underrating the value Justin Jackson provides by being able to churn out yards post-zombification.
Ace: I just put up a post a few days ago calling him "just a guy," so you can guess where I stand on this. He's only good in the context of Northwestern having inexplicably little offensive talent.
Seth: Seriously though, State isn't BAD, but it's certainly the worst-looking team by preseason heuristics that Dantonio's had since 2012. They were a far better team going into last year, and last year's team should have gone 7-6 and lost to Michigan by four touchdowns but for dipshit luck.
Reschke might get drafted by us in a year that isn't loaded with LBs, and in a bad year we might have used a late pick on the off chance that State actually can retroactively fake a 2011 injury for Ed Davis when their own website proves he redshirted. Not even TOCageddon would put Cox or Hicks in their backfields.
Ace took Vayante Copeland based on his performance against a broken-handed Oregon QB and WMU's screen-a-thons, plus hype from the least reputable press corps north of the bagman line, and we didn't knock it because Dantonio has a track record. After the way things ended last year, and given how the schedule sets up with the bye, and Harbaugh, Michigan might finally be able to match them in hate/over-preparation too. No more #disrespekt. Time for a boot to the face.
BiSB:
Peat had not been practicing with MSU team during preseason camp even though he was listed in the two-deep at defensive tackle.
That sentence does not portend glory and riches.