Draftageddon 2016: Unleash the Linemen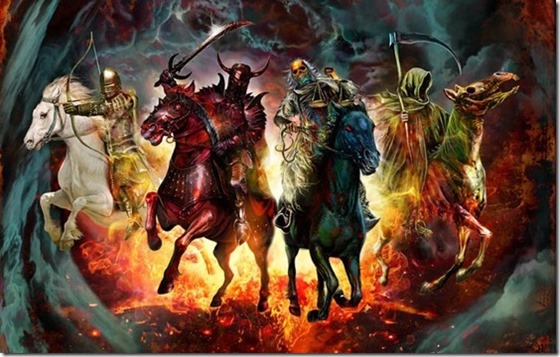 --------------------------------------
The first rule of Draftageddon is "you must complain about Draftageddon." The second is "the four people drafting assemble teams of Big Ten players in an effort to seem the best at drafting."
Previously on Draftageddon:
CURRENT STATUS
--------------------------------------
ACE: Round 3, Pick 1: Jehu Chesson, WR, Michigan
[Bryan Fuller]
OFFENSE: RB Saquon Barkley, WEAPON Jabrill Peppers, WR Jehu Chesson
DEFENSE: OLB/NICKEL Jabrill Peppers
SPECIAL TEAMS: KR Jabrill Peppers, PR Jabrill Peppers
Chesson, as you're well aware, had more close-but-not-quite moments than I care to recall in the first nine games of his junior year as he incrementally improved while waiting for Jake Rudock to calibrate his deep ball. The final four games, post-calibration, were a Wow Experience.
Indiana is bad and should feel bad, but those last two games came against a pair of first-round cornerbacks in Eli Apple and Vernon Hargreaves—the latter is still waiting for that hitch:
I'd be more wary of basing this pick on a small-sample breakout if it hadn't been so easy to see coming in the first place. CBSSports agrees: Chesson is their top-ranked senior receiver in the country.
In addition to his downfield receiving prowess, he also provides big-play ability on end-arounds (8 rushes for 155 yards and 2 TDs last year) and kickoff returns, as well as great blocking for a receiver. Again, this pick is also a reflection of the other available talent; the next-best receiver on the board is probably one of PSU's Chris Godwin, Nebraska's Jordan Westerkamp, or Amara Darboh.
[After THE JUMP: We take the linemen Pro Football Focus tells us to. Not our fault if their helmets have wings]
--------------------------------------
ADAM: Round 3, Pick 2: Dan Feeney, OG, Indiana
Offense: Pat Elflein (C/OG-OSU), Dan Feeney (OG-Indiana)
Defense: Jourdan Lewis (CB-Michigan)
I'm taking Feeney here for a number of reasons, not the least of which is the drop off from him to the next best guard in the conference. Seth talked to Indiana HC Kevin Wilson at the Sound Mind Sound Body camp and Wilson said Feeney's the best player he's ever coached. If what Wilson, the man who coached Adrian Peterson at Oklahoma, said is true then Feeney should be a consensus All American this season.
Feeney stymied both Chris Wormley and Willie Henry last season; I watched the every-snap film again and not only did I not see him lose a rep, but more often than not he enveloped and disposed of the guy across from him. This isn't a guard who just holds his ground, he demolishes people. It's like watching Michael Onwenu's hudl tape but at the college level. Pro Football Focus helps quantify my hyperbole:
Feeney boasts the highest pass-blocking grade of FBS guards back for 2016, and has yielded just one sack and 13 other pressures in 900 pass blocking snaps the past two season. His one hit and five hurries allowed in 2015 placed him number one in the country in Pass Blocking Efficiency for all guards.
--------------------------------------
Seth: Dammit Adam, NOW you learn how to draft? Ed Davis is still ELIGIBLE man!
Adam: Just wait until you see my linebacking corps comprised entirely of guards.
--------------------------------------
SETH: Round 3, Pick 3: Mason Cole, OC, Michigan
[Eric Upchurch]
OFFENSE: QB J.T. Barrett (OSU), OL Mason Cole (M)
DEFENSE: CB Desmond King (IA)
This is not where I wanted to pick him but since you guys seem bent on reuniting my 2015 Draftageddon-winning team in the first few rounds I'd better get in on the lineman All American pool while it exists. Of all the really good OL returning Cole is the only one with a ceiling for this year that's way higher than what he's achieved so far, and that's because he's been out at left tackle since he was a true freshman.
Now finally of an age when you might expect an offensive lineman to be ready to play, Cole is moving to center, where his intelligence and downfield blocking will be a greater asset, and his limited length less of a problem; if an "interior Joey Bosa" exists in this conference or anywhere, he's a) a true freshman, and b) plays for Cole's team.
The most valuable information we got in the spring game was Cole at center against Mone, and that played out exactly how Michigan fans would want: with Mone looking rampant, and Cole battling him to a draw.
Brian summarized that:
"Cole drew the massively hyped Bryan Mone for much of the spring game, and Mone was quiet. He got bashed off the line on one of Isaac's big runs, in fact. Various projections, including this space's, that Cole would be an A+ center appear to be accurate."
Among those projections was PFF:
"The move inside makes sense from an athletic standpoint for Cole, as he struggled to change directions efficiently on the edge, in particular showing an inability to redirect inside on rushers working back to the "B" gap. Where he did excel was pulling out into space as well as working to the second level—a trait that will be a heavier element to his game now that he is moving inside."
If things get dire later in the draft, like Michigan I can put Cole anywhere on the line and he can hack it. In fact I have just taken the conference's most proven left tackle off the board.
--------------------------------------
Brian: On the one hand all these interior linemen going off the board are fine players indeed. On the other, our philistine readers have consistently ignored my mastery of the less sexy and more complicated positions on the football field and are sure to punish you for not having whiz bang when FINAL JUDGMENT arrives.
Seth: Ace drafted Peppers so it's already over but the pedantry.
Ace: I'll admit Brian's point played into my last couple picks.
Seth: Mmm Penn State's running game.
Ace: I'd have to try pretty hard to put together a worse line than theirs, so I'd say the Barkley selection is still justified. Dude averaged 6 YPC with that​ line last year.
Seth: Sure. But if we're rating on troglodyte comprehension they'll see a guy who gets 62 yards on 10 carries, not a guy who got 60 yards on one spectacular run, got swarmed 9 times, then sat on the bench the second half while they threw screens from 5-wide.
Ace: Not sure how that's the expectation since he was better than that with, again, last year's horrible offense, and now they have an offensive coordinator who isn't completely incompetent.
Seth: It's not. It's a fine pick. I happen to enjoy making fun of Franklin.
Adam: I just don't want to draft a guy with a 33% chance of starting or Ed Davis again. So far things are going swimmingly.
Seth: /giphy is Ed Davis eligible?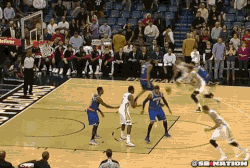 Slam dunk, Schnepp.
Adam: Giphy's never led us astray so I guess I know what I have to do.
--------------------------------------
BRIAN: Round 3, Pick 4: Chris Wormley, DE/DT, M
[Eric Upchurch]
Offense: TE Jake Butt(M)
Defense: DE Chris Wormley(M), DT Malik McDowell(MSU)
Before anyone gets in our grills about Wolverine homerdom please let the record state that last year the first 50 picks were Buckeyes. It just so happens that Michigan has some dudes this year.
Chris Wormley projects to be one of the most dudelike. He's not an outstanding edge rusher, but he's got everything else you could want in a SDE/3TECH. As of late last season he was having the best interior DL pass-rush season in two years. Even before the hammering of Florida in the bowl PFF had him at +35.8.
His conventional stats match that, with 14.5 TFLs and 6.5 sacks, many of them as a three-tech. Dane Brugler praises his "tremendous balance" and smarts, declaring him an "athletic mover" at 300+, and thinks he might land in the first round of the upcoming NFL draft.
More locally, UFR was gonzo about Wormley last year. I spent it watching him obliterate tight ends hilariously; by MSU I was noting that he had not picked up a negative mark in five weeks(!). I'm not the Gospel but over the years I've got a very good track record, and Wormley killed it week-in week-out. A second year under Harbaugh should provide another burst of improvement, at which point he goes from very good to re-dang-diculous.
--------------------------------------
BRIAN: Round 4, Pick 1: Jordan Westerkamp, WR, Nebraska
(This was a catch)
O: TE Jake Butt(M), WR Jordan Westerkamp (NEB)
D: DE Chris Wormley(M), DT Malik McDowell(MSU)
brian [1:44 PM] 
Ace already pointed out the dearth of top-level receiving options and other sure things at WR in the league. Westerkamp is the surest thing on the board, a slot extraordinaire with crazy good hands who managed to bring in 918 yards of Tommy Armstrong passes last year. Armstrong's back and should be a bit better; ditto Westerkamp.
PFF lists him as ​the top returning wideout in college football based on their grading. While that's likely an artifact of being on the receiving end of a lot of high-difficulty passes, he brings in an inordinately high number of them. He was fourth in the country in percentage of deep balls caught, and he ain't workin' with a Harbaugh QB here.
Westerkamp is a good bet to crest 1000 yards receiving at a high rate of efficiency, something that you can't say about anyone else in the conference--although in various Michigan targets' cases that's because of a diversity of options rather than skill level.
--------------------------------------
SETH: Round 4, Pick 2: Chris Godwin, WR, Penn State
Offense: JT Barrett (QB-OSU), Chris Godwin (WR-PSU), Mason Cole (OL-Mich)
Defense: Desmond King (CB-Iowa)
Special Teams: KR/PR Des King
Speaking of receivers who put up good numbers on awful passing offenses, Chris Godwin had 1,101 yards last year, 51 against Jourdan Lewis on three catches. One non-catch Godwin shucked Lewis down the sideline on 3rd and 19 only for Hackenberg to put it too long and out of bounds.
In fact chucking bad ideas in the direction of a bracketed Godwin was a regular feature of Penn State's offense, and usually the most effective one.
Because he's 208 and physical he gets the Avant/Darboh treatment, but that is incorrect, since Godwin plies his trade deep. The Michigan receiver he brought to mind for me is Amani Toomer (minus 2 inches; there's a reason Toomer is an all-timer). Like Toomer, Godwin is smart with his routes, collects a lot of targets in tight windows, works the middle of the field, and has the speed to be a threat over the top or to break it long after the catch.
The comparison might be closer if PSU knew they're allowed to throw a curl, but when they tried quick slants to Godwin those almost invariably cashed in for 5 yards. From the press box I also noted Godwin making those subtle changes in his route that NFL WRs do, like slowing up if he's beat over the top. Not that PSU's QBs could process such a thing while getting swallowed by Wormley & co.
Then there was that one time Hackenberg did throw a good one:
PFF is becoming our go-to here and again Godwin checks out; they had him 2nd team All-B1G with all three higher scores (Burbridge, Carroo, Thomas) not returning (Westercamp was counted as a slot). Less meaningfully, the Big Ten voted him 2nd team all-conference.
JT Barrett is at his most effective when he has a true deep threat to keep the safeties back, and all the proven receivers hence are possession dudes or slots, so this is the right spot to take one. And since Godwin's just a junior there's good reason to believe his ceiling goes higher.
--------------------------------------
ADAM: Round 4, Pick 3: Dawuane Smoot, defensive end, Illinois
Offense: Pat Elflein (C/OG-OSU), Dan Feeney (OG-Indiana)
Defense: Jourdan Lewis (CB-Michigan), Dawuane Smoot (DE-Illinois)
I'm as nervous as the next guy taking an Illinois player this high but Smoot's legitimately the best returning pass rusher in the conference. If there was an elite tackle in the Big Ten I probably would've taken him and continued building my Offensive Line of Doom but there isn't; this bodes especially well for Smoot, who had 15 TFLs and 8 sacks last season despite lacking freakish size for the position at just 6'3 and 268 pounds.
Dane Brugler of CBS Sports recently published a balanced scouting report on Smoot, noting that he needs to work on his technique and learn to better maintain his edge. There's plenty of NFL coaching experience to help Smoot further develop; Mike Phair served as defensive line coach for the Seahawks, Bears, and Bucs before landing at Illinois in 2015.
The positive portion of the scouting report is tantalizing:
He pairs an explosive first step with arc speed to threaten the corner and keep offensive tackles on their toes. Smoot bends well and is able to convert his initial quickness to power, driving blockers backwards toward the pocket. He also shows much improved block recognition from his sophomore season, quickly reading and identifying the quickest route to the backfield.
Checking in once again with PFF, they have him ranked as the number one returning player in the nation in pass rush productivity, which they define as pressures per pass rush. As if I wasn't already convinced that I shouldn't pass up that kind of potential, watching this play is watching Brugler's scouting report in motion:
Top NFL Draft Prospects: Talent and coaching has Dawuane Smoot on the rise
A former hurdler, Smoot brings athleticism to the defensive end position and has room to grow under a top-notch coaching staff.
--------------------------------------
Ace: Damn, Adam learned quick.  [returns to drawing board]
Seth: PFF has changed the game.
Brian: Another couple rounds and it'll be the wilderness though. I will swoop in with brilliant picks our philistine readers fail to comprehend. Seth will pick a 6'9" guy from Nigeria who thinks you're supposed to dribble footballs.
Seth: /giphy Michael Rose in the wilderness
Brian: Ace picks random names from OSU's roster
Ace: Hey man that 6'9" Nigerian has really impressed the BSD bloggers.
--------------------------------------
ACE: Round 4, Pick 4: Ryan Glasgow, NT, Michigan
Round 5, Pick 1: CJ Beathard, QB, Iowa
OFFENSE: QB CJ Beathard (IA), RB Saquon Barkley (PSU), WR Jehu Chesson (M), WEAPON Jabrill Peppers (M)
DEFENSE: NT Ryan Glasgow (M), OLB/NICKEL Jabrill Peppers (M)
SPECIAL TEAMS: KR Jabrill Peppers (M), PR Jabrill Peppers (M)
I'm don't even have to bother looking up Ryan Glasgow's 2015 stats because the only one you need is provided by Brian in HTTV:
Glasgow became the linchpin of an outstanding run defense, and then he was hewn down. When he exited, Michigan had given up 864 rushing yards in the first nine games. They gave up 725 in the next four, plunging from third nationally in yards per carry to 26th. Competition level and DJ Durkin's terrible OSU gameplan disclaimers apply; that is still absolutely stark.
By virtue of his position, Glasgow won't put up the gaudy numbers usually required to get postseason hardware, but his impact goes well beyond the box score—and after last year, we know his impact is considerable.
According to PFF, Glasgow graded out among the top 16 interior lineman in the country even though he only played eight full games. His UFR grades ranged from "solidly positive" to "Brian openly feels bad for the opposing center":
Losing him right after the Minnesota game was a bummer for many reasons. Among them was that Glasgow was coming off arguably the best game of his career, one that spawned a "ryan glasgow robot viking" tag on this here website. The interview he gave to Adam in the aftermath showed that he's not just impressive physically: he also has a remarkable feel for the game. The only thing that gave me pause about this pick is the presence of Bryan Mone, and since NT is a heavy-rotation spot anyway, that doesn't worry me.
Beathard, meanwhile, is the clear-cut #2 quarterback in the conference no matter what Todd McShay has to say. He's also not going to put up huge numbers, in this case because of the conservative nature of Iowa's offense. I'll go back to the PFF well for evidence of his efficiency and productivity:
Considering Beathard was carrying a groin injury since early October, his +16.7 overall grade (+10.5 passing, +6.7 rushing) was more than respectable, and the best mark among returning Big Ten QBs. Beathard showed an ability to take care of the football, with just five picks in 2015 and seven in his last 454 pass attempts. That's partly because Beathard didn't force the ball down the field often — only 13.4 percent of his pass attempts went 20+ yards downfield in the air, ranking 94th out of 128 qualifying QBs.

That's not a reflection on Beathard's ability to throw deep — he can — it's rather a schematic choice. Former Iowa QB Jake Rudock posted an almost identical 13.2 percent in 2014. Beathard is also relatively mobile, and capable of hurting opponents with his feet. Playing injured curtailed that dynamism somewhat in 2015, but he still managed 8.7 yards per scramble, averaged four yards after contact, and 13 missed tackles on just 40 scrambles.
There are better players left on the board, but there's a big drop-off at quarterback after Beathard, who at the very least is going to post a good TD:INT ratio. The same can't be said for Tommy Armstrong Jr. or First Round NFL Draft Prospect™ Mitch Leidner, and taking a Michigan QB is a huge gamble since we legitimately have no idea who's going to start. I like the value here.
--------------------------------------
Adam: I'm very curious to see in what order the UM defensive linemen go off the board. Because there are so many good ones.
Ace: It's really insane that I hesitated on the Glasgow pick because of the nonzero chance he's not a starter. But NTs rotate so much it's whatever.
Brian: That's why I took Wormley first. He's the guy who is definitely playing the most snaps.
Ace: Considered Taco for that reason. Also I am an unabashed Taco stan.
Seth: /checks calendar again. STILL JUNE ARE YOU KIDDING ME?
Alex: Man our DL is gonna annihilate people
Ace: It was legit news that the #1 player in the country is going to start.
Adam: Also what a great position group to have an elite one.
--------------------------------------
HOW THINGS NOW STAND