Draftageddon 2016: This Time You Might Actually Enjoy It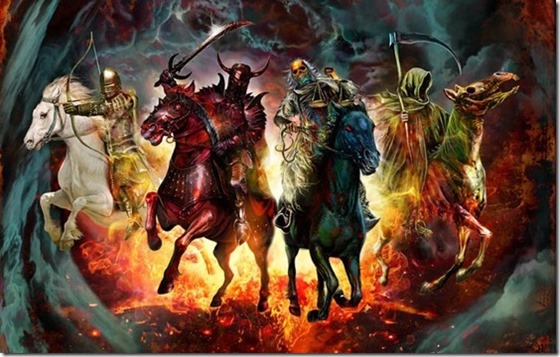 Once again we are running our Big Ten preview with a fantasy draft gimmick. This serves three purposes: For you, it's a snarky, informative way to learn who's good in the conference; it cuts through bad hype and the murky waters of line play, and sets expectations for Michigan players against guys outside our biases.
For us the comments section never fails to be a sobering reminder that some of our wonky readership prefer having lives to infinite knowledge about Nebraska OL. For Brian, he gets to play Bo, turning his staff's natural competitiveness against each other to hone us into fine-tuned Big Ten football coverage machines. Summer vacation is for losers and Nick Saban.
RULES
Everyone drafts a team from available Big Ten players consisting of
A QB, five OL, and six skill players on offense. Usually this breaks down in to a RB, three WR, a TE, and a wild card but things tend to get weird.
4 DL, 3 LB, 2 CB, 2 S and one wild card on defense.
A punter and a kicker.
Standard serpentine fantasy draft.
Once three teams have filled a position group the final team must do so at most three rounds later. This is mostly intended to prevent someone from waiting on a QB until the end of the draft and occasionally results in hilarious things like "Nathan Scheelhaase goes in round 8".
Brian will make fun of me for taking a low-volume defensive player he will draft in the first round next year.
The winner will be the person with the most impressive team.
As randomly determined by RANDOM.ORG the order is
Ace
Adam
Seth
Brian
BiSB and Smoothitron are in the Slack thread to be spicy. Ace is on the clock.
Brian: JT Barrett is a much more reasonable selection this year.
BiSB: Over First Rounder Mitch Leidner?
Brian: I didn't say that.
BiSB: I mean, shit, sure… it's your funeral.
--------------------------------------
ACE: Round 1, Pick 1: Jabrill Peppers, Heisman Contender, Michigan
OFFENSE: WILDCAT Jabrill Peppers, RB Jabrill Peppers, WR Jabrill Peppers
DEFENSE: OLB Jabrill Peppers, CB Jabrill Peppers, NICKEL Jabrill Peppers, SS Jabrill Peppers
SPECIAL TEAMS: KR Jabrill Peppers, PR Jabrill Peppers
I strongly considered JT Barrett because of the dearth of proven quarterbacks, but…
…yeah, I'll take the third-year, Don Brown-coached version of that guy.
[HEY READERS ARE YOU ENJOYING THIS SO FAR? SERIOUSLY. TRY THE JUMP IF YOU DON'T BELIEVE ME.]
--------------------------------------
ADAM: Round 1, Pick 2: Jourdan Lewis, Future Jim Thorpe Winner, Michigan
[Bryan Fuller]
I also considered taking JT Barrett, but 1) I don't really know who Barrett's going to throw to or how half of that line will protect him and 2) I don't think I could bear taking a guy with the #1 and #2 overall picks in consecutive years if he posts anything resembling last season's 6.3 yards per attempt. I guess I have to take the best cover corner in the nation instead. Poor me.
There's not much to say about Lewis that hasn't been said. He's the perfect press-man corner. Opponents inexplicably kept throwing at him last year (90 times!) and he allowed only 33 completions; he also defended 15 passes and intercepted two. He was put on the opposition's best receiver every week and erased them. When you ask him about technique he gives the Michael Jordaniest answers about just sticking in a guy's hip, running with him, and getting your hands up, as if it's as simple a task as impulse-buying something on Amazon. He was an All American in 2015 and there's no reason to believe he won't be again in 2016.
--------------------------------------
SETH: Round 1, Pick 3: JT Barrett, obviously.
[Bryan Fuller]
Thanks for sticking me with, you know,  the quarterback in the conference. I would love to rue this pick as much as Adam did, but since he tore up the Big Ten as a freshman and tore up Michigan and Notre Dame once they got Warriner's head out back in the booth from wherever it went this seems as obvious as passing deep against Michigan State.
Barrett was most effective when running tempo and this year they are finally spending the offseason tailoring the offense to Barrett or like, giving him the first team snaps. The plan appears to be a lot more RPO and letting Barrett do his thing, and the guy with this plan has a better career winning percentage than Yost. As much as I hate you guys for taking the guys I was fine getting stuck with, I'd have to be drunk to let Barrett pass this checkpoint.
--------------------------------------
BRIAN: Round 1, Pick 4: Malik McDowell, DT, MSU.

If only he'd listened to his mother. [Fuller]
This is not a pick I especially relish making since McDowell was a hair's breadth away from giving Michigan three of the top four picks in this draft but chose... poorly. But you kind of have to make it when virtually the entire NFL draft industry projects the guy as a top-ten pick and you've seen him wreck things in person.
Selected highlights from the offensive UFR from the most recent MSU game:
Braden(-1) and Glasgow(-0.5) can't do anything with McDowell ... McDowell runs over Glasgow(-1) ... Glasgow(-1) gets shed by McDowell ... McDowell is going right at this play; no chance for M
There were a couple moments where he did get got because he was going up against Glasgow, a third round pick, and occasionally Cole, a future draftee, but he was the single biggest factor in Michigan's bleah run game. He racked up 13 TFLs, a great number for an interior DL, and was just a true sophomore. He's going to be a beast this year.

--------------------------------------
BRIAN: Round 2, Pick 1: Jake Butt, TE, Michigan
[Patrick Barron]
This is a Tony Gonzalez pick. I don't actually think that Butt is the very best player left on the board. I do think the gap between Jake Butt and the rest of the motley crew of Big Ten tight ends is the biggest gap left on the board. Thus I am taking him like people used to take Tony Gonzalez in the first round of fantasy drafts because he was twice as good as the next TE.
Most people think he's the top available TE in next year's draft, with PFF slotting him in the first round. He certainly produced at that level last year and should have won the Mackey. He did not even get nominated because the committee is all 13 year old girls rolling their eyes at 13 year old boys saying "huh huh Butt" constantly, but those girls can't change the fact that Butt is a 6'6" catching radius on stilts who dropped one reasonably catchable pass all of last year and is only going to get better under Jim Freakin' Harbaugh, Tight End Whisperer.
Maybe Butt is the very best player left on the board. Nevermind.
--------------------------------------
Smoothitron:
--------------------------------------
SETH: Round 2, Pick 2: Desmond King, CB, Iowa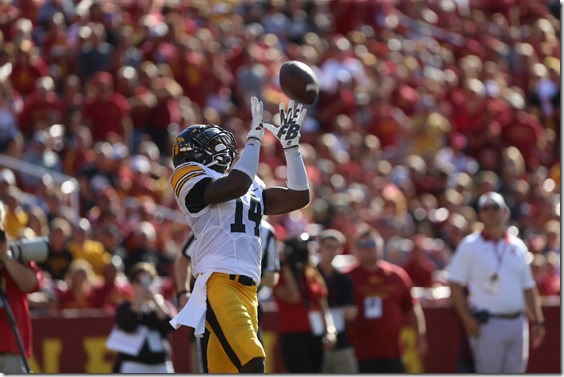 [courtesy Iowa Athletics]
Offense: JT Barrett (QB-OSU)
Defense: Desmond King (CB-Iowa)
Special Teams: King (KR/PR)
Weirdly, Michigan never offered Desmond King despite lots of interest and ultimately the nearest thing to an open "Please don't make me play for Ferentz" plea in recent recruiting memory:
After TE Khalid Hill committed to Michigan, Desmond King was hoping they'd offer him, too. Imagine King and Lewis pic.twitter.com/W3Kg4M3JOt

— Tom VanHaaren (@TomVH) October 31, 2015
Michigan needed corners badly in 2013 and wound up taking Lewis, Stribling, Ross Douglas, and Reon Dawson. Douglas was poached when PSU sanctions were announced, but late in the cycle Michigan still wanted a fourth corner and had to choose between taking Dawson from Illinois or King from the Hackeyes' clutches. We chose...poorly. King started immediately at Iowa and is now the reining Jim Thorpe winner and a unanimous All American. All of those mock drafts Brian mentioned take King right about the same area as McDowell. I will not repeat this mistake.
King's thing is interceptions; he led the nation with 8 last year, and set the Michigan state record in high school with 29. His highlight reel shows a lot of those were just bad throws--Iowa's toughest non-conference test was Iowa State and the Big Ten West's only draftable QB was playing for King's team.
But King is way more than a lucky Cover 2 corner. He's been excellent when called on to play press man, and he is probably the best tackling cornerback in the conference if not the country; their base defense basically trusts him to cover the alley himself. We point at the Burbridge-Lewis battle of the titans last year to demonstrate how great Jourdan is, but Burbridge had half the production on 18 targets in the Big Ten Championship game.
PFF sure thinks he's a first rounder already:
"King would have been in the first-round discussion had he come out this season after finishing 25th in the nation overall in 2014 and third last year at +20.0. He's strong in coverage, picking off eight passes and knocking away 12 others on only 80 targets, and his +9.5 grade against the run ranked third in the nation. King's all-around game translates well to the next level."
These evaluations don't even mention he's one of the best return men in FBS. If I had to pick between King and Lewis it's still Lewis, but it's crazy this guy made it out of the first round.
--------------------------------------
ADAM: Round 2, Pick 3: Pat Elflein, C/OG, Ohio State
Offense: Pat Elflein (C/OG-OSU)
Defense: Jourdan Lewis (CB-Michigan)
This might be a little high to take a lineman, but the conference is full of unproven players and I can't pass up the chance to take the guy Pro Football Focus said might be the best interior lineman in college football.
Elflein's moving to center this season. Doing so makes sense in terms of stabilizing a Buckeye line that lost three starters; all Urban had to do was slide his best guard one spot to the left and now the guy who has played in 42 straight games is the one making the calls at the line. PFF had him ranked as one of the top 12 run blockers each of the past two seasons, and he allowed just one sack and nine pressures in pass protection in 2015. He also happens to be one of the best pulling guards in college football, so if I need to I can always bump him back over to his old right guard spot and run college football's offense du jour, the smashmouth spread.
--------------------------------------
Brian: I like how these at the start are relatively concise because of their obviousness and by the time we get to things like "best guy on Purdue's DL" they'll be War-and-Peace length and followed by Ace promising to grind Seth's family into meatloaf.
Seth: A man gets defensive when a man drafts a Rutgers lineman.
Adam: …or a Rutgers linebacker.
Seth: If you're looking for OLBs, Ed Davis is on the board, and I hear Ben Gedeon is the next Joe Bolden!
Ace: Obviously deciding whether to take CJ Beathard, Tommy Armstrong Jr., or both.
Brian: not sure if serious.
Ace: That's why I hate where I'm picking right now.
Brian: At least someone solved the Desmond King problem for you.
Ace: In fairness, a couple teams in this draft are going to throw some very interceptable passes.
Seth: Mitch Leidner's interceptable passes become completions.
Brian: /checks for Iowa-Maryland game
oh thank God that's not happening
Ace: This stretch, however
it's going to be fun when Iowa wins the B1G West with a nonconference loss to North Dakota State.
--------------------------------------
ACE: Round 2, Pick 4: Saquon Barkley, RB, Penn State
OFFENSE: RB Saquon Barkley, WEAPON Jabrill Peppers
DEFENSE: OLB/NICKEL Jabrill Peppers
SPECIAL TEAMS: KR Jabrill Peppers, PR Jabrill Peppers
It's not a strong year for proven skill position talent in the conference, so I'll gladly take the opportunity to lock up the Big Ten's top running back.
Saquon Barkley quickly established himself as the conference's best back after Ezekiel Elliott as a freshman last year despite playing with a mediocre-at-best offensive line and a wildly inconsistent passing game. He can overcome those circumstances because, as PFF's stats demonstrate, he is goddang difficult to tackle:
Barkley finished the season as our 23rd ranked FBS running back in terms of overall grade (19th as a pure runner) but his 474 snaps were nearly 200 fewer than McCaffrey's. As difficult as McCaffrey is to bring down in the open field, Barkley may be the toughest guy in the nation to bring down out of the backfield. Barkley led all running backs last season with an elusive rating of 126.7. That number is heavily influenced by: A) the fact that he forced 60 missed tackles on 182 attempts and B) his average of 3.82 yards after contact per attempt.
While Michigan kept Barkley contained save for one big run, he had huge performances against Ohio State (26 carries for 194 yards) and Michigan State (17 for 103)—he's proven he be very good in a bad offense. He has the chance to be even more productive with Christian Hackenberg gone and a much-needed change at offensive coordinator. Meanwhile, the next-best back in the conference is arguably Corey Clement, who's coming off a lost year at Wisconsin.
--------------------------------------
Next time on Draftageddon: Michigan's entire defensive two-deep goes off the roster. Brian takes the far and away best longsnapper in the conference. Adam checks the internet again for Ed Davis's eligibility ruling.