Draftageddon 2015: It Starts! You Cannot Prevent It!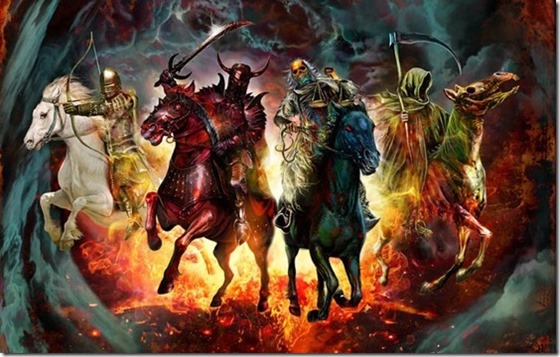 Well... crap. We have this tradition where we seek to irritate every last one of our readers. We could not do that, but then the readers win. The readers cannot win. We are the only site on the internet. We have them in the palm of our hand. We must crush them.
So let's draftageddon again.
You are not going to be happy about this. Let's just state that going in.
RULES
Everyone drafts a team from available Big Ten players consisting of
A QB, five OL, and six skill players on offense. Usually this breaks down in to a RB, three WR, a TE, and a wild card but things tend to get weird.
4 DL, 3 LB, 2 CB, 2 S and one wild card on defense.
A punter and a kicker.
Standard serpentine fantasy draft.
Once three teams have filled a position group the final team must do so at most three rounds later. This is mostly intended to prevent someone from waiting on a QB until the end of the draft and occasionally results in hilarious things like "Nathan Scheelhaase goes in round 8".
Seth will take an injured Northwestern player over any available Heisman contender.
Everyone will make fun of me for an excellent pick that ends up going in the middle rounds of the NFL draft.
The winner will be the person with the most impressive team.
As randomly determined by RANDOM.ORG the order is
Adam
Seth
Ace
Brian
Adam, you are on the clock. BryMac is on the email chain to throw out haymakers randomly.
BRYMAC: KURTIS DRUMMOND
-----------------------------------------
ADAM - Round 1, Pick 1: J.T. Barrett, QB, Ohio State
"Will I even play" is an interesting question to ask the TOP PICK IN THE DRAFT
OFFENSE: JT Barrett (OSU).
ADAM: I'll play Buckeye roulette against my better judgement. Picking a quarterback who has a 33% chance of starting is terrifying for a risk-averse person such as myself, but that 33% is assuming all of OSU's quarterbacks have an equal chance of winning the job.
Braxton Miller returns, but he's coming off of multiple shoulder injuries and already had a tendency to turn into Delmon Young when he had to throw deep. Circling back to the risk-averse thing, that gets a big "nooope" from me. Cardale Jones was superb during OSU's playoff run, but he's reportedly behind Miller and Barrett as of now. Silly though it may be to put much weight on an imaginary July depth chart, it's enough for me to look in a different direction.
That leaves Barrett, who completed 64.6% of his passes while averaging 9.0 YPA. On top of that, he brings the dual threat capabilities I'm looking for; in 2014 he ran 14.25 times per game and averaged 5.49 YPC. Overall, Barrett accounted for 7.78 yards per play while throwing 34 touchdowns and rushing for 11 more. It's easy to see why he was named the 2014 Big Ten Quarterback and Freshman of the Year.  Now I just have to hope he actually plays.
-----------------------------------------
SETH - Round 1, Pick 2: Connor Cook, QB, Michigan State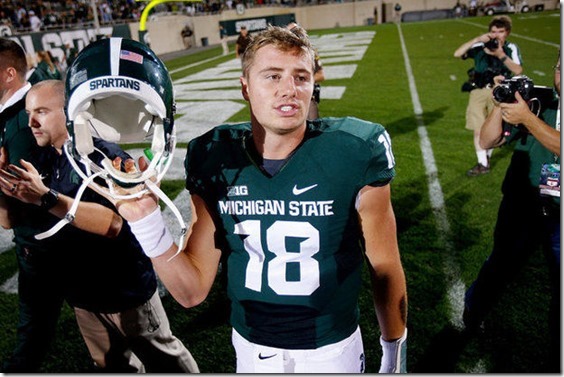 SETH: I am committed to not doing the insane things this year, among which I include filling the most important position with a guy who's 67% likely to not start. And hell, if Cook played for the other rival, maybe we're be talking about the "next Alex Smith" instead of guessing which of the three stooges gets to drive Urban's war machine to New York.
When Connor took over in 2013 the State offense went from laughable to good enough/safe. When they took the apron strings off in the Big Ten Championship, the INT rate went from 1.41% (best in the country) to 2.12% (Tom Brady), while his YPA shot up to eight against Ohio State and Stanford. Yet I remained a skeptic, until Cook repeated those numbers over an entire season, capped by beating Baylor in a shootout. All told, MSU finished 6th nationally last year in pass S&P+, 10th in YPA, and 11th in turnover rate. Everybody else in range ran a vicious spread or had access to elite talent; Cook did this while working for Jim Bollman.
He won't have Lippett to make him look good this year but Cook made even State's pedestrian receivers look Lippett-esque--Keith Mumphery had 11 yards per target last year; Macgarrett Kings had nine. Arm accuracy is merely good, but it's functionally extraordinary because of a lightning release. His legs aren't up to "dual threat" level but they're enough to extends plays, and State even added a zone-read veer to the playbook last year. I think I've found my quarterback. And despite the ugly green/chrome/bronze/hellenistic helmet, I think Harbaugh would approve.
-----------------------------------------
ACE - Round 1, Pick 3: Joey Bosa, DE, Ohio State
Looks like Joe Dirt, plays like Mean Joe Green
OFFENSE:
DEFENSE: Joey Bosa (OSU).
ACE: With the two elite quarterbacks off the board, assuming Barrett wins the OSU job (which I think he will, or I'd be bringing the snark much more heavily), I'll happily take the guy projected higher on most early NFL draft mocks than he went here. I don't need to spend much time or effort justifying this selection. Bosa had 21 TFLs and 13.5 sacks last season; both marks led the conference by a healthy margin. He earned unanimous first-team All-American honors. A lengthy section of his official OSU profile is dedicated to the 37 points the Buckeyes scored as a result of Bosa forcing or recovering fumbles last year; 30 of those points came after Bosa forced a fumble on the opposing quarterback. He did all this as a true sophomore.
On top of all that, Bosa is a solid run defender, already able to two-gap blockers to shut down rushes to his side. So, sure, I guess I'll build my defense around the best player in the conference.
[After THE JUMP: A lot more Buckeyes. Sorry.]
-----------------------------------------
BRIAN - Round 1, Pick 4: Taylor Decker, OT, Ohio State
Round 2, Pick 1: Ezekiel Elliott, RB, Ohio State
Upside: can fit both in one picture. Downside: 4 of first 5 picks Buckeyes
OFFENSE: RB Ezekiel Elliot (OSU), OL Taylor Decker (OSU).
DEFENSE:
BRIAN: This is a very depressing first set of picks for Michigan fans, but they are undeniable if you put aside the confusion about which Ohio State quarterback gets a crack at the Heisman. Decker is a 6'8", 320-pound senior who has anchored OSU's offensive line for the past three years. He projects as a mid first-round pick, if not higher, in the upcoming draft and OSU's run game production is nuts. They put up 5.75 yards a carry.
That's not quite as good as Wisconsin and Indiana last year, but Wisconsin and Indiana didn't end the season by playing Alabama and Oregon--and when Wisconsin feebly opposed OSU in the Big Ten championship game the end result was a walkover: 59-0, with the godly Melvin Gordon held to 71 yards while Ezekiel Elliot going for 220. OSU ended the season much better than it started it, and I'm banking that will--sigh--continue.
Speaking of OSU's running game, I'm going to grab the sole returnee from last year's incredibly stacked Big Ten running back corps. Ezekiel Elliott was the beneficiary of Decker's blocking and the vicious choices Urban Meyer's offense imposes on opponents, and he took authoritative advantage with 1878(!) rushing yards at 6.9(!!!) yards a carry. Nice. With Gordon, Abdullah, Coleman, Langford, and Cobb gone Elliott is head and shoulders the best available tailback.
-----------------------------------------
ACE - Round 2, Pick 2: Darron Lee, OLB, OSU
sigh
OFFENSE:
DEFENSE: DE Joey Bosa (OSU), OLB Darron Lee (OSU)
ACE: I won't be breaking this rather upsetting trend. Darron Lee was a terror as the linebacker tasked with playing in space and doing a little bit (or a lot) of everything for the Buckeyes last year. He consistently set the edge and hauled down ballcarriers in space; 54 of his 81 tackles were unassisted, and nine of his TFLs came against the run. He proved an adept blitzer, tallying 7.5 sacks. He also made his mark in coverage, breaking up three passes and intercepting two more. For good measure, he forced a fumble and returned two others for touchdowns. He did all this as a redshirt freshman.
Lee's versatility is what sold me on this pick. As he proved throughout OSU's title run, he's equally comfortable playing in the box against pro-style teams or moving over the slot against spread outfits. The Buckeye defense finished second nationally in S&P+ last year; my defense now features their two best returning pieces.
-----------------------------------------
SETH - Round 2, Pick 3: Jabrill Peppers, HSP/SS, Michigan
OFFENSE: QB Connor Cook (MSU)
DEFENSE: HSP Jabrill Peppers (Mich)
SETH: It's starting to look more red and green than Christmas at the top of this draft. Well the Bucks stop here. If this seems high to take a freshman, at least it's a redshirt freshman whom Michigan is designing its defense around. I have a whole article on this in HTTV: the best counter anyone's found so far to spreads--at all levels--is to fill all that extra space with a guy who can handle it.
Chris Brown's theory of football is your offense should be whatever you're good at, and your defense should be whatever you can get away with. Like Michigan, I'm going to gamble that this freshman's linebacker skills are good enough to corral the Big Ten's surfeit of slots and slotbacks in space, and trust his athleticism to take anyone deep.
Go Blue!
BRYMAC: For the record, last year you accused Ace and I of, and I quote, "Heiko[ing] up the 13th round" by taking Connor Cook and Jabrill Peppers with the 50th and 51st overall selections. This year, you took those same two guys with the 2nd and 7th overall selections. And in the case of Peppers, you're doing so on the strength of seeing him play about 6 quarters of college football.
So which is it, Senator? Were you wrong then, or are you wrong now?
ACE: Let's not rule out the possibility of "both" so quickly.
BRIAN: To be fair, I had begun the Heiko by taking Christian Hackenberg as my wild card QB.
SETH:  Man if Cook turns out to be turrible or, as I thought last year, just Brian Griese, I am SOOOOOOO okay with that. Universe: do your worst.
If something happens to Peppers, I promise to send a carrier across the dangerous wastelands between my barricaded post-apocalyptic neighborhood to you or your surviving relatives in the city state of Ann Arbaugh. And in case our dialects are not longer mutually comprehensible, I tell you now that whatever it says means "Sorry."
-----------------------------------------
ADAM - Round 2, Pick 4: Shilique Calhoun, DE, Michigan State
Round 3, Pick 1: Adolphus Washington, DT, Ohio State
double sigh
OFFENSE: QB J.T. Barrett (OSU)
DEFENSE: DE Shilique Calhoun (MSU), DT Adolphus Washington (OSU)
ADAM: I get two consecutive picks, have no one for Barrett to hand or throw the ball to, and have no hesitation picking two linemen. None. Big Tennnnnnnnnn.
Calhoun led Michigan State in TFLs (12.5) and sacks (8.0) in 2014 while averaging three tackles per game for the defense that ranked first in Rushing Success Rate+ and Opportunity Rate. MSU's run defense should be similarly solid thanks in part to the return of Ed Davis, Lawrence Thomas, Joel Heath, and Malik McDowell et al., which means Calhoun should again have extensive access to opposing back fields. He's incredibly quick and will frequently beat tackles off the edge; this has also led to him relying on speed rushing too frequently. If he can add a pass-rush move or two (spin move, please) he'll be deadly. 
Next to Calhoun on my speed-rushing line of doom (to clarify: for opponents, not me) is Washington. Though less impressive than Anthony Zettel from a purely statistical standpoint, Washington (48 tackles, 10.5 TFL, 4.5 sacks in 2014) is going to benefit from a move down the line. He spent most of last season taking on double teams but will finally be able to show off his speed in 2015 as he moves from nose tackle to three tech. He was already a terror for poorly executed double teams- now imagine putting him in position to regularly do this.
BRIAN: This draft is very depressing and I think we should stop now. What's that noise?
...
That appears to be the entire readership of MGoBlog strenuously agreeing.
-----------------------------------------
SETH - Round 3, Pick 2:  Corey Clement, RB, Wisconsin
When in doubt, "Wisconsin tailback" is always a winner
OFFENSE: QB Connor Cook (MSU), RB Corey Clement (WIS)
DEFENSE: HSP Jabrill Peppers (Mich)
SETH: Last year's ridiculous conference depth at DE and RB has left us a paucity of proven stars at both for this season. Since the two great ends are off the board, I'll grab the last of the great RBs. I did a little dance when I got Clement last year and I love that I have him again. I love his 6.5 YPC, his almost 1000 yards on 147 touches, his 9 TDs, his zero fumbles, and that he threw a pass to himself.
I also love that he's not Justin Jackson (4.8 YPC and subject to Northwestern's OL) nor Josh Ferguson, who fumbles if you breathe on him, nor a UAB transfer, nor the the pedestrians who litter the rest of the league. Wisconsin's starting RB, no matter who's coaching, is just about the surest bet in the Big Ten after "Mark Dantonio will get offended by something," but for once there isn't an obvious No. 2, and there certainly isn't a passing game, so this guy could get 1500 or 2,000 yards.
Or like...all the yards:
-----------------------------------------
ACE - Round 3, Pick 3: Michael Thomas, WR, OSU
okay, but he's running away from an MSU player, at least?
OFFENSE: WR Michael Thomas (OSU)
DEFENSE: DE Joey Bosa (OSU), OLB Darron Lee (OSU)
ACE: I'm sorry. I fully planned on jump-starting my offense with Rutgers wideout Leonte Carroo, the conference's leading returning receiver by some margin. After a closer look at both the numbers and the highlights, however, I found a few reasons to expect Thomas to be the more productive receiver in 2015:
Thomas will catch his passes from whoever wins the OSU quarterback derby. Carroo will be targeted by the winner of the sweepstakes to replace Gary Nova. After the spring, the favorite is sophomore Chris Laviano, who went 2/12 for 17 yards against Wisconsin in his most extensive time on the field last year. Advantage: Thomas.
A lot of Carroo's production last year came on broken plays after Nova escaped significant pressure. Laviano has some mobility, but he probably doesn't possess (I can't believe I'm about to type this) Nova's pocket presence yet, and that could cut out a significant portion of Carroo's big plays.
While both Carroo and Thomas were the most-targeted receivers on their team, Carroo was targeted on a whopping 27.8% of Rutgers' passes—a figure surpassed only by Wisconsin's Alex Erickson in the Big Ten—and Thomas carried a much smaller load at 19.6%. Carroo should reprise the same role with a worse quarterback. Thomas, however, should get more opportunities, especially downfield, now that Devin Smith has moved on to the NFL.
Thomas does have to make up a significant gap in yards per catch (19.7 for Carroo, 14.8 for Thomas), but he's got far more reliable hands (72.0% catch rate to Carroo's 58.5%). He can also do this:
Sure, I'll take that. Boo if you must.
BRIAN: /huddles in corner repeating "24-12" to himself
BRYMAC: /jumps into draft unexpectedly, WWE-stye
Round 3, Pick 3.5: NIKE, #Brand, Oregon
How is Nike still on the board? Depth at this position is shockingly thin. Once you get past the swoosh, you have a couple of unreliable hacks; Adidas is prone to literally fall apart under the slightest tension, and Under Armour can't even spell its name correctly. And after them, who is left? Keds? UGG?
Nike isn't flawless, but they have a history as a game-manager type company. They won't put your team out there in freaking bumble bee stripes, and you can assume that all the numbers will be legible. Plus, as a bonus, they're bring Jordan with them. And when you can grab a G.O.A.T., you don't mess around.
-----------------------------------------
BRIAN - Round 1, Pick 4: Anthony Zettel, DT/DE, Penn State
Round 2, Pick 1: Maliek Collins, DT, Nebraska
OFFENSE: RB Ezekiel Elliot (OSU), OL Taylor Decker (OSU).
DEFENSE: DT Anthony Zettel (PSU), DT Maliek Collins (Neb).
BRIAN: Look! Teams that aren't Michigan's biggest conference rivals!
I'm surprised Zettel is still on the board. Capable of playing either interior spot or SDE, he had an absolutely monster 2014. He spent most of his time on the inside, which makes his 8(!) sacks, 15 TFLs, and three interceptions(!!!) truly impressive. He was first team All Big Ten in a loaded year on the DL, and this offseason he's been tackle-murdering trees.
He should be a second-round pick at worst in the next NFL draft and his versatility will let me grab either a DE or DT confidently down the road.
Meanwhile, Collins is the truth at DT.
He exploded out of obscurity as a true sophomore to register 14 TFLs, an impressive 45 tackles, and 4.5 sacks. When I UFRed Jake Rudock against Nebraska he leapt off the tape as a consistently disruptive presence. The sack numbers are excellent for a DT but I think they undersell his ability to get to the passer, as Rudock spent large chunks of the day running away from Collins after he blew through Iowa's (admittedly not very good) interior line.
He is violent and does not stay on blocks; he gets to ballcarriers well away from where he should be able to; he's a lot like Mike Martin. A lot. I thought about taking him during my first picks after the ARGH WHY NO section of last year's draft where everyone leapt on my super clever picks earlier than I thought they would; I can't imagine a second team All Big Ten tackle with those numbers (as a sophomore!) is going to last any longer.
SETH: I figured Zettel wouldn't make it around the turn. But you found Maliek. Now I'm depressed.
BRIAN: /resumes muttering "24-12" in corner
-----------------------------------------
NEXT TIME
Will someone do something stupid/brilliant with Quarterbacks? ALMOST CERTAINLY! Will we draft fewer Buckeyes? Once they're all gone, probably!