Draftageddon 2014: It Explains Itself
Previously on Draftageddon: Defensive line phase, everyone makes fun of Seth for taking Venric Mark phase, rather nondescript phase that OONTS OONTS OONTS.
WHAT IS THE POINT OF DRAFTAGEDDON
This has been asked by some readers.
What is the point of anything? We're all just moths in a tornado, trying to hold on for one more rotation before our wings are torn from us and we still continue ascending in violation of all expectation. A grapefruit on a bicycle rises through the dust and says "I'll get you, my pretty HAHAHAHA."
In non-existential terms, the point of Draftageddon is to assemble a football team from available players in the Big Ten this year. At the end, the winner is the team that seems the most impressive, as judged by people who want to vote on these things. All participants are winners in their own mind, especially Heiko.
The point of Draftageddon is also to preview the Big Ten. By the time we're done we have a grasp of the various high points of the Rutgers defensive line and Maryland receiving corps that would not happen otherwise; after it is done we do a roundtable post about what we've learned about the upcoming Big Ten season.
ROUND 7 - PICK 1: DE Frank Clark, Michigan
O: QB Braxton Miller (OSU), RB Melvin Gordon (UW), WR Stefon Diggs (MD), OT Rob Havenstein(WI)
D: DE Frank Clark(MI), DT Carl Davis(IA), CB Trae Waynes (MSU)
BRIAN: One of the reasons I was rather lackadaisical about getting a DE is the fact that the Big Ten just has them in spades this year. I did make note of Cockran because I love grabbing Minnesota DL I can taunt you with for decades, but there is another, older, more established guy available. Despite four DEs going off the board already I'm able to select Frank Clark, who was second-team All Big Ten a year ago with 12 TFLs and 4.5 sacks.
He's poised to break out again as a senior, as his numbers don't quite reflect how well he was playing once the light went on midseason. I watched him develop from looks-like-Tarzan-plays-like-Jane into a legit plus player over the course of last year. By late his combination of power and agility allowed him to make certain tackles look downright silly.
He still has plenty of ceiling left to reach at 270 pounds; incrementally better performance over the course of the year should see him hit the mid-teens in TFLs, 8 or so sacks, and get drafted somewhat high by the NFL. The gap between Clark and the guys already off the board is not that big.
ROUND 7 - PICK 2: Andre Monroe, DE/DT, Maryland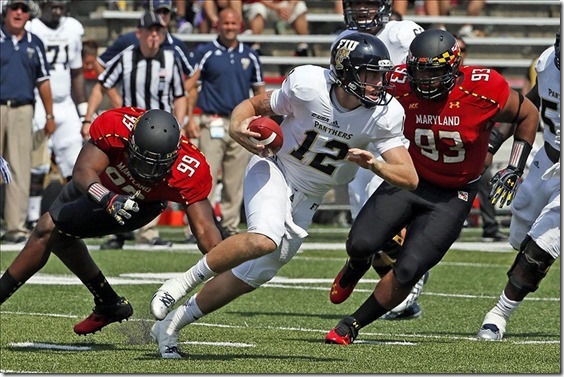 O: RB Ameer Abdullah (NE), WR Devin Funchess (U-M), TE Maxx Williams (MN), LT Brandon Scherff (IA)
D: DE Shilique Calhoun (MSU), DE/DT Andre Monroe (MD), LB Chi Chi Ariguzo (NW)
ST: KR/PR Ameer Adbullah (NE)
ACE: I've been thinking about making this pick since the fourth round, but I waited, banking on the fact that he plays for Maryland and has generated zero draft hype to cause him to fall. I can't wait any longer.
Andre Monroe is a senior who's played nose tackle and five-tech DE in Maryland's 3-4 scheme, but he's moving to the edge as a senior. There's good reason for this: he was by far the best player on a solid D-line, tallying 42 tackles (23 solo), 17 TFLs, 9.5 sacks, and two forced fumbles last season after missing all of 2012 with a knee injury. In 2011, he earned freshman All-American honors with five sacks in just nine games. He's not just capable of standing up to double teams; he's an accomplished pass rusher.
Those stats weren't just compiled against the dregs of the ACC, either; he had 3 TFLs with a sack against Florida State and 3 sacks against Virginia Tech in 2013. The VT game shows off his diverse pass-rushing arsenal. Here's an outrageously quick swim move to the inside that momentarily paralyzes the left guard. Here he uses his hands nicely to get off the line clean before one-arm power-rushing the left tackle into the quarterback. Here a straight bull-rush off the edge does the trick. Here the video inexplicably starts a half-second after the snap, but whatever the hell he did left the LG performing a befuddled pirouette.
Okay, VT's line wasn't very good last year, but... I be like dang anyway. If you're not convinced, here he is as a nose guard sacking Jameis Winstonafter blasting the center off the line. If you're still not convinced, here's a video of him showing off some surprisingly nimble dance moves at a fundraising event.
I assume you're convinced by now.
So why isn't he getting draft hype? Simple. He's 5'11", 275 pounds. An NFL scout takes one look at those measurements, bugs out his eyes, and moves on to a prospect with a remotely decent fit in a pro defense. This is college, however, and Monroe has proven he can be productive at two different spots on the defensive line, and his pass rushing ability gives me little doubt he'll succeed this year as a destructive rush linebacker. He can provide a great deal of versatility in any defense.
As for where he'll fit on my team, we'll see—I could use him as a disruptive, undersized three-tech or let him blow up double teams and use his edge-rushing skills as an SDE. (Given the lack of top-end linebackers, a 3-4 isn't something I'm really considering.) Either way, I know this: as a solid run defender and consistent backfield presence, he's the ideal complement for Shilique Calhoun.
I can't snark here, both because I'm shedding a tear for the lost reuniting of the Aceconsin Cheesebenders and I'm hopeful this is the year Frank Clark puts it all together.
[AFTER THE JUMP: everyone takes my guys because they're jeeeeeeerks.]
INTERLUDE
SETH: Bugger Ace. When Brian took Frank Clark I started wondering if he knew something about Monroe that I didn't. The biggest problem I could find is he spent 2012 injured, which could bother NFL teams but doesn't mean much to us.
BRIAN: I think "is generously 5'11"" is enough.
ROUND 7 - PICK 3: Donovan Smith, OT, PSU
O: QB Devin Gardner (Michigan), WR Kenny Bell (Neb), OT Donovan Smith (PSU)
D: DE Joey Bosa (OSU), S Kurtis Drummond (MSU), LB Jake Ryan (Michigan), DE Noah Spence (OSU)
BISB: Brian's inability to snark Ace speaks to a disappointing lack of unprofessionalism. Snark is not just for when you feel it, good sir. So as much as I want to complement Ace on taking my 8th/9th round sleeper in the 6th round, or for getting a steal in Monroe, I will instead point out that (a) Maxx Williams will be the most talented guy to ever record 23 receptions on the season thanks to Mitch "Not The Arm" Leidner, and (b) your 7th round DE might be better than your 2nd round DE, which LOL your 2nd round DE.
As for my pick, I actually like Smith better than Cheesenstein. If Smith was two inches taller, he would be a prototype left tackle. As it is, he's 6'5", 330, and is an excellent pass blocker. He was All-Freshman as a redshirt freshman and Honorable Mention All-B1G as a sophomore. He's not a great run-blocker, as he tends to hit defenders more than drive them. But he CAN hit them (http://www.youtube.com/watch?v=rz8W5W4uDeI#t=4m4s), and if he continues to refine his technique I think he's First Team All-B1G material this year.
ROUND 7 - PICK 1: Blake Countess, CB, Michigan
ROUND 8 - PICK 4: Taylor Decker, OT, Ohio State
O: WR Christian Jones (NW), OT Jason Spriggs (IND), OT Taylor Decker (OSU), RB/slot Venric Mark (NW)
D: DE Randy Gregory (NEB), DT Michael Bennett (OSU), LB Taiwan Jones (MSU), CB Blake Countess (MICH)
ST: Mark
SETH: I just updated my draft board and realized two people are going to have to spend this year asking "is he better than Raymon Taylor?" about their top cornerback. So I'm snagging the guy who we are pretty sure is better than Raymon Taylor, even though he's of a size with Raymon Taylor, because he's on a team with Raymon Taylor and every opponent who played that team would much rather throw at Raymon Taylor.
Blake Countess's freshman season put him on the official list of next-Woodsons, and though he got in just one play in 2012 before the injury, when he drifted way out of his zone for a game-changing pick of Tommy Rees last year suggested that was only a speed bump. He's a plus tackler who won't ever be a great one just because of his size, but good enough that Michigan plays him as the nickel when they go there.
When a football did venture into his airspace, he went for the pick; apparently somebody got it into his head (not saying it was Marlin Jackson at our event but just sayin') that it's all about big plays. The net result of this was six interceptions on the year (more than any Wolverine not named Tom Curtis or Charles Woodson), and a TD against Minnesota where he gave up position in the attempt. Blake atoned for that with a 72-yard pick-six in the waning minutes. Meaningless score, but this is what they mean about hips:
He's not perfect. When opponents go tempo he's as liable as anyone else on this defense to bork a coverage (at least he always errs deep). And when foes did finally try to go over top of him, he was only mostly immortal. Michigan gambled that he could go one-on-one with Tyler Lockett and it turned out he couldn't. At least Greg Mattison thought Blake could pull it off. Less brutal challenges than Lockett await in the Big Ten, and I remain confident that a junior iteration of Countess can handle them.
Also, HOLY CRAP WHAT WAS THAT?!?
Sorry, sorry, just wanted to see Donovan Smith false start again. Man that never gets... OH NO LOOK OUT ha, sorry Donovan and by the way HIKE!!! hehehe. Huh. So.
So there are three more tackles on the board before we get into "is he better than Magnusson really?" territory, and two of them remind me too much of Alex Mitchell. The third is 6'7"/315 Taylor Decker, who early last year got beat thrice by a Buffalo linebacker, thus giving Ohio State fans something to complain about for the span of a week.
They couldn't stay mad for three reasons: 1) it turned out Khalil Mack is good at the footballs, 2) Taylor looks a lot like Honorary Buckeye Hero Triple H and 3) for the rest of the season, other than a well-timed injury spanning Purdue and a bye week, he was a wall. Decker nearly pushed out a senior Reid Fragel in 2012, and by the end of his redshirt sophomore season Decker was Mewhort's heir-apparent with a clear path to the NFL. Michigan's WDE depth chart went against him and came away with two tackles to show for it.
He's not a fast-moving wall, and I'm a little concerned about the Sampson situation, but coaches sing of his technical soundness, and he's the one sure thing returning from OSU's band of beasties. Hey Brian, still wanna compare OL ypc's?
INTERLUDE
BRIAN: ANTI-SNARK: GOD DAMN YOU BISB, GOD DAMN YOU BISB TO THE FIERY DEPTHS OF FIERY HELL HERE IS SMITH AGAINST GLAMOUR BOY GREGORY
SMITH ANNIHILATED THAT GUY AS A REDSHIRT FRESHMAN
IN CONCLUSION, YOU ARE FIRED
BISB: That film. Mah gawd.
If it makes you feel better, he was a redshirt sophomore when he consumed so much of Gregory's lunch. And I can find you plenty of film of him wandering downhill like a lost puppy against Ohio State.
But yeah. That guy.
ROUND 8 - PICK 2: Sojourn Shelton, CB, Wisconsin
O: QB Devin Gardner (UM), WR Kenny Bell (Neb), OT Donovan Smith (PSU)
D: DE Joey Bosa (OSU), S Kurtis Drummond (MSU), LB Jake Ryan (UM), DE Noah Spence (OSU), CB Sojourn Shelton (Wisky)
BISB: Freshman All-Americans are a rare commodity, especially when they are true freshmen, and especially especially at a position like corner where freshmen can make an early impact. Shelton was also Honorable Mention All-B1G last year despite the glut of defensive backfield talent in the conference. Kid had 4 interceptions and 5 PBUs, and made 36 tackles despite being like 160 pounds last year.
He's the kind of guy you can put on an island; he's good at coming down on a receiver underneath in the open field (31 of his 36 tackles were solo), and he can run with anyone in the conference. He's not much in press coverage -- again, 160 pounds -- but an off-season in the weight room and at the training table and this kid will be a lockdown corner. Unlimited snack rule, FTW. Plus it's either him or an Ohio State corner, which LOLnope.
And Seth, to your comments on Donovan Smith, Brian was kind enough to dig up the film of his game against your prize tomato Randy Gregory. Guess how it went. Go ahead. Guess.
INTERLUDE
BRIAN: GODDAMMIT BISB
ACE: COME BACK, HEIKO. WE'LL LET YOU DRAFT TAYLOR MARTINEZ. TWICE, FOR ALL WE CARE.
BISB:
Speaking of Heiko, if you and Seth don't draft a QB soon, you're gonna see Connor Cook at WR and Christian Hackenberg at punter on my roster.
SETH: Just so long as you don't take Jake Rudock as your tight end; that would really screw with Ace's plans.
ROUND 8 - PICK 3: Desmond King, CB, Iowa
O: RB Ameer Abdullah (NE), WR Devin Funchess (U-M), TE Maxx Williams (MN), LT Brandon Scherff (IA)
D: DE Shilique Calhoun (MSU), DE/DT Andre Monroe (MD), LB Chi Chi Ariguzo (NW), CB Desmond Kind (IA)
ST: KR/PR Ameer Adbullah (NE)
ACE: While we're all cursing BiSB for taking the top sophomore cornerback off the board, I'll go with the second-best sophomore corner in the conference—one who played on a defense that was better against the pass than Wisconsin and has proven he can come up and lay a hit in run support.
Iowa boasted perhaps the best pair of corners in the Big Ten outside of East Lansing last season in B.J. Lowery and Desmond King; Lowery, now graduated, was actively avoided by opposing QBs, so King—the first true freshman to start in the Iowa secondary since 2002—had to endure a season-long test of his ability to hold up in coverage.
He passed, with flying colors. The Hawkeyes ranked fifth nationally in YPA against (5.7), 17th in opponent passer rating, and 13th in passing S&P+. The defense didn't give up big plays, finishing 13th in fewest explosive opponent drives—defined as drives in which the offense averaged 10+ yards per play—while allowing the sixth-fewest passes of 10+ yards and fourth-fewest passes of 20+ yards. They also made it hard to move the chains—only 9% of opponent drives lasted ten or more plays, the fifth-best mark in the country. The rush defense ranked even better (7th in S&P+), and while credit is certainly due to the front seven, the run support from both Lowery and King helped—King finished with 3 TFLs.
While Iowa's defense is notable for their devotion to the Cover 2, they showed more willingness last season to put their talented corners on an island, even against a couple of the nation's best receivers. When the Hawkeyes took on LSU—without injured starting QB Zach Mettenberger—in the Outback Bowl, Iowa loaded the box in an ultimately fruitless effort to stop LSU's Carlos Hyde equivalent, Jeremy Hill, and let Lowery and King go man-up against Odell Beckham Jr. and Jarvis Landry:
Desmond King, who emerged during non-conference play this season to eventually win the right corner position beside Lowery, had a sparkling day in coverage against two of the most athletic receivers the nation has to offer. King was matched up in man coverage most of the day, often left on an island to guard against the Tigers' vertical passing game.
Along with his multiple pass defenses on the afternoon, King recorded six tackles in support against the stingy Tiger running game, including both a tackle for loss and a touchdown-saving play on the game's opening rush by Jeremy Hill.
LSU completed just 7/20 passes for 82 yards and a pick. Iowa hung around until the fourth quarter despite an anemic 233-yard output from their offense before Hill finally wore them down late. Beckham and Landry couldn't free themselves up against Iowa's corners; each finished with two catches, and Beckham led the team with 35 receiving yards. While the freshman QB LSU was forced to start was ... let's go with "unimpressive" ...  it was still an impressive accomplishment to keep those two receivers from breaking any big plays, especially with Hill having a monster day on the ground. That pair got Tyler Lockett Open with regularity against even solid corners; they didn't against Iowa.
King finished the season with eight passes defensed, three TFLs, two fumble recoveries, and third-team freshman AA honors from Athlon. At 5'11", 190 pounds, he holds up against the run while possessing the strength and man cover ability to get aggressive at the line. He's obviously comfortable in zone coverage after a season at Iowa. I really liked what I saw from him in run support last year, too. With Lowery gone, King is going to be the corner Iowa opponents avoid at all costs this fall.
Clearly, I can't mock the Shelton pick, so I'll pile on recent film discoveries and say WHO'S GOT THE OVERRATED DE NOW, SETH?
INTERLUDE
BISB: (still you)
SETH: Brian. Still Brian.
ACE: I'mma just take my Andre Monroe and go home, you jerks.
(But yeah, it's Brian.)
BRIAN: ...
I hate all of you. Except Seth Dumars, of course. You go, Seth Dumars! But three of my super clever sleeper picks have just flown off the board--Smith and the two corners--and I am about ready to keel over in rage that my imaginary football team will not be as clever as I want it to be. But life must proceed, if hollowly.
ROUND 8 - PICK 4: DT Darius Hamilton, Rutgers
O: QB Braxton Miller (OSU), RB Melvin Gordon (UW), WR Stefon Diggs (MD), OT Rob Havenstein(WI)
D: DE Frank Clark(MI), DT Darius Hamilton(RU), DT Carl Davis(IA), CB Trae Waynes (MSU)
BRIAN: I guess I can't wait any longer to rip my up-and-comers off the board, so here goes. I know we have a tacit agreement that whoever drafts the most Rutgers players loses, but Darius Hamilton is a former consensus five star recruit who had a breakout true sophomore season with 12 TFLs and 4.5 sacks and is now poised to improve on those numbers as he adds weight and skill.
Like Clark, an early-season need to find his footing disguised how well Hamilton played down the stretch. He put up four sacks and 6 TFLs in his last four games, including 1.5 TFLs against Notre Dame. Incredibly, he did this as an approximately 240-pound three-tech. This year he is already up 20 pounds from that and projects he'll be up to 270. That's still light but since he's next to the Big Ten's premiere space-eater he's not going to have to take on too many double teams.
INTERLUDE
BISB: /Wanders by with all of Brian's sleepers.
Oh. Hey. Didn't see you there.
How's things?
The Board through 8 Rounds: