Deep In The Night I Heard The Pealing Of Bells
10/10/2015 – Michigan 38, Northwestern 0 – 5-1, 2-0 Big Ten
[Bryan Fuller]
It was one fan, maybe two or three, in the south endzone. He or she or they wrote themselves into a corner of Michigan lore with one of the simplest chants in sports. It's the one that gets deconstructed into the letter D and the outline of a fence at NFL stadiums across the country. It is about as unique and special as "Seven Nation Army" at this point, but life is all about timing.
I have been to every Michigan home game in the last 18 years and I have never heard that. It is alien, the kind of thing I recoil from because it represents the melting of our special Michigan snowflake.
And holy shit, man. The little pin-pricks all across your scalp; the tremor in the hands; the flush of sweat; the welling of tears manfully suppressed. I could not participate myself. I was too gob-smacked to do much of anything at that moment. Michigan was up 38-0 with time about to expire. It was 4th and 17. If you had asked me to draw a card from the deck at that moment I couldn't have managed it.
Since the podcast started I've looked at a lot of lyrics from songs I love, and on the page they're flat nothings. This was the inverse of that. Two syllables; one word; and yet, poetry. 
----------------------------------------------
This is it, already. The building process turned out to be a single offseason of four-hour practices and competition over everything from starting positions to the most elegant mashed potato sculpture at dinner. Brady Hoke may not have been able to point his team in the right direction given two tries, but he could recruit, and the fruits of his labors have been honed molecule-thin by a man who can get hat-displacingly angry up a billion points in the second half.
Michigan fans were dying for this. Barely anyone left until deep into the fourth quarter, and there were still enough people ready to run through a wall with 29 seconds left, enough people to rattle the press box and send electricity up your spine.
The recent Harbaugh-to-NFL flare ups caused Michigan twitter to once again latch on to the pant leg of anybody who dared assert that Harbaugh would ever leave the confines of Ann Arbor (save for road games, of course). In the aftermath, media members got rabies shots and quietly conferred about how Wolverines fans are low key the most annoying on the internet.
They are not wrong. We take after our mascot: outwardly innocuous, secretly vicious bastards with a pipe-crushing grip. Anyone threatening the precious will be verbally berated until they give up in exhaustion. After the last eight years in the wilderness even the thought of a diversion enrages.
I emceed the Alumni Association's tailgate on Saturday, and I heard an awful lot about how things have changed in just a year. Indeed they have. I went back to the game column after game six of 2014, in which I meditate on the mournfulness of the Kids In The Hall's theme song and embed their "Each Day We Work" sketch. This was the entirety of the bit about football:
Football happened, in the usual way.
That described a loss to Rutgers.
In that column I talked about how the most appealing bit of Kids In The Hall was always that theme song, titled "Having An Average Weekend"; I went back and listened to it, and now I think that song is genius. It filled me with a sense of contentment and optimism. That's an average weekend, just a year after things were so bad they spawned the first and only Wolverine Revolutionary Popular Front.
An average weekend ends with a stadium full of people exhorting Michigan to finish burying their opponent, with two syllables ringing through the nation's biggest stadium, once again full to the brim. With belief.
How I woke up this morning pic.twitter.com/RuyiRdECUL

— PeppyPep (@JabrillPeppers) October 11, 2015
[Fuller]
Let those who would stand in Michigan's way come.
[Note: Alejandro Zuniga clipped the chant first but the sound quality wasn't what I wanted so I reproduced it.]
HIGHLIGHTS
HARBAUGH
Maize and Blue News has the Harbaugh presser and also the players.
AWARDS
this will end badly for you son [Fuller]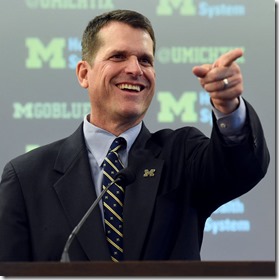 Known Friends And Trusted Agents Of The Week
you're the man now, dog
#1 Jourdan Lewis had a spectacular YOINK pick-six in addition to generally being Jourdan Lewis. Gypsy seems real good with him currently.
#2 Jabrill Peppers annihilated the option several times, had 3 PBUs when tested in coverage (though one of them should have been an INT), laid the final block on Jehu Chesson's kickoff return, got the key block on Lewis's INT return, and fair caught all manner of short punts, saving Michigan dozens of yards of field position.
#3 Jake Rudock was efficient and capable; called into action on the ground he left a Northwestern LB in the dust on a play reminiscent of Tate Forcier's "I Saw Cover Zero" touchdown.
Honorable mention: All DL were excellent but Henry and Glasgow in particular stood out. Jehu Chesson's KO TD was more scheme than magic but dang he is fast and added a few nice plays on O. De'Veon Smith only had eight carries but had the entire Northwestern secondary on his back for one of them. AJ Williams led the team in catches and blocked well.
KFaTAotW Standings.
6: Jourdan Lewis (#1 UNLV, #1 Northwestern)
5: Chris Wormley(#2 Utah, #1 Oregon State)
4: Jabrill Peppers(#2 BYU, #2 Northwestern)
3: Jake Butt (#1 Utah), De'Veon Smith(#2 Oregon State, #3 BYU), Ryan Glasgow (#1 BYU), Desmond Morgan (#1 Maryland),
2: Ty Isaac(#2 UNLV), Jabrill Peppers(#2 BYU), Maurice Hurst (#2 Maryland).
1: Willie Henry (#3 Utah), AJ Williams (#3 Oregon State), Channing Stribling(#3 UNLV), Blake O'Neill(#3 Maryland), Jake Rudock(#3 Northwestern)
Who's Got It Better Than Us Of The Week
This week's best thing ever.
Jehu Chesson wins the game in the first 15 seconds.
Honorable mention: Ridiculous Lewis pick-six.
WGIBTUs Past.
Utah: Crazy #buttdown.
Oregon State: #tacopunts.
UNLV: Ty Isaac's 76 yard touchdown.
BYU: De'Veon Smith's illicit teleporter run.
Maryland: Jehu Chesson jet sweeps past you.
Northwestern: Chesson opening KO TD.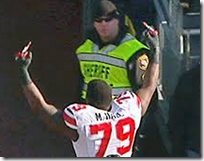 MARCUS HALL EPIC DOUBLE BIRD OF THE WEEK.
This week's worst thing ever.
USA-Mexico. Seriously, I got nothin' from the actual game.
Honorable mention: Blake O'Neill's second touchback. I guess one of those third and fifteen conversions?
PREVIOUS EDBs
Utah: circle route pick six.
Oregon State: Rudock fumbles after blitz bust.
UNLV: Rudock matches 2014 INT total in game 3.
BYU: BYU manages to get to triple digit yards in the last minutes of the game.
Maryland: Slog extended by deflected interception at Houma.
Northwestern: KLINSMANN OUT
[After THE JUMP: this week's ways in which Harbaugh out-schemed his opponent, Happy Iowa Rudock, John Baxter's first BANG, and more defense defense defense.]
OFFENSE
This Rudock you can win big things with opposite this defense. Jake Rudock had his best game at Michigan, a 17/23 performance that saw him nail a ton of short to moderate length throws and move around to find his dumpoff when that became necessary. 7.8 YPA and no turnovers is going to win Michigan every game they play from here on out except maybe OSU.
This was, to pick an example not entirely out of nowhere, a Brian Griese type of game. Michigan's leading receivers were two tight ends and De'Veon Smith; the longest completion to a wide receiver was a five yard drag route that Chesson stretched to 27 after the catch.
Remember that this was an excellent pass defense with terrific corners. Michigan's gameplan completely removed them from the equation. Aside from one errant pass to nobody in particular in the first half, neither cornerback was even tested in coverage. Every completion was to an open guy.
The only slightly frustrating part of Rudock's performance was a second-half tendency to sit too long in the pocket and take sacks. This was similar to the BYU game, in which Michigan raced out to a huge lead and then coasted to the finish, with Rudock eschewing downfield shots in an effort to keep a clean turnover sheet.
Identifying a weak spot. A change: his week's most obvious coaching wins on offense came on pass plays. Michigan ran four in routes on which the slot receiver would almost but not quite block the guy nominally over him and the outside receiver would cut to the interior, suddenly very open.
All of those were completed for significant yardage, and after the first couple it was clear that Harbaugh and company had IDed something in the way Northwestern was running its coverages that would make those wide open consistently.
Also a clear win: the first big catch of the game. Michigan ran what looked to be a waggle and then Jake Butt turned his crossing route to a corner away from the (false) rollout; he was Oh Wide Open and Michigan was a yard away from their first TD.
Piesman candidate? [Eric Upchurch]
Finally, the big Kerridge rumble saw Michigan shuffle Kerridge just to the right of Rudock; on the snap Northwestern's linebackers all flung themselves at the point of attack that configuration implied. Kerridge popped out the backside to find nobody on the second level. Remember when shuffling fullbacks were a frustrating giveaway? Not anymore.
[Fuller]
Tailback by absurdly large committee. Non-sack carries: Derrick Green 12, De'Veon Smith 8, Karan Higdon 8, Jake Rudock 3, Sione Houma 3, Joe Kerridge 2, Jehu Chesson 2, Drake Johnson 2, Ty Isaac 2.
Part of this was injury. Smith missed last week's game and was shelved as soon as things got out of hand in this one, which was quickly. Drake Johnson is "working through something" according to Harbaugh. He was healthy enough to get a couple carries but they are clearly worried about tweaking something and turning whatever his issue is into a longer-term problem.
Another part was Ty Isaac's fumbles last week. It's a long road back from that.
Another bit was offensive frippery. Michigan incorporated some zone read. That was effective, and probably would have been more effective if Rudock had kept another couple times when it seemed like Northwestern had nobody for him. The fullback dives and Chesson's end-arounds are also filed here.
Finally, Higdon. I'm not going to complain about taking the redshirt off of him. He got a significant number of carries in an important game, and he might be needed going forward given the questionable health of a number of Michigan's backs. Meanwhile, Michigan is gunning for important things all of a sudden. That feels like taking the redshirt of Caris LeVert during the Trey/Tim Final Four year—if he can give you anything it's worth it.
Flimsy Higdon eval. Compact, fast guy. He got chopped down a lot on edge stuff that saw Northwestern flash into the backfield, but he did have one silky cut after he got loose that helped him pick up nine yards.
Most of the plays that didn't work were Northwestern jumping an edge play, not anything he did wrong.
Upgrading "Chesson is kinda like" references to Steve Breaston. Chesson had a 66-yard touchdown on which he juked a safety out of his shoes last week; this week he turns on the jets on the kickoff return and had an excellent weaving end-around that picked up a first down, plus a catch and run on a drag route on which he outran a DB to the corner. His athleticism is becoming a real asset, and he's got some shake to him. He is also spindly and not currently great at making plays downfield, but he brings quite a bit to the table anyway.
Tailback renaissance. There (probably) won't be many complaints about tailbacks missing holes in the UFR this week, as it seemed like each and every guy to get a shot did something well. De'Veon Smith trucked several different guys, including four on one theme-establishing run on which Nick Van Hoose should have had to buy a ticket. Higdon cocked eyebrows with the above run; Isaac got the edge on that pitch counter.
And Derrick Green looked great. He still goes down to ankle tackles too much but at least in this game he showed off his impressive physical ability; he looked better than he'd ever been on the final touchdown drive.
I'm holding off on declaring these guys fixed forever, but the week to week improvement here is encouraging. And, I mean, Thomas Rawls is adding data to our pile of evidence that Fred Jackson tailed off badly at the end of his tenure.
The line. I haven't talked about the line much this year because the individual performances don't jump out at you. This line doesn't have a star. Nor has it had a particular weak point since Utah blew the guards out of the water. Ben Braden's doing okay; pass protection is generally good but Cole had issues against Ngakoue.
They're all solid. So they kind of go without comment a lot.
DEFENSE
This section is kind of short. Everything dominant, Justin Jackson gets 25 yards on 12 carries, Michigan forces another team that really doesn't want to throw to throw a bunch, etc. Having an average weekend.
LOL NOPE [Upchurch]
Hello. My name is Jabrill Peppers. You ran an option to my side of the field. Prepare to die. Have to wonder WTF Northwestern was thinking with the speed option stuff they were running. For one, Thorson is very bad at it right now. Most of the time he pitched the ball way early, allowing Michigan to string the play out without anyone taking the QB. And at least two of them were directed at Jabrill Peppers; on the first he executed his now-trademark blaze around the inside of the guy trying to block him for a TFL.
It's good that they tested him, though, if only to reinforce the fact that doing so is a very bad idea.
Hello. My name is Willie Henry. You are not a bear. Prepare to die. Northwestern really didn't want guys looping around Michigan's defensive tackles to get free runs at the quarterback. Unfortunately their solution to this was to turn those tackles free once the guy to the inside on the stunt tried to get to the looper. Henry and Glasgow were in Thorson's lap much of the game, with three sacks and plenty of hurries between them. (One was a coverage sack.)
PFF continues to grade Michigan games and has identified a couple of important factors on the D: incredible depth on the DL and how they are just killing it on stunts.
Michigan's defensive line is the story of this one. The defense, as a whole, gets credit for the shutout, but it was really this superb line doing all the heavy lifting. Just looking at the top performers list below gives you a pretty solid indication of what I'm talking about. Five different linemen graded at +2.5 or above. Mind you, only four defensive lineman see the field at one given time. That's utter domination. Michigan may very well be the best team at executing stunts in the entire country. The power and speed with which they can attack both sides of a stunt was too much for the Northwestern line to handle, and I only saw a few stunts all day that the Wildcats' line was even able to pick up.
As a bonus all of Michigan's DL graded out positively in their system, with Glasgow leading the way.
By the way, if Henry's day grades out in UFR like I think it will he will be the fifth Michigan DL to hit double-digits this year. That is insane.
Hello. My name is Jourdan Lewis. /stabs. I mean, go ahead with whatever you're going to do, opposing offenses.
Per @PFF....updated Jourdan Lewis stats. 34 times targeted, 11 catches allowed for 67 yards gained.

— jamie mac (@justcoverblog) October 12, 2015
Just don't try to explain it.
Welcome to the defense, Royce Jenkins-Stone. I think he played every snap until Michigan started rotating in the deep backups. I didn't think he made much impact but PFF had him Michigan's #4 performer on the day, just behind Lewis. If I find a similar impact for him in UFR that will be a very reassuring thing.
Slants and underneath stuff and crosses are there. Michigan made it hard for the most part but there are holes you can poke in the coverage if you get enough time. Connor Cook will be a drastic upgrade from everyone Michigan has faced since Travis Wilson (although Tanner Mangum is now tearing it up—he's completed just under 70% of his passes for 8.1 YPA the past two weeks).
SPECIAL TEAMS
BANG! I made a joke last week that Northwestern's tendency to kick off short would be helpful the one time they kicked off, and now that joke is the most accurate thing I've ever said. Jehu Chesson ripped off a 96 yard return on the opening, sole Northwestern kickoff and that was that.
That return was far from random chance. It looked like Michigan knew that Northwestern would try to put it on the sideline away from Peppers and set up a return designed to exploit this. Michigan slid their entire return to the left and actually pulled two guys around like it was a power play.
Chesson started directly upfield before breaking out to the right, where nobody was. Northwestern helped out a little when one of their cover guys got out of their lane, but I don't think he would have mattered. Chesson broke to the sideline with a wall, and with his speed that's game over. Michigan actually lost that double team block to the bottom right of that shot; Peppers blasted him to seal the TD.
This was a plan, one that worked perfectly, and after a bunch of narrow misses John Baxter has his first game-breaking play as Michigan's special teams coach.
The last guy to do that was on the sideline, by the way. Tyrone Wheatley was some kind of fast.
That kind of KOR is what I'm trying to distinguish the Chesson one from. It wasn't a plan, it was just a thing that happened.
A very polite fair catch. Yes, Ace is making a supercut of all the Peppers ball-placements after his fair catches.
Incrementing kicker confidence levels. Kenny Allen's 47 yarder was right down the middle and would have been good from 52, maybe 55. That's his first hit from outside 40 and another step towards kicker confidence. We are moving past competence… a little.
[Upchurch]
Almost part 2. Michigan seemed a whisper away from another big special teams play on the field goal, as you can see. I wonder if the pressure caused this kick to go wide—and how many on-target kicks get returned to sender. Michigan also just about put guys in the shield into the punter several times.
Touchbacks. Rats. Blake O'Neill had his first two touchbacks of the year. One was on a bullet that only crossed the goal line after it had traveled 59 yards. The other hit near the sideline and bounced wrong. We are processing his deportation papers currently.
MISCELLANEOUS
[Bryan Fuller]
Alumni cheer: the best. I emceed the Alumni Association's homecoming tailgate on Saturday, and the alumni cheerleaders tore down the house. People absolutely love them; so do I. Are their numbers limited somehow? There seem to be fewer of them these days and guys from the 70s and 80s aren't among them. Does anyone know what the deal is there? I'd hate for that institution to fade away.
TUBES. Welcome back, tubes.
Ryan Van Bergen is the villain in a Jason Statham movie.
Always a pleasure to see two of my favorite players to ever wear the winged helmet: @devingardnerXCI and @VanBergen53 pic.twitter.com/Cry6YboxXi

— Isaiah Hole (@isaiahhole) October 11, 2015
That is all.
Halftime. I am of two minds about the band's halftime show. On the one hand, it was stirring enough to get a major reaction from the crowd after its completion. As The Hoover Street Rag said, "Ode To Joy" was a bit on the nose but I was feeling it anyway. The concert speakers were a smart addition; I felt the audio was more present in my section than usual.
Did you miss the @nyphil's amazing halftime performance yesterday? CC: @umichband #GoBlue Check it here: http://t.co/v4mFFITM43

— Michigan Athletics (@UMichAthletics) October 11, 2015
On the other hand, the annual homecoming show is the best. I want the guy with the knives and the other guy with the fire and the alumni cheerleaders and "you can't have one without the other." I'm guessing the New York Philharmonic thing could only be done this weekend—they are in town—and the payoff here was excellent. I do not want the traditional homecoming to go away.
A new thing I like. In the third quarter the cheerleaders got up on the wall and started waving their hands around in coordinated ways.
EVERYBODY IS HAPPY [Fuller]
People on twitter report that this is "the rollercoaster" and is a frequent feature of high school games they have attended. I cant' say I've ever come across it in college, and it looked terrific and felt really fun, so let's steal it and keep it and pretend we invented it. That's what we did with Yost Ice Arena, so it's already a tradition.
We talked about this on the podcast some, but in this game it felt like the athletic department was going in the right direction as far as the in-game stuff went. The above was cool; the scoreboard announcements are less intrusive; they absolutely nailed their video packages this year. I'm not the biggest fan of the James Earl Jones one's writing—it says a lot of "we're the best" stuff that's best left implied—but it's got frickin' James Earl Jones. Meanwhile this year's version of "The Team" gives me chills and the Ufer-themed band intro can and should stay forever.
The music is still too prevalent and loud. It especially bothers me right before kickoffs because there's a thing that people do with the waving of the hats and going "OHHHHHHHHH" that I think is slowly getting phased out so Special K can hit us with "Sandstorm." But in general the peripherals are improving.
Jehu Chesson has the best disappointed dad face. OKAY OKAY I'LL CLEAN MY ROOM AND GET A-PLUSSES
[Upchurch]
GEEZ
Targeting. I am not surprised Ross's did not get overturned. Fair or not that kind of hit on a defenseless receiver is right in the heart of the rule. I don't think he meant to do it, but I don't have a problem with it.
Reversing the earlier call on Rudock was nuts, though. Rudock goes to ground and gets hit direct helmet to helmet by a guy who had time to relent. Consistency.
HERE
Best and Worst got bumped on Sunday. Inside The Box Score:
A.J. Williams, Receiving Threat
* A.J. led the receivers with 4 catches for 48 yards. Exhibit A in the case for Harbaugh's coach of the year nomination is this stat line. He takes guys that Brady Hoke struggled to put in positions to succeed and makes them significant contributors to the team. Other examples include Braden, Clark, Poggi, Houma, and Strobel. And the list just goes on and on. And he knows how special teams are supposed to work.
* Rudock spread the wealth again among 7 receivers. 7 passes went to TEs, 7 went to WRs, and three went to Smith.
This is Michigan.  That's how I felt after / during this game.  And not even Carr or Moeller's Michigan which many years lost 3-4 games, and almost always a wtf game.  I am talking Bo's Michigan.  Excellence in 2 of the 3 phases (special teams, defense) and "boring" but good in the 3rd phase.  Yes please.

After depressing the hell out of me last week, Iowa 2014 Jake Rudock resurfaced.  For an entire game.  For the first time this year.  And it pleased me.  (stroke-cat-on-lap.jpg).  If this Jake never leaves us this year uhh... you guyz... this is a 10 win team.  Umm... maybe 11.  Guyz?
ELSEWHERE
Numbers and rankings and oogly boogly oh my. Michigan stays third in S&P, and they have a tighter grip on that ranking this week. Their defense is #1; their offense is 46th. Both of those numbers seem about right. The drill-down stats are ridiculous. It has Michigan a 68% or better favorite in every remaining game, and it's Penn State that looks the most dangerous.
An oddity: Northwestern flew up 17 spots in this week's rankings. They are aided by the 4th-toughest schedule in S&P terms; their D is still fifth. As always, take computer rating a lot like recruiting rankings: they mean something but not everything.
FEI remains more skeptical than S&P but has moved Michigan up to 11th, in a sandwich between OSU and MSU.
Vegas has Michigan 10-to-1 to win the national title, which is insane even in the context that bets like that are always sucker bets.
Blog things. Hoover Street Rag:
Homecoming is a chance to tell yourself a story about the past, even if it's, if not a lie, not the whole truth.  You leave out the parts of those four years of your life that you'd rather forget and focus on the good stuff.  If you do think about the bad stuff, you either frame it as a growth experience, or look back in bemusement.  That class you probably should have gone to more often to get a better grade, well, it taught you the importance of actually showing up for your job on time, every day.  That time that the dude puked all over your back as you were leaving S'keeps on the opening night of the NCAA Tournament?  Well, at least your jacket was GoreTex and it washed right off.  That girl that you went out with during your senior year from Northwestern?  Well, it helped you learn who you were as a person.

In reality, it's not that much different than being a Michigan football fan.
SPECIAL TEAMS CHAMPION – Typically the Special Teams Champion gets also-ran, ho-hum coverage – not anymore!  I've played on enough teams and watched enough football to realize that the truly great teams end up getting contributions from different players each week.  Saturday against Northwestern was a classic example.  In recent weeks I have mentioned how the defense may have set the tone early in the game with an INT, or how the offense may have set the tone by dominating and driving for an early score.  Well, Jehu Chesson sent a message that hasn't been sent since Tyrone Wheatley returned the opening kickoff for a touchdown against Houston in 1992.  We've all seen how masterful Coach Baxter has been with these Special Teams in the first six games.  They are starting to look quite special indeed.
Derek Jeter for Nerds.  Word is that LeVar Burton has a junior daughter at U-M, and he was on prem Saturday.  Below he spent a few minutes in the booth with Brandy and Dierdorf (left).  The last officer on the Enterprise to visit Michigan Stadium was Patrick Stewart visit during the 2006 Ball State game:
I can't unpack this metaphor accurately because I don't actually want to figure out things about the Yankees, but this is probably more the catcher from those teams since Geordi held everything together with spit and duct tape.
Also can we please get Michael Dorn? This is a Klingon defense, man. Worf onsite would be righteous. 
When Jim Harbaugh first arrived, many fans wondered who would be the first Big Ten coach to fall into his crosshairs; who would be the unfortunate target of the first verbal jab, the first shot across the bow? Meyer and Dantonio were the obvious choices; James Franklin was a darkhorse.

I'm of the firm belief that it's never going to happen. When he was in San Francisco, Harbaugh's closest thing to a "confrontation" was the energetic handshake with Jim Schwartz, followed by Schwartz freaking out. Even the feud with Pete Carroll was confined to the football field. At Stanford, Harbaugh took aim at both Michigan and Carroll in an attempt to build some buzz about Stanford, then one of the worst D-1 programs in college football. Anything to get people talking. He knew he would have to back up his bravado, and he did.

At Michigan, not only is such talk unnecessary, but it would be tiresome, after listening to Brady Hoke talk tough and never deliver. I also believe Harbaugh views such things as being beneath him in his position as head coach at Michigan. I believe that Jim Harbaugh, Michigan Head Coach, makes every move under the belief that the ghost of Bo Schembechler is looking over his shoulder. He conducts himself as if Bo is watching in judgment, and to get into a war of words in the press with an opposing coach is not something a Michigan coach does; Bo would never approve of such lowbrow behavior in public.
Sideline tantrums he's totally down with, though.
De'Veon Smith looked the best I've seen him. Until he left the game gimpy and did not return, I thought Smith (8 carries, 59 yards) looked like the best form of himself I've seen. Of course, he has had some nice runs over the past couple years, and he really wore down Oregon State a few weeks ago to the point where he was trucking defenders left and right toward the end of the game. But from the opening snap, I thought Smith was in rare form. He made some nice cuts – which is sometimes an area of weakness – and he was bowling over some supposedly fresh defenders on a good defensive unit.
Big House Blog. Maize and Blue Nation. Cumong, GSI. "Michigan's entire defense can't win the Heisman Trophy, but maybe it should."
[Chris Morris/ESPN]
Other things. ESPN's "Drawing Conclusions" is consistently brilliant and finally we're relevant enough to feature. Gameday! Helmet sticker:
By blanking Northwestern in a 38-0 victory on Saturday, the Wolverines have now gone three consecutive games without surrendering a single point. That is an astounding feat that had not been accomplished by an FBS school since Kansas State in 1995. Northwestern was held to only 38 yards rushing on 25 carries, and the passing game wasn't particularly good, either. The Wildcats completed 15 of 33 passes for 130 yards with no touchdowns and one interception. Michigan, which now leads the country in scoring defense, has outscored opponents the past three games 97-0. Dating back to Week 2, the score is 160-14.
Baumgardner grades:
WIDE RECEIVERS/TIGHT ENDS: B+
Hello, A.J. Williams. The best day of his career, by far, and a true example of a player who has seen his career jump-started by Harbaugh's coaching staff. Williams -- who was rarely ever considered a passing option during his first three years on campus -- was Michigan's leading receiver Saturday: Four receptions for 48 yards. Jake Butt made a big play (32-yard catch) and still leads all Big Ten tight ends with 22 catches on the year.
Niyo:
De'Veon Smith says it's all starting to make sense now, from the punishing, four-hour practices back in March and that now-fabled undersea adventure in August to the daily fights over the most trivial — and basic — tasks with his teammates. Such as who can get to the dinner table first.

"We just compete at every … little … thing," Michigan's junior tailback said Saturday as he tried to make sense of this apparent reversal of fortunes for the Wolverines' football program.
Speaking of best-case scenarios: Even the most die-hard, pie-eyed, front-pew believers in the messianic power of Jim Harbaugh couldn't have imagined the sleeping Wolverine awakening with such ferocity in such little time.
Lewis is an All-American. Feldman. Clammin' up as the beast that feeds on disrespect comes to town. Another shell-shocked coach. Quinn.
PISCATAWAY, N.J. — This was among the best wins of Mark Dantonio's tenure at Michigan State.
You get worried that when Drew Sharp retires or is torn apart by an angry mob that you won't have any newspaper guys to kick around. Then the "Alex Carder is the best QB in Michigan" guy announces himself out of nowhere—and he gets a better gig! Manna from heaven, Graham Couch is.
Let's get way ahead of ourselves talk. Playoff? We're talking about playoff?
Michigan: After a 38-0 drubbing of previously undefeated Northwestern on Saturday, Michigan is making its case for the best team in the Big Ten. Jim Harbaugh has the Wolverines ahead of schedule and playing some of the best defense in the country.
We're talking national title contender? Michigan opens –3 against MSU, line quickly jumps to 7. It has settled at –6.5.
49ers point and laugh. Not petty at all.
Jed York's http://t.co/Ki1kp84jfe profile has removed all references to Jim Harbaugh as a reason for team's success pic.twitter.com/8O6A1ffhaq

— Mike Rosenberg (@RosenbergMerc) October 12, 2015