Of The Decade: Worst Plays Part I
Previously in this series: ESPN Images, Michigan's offense, and Michigan's defense.
This one goes to 11 despite my intention to make it a top ten list because I wrote them up piecemeal and at some point after too much effort had been put into each to throw any away I realized I had an extra item. This is obviously fate, so here they are.
These are ranked by gut because you can't put a number on the special sort of misery football can inflict. How to rate high on thie list:
Represent a major missed opportunity. Games from the Year of Infinite Pain do feature prominently but towards the end of the list because reversing any one of them means you went 8-4, which BFD.
Be an easily preventable error. Sometimes bad stuff happens. Sometimes you do it to yourself.
Be the obvious start of something terrible; some individual plays on the list were moments when it became clear a large number of plays later were going to be very bad.
And now on with the hairshirts!
11. Unblocking That Field Goal
Dusty Magnum lines up for a 38 yard field goal on the last play of the 2005 Rose Bowl. Michigan charges hell-bent after the kick and gets two players in position to block the thing, but the ball manages to split Ernest Shazor's arms, taking a deflection off his elbow. The slightly redirected ball squeezes through Prescott Burgess's hands and through the uprights. Michigan loses 38-37.
The event:
The aftermath:
A lot of these moments to come are going to be events that cost Michigan some opportunity in the future. This one was simple: if Shazor's dive takes him an inch to the left or right, Michigan wins one of the classic Rose Bowls of all time and I don't spend a couple hours making "The Five Stages of Vince Young" in a South Park character generator.
Despite that, the play is mostly notable for how close Michigan came to doing something that is hard to do, does not involve a Michigan player or coach making a terrible decision*, and did come at the end of a classic someone had to lose. I don't know… it just doesn't rate compared to the rest of the stuff enclosed herein. Losing a close Rose Bowl is hardly the worst thing that's happened to Michigan in the last ten years.
*(Michigan did not attempt to save itself any time in case the field goal was good but Mangum was somewhat shaky and Vince Young was unstoppable the whole night; if Texas was willing to take a 38-yarder I would have been happy enough to let them if I was coaching.)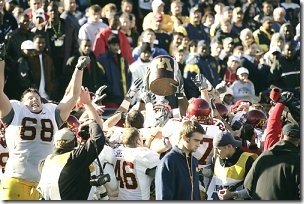 10. The Worst Blitz Ever
Late in the 2005 Minnesota game, Jim Herrmann lines up LB Prescott Burgess as a DE opposite the Gopher right tackle. With face-crushing tight end Matt Spaeth also to that side of the field, a 230 pound linebacker who's never played DE is one-on-two versus the best run-blocking line in the conference. Herrmann's playcall is a blitz from the other side of the field that sucks the safety on Burgess's side back into a centerfield position, and a simple off-tackle run goes for 60 yards, allowing Minnesota to kick a game-winning field goal.
Unquestionably the dumbest single playcall any Michigan coach made during the last decade. Michigan was tied with Minnesota 20-20 when Lamarr Woodley decapitated Gopher quarterback Brian Cupito. Minnesota ran a couple times with the backup quarterback, punted, and got the ball back after Michigan's drive stalled out. Stuck around their own 20 with around three minutes on the clock, Minnesota runs twice more, petrified of letting backup and redshirt freshman Tony Mortenson do anything other than hand off.
Mortenson's career numbers: 14 of 39 for 179 yards, 1 TD, 3 INTs. At the time his most extensive run had come in an 0 of 4 performance against Florida Atlantic. Since Cupito has gone out Minnesota has run six straight times. It's third and ten. Minnesota is clearly playing for overtime and will just run it off tackle and punt. An injury to Willis Barringer has forced true freshman Brandon Harrison into the free safety spot, where he pairs with true freshman Jamar Adams.
Jim Herrmann decides to put Burgess in as a down lineman in a nickel package, lines him up on the strong side of the formation, and blitzes away from Burgess. The rest is Gopher history:
Burgess ended up ten yards downfield and still couldn't get off his block, but that was not exactly his fault.
In the long run this did not matter since Michigan stumbled to 7-5 in and though they could have easily won three more games, this one included, they could easily have lost three more. Herrmann would be shipped off to the NFL after the season, clearing the way for Ron English to give everyone the wrong idea for ten games. Speaking of Jim Herrmann's failings during 2005…
9. Carr punts from the Ohio State 34
Leading 21-19 in the dying minutes of the 2005 Game, Michigan has a first down on the Ohio State side of the field. Two runs to bleed OSU's timeouts get nowhere. They're followed by a six-yard WR screen that uses the last OSU timeout. On fourth and four from the OSU 34, Carr brings out his kicker to do the fake-kick-actually-punt thing, which goes out of bounds at the OSU 12.
Of all the awful math-spurning things I ever saw Lloyd Carr do this was the worst. Ways in which it was a terrible idea:
The clock was hovering around three minutes and OSU had no timeouts. If you get the first down the game is essentially over. If you give the ball back OSU is not under any serious time pressure. Indeed, they scored and Michigan had 20 or so seconds to respond.
Michigan's defense had crumbled on three separate score-or-die drives earlier in the year, four if you count the one Michigan had ceded to OSU just moments ago. On each they had played soft, ensuring that when the opponent scored Michigan would have no opportunity to respond.
OSU was down two points and only needed a field goal.
The fake field goal punt was so obviously coming that OSU put a returner back. If the punt had been slightly better that guy was off to the races.
You spurned the opportunity to get a first down on third down for a more makeable fourth down so you could take away OSU's meaningless final time out.
Instead of taking a solid shot at ending the game, Carr chose 22 yards of field position that Michigan gave back in three plays by playing soft. I shorted out in the aftermath. Under pressure Carr reverted to the sort of call that hadn't been right since 1979 and it cost Michigan its best shot to put a dent in this agonizing OSU winning streak.
8. Pitch it to Breaston!
Michigan's attempt to replicate The Play is 15 yards from working when Tyler Ecker runs directly into a Nebraska defender on the sideline instead of pitching the ball to Steve Breaston, a man with a plan in the open field. Panama.
We end our Year of Infinite Pain trifecta with this:
I actually ended up at a tailgate that Tyler Ecker was at once, and all I could think was "why didn't you pitch it?"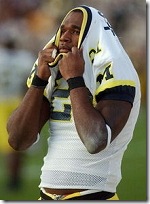 7. Rugby punt fiasco dénouement
Michigan was really, really good in 2003. John Navarre had molted from an inept flamingo into a laser-chucking flamingo. Chris Perry made one of those senior-year explosions you always hope will happen but almost never does. Braylon Edwards announced his presence. The defense featured Marlin Jackson, Ernest Shazor before he went up in smoke, Pierre Woods before he went up in smoke, and Lawrence Reid before his back imploded. (Unsurprisingly, the yardage defense would sag from 11th to 33rd the following year.) They were good.
But it all blew up on special teams. A grad assistant named Jim Boccher was placed in charge of it; by the end of the year he'd be in real estate and (probably) therapy. Things first went poorly against Oregon. Oregon blocked an Adam Finley punt for a touchdown. A fake punt attempt ended in a fumble. Oregon returned a punt for a touchdown. Despite getting a special teams touchdown of its own on a blocked chip-shot field goal, Michigan gave away ten points on special teams in a four-point loss.
That could have been random fortune, but what happened against Iowa was not. Boccher was an eager beaver who was actually ahead of the rugby punt curve that has spread through college football; stodgy Michigan was one of the first teams to try this high school thing out. The announcers openly wondered what the heck was going on. The intervening years have proven that it's a good idea if you can do it right.
Michigan could not, and was immediately reminded of why it liked being stodgy. Iowa almost blocked a punt, then almost blocked another one, then deflected a third; Michigan was fortunate that the deflection was partial. Along the way Michigan had given up a 43-yard punt return to Ramon Ochoa that set up a nine-yard Hawkeye touchdown drive. When Rivas wandered out with five minutes left in the third quarter, the whole stadium could feel it coming, and it did: Iowa finally returned one to sender, setting up a one-yard field goal drive. Michigan lost by three despite outgaining Iowa 463-295.
Boccher sought other opportunities before Michigan fans had the opportunity to seek him; the 2003 team would go undefeated outside of games in which their special teams cost them at least ten points until meeting USC in the Rose Bowl. That was the year in which USC got booted from the title game despite being #1 in both polls; if Michigan's special teams hadn't imploded so spectacularly an undefeated Michigan would have featured in the national title game against an Oklahoma team that had just blown the Big 12 title against Kansas State; Kansas State got blown out by an OSU team that Michigan had just handled. Competency on special teams could have resulted in a national title.
Tomorrow: The top six. Wear a cup.