DEATH FROM ABOVE! KANSAS!

THE ESSENTIALS
WHAT
Michigan vs Kansas
WHERE
Jerryworld
Dallas-ish, Texas
WHEN
7:37 PM Eastern, Friday
LINE
Michigan –1 (Kenpom)
TV
TBS
ominous
THE TEMPO-FREE
I'm putting this at the top here because it's good at providing a framework for the whole team. Four factors. Ranks are in parentheses and out of 347.
|   | eFG% | Turnover % | Off. Reb. % | FTA/FGA |
| --- | --- | --- | --- | --- |
| Offense | 53.2 (26) | 20.4 (201) | 34.1 (94) | 40.3 (65) |
| Defense | 41.1 (1) | 18.5 (253) | 29.2 (69) | 32.3 (83) |
One game after taking on the #1 turnover-generating team Michigan takes on the #1 eFG% defense team. Kansas is #1 in two-point D and excellent at three-point D, probably because their perimeter defenders are long and do not have to sag as much. Withey solves a lot of problems in the paint, propelling the Jayhawks to #3 in block percentage basically by himself.
Weaknesses include TOs at both ends, though on defense that looks like a conscious decision to funnel people to their shot blocker and not an actual problem-type substance. The TO rate on offense is unambiguously bad, and if my viewings of Kansas games so far this season is representative that's just Kansas chucking balls every which way.
THE THEM
#23 Ben McLemore is projected to be the second pick in the NBA draft by Chad Ford and may go #1 depending on who gets the top pick and what they think about Nerlens Noel and his knee. This is reputed to be an extraordinarily weak year at the top of the draft, but still. When he jumps he seems to glide upwards almost supernaturally.
Really "Hey Man Nice shot," clip assembler guy? Really?
He's Kansas's highest-usage player, but he doesn't reach focal point levels like Burke and his super-high usage kin. He takes a lot of threes—just under half his shots—and knocks them down at a 43% clip. He's also efficient inside the line (56%) and a Stauskas-level free-throw shooter. He doesn't get a ton of FTs and his assist to turnover rate is meh; he's about filling it up. He's a GRIII-level finisher at the rim who doubles as Stauskas from deep. Yipes.
So far he has not done that in the tourney. He had a meh eleven points on nine shot equivalents in the 1-16 matchup; he flung ugly bricks against the scoreboard for the duration of the UNC game, scoring two points on ten shot equivalents, both of those at the free throw line. This guarantees he will go 8/10 from three against Michigan.
Try to get him to take two point jumpers, I guess. Easier said than done. Hardaway will check him. He shut down DJ Byrd, you know.
THIS IS NOT GOING WELL THIS IS BAD I SHOULD GIVE THIS SPORT UP –#3
#5 Jeff Withey is not only a defensive force, he also shoots 58% from two and gets to the line consistently with an acceptable-for-a-big 18.0 TO rate. Hoop Math says he's actually Kansas's best shooter inside the arc (at least amongst folks with an appreciable number of attempts), hitting on 40% of his two point jumpers. 
Meanwhile on the other end of the floor:
Dude doesn't just erase shots, he puts them in the hands of his teammates. Michigan probably has a bit of an advantage here—actually more of a mitigated disadvantage—since half of Withey's blocks come on guys he's defending straight up. (Is this normal or boggling? It feels boggling.) That's an avenue Michigan rarely uses.
Still. If you've watched these guys this year you know how difficult layups become when he's on the court. The grim FG% on non-transition shots* at the rim Hoop Math has is evidence enough:
Post-rebound, at rim (19% of shots): 38%
Post-score, at rim (42% of shots): 45%.
For comparison, Michigan FG% defense numbers in those situations are 63% and 57%.
The difference is huge. Enormous. Hugenormous. I like John Beilein just fine but whenever he picks up a commitment from a guy who might play the five who isn't a 7'3" dude from Senegal with never-ending arms I'm like "d'awwwww." Withey is the difference between Kansas, one seed, and Kansas, probable first-round losers to Bucknell again.
He picks up 2.7 fouls per 40, too. If Michigan can get him into foul trouble, that is enormous. It is highly unlikely.
*[ie, shots not in the first ten seconds of the shot clock.]
#15 Elijah Johnson is a point-guard-ish player. He's got a top 200 assist rate and a TO Rate just about as high; he doesn't get to the line and shoots 76/43/33. No Kansas player has outlandish usage; he, Withey, and McLemore are the most frequent shooters. Johnson is the guy you want absorbing those attempts. He's barely above 50% at the rim and shoots 33% on two-point jumpers. His three rate is acceptable, though. Run him off the line without giving him an opportunity to set someone up for a dunk and you're probably good.
Small forward Travis Releford is a transition fiend, as detailed by Luke Winn earlier this year:
as of January 30th; doubt much has changed there
A third of his shots are in transition. Whoever ends up checking him will have to abandon the boards entirely and flee downcourt as soon as the ball goes up.
Because of the high proportion of transition buckets it's hard to get a picture of him as a player in the half-court. His efficiency numbers are off the charts: he shoots 78%/66%/41%. Despite doing that he's the Kansas regular with the lowest usage rate—and once you adjust for transition that would be by a mile. Weird player. I mean, in 36 minutes against TCU Releford had one point on two shot equivalents for a—drumroll please— 6% usage rate. It seems like if you can keep Kansas from running on you Releford is going to get very few attempts from inside the line.
Power forward #40 Kevin Young is the fifth option. He plays about half of Kansas minutes, hits 57% of his twos and rebounds both ends well. He's a garbage man. 70% of his shots are at the rim, many of which are generated by his 13.3 OREB rate, and he hits just 30% on his two point jumpers. Keeping him off the boards is tough; doing so will reduce his offensive contribution to a few attempts, no more. FWIW, he's a 60% FT shooter so if he's got an easy two lined up Michigan shouldn't hesitate to put him on the line.
Kansas's bench is almost precisely as short as Michigan's. The two teams are 325th and 326th in bench minutes, with Michigan very slightly more generous. The Jayhawks have one perimeter backup of any significance, #1 Naadir Tharpe. He's a 5'11" point-guard-type player with a decent assist rate but a TO rate over 20. His shots are split about evenly between threes he hits at a 34% clip and twos he hits at 36% with extremely rare three throws. A Tharpe jumper from inside the arc is a good thing for Michigan. Note that unlike anyone else on Kansas, Tharpe will jack up contested threes.
Kansas has a couple of 6'8" freshmen backing up their two post spots. #34 Perry Ellis is the better of the two, a good rebounder with an extremely low TO rate who doesn't shoot effectively (47%) but does get to the line frequently and hits his free throws. #31 Jamari Traylor is a guy who puts up very few shots at a 42% clip and turns it over a lot. It's 4 on 5 when Traylor's in on offense.
THE RESUME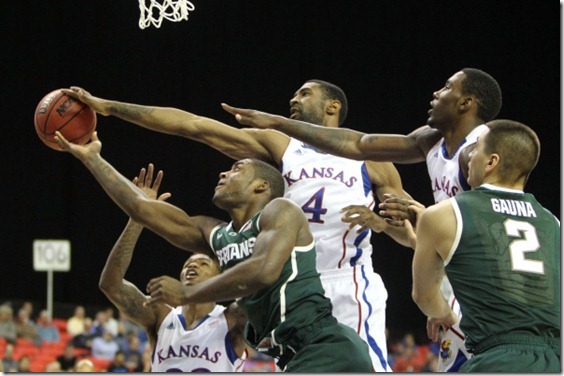 Kansas lost to Michigan State in their second game of the year in a game that, insanely, was in a dome in Atlanta. They recovered to blitz eventual four-seed St Louis by 14, eventual ten-seed Colorado by 46, and eventual 11-seed Belmont by 29. The epic nonconference hammering stopped there but they also added wins against Ohio State (by eight) and Temple (by seven) before Big 12 play.
In the league they went 14-4, winning it, and took the tournament crown without breaking a sweat. Big 12 play was weird. You of course know about the stunning TCU upset—imagine losing to a version of Penn State that is 129(!) spots worse on Kenpom. That game was sandwiched by losses to both Oklahoma teams, and in their last regular season game Baylor blew them out by 23. (Baylor shot 60% from two and 50% from three, which… WTF.) Add in three OT wins and Kansas's Big 12 season was probably their shakiest in a long time.
Then they trailed at halftime to Western Kentucky and North Carolina, beating the former by only seven. Their lights-out second half against the Tar Heels turned a nine-point deficit into a 12-point win.
It's worth noting that Kansas's struggles in the first couple rounds came on what was a de facto home court. The Jayhawks played three nonconference games and the Big 12 tournament at the Phone Company Center in Kansas City. By the time they finally blew past North Carolina they were into the second half of game eight at the same dang place, one far more partisan than the blue/green divide in Auburn Hills.
THE PROTIPS
I, Brian Cook, promise to not complain about a single Trey Burke stepback jumper in this game. Doesn't matter where it's from, how much time is on the clock, or how nasty it is.
Foot on the three point line, fine. I cede all of the things to Trey taking jumpers in this one, because Jeff Withey can only watch when that happens and Trey is dang good at hitting them.
Also as of January 30th; Luke Winn's power ratings that week were an inadvertent Michigan-Kansas preview.
The relative efficacy of those shots goes up immensely when Withey is waiting inside. Withey blocks don't just erase shots, they erase possessions 75% of the time and fuel Kansas's lethal transition game. If Trey wants to pull up on the pick and roll and take a pretty good shot that has a pretty good chance of seeing Mitch McGary flush it even if it misses, okay. If he wants to run to the baseline and pull up for his leaner, okay. If he wants to step back and rise up, okay. Okay Trey, okay. Her life is in your hands.
MAKE YOUR DANG THREES. 30% isn't going to cut it, and the quality of the looks is going to be worse. But Stauskas, Hardaway, and Burke have proven they can hit some dang threes even if they're ideas that seem not so great until the ball goes through. Unless Kansas goes through one of their phases where they can't get out of their own way—not out of the question—Michigan is going to have to have a nice day from the outside to move on.
No transition. This goes part and parcel with the above: Kansas's offense is hugely efficient in transition and can struggle in the half-court. Michigan's turnover avoidance sets them up nicely to avoid conventional sources of fast-break buckets against (see also: 4 VCU fast break points).
Kansas gets bonus fast break opportunities from Withey crushing shots. Some of that is inevitable; keeping that down to four points provided instead of ten could be the difference in what projects to be a tight game.
Keep out of foul trouble, Mitch. Withey draws 5.1 fouls/40; as a team, Kansas is 65th in getting to the line. McGary is operating on a level beyond the other two posts at the moment; Michigan needs him on the court. Is he going to play 34 minutes again? Probably not. If he's stuck at 15, Michigan's in trouble. 28 they can probably live with.
Generate extra possessions. Kansas's games against WKU and North Carolina were competitive despite opponents shooting 39/15 and 31/29, respectively, because the Jayhawks were intent on giving their opponents every opportunity to stay in contact. Against the Hilltoppers Kansas had 17 turnovers to WKU's 10 and got crushed on the boards. How that happens against a 20-15 Sunbelt team I do not know.
KU turnovers shot up to a whopping 22 against UNC and while Kansas plowed the undersized Tarheels on the offensive boards they gave up an OREB rate of 31% themselves.
Run. KU eFG% defense dips dramatically when shots are taken in the first ten seconds of the shot clock, because Withey is chugging down the court behind the action. Is it a good idea to take this shot in transition? Yes, even if it's not.
Maybe watch Kansas inexplicably self destruct? Can't rule that out. Let's go, having the game handed to you by collection of sixth graders who superficially resemble Kansas.
THE SECTION WHERE I PREDICT THE SAME THING KENPOM DOES
Michigan by one!