Dear Diary Thanks Fielding Yost for That One
Note: You can always find the most recent diaries here. Long DD thanks to ludicrous amount of great user content. [Ed: Seriously. User generated content FTW.]
Last week I used this space to make light of the Under the Lights hype, figuring an 8:00 start would be the only real difference between this and any other ho hum game at Michigan Stadium against a ho hum opponent. Well ho, hum.
I should have remembered whose house we were lighting. Today I'm looking up at Fielding H. Yost in football's Valhalla and saying "Thank you, Fielding Yost! Thank you Fielding Yost for that one!" In 'the hole that Yost dug, Crisler paid for, Canham carpeted, and Schembechler filled,' Denard finally hooked up with Roy Roundtree to cap a night that will be heard until another 132 years of Michigan football is played.
Sometimes a UFR and a Picture Page will tell you all you need to know about a certain play. This week even those of us from the School of Gary Gray Can't Cover ought to take a cue from diarists like Michael Scarn and
appreciate how unbelievably great it is to be a Michigan Wolverine:
That's how last night is for me.  I need to do write about it and hope that I can do it 100th of the justice it deserves, so that maybe one day I can look back and remember just the amount and consistency of the emotions I felt.
So felt pretty much everybody, since pretty much everybody wrote a diary. Michael's is titled "Trying to Take a Picture of Big Foot" and used the tag EEEEEEEEEEEEE. Another tag rediscovered this week: HOLY @#$%, by Foote Fetish in New Friends. Even our resident oddsmaker jamiemac got home and just needed to exhale about letting good times roll.
Lordfoul has been haunted for years by the number 72, or more specifically the absence of it. While the rest of us sweated out the last two noisy drives, LF knew that Smith's score at 72 seconds signified the W was secure. MAgoBLUE watched the game in a Boston sports bar fresh from saying goodbye to the person who introduced him to sports fandom. It's stories like these that remind Enjoy Life and the rest of us to feel sorry for folks who don't care about sports.
Posts With More EEEEEEEEEEEE!!!
This is the evidence jhackney gave for how he knew ND was bound to lose:
His gonzo take is gonzo (read: awesome) but what's this about not being able to see the first couple of plays for the end of Georgia-S.Carolina—did anyone else have trouble finding the start on ESPN3 (ESPNews)?
BlueSeoul (+200 pts.) took us on a rollercoaster of a game wrap with time stamps. YOU MUST READ THIS because it is like a complete game journal except with % chance of winning (in head) give every few minutes. Promise you'll click the link and I'll let you relive the last part (language NSFW):
0:30 5%

Riddick TD. FUCK! Fuckity Fuck, fuck fuck fuck, FUUUUUCK!

0:23 1%

Incomplete. We spent 7 seconds for zero yards.

0:08 45%

Gallon WIDE OPEN!!! HOLY SHIT! WE CAN KICK A FG TO TIE! Oh shit.  Not a field goal....

0:06 30%

OMG IT'S A JUMP BALL! NOOOOOoooooooo

0:04 99%

OMG HE CAUGHT IT, YES YES YES, OMG!

0:03 50%

Fuck, they're reviewing it

0:02 99%

It's good.
THE_KNOWLEDGE goes here.
(More analysis, aesthetics, best of the board, and Diarist of the Week after the jump.)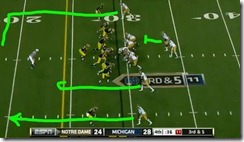 Lets' get that Diarist of the Week out of the way since it should be obvious: the twice-bumped dnak438 picture paged two key plays from our defense from Saturday night: Kovacs's pick, and ND's final score (including screen cap at right) that wasn't the final score.
If that's a Woodsonesque performance from dnak, here's an Ingram effort (ie would have won DotW in a lighter week) by one of my favorite posters, mejunglechop, who took issue with Brian's (and later my) assertion that the offense is losing something by going all MANBALL-ish, arguing the "lucky" breaks are the same made by the same players last year because "lucky" actually means "good at scoring touchdowns." We're all arguing with small sample sizes anyway.
Erik_in_Dayton watched the defense in slow motion again. It was great to have on Wednesday morning but kind of trumped by UFR later in the day. Courage to this man. Also, somebody set him up on Windows Live so he can post pics. Mr. Yost went all Midseason DetNews and gave out grades for the Offense and Defense. Spoiler: Denard got a C-/B+. Chris Danger Logic Danger of Danger and Logic makes picture pages move.
Best of the Board
BOY MEETS CARR, BOARD REMEMBERS WHY WE LOVE CARR
Bumped to diaries, go16blue had a close encounter of the Scary Face* variety at what was once Yost's (other) house. Highlights include the ol' bear giving 30 people at a Jewish Federation event lessons in football fundamentals; stories of Bo and Carr's old staff, and why he started Dreisbach for that one epic comeback people under 30 don't remember. There's one story about Bo and Lloyd going on a recruiting trip and they meet this kid whose attitude—oh here:
He talked about one kid, a QB from Chicago, who the assistants were very exited about ("This was a kid who could really have stepped in and made an impact on the team"). Him and Bo went to his house on a visit, and the kid kept ordering his mom around like a maid. After only 5 minutes, Bo said "Well, Lloyd, its time for us to go." Lloyd was absolutely shocked that Bo would want to end the visit that early, but Bo had already gotten up so he went with him. Once they left, Bo asked him how they could expect the kid to respect them as coaches if he didn't even respect his own mother.
You're damn right there's more.
MEET THE CURRENT DEFENSIVE PACKAGES
Mr. Yost reported some insider dope on the sub packages among the defensive Front 7. Michigan has three for Normal, Running Downs, and Passing Downs. I reorg:
| Position | Base | Run | Pass |
| --- | --- | --- | --- |
| NT | Martin | Martin | Martin |
| DT (3-tech) | Campbell | Campbell | RVB |
| SDE (5-tech) | RVB | RVB | Black |
| WDE (rush) | Roh/Black | Heininger | Ryan |
| WLB | Hawthorne | C.Gordon/Hawthorne | Hawthorne/Jones |
| MLB | Demens | Demens | Demens/Jones |
| SLB | C.Gordon/Ryan | Ryan | Gordon |
THE SHAME OF COLLEGE SPORTS
Remember the South Park episode about Crack Baby Basketball that tore open the hypocritical, exploitive system of "amateur" college sports, and you were waiting for the follow-up article that said all that srsly? The Atlantic's Taylor Branch finally wrote it. It was posted on the board by denverblue and bumped to a diary thanks to the lengthy, strong discussion by the board.
WE WERE THE SMARTEST UNTIL NEBRASKA WALKED IN
Rly. Good work by superstringer who finds the Big Ten is now a strong second in every category of averaged collegiate rankings to the ACC, except our bottom five are still the best (WTG MSU and friends). I can't help but think Michigan getting Nebraska booted from AAU is having an effect.
WHO'S BRADY HOKE'S PET VIKING?
That's Steve Everitt (thx markusr2007). Scroll down to find YtownBlue's brother's exchange with him outside the stadium:
Out by the team buses. Their convo went like this...

Brother- You're Steve Everitt
Everitt- F'n right
Brother- you played center here and at Cleveland
Everitt- f*** yeah man
Brother- can i get a picture?
Everitt- f'n right you can
Brother- go blue
Everitt- f'n right go blue
INSIDE THE BOX SCORE
This is really a diary by ST3 posted on the board where he goes through the box score and picks out interested stats.
DAMMIT MAGNUS JUST WRITE A DIARY
Magnus is one of the most respected guys on MGo and has a mighty good M blog of his own, yet does some of his best work deep in someone else's threads. Here's a mediocre example of that I stumbled up where he and Section 1 list and discuss burned redshirts.
VOTE NOW IN THE WHO'S THE LEAST ANNOYING AFTER A WIN POLL: ND OR MSU
Not really a poll but at 140 posts and counting, it's MSU by bicep.
--------------------------------------------------------
* My friend's nickname for him which stuck over many many years. Comes from when he gave refs the jowl treatment. NOT pejorative unless you hate M coaches yelling at refs.
This Week in Weekly Features
Tackling Technique with maizedandconfused. Spoiler: Mattison's a better D.C. than GERG.
Conference Power Rakings by bwgrudt1484. Spoiler: The Big Ten is worse than the ACC, but that's 'cause none of them have played Duke yet.
Upset Watch by Maize_in_spartyland. Spoiler: Hoke is 25-14-2 against the spread.
Ugly Game of the Week by much-better-at-aesthetics-this-year stubob. Spoiler: this guy's involved ------------------->
Pick Six Analysis by Jeff. Spoiler: I'm gonna win and y'all r gunna have 2 jus' buy yr t-shirts from me BWAHAHAHA.
Turnover Analysis by Enjoy Life. Spoiler: Notre Dame's turnovers probably cost them the game.
Omigod I'm down to like just 20 more tabs!
Aesthetics
Time to play "Does it Look Better than MSU's Pro Combat Uniforms?"
Contestant the First:  Denard Robinson Updated Action Figure with Special Night Action, by monuMental.
Judges say: YES!
----------
Contestant the Second: The uniforms we were all bitching about last year, by MGoVillain.
Judges say: YES!
----------
Contestant the Third: Post-game commemorative t-shirt design you can BUY NOW, by Six Zero.
Judges say: BUY NOW!
----------
Contestant the Fourth: Pre-game Baby in Black concept that the Athletic Dept. turned down so they could foist the overly texty design at right on everyone, by Six Zero.
Judges say: RRAAAAAWWWWRR!!!
----------
Contestants the Fifth: Wallpaper designs for EMU, by cjm.
Judges say… Judges say… JUDGES!!!!
What?
Well?
[yawn] It's Eastern. I'm not making my computer all excited for Eastern unless you put Hart in it.
----------
Contestant the HEY THEY GOT THE BIRD POOP OFF: Something just like MSU but on Ohio State instead, by Nike Pro Combat.
Judges say: It's great to be a Michigan Wolverine.