Dear Diary: Spring Cleaning Edition
It's been a while since this feature has made an appearance, but with a recent boom in good diaries, it's time to dust off the cobwebs and bring you the best in user-generated content. Write a good diary and you, too, can have your time in the spotlight!
A lot of diaries of late have been Lacrosse (me), Baseball (formerlyanonymous), or Recruiting (Tom/me) -related, but there's been some good user-generated content, as well. Though we haven't seen this feature since December, I'll restrict entries to the end of basketball season. I'm leaving 16-team Big Ten proposals alone for now, as Brian will probably bring them up later.
The Mathlete brought it strong over the past few weeks, including a look at which NCAA football teams have been the most and least lucky over the past two years. How did he define luck?
To try and answer these questions, I took my team PPG values for the full 2009 season and then "re-played" the regular season schedule to see how the season would play out if the teams played at that consistent level and the fluky plays were eliminated. All first half plays and any in the second half with the game within 2 touchdowns were included. Interceptions are included, fumbles are not. Standard special teams plays are included, punt blocks, on-sides kicks etc. are not.

Unsurprisingly, Michigan hasn't been so lucky either of the past two years: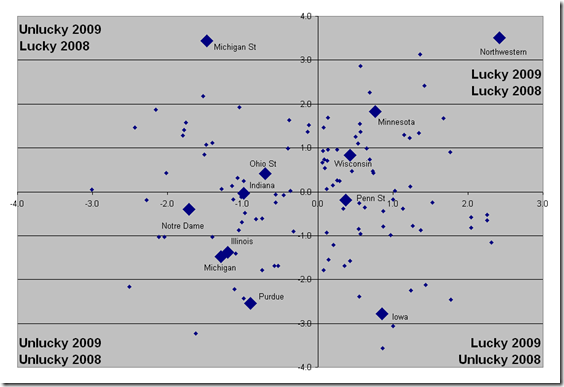 Northwestern has been the luckiest team in the nation two years running, so they may be in for a rude awakening sometime soon. MCalibur's lengthy diary presumably covers something similar (win expectations), but is more notable for how pretty its charts are.
Here offensive YPG is charted against defensive YPG. The horrible dot at the bottom is '08; the horrible dot to the right is '09. You can see how far from respectable Michigan was in '08 and the sizeable improvement last year, albeit not enough of one to expect a bowl game.
The Mathlete then delved into the importance of personnel, starting with the cumbersomely-titled post exploring the value of returning starters to a football team's success. Surprisingly, as long as your team wasn't among the bottom 20% in the country of returning starts at some key positions, returning experience isn't that big of a deal:
Returning starts don't matter as much as people think. The way they are most likely to affect a team is if you have very few. A whole host of returners isn't necessarily more valuable than a solid group. Just don't be stuck at the bottom, even a low ranking in a single position group can be worth a game or two.

So Michigan is losing its best three defenders, which bodes ill for the 2010 season, right? Not So Fast My Friend, as The Mathlete continued to outdo himself, crunching the numbers to reveal who were Michigan's top defensive players last year. Ryan Van Bergen comes in at a surprising #3, with Brandon Graham, in a shocker, the runaway leader with an adjusted score of 27.4. Donovan Warren's 8.7 was second.
The only positive performers who are returning are Van Bergen, Jonas Mouton, Mike Martin, and Obi Ezeh. Jordan Kovacs, Craig Roh, and Mike Leach were only slightly in the negative, all right around average nationally for their positions. The conclusion:
The most glaring point for me is that Michigan's top linebacker, Mouton, barely makes the top 150 linebackers nationally in production. If Michigan's defense is going to turn things around there is going to have be some new playmakers step up and there has to be more production from the linebackers.

Another shocker.
The Mathlete, for your research-laden diaries (and the charts, OH, the charts!), you are The Diarist of the... er... Spring!
Inspired by the recent changes to NFL overtime rules, ecormany proposes a few tweaks to the NCAA's overtime system. Among his ideas: reincorporate the punting game and give teams only two minutes to complete each possession in an overtime period.
In Can The Heat Be Beat?, Elno Lewis looks at the ever-growing dominance of so-called "warm weather teams" in winning football national titles. The results are striking:
Warm Weather Teams Winning Championships

| 1940 | 1950 | 1960 | 1970 | 1980 | 1990 | 2000 |
| --- | --- | --- | --- | --- | --- | --- |
| 40.6% | 47.5% | 53.1% | 53.8% | 62.1% | 68.4% | 70.0% |
It looks like the trend is still upward for warm-weather teams. Can northern squads like Michigan try to buck the trend? Follow-up question: can an infusion of Florida talent negate the trend? I'd be interested to see someone expand on Elno's research.
wildbackdunesman compares the respective CCHA coaching careers of Ron Mason and Red Berenson, and proposes a name-change of the CCHA Tournament trophy to the Mason-Berenson Cup. Red is comparable to Mason in every category of measuring success, and there's certainly a compelling argument to be made. It seems the only serious advantage Mason has is being the coach of more CCHA teams (Lake State, Bowling Green, and Michigan State, as compared to only Michigan for Red) and coaching longer than Berenson has so far.
With the NFL Draft coming up, Mat takes a look at whether Donovan Warren made the right choice in leaving Michigan a year early for the Big Leagues. The criteria to consider:
The potential gains for returning for one more year are:


Another year of college life / experience
Diploma
Potential improved draft stock
...and the verdict:
Warren didn't make a mistake. Most guys who are drafted are not making a mistake when they turn pro. The decision is the correct one when all the costs and benefits are factored in for most. The decision is only a mistake is if you're immediately cut and never earn a penny as a pro football player or are really enjoying life as a collegiate athlete and will miss it more than you'll appreciate the money you'll earn as a pro.
The reasoning behind this conclusion seems pretty sound, yet it inspired tons of debate in the comments. Both supporters and detractors of the premise raised a bunch of interesting points about Warren's draft stock, and how it affects their view of his decision.
mfan_in_ohio declares the Michigan fanbase's independence from Angry Michigan BLANK Hating God. The preamble proceeds thusly:
When in the course of sporting events it becomes necessary for fans to dissolve the bands which have connected them with another, a decent respect to the opinions of mankind requires that they should declare the causes which impel them to the separation.

...but the money quotes come in the airing of grievances.
Misopogon determines whether the three new NCAA football rules have an effect on Michigan. The verdicts? Wedge blocking ban: Help. Taunting rule: Hurt. Eyeblack message ban: Neutral. Click through to find out his reasoning.
Bust out the cigarettes and Fedoras, as BlueSeoul gives us a glimpse into the noir-style meeting between Jim Delaney and Notre Dame AD Jack Swarbrick's about the Irish joining the Big Ten. Plus he has to apologize at the end for getting to Star Wars-y.
An actual historical diary from Alaska Hokie shares the story of former Michigan quarterback James Miller.
WALLA WALLA, March 19.—James Miller, the famous quarterback of the Michigan team last year, who has been missing from his home for several months, was located in this city yesterday working as a laborer. His mind is a total blank and he is quite unable to recognize his friends. He was elected to the captaincy of the Wolverine team for next season.

Sounds like something out of the twilight zone (or at least the front page of MVictors). There's debate over whether his amnesia was a medical issue or a clever ruse to cover up for some personal issues.
stubob takes a stab at UFRing November's Ohio State football game (offense, defense). Chart? Chart.
| | | |
| --- | --- | --- |
| Defense | + | - |
| Graham | 6 | 0 |
| RVB | 1 | 0 |
| Herron | 0 | 1 |
| Heniger | 0 | 1 |
| Kovacs | 2 | 2 |
| Roh | 1 | 2 |
| Brown | 1 | 2 |
| Warren | 3 | 0 |
| Martin | 1 | 0 |
| Mouton | 4 | 2 |
| Leach | 2 | 1 |
| total | 21 | 11 |
Denard Robinson was 1/1 with the pass being deemed "catchable," but Tate Forcier had a slightly rougher day.
On the basketball side of things, Champswest tries to figure out where Michigan's scoring will come from next year. Uh, Stu Douglass and Evan Smotrycz, apparently. I guess more balanced scoring is a good thing?
Etc.: Nantucket Blue, seemingly apropos of nothing, rips on Michigan State in Our Colors Don't Mix. In other Michigan State-related diaries, MGoData looks at the Google habits of East Lansing residents (seriously). Kman23 brainstorms ways to get Michigan's best receivers on the field at the same time. Jeff gives props to the streaking Women's Tennis team. Laveraneus looks at combined win/loss records for football and basketball across various schools and conference. MGlobules tries to round up some UConn spring game recaps. backusduo pre-previews EA's NCAA Football 2011.