Dear Diary Settles on a Yellow
Here's where yesterday's maize poll stood around noon:
I initially had labels for the first few hundred voters, which stole maybe 100 votes from Iowa—I think most people didn't realize our official corn shade was darker than theirs. Anyway 80% of the readers who voted wanted Michigan to wear something appreciably darker than what they currently do, and over half preferred the orange-iest options. There's still a large and vocal minority—about 20%—who like the brighter yellows.
One of them, stephenrjking, wrote a diary to demonstrate the lighter shades have been part of Michigan's uniforms a very long time:
Also that stills are notoriously bad—the saturation is way high on the left and way low on the right. Stephen isn't crazy; he too noted the modern hue is too damn loud. Here's the Woodson interception in the '98 Rose Bowl that he submitted as a preferred shade, with a color swatch I grabbed from it:
That is exactly the same color as the "faded from the 1970s" swatch people voted on, with an average hue of 53. Hue (similar to Tint on your old television set) is a circular axis through a 360-degree rainbow spectrum, with 360 and 0 being red, 60 is yellow, 120 is green, 180 cyan, 240 indigo, 300 violet, etc. That "53" matches the official Iowa color, but the saturation is toned down about 30%. By contrast, the Adidas color online is 60 (straight up yellow), and almost everything I got from the last four years of MGoBlog photos was usually around 65, sometimes as high as 70, i.e. 5 or 10 steps toward green. Michigan's official maize, on the other hand is 48; if you get to 45 you're half-way to orange (aka "gold").
So if
is traditional, it's much closer to
(official) than
(what they're using now) on the orange scale. Here's what it would look like with the "maize" parts on Woodson and Peterson changed to the various shades we've been arguing over (matched to Woodson's knee—click from big):
From left: current Adidas yellow, Iowa's yellow, and Michigan's official maize.
Perhaps a good compromise then is to take it back to the low 50s and tone it down so the primary blue can stand out more. That won't placate the "I actually like the bright yellow" crowd, but I'd rather have 20% of the fanbase bitching about it than 80%.
Further reading on apparel. See Maize.Blue Wagner's interesting trip through historical department store catalogues (this was how we did Amazon before the internet, people who don't know what a tint dial is). Here's the 1980 Sears jersey:
And here is a sweatshirt of a bear wearing a sweatshirt: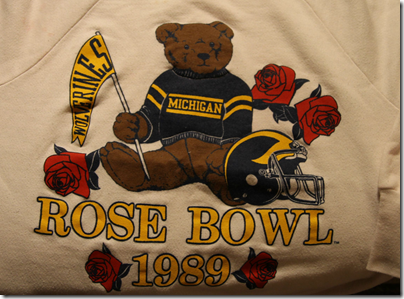 Picking a Quarterback
Right, the actual football. I highly recommend MilkSteak's quarterback comparison diary, where he showed various previous Michigan QBs at the same age vs this year's starting candidates. I'll give you the upshot but only if you promise you'll hit the link and give the author a plus for his work. Done? Okay:
Beyond the Gardner comparisons, Rudock appears to be a less turnover prone version of 1998 RS Junior Tom Brady, which is nice. Rudock had 22 more attempts than Brady and 5 less INTs with a TD/Int ratio of +11 to Brady's +4. The Y/Att and Adjusted Y/Att are very similar, and the QB Ratings are damn near identical.
I would take "1999 Tom Brady with fewer interceptions." Shane Morris's scant data isn't that different than a slew of other passing era guys we didn't see until they started. His freshman data jives with sophomore Todd Collins, however last year's performance, mostly against Minnesota, looks like freshman Denard Robinson minus the legs. Upshot: 2001 John Navarre, presumably with Darboh doing his best Marquise Walker impression.
Etc. Low Key Recidivist mentioned the Jeff Zuttah story (Michigan wanted to medical him so he transferred to Stanford, and medicaled) as it relates to Pipkins. Erik in Dayton tackled the ethics of it. Also by EiD: recruiting rankings of starters on Harbaugh's last Stanford team. Was a the Deflategate report dur or derp?
Board stuff: The big news is Sara Driesenga got her medshirt!
Pitcher Sara Driesenga, who suffered a rib injury in the early season and only played in a handful of games, has been granted a medical redshirt and will come back for a 5th year!

This gives Michigan a 4-pitcher staff. They'll have every class represented with 5th year Driesenga, B1G Pitcher of the Year Megan Betsa who'll be a Junior, Tera Blanco who was recruited as a star pitcher as a Sophomore and incoming freshman Leah Crockett.
The team that nearly won the national championship receives an almost a one-for-one replacement for Haylie Wagner, and everyone else returns except catcher Lauren Sweet. National Championship or bust!
Board questions answered.
I'm gonna skip most of the board because it was a lot of "Omigod Nike!" But I will answer a few questions:
Whats' the best burger in Michigan? The best greasy spoon is a little dive (just a counter and four high tables) attached to the Seville Motel on Woodward in Royal Oak called Monty's Grill (my dad claimed that way back in the day it used to be Biff's and stood where Comerica Park does now). Best pub burger is Sidetracks in Ypsilanti. Please trust me that I have investigated this thoroughly—at least in the lower peninsula—and there is no question.
How would you allocate your hate? If all of my hate could damage Ohio State even a little bit I feel I have to try, so 100% to Ohio State, and Michigan State will have to make do with a sizeable portion of my contempt instead. I guess that answers this too.
Jorts? No.
What's your favorite Michigan Replay? A: The one after 1997 Ohio State when Lloyd cannot stop smiling despite trying to do so the entire episode.
Your Moment of Zen
Here you go ladies: a glistening and shirtless Jake Butt, and I promise you'll be watching his hands anyway:
〽 RT @JBooty_88: A little work from today.. pic.twitter.com/lirxt6FjaW

— Support Michigan (@SupportUofM) July 9, 2015