Dear Diary is Seeing What Sticks
[Update: I didn't realize commenting was off. Sorry for those who wanted to reply. You can now.]
Dear Diary,
Every man has his breaking point, when desperation overrides rationality and he's ready to start flinging excrement at the wall in the hope that it magically becomes a castle.
Mine came at 10:23 p.m. on Saturday, Oct. 30, 2010.
Michigan at this point is down 31-17, Penn State is driving, and Renaldo Sagesse just picked up a ludicrous (re-watched it 5 times on slow-mo) defensive holding for being double-teamed on the backside of a running play that went to the opposite sideline. Nothing Sagesse did helps the result of the play, which sees Black slant into the backfield and get pushed passed the running back, Kovacs, the deep (!) safety because true freshman Kovacsgrit clone Ray Vinopal didn't stick to the wall, getting blasted by a lineman twice his size, and a bevy of other would-be tacklers overrunning the play or sealed.
Rich Rodriguez at this point is on a sideline in Beaver Stadium, nestled between State College, Pa., and University Park, Pa. in a middle-of-nowhere geographical formation named, presumably without foreknowledge of its tremendous future irony, "Happy" Valley. He is dressed like a Michigan football coach, with parka, M hat, and headset, and is screaming at whichever referee could let such a travesty stand. Starting defensive tackles Mike Martin and Ryan Van Bergen are standing beside him, the former trying to bounce up and down because he has two ankles that can't take lateral movement, the latter just sucking air from being the fulcrum point of PSU's slow onslaught for three periods.
I'm standing on a couch at a mostly evacuated Halloween party in Commerce, Mich., dressed in a t-shirt with a nametag that says "PETER" in large letters, and orange makeup and silly string bits smeared around my mouth, coller, and chest. Unlike my school's head coach, I still have two entire lung-fulls of air, but that air is building, compressing, to the point that its release could have dire repurcussions.
Misopogal, dressed as a pumpkin, has stayed by my side, and is watching me warily, at once ready to disapprove of whatever comes out on all of that air, and privately scared to death of it. I look at her, and the release comes:
"Fuck it."
I'm ready to throw shit at the wall and see what sticks, and apparently Rodriguez is right there with me. On the ensuing play, Michigan lines up with true freshman Cullen Christian (!) at deep safety, true freshman Terrence Talbott as the wide corner, and redshirt freshman and erstwhile receiver Cam Gordon as Bandit/nickelback. Fuck it. PSU's mite receiver immediately gets three steps on Gordon, and the mite's walk-on quarterback lays a nice one on the numbers during the enternity it takes for Christian to arrive. Fuck it. Penn State first down at the 10. Fuck it Fuck it Fuck it.
Tim grabbed the following nugget from RR's press conference after the game:
Terrence Talbott got some play at corner because the coaches were trying to see if they could find something to work.
It took three years, but we are there.
Where's the 'Paint'?
You were so loved, Don Schembechler. Why were you so loved, and I so feared?
At the beginning of this season I revisited the Decimated Defense thing again in hopes of finding hope. At the time I found small hope for the future, but not at all for this year. It included some breakdowns of our roster by position, recruiting profile, and time in the system, like so:
This year:
Last year:
I was thinking about these charts last night when J.T. Floyd  was on the ground, and I caught myself trying to explain to Misopogal that (after a night so terrible even she noticed) losing him would mean a huge dropoff to the next guy. The series discussed the attrition from transfers and graduation, but not injuries and busts, i.e. guys who just don't have what it takes to play Big Ten football. So I reworked them a bit, including positional transfers from Watson and Rogers, but then taking out the guys who either left the program, got injured, or were revealed to be upperclassmen for whom playing time would be a major liability.
Things that matter:
Guys counted in charts above (c. 5/10/2010) no longer on roster: Justin Turner, Anthony LaLota, Vladimir Emilien, Demar Dorsey, Davion Rogers, Antonio Kinard
Injuries: Mike Martin, Troy Woolfolk, Brandon Herron, Mike Williams (would probably have been a liability though)
Upperclassman Liabilities: James Rogers, Adam Patterson, Renaldo Sagesse, Greg Banks, Steve Watson, Obi Ezeh, J.B. Fitzgerald?
Things that don't matter so much:
Moved to Offense: William Campbell, Teric Jones
Moved in from Offense: Quinton Washington (except remember this was like three days ago)
Other moves since May: Carvin Johnson and Thomas Gordon to LB (Spur). Craig Roh to LB (SAM). Jake Ryan to DL (DE).
Click to enlarge.
As you can see, the troupe available for Penn State was ridiculously young.
This is a bit unfair to the senior D-Linemen, who on a better team probably wouldn't look as bad (I'm not at all sold on Greg Banks = Rondell Biggs). Rich Rod did what he could to limit the time of the senior defensive linemen, giving Black a lot of snaps at DE in place of Banks and platooning Patterson and Sagesse. But I saw these guys getting run over enough to start wondering if burning a redshirt for Talbott or Ash is a good idea; considering they're both project recruits, it's probably not.
Defensive back Sagesse/Banks/Patterson is James Rogers and...uh...yeah. Playing Cullen Christian at deep safety on a critical 1st and 10 is throwing crap against the wall, but look at the barrel: it's not like there's a lot else to throw out there:
When a true freshman whiffed on a PBU/possible pick-six on 3rd and 14, and the drive continued another 10 plays so that half the starters must rotate out, well, we're dipping into a lot of blue.
This is a really really bad defense that relies on a lot of 3-star freshmen and probably some guys who should have been 2-stars. UMass could tear us apart; why not Penn State with a walk-on quarterback?
The point is this: we already thought the defense would be bad in May. Since then, almost half of the possible defensive contributors either transferred, got injured, or proved themselves mostly useless. We aren't just the bottom of the Big Ten; without Martin, we're probably in the middle of the MAC.
How did this defense get so bad? Brian took a look at the upperclassmen this week, noting blame based off of who recruited whom. Next week, I'll try to do something similar, but more like a shoulda-woulda-coulda depth chart that puts a bit more on RR for some of the fellas who left and didn't pan out. At the moment, I'm inclined to say he shoulders a lot of the blame, but not all.
Ann Arbor Torch & Pitchfork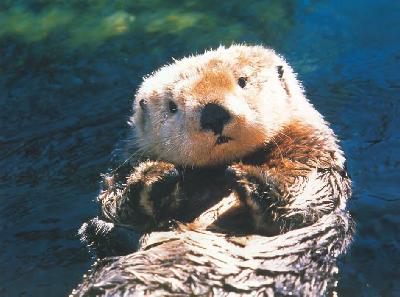 What's wrong, guy?
This morning I woke up to a bevy of new diaries, most of which were basically two paragraphs of telling everyone how done the diarists were with our current coaching staff. One guy wrote "Fire Richard Rodriguez" and then seemingly slammed his head against his keyboard for several minutes. This, I guess, could be construed as high art. If so, it's now high art on the board, along with some other emo pieces that didn't really say much more than "Hi, I'm a Michigan fan, last night sucked, when can we fire this guy?"
Unfortunately, nobody thought to write an actually useful case for firing our head coach. However, if you're way off the bandwagon, either recently or from long before, you can take solace from a number of Rich Rod supporters who now admit they (we) got little argument left. For example, in his diary I've got nothing left,"  fredsaysbtdabks admits that he's got nothing left to say to irksome bandwagonners; he's just hoping we see a postseason. Meanwhile, in his diary Searching for something to hold onto, Drakeep is searching for something to hold onto:
I've always been in the "youthy defense" and not the "coaches blow" camp. But after last night I finally had a few moments where I just went, "well maybe coaching..."
A Plea for Patience from cbuswolverine compares the experience of starting secondaries among the best and worst defenses and -- surprise! -- finds that having mostly freshmen is not a good thing. We also got some Rational Venting from jsquigg, who awoke the spirit of the Great Otter of Soul-Crushing Ennui:
As the game ended against Penn State and I drov e home from BW3 where I was watching the game, I felt surprisingly unemotional. Usually I feel strongly one way or the other, but tonight it was like I knew what was going to happen even though it seems like Michigan should have an advantage on the field given the circumstances going into the game (Penn State injuries, walk on QB, etc.). I feel like I've seen this movie played out for the last 2.5 years.
If you're waiting for the standard Henri pic, dollars to donuts he'll be there for you tomorrow. As for an official MGoTake on Michigan's coaching staff, you'll have to wait for Brian; my advice is to think long and hard about what would make us the best possible team in 2012-2022. Nobody's getting fired this week.
Can We Talk About Something Else?
Okay. Here's a quandary. Say you are tasked with shipping a football to the opposite endzone across 100 yards of dangerous late-'90s Big Ten defense. You have a bunch of big uglies up front who can get your vehicle to the 2nd level, but from there, your choice of transportation is going to have to do the rest of the carrying on his own. Do you want:
a.) a Train, or b.) a Truck?
That's the question posed by Maceo24 in his epic Who Ya Got? diary. I went with A-Train, since for three of my university year falls he was my favorite player. I don't remember Ron Dayne being all that great, but I guess that's cause I only saw him play against Michigan in 1998:
Michigan had two tailbacks, Clarence Thomas and Anthony Thomas, each rush for more than 100 yards against the nation's top-ranked rushing defense. Playing its first game against a ranked opponent, UW couldn't clinch a Rose Bowl trip as its offense featured season lows in points, first downs, rushing yards, third-down conversions and time of possession. Dayne went the wrong way on three audible calls, saying he was bothered by an ear infection and crowd noise, and was held to a season-low average of 3.3 yards a carry.
And '99:
After scoring on a 34-yard touchdown run, Dayne finished the first half with 88 yards on 14 carries. But eight more carries in the second half produced no net yards as Michigan's defense swarmed against the run and quarterback Scott Kavanagh was unable to make enough plays in the passing game.
The '99 recap also mentions Brooks Bollinger. Seriously, that guy was already around back then. Also: it's funny because Ron Dayne never beat Michigan.
This week witnessed the birth of a new MGoFeature, a video-ized version of Brian's picture pages, and the best thing in moving pictures since they told the drunk with the piano to take it to the parlor. Chris of Danger simply put the moment-by-moment analysis of these two plays right into the video. So far he's done Losing Contain, Again Again (above) and (More) Freshman DB Doom.
For facing down the horrors of videography and Youtube, and because we should all encourage him to keep it up, Chris (of Danger) is your Diarist of the Week.
We also had a great diary from Enjoy Life which took another look at The Mathlete's Master's Thesis on going for it on 4th down, but tried to apply a more practical cut-off for when to go:
This is probably better taken as "a conservative coach who doesn't want to lose his job should be calling it like this." I took his data, punched in some of my own numbers, and came up with a more specific chart, using Michigan's offensive and defensive statistics from Penn State, that we should use for the rest of the 2010 season:
Grid of Expectation
We had the usual bout of prognosticators again this week, although I fear this is the last we will see this season of one of them:
Etc.
MonuMental of The Art. The Art. The Art! made two JoePas* for last week, one with nose and one without. Compare:
* Would the plural of "JoePa" be "JoePae" under the original Latin declension?
Fantasy football fan myrtlebeachmaizenblue put together an All-Michigan fantasy football team, and a bunch of responders came back with fantasy teams from other schools. The NFL Wolverines have a vicious passing offense behind Tom Brady behind Jake Long, David Baas, and the 2000 boys, and passing to Navarre's receiver trio (plus Super Mario). We have like no safeties unless you want to count Marlin (but you knew that). RB is Hart.
♥Hart♥
The Ugly Game of the Week by stubob went with mascots this time. Lesson: don't be a rebel.
On MSU, I figured I'd put this here, though it aint a diary: if you're wondering why Rucker's suspension is not like other 2nd time offenders' DUIs, here's a nifty chart of recent DUIs and the punishments faced. Findings: don't drink and drive, but if you're going to, it's best you have a scholarship to Ohio State.
Yooper tracked Big Ten blogs, a chance for MGoBlog, captain of M-Lore, to show its quality (the very highest). The Quantcast stats are a bit wacky, else RCMB would beat us, but they're not really a blog, so I'm cueing the Yay! girl and calling it a night.
Yay!