Dear Diary Pulls the Fingerguns
gif credit to umaz1
Who's Awesome? You're awesome. /guns. Vincent Smith is finally done using Tae's account. Last night he posted an update of the work they're doing with Art Day, which you helped with. HOPE for Pahokoee's latest event brought badly needed art supplies to the local elementary. The Palm Beach Post wrote it up and has photos of Smith, Odoms and Brandin Hawthorne teaching art to 5th graders.
Rodriguez loved to raid this little muck town of rabbit chasers in hopes of making his team better; the players (Richard Ash is still on the team) all ended up platooners of one sort or another, but thanks to them and your support this unlikely connection between communities that couldn't be more different has worked out pretty well for the town too.
The hardest one is on SATURDAY, plebe! Inspired by Wyoming's field redesign, Orson has some suggestions for how other schools can capture their unique traditions on their respective playing surfaces. Dave Brandon will be happy to know that although the NCAA nixed his hashtags, the Times crossword is okay. My own submission: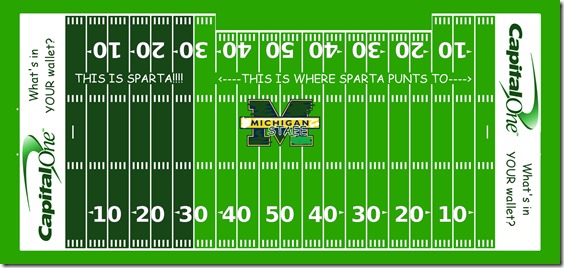 click enlargenates.
Things to note:
Tasteful corporate sponsorship by Capital One doubles as motivation for the Spartans to return to the peak of their program's glory. As part of the sponsorship package, if any fan is caught using a non-Capital One card inside the stadium they will immediately be assaulted by 20% of the football team. What's in YOUR wallet?
Special "Izzone" extends the Spartans' sideline five yards onto the playing field, not that their coaches will stay behind that line either.
The region from the goal line to the MSU 30 will be designated as "Sparta!" where the Spartan defense will never allow the football to enter. Also the Spartan offense will never leave it.
The Wolverines recently got all new logos, so Michigan State was able to dress up its midfield with Michigan's old one. Of course it took several boxes of crayons to adapt it (unfortunately all the green crayons broke so part of it's in aquamarine.)
Extensive use of Comic Sans font to increase interest from younger fans.
Hidden compartments under every 5-yard hash provide players with quick access to various blunt and sharp instruments that aid in meeting Dantonio's program mandate of "60 minutes of unnecessary roughness." Each hole also contains a copy of the Holy Bible to be used as an emergency shield against Detroit newspaper reporters in case they ask.
Inflatable dirigibles beneath the surface provide buoyancy in case Mark Hollis decides the game should be held in the middle of Lake Huron.
Modular seating in the lower bowl, and special turf genetically engineered by MSU scientists to break down Faygo, mean the stadium can easily be converted to the perfect host site for future Juggalo Gatherings.
We Just Feel Like We're Carrying Your Bags
(Title ref) You know that inflection, when Keith Jackson would take an emphasis syllable you never would have paid attention to—like the "THOM" in Anthony Thomas—and he'd build you up to it—Anthonyyyyyyyyyyy—and then that syllable would pop out like he's laughing it, like all the joy in the world just exploded from this kind old man's lips because he appreciates the existence of the thing with the name that much. WolverineHistorian wants to put together a new video of Keith Jackson quotes and is issuing a call for papers for your greatest Jackson-voiced memories.
Because there is evil in this world and it is contracted by the Big Ten, much of the WH catalog has been turned to this:
There are few things more despicable than people who claim copyrights over clear fair-use material despite having zero plans to make the same material available, just because they can out-lawyer you; here is a company who does exactly that for a living.
That Harmon?
User MichiganPhotoRod discovered the company that did all the signage in the Michigan Stadium renovation (like the above) is named Harmon Sign. The company is headquartered in Toledo and Novi but was started the year THAT Harmon arrived at Michigan. I have a call in; someone there is going to get a weird message when he gets into the office today.
Who's on the bus?
Jared of Sports Power Weekends has this year's schedule online and ready for booking for those of you looking to road trip together for an away game or make a visit to Ann Arbor an exponentially more awesome experience (e.g. there's an inside the stadium tour as part of the Notre Dame package). We're discussing making one of these (probably Michigan State) an official MGoTrip; the Notre Dame one will probably dump you into the next official MGoBlog event, and Brian and I will be stopping by the Penn State tailgate.
As an aside, we're trying to do more in-person events because all of us desperately crave opportunities to talk Michigan with people who, like, know the coordinators' names. The downside of doing it around games is there are few people less fun to be around than bloggers immediately after a loss.
Diaries:
BIG TEHNNNNN! It's now been a good eight years since the SEC realized "Hey, you know what 18-year-olds like more than playing for schools that have a lot of money? Having money themselves!", and the governing body for this said "Hey, you know what we can do about it? Absolutely nothing! But let's pretend we've got a handle on it anyway." The results are on the field, and in the NFL draft, to which the Big Ten sent an average Big Ten recruiting class: 22 players, highlighted by a very large center just outside the Top 25. Of course a potential first overall pick stayed in school (ours!). Anyway, UMgradMSUdad gave out points and the winners were Wisconsin, MSU, and Illinois. Michigan was 7th, our contribution of Denard and Big Will worth less on this scale than Kawaan Short.
Girls in hats. The diaries from the last two weeks read a lot like, well, diaries. Paps gave his personal account of being in Atlanta for the NC game and lingers on that one awful call. LSAClassof2000 eschewed charts and data mining (and lolcats) for reminiscing on how he became a Michigan fan and how he got in to the school—other people plopped their own stories in the comments; mine has Woodson in it. Even Blockhams was diarrific this week, being all "the Wings can't leave the Western Conference soon enough."
If you read just one of the diary-diaries, try the Kentucky Derby one. I've never done the Derby, but I always imagined it was, essentially, a sporting event. If costume for fans was a thing, well I've seen SEC football. SEC football in the 19th century more like. I read the entirety of k.o.k.Law's description and after the peculiar manner in which a slingbox crashes I ran out of frame of reference. Like imagine if you're waiting 2 hours in line to get into the stadium because of security, when a couple of cops jump up on picnic tables and announce
"Forget security – just go in!" Or dropping $50s in a cash box like you're paying cover at a bar. This part made me think my wife would wanna try it sometime:
Now, if people watching is your thing, you have to do the Derby.

Six foot eight guys dressed in full jockey uniforms, cap, silks, riding boots.

People in all sorts of horse outfits. People is suits, puking on the grass. People exhibiting all the symptoms of a closed head injury. People with "Derby Virgin" buttons taking ten minutes to make a bet at the window. The Mayor of the infield.

And so on.
…but then it's been my experience that smart, northerly Jewish girls don't react well to Westborough Baptists with megaphones. Photo: Kentucky.com.
Etc. Wallpapers by jonvalk; please lose the hash tags. Charity event for people in Columbus. The tatoo guy from Tatgate is selling off all the memorabilia from that. If this seems weird that Buckeye fans would want to memorialize that whole thing, remember they carried Tressel off the field for it last year. Denard rookie camp video.
Your Moment of Zen:
Watch, or just close your eyes and listen.