Dear Diary Needs More Words for Pain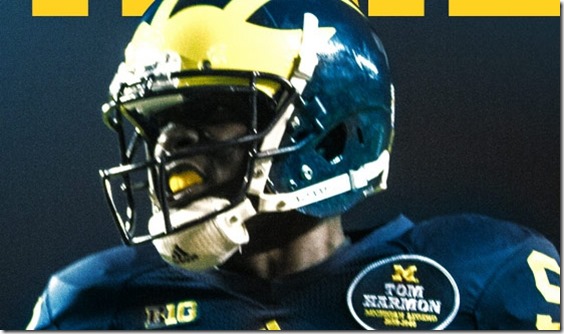 Argh on you, club_med. Yes, I am flattered that you were inspired by my annual FEI-based bowl game watchability article, and I think it's great that you added Sagarin to it. Except now I actually have to find something else to write next Tuesday. Perhaps I'll do senior haikus.
Cam Gordon
I still can't believe
They pegged you as a safety
Here is your meat: raw.
Sorry Brian. You can do the next USCHO/RPI/Standings poll update from Center Ice. And he can take over LSA's weekly stat wrap, and LSA can take Best & Worst after the bowl game from bronxblue, who can do Inside the Box Score instead of ST3, and we'll send him to cover the press conference, and that'll be how we replace Heiko.
Season of Infinite Pain, Reviewed. "The Year of Infinite Pain" (glossary) was a name Brian came up with for 2005, before he knew what 2008 or 2009 or 2010 or 2013 could be like. Now diary giant Ron Utah is using "The Season of Infinite Pain" to describe this one. Not saying things won't improve, but, you know, that's just a might set up against two rivals who are peaking in a tough division, and a national competitive environment in which a lot of teams wantonly break the rules and ours doesn't. So just in case we need some more names:
The Autumn of Infinite Pain
The Time of Infinite Pain
The Annum of Infinite Pain
The Age of Infinite Pain
The Span of Infinite Pain
The Fiscal Year of Infinite Pain
If we are actually living in the last, here's guessing I don't make it past the 2014 Notre Dame game. If Dantonio and Urban get to 10 wins apiece against us there are several synonyms for "infinite" (eternal, interminable, perpetual, everlasting, boundless, incalculable, supertemporal) that may be substituted in various combinations.
Anyway Ron's wrap starts with the defensive line, which he gave a C+, but I think he's too high on Clark's season, too hard on Washington's (he was injured), and there needs to be more analysis of the heavy (ha!) rotational guys like Henry, Beyer, Ojemudia, Wormley, Heitzman and Pipkins.
Not on the Pistons, that's where. AC1997 is tracking Michigan guys in the NBA, as well as the transfers and dudes playing abroad. I'd love for this to be a regular monthly update for each season in action (so have a hockey one, and a baseball one, and football from August (free agent movement) through the Superbowl.
Etc. A quick statistical preview of Stanford, whom Michigan must beat lest they end the nonconference season without a signature win.
[Jump for Best of the Board and zen.]
Best of the Board
Considering he may just be Michigan's best returning starter on the OL, Glasgow probably deserves to keep his scholarship from here.
COUNTIN' THINGS
AVPBCI wanted to know if Enwere and McDowell would close the class if both committed (figuring there's 4-ish spots left). First a check on the numbers:
+15 Recruits: Bunting, Bushell-Beatty, Canteen, Cole, Drake, Ferns, Furbush, Marshall, Mone, Peppers, Speight, Wangler, Watson, Ways, Winovich.
-13 Graduating: Fitz, Gallon, Jackson, Reynolds, Dileo, Schofield, Lewan, Black, QWash, both Gordons, Avery, Gibbons
-2 Banked (walk-ons who earned scholarships this year, likely to again): Kerridge, G. Glasgow.
-2 Possible non-renewed fifths: Paskorz, Ash. However Pipkins is likely to lose most of spring and fall to his injury so Ash may be important. Meanwhile Paskorz played at TE a bunch this year and Michigan is only bringing in Bunting, with Khalil Hill coming off his redshirt. Note: Furman was starting at times this year so I doubt the coaches give him the handshake.
-4 Expected attrition. It's rude to name names so we are not going to do that.
So max they can take up to six more guys from here, but that means no scholarships for two expected starters and two fewer seniors at positions with depth problems. You can tap those things for a late major recruit or to fix a hole that pops up. They won't use them to use them.
CRUTIN' THINGS
Coach Brown spoke to Josh Rosen, that California QB that reminds everyone of that other California QB we had. Rosen last summer said the cold weather makes Ann Arbor a non-starter, but now he may visit and that means there's hope. Coach also clarified some things about the dead period that just started.
One thing I'd like to add: if you're wondering why it seems Michigan recruits are all being fed a big load of horse-hockey this week (as opposed to another time) from rivals, it's because with the upcoming dead period it's tougher for the coaches to clear that sort of stuff up. Strategy, yo.
CRUMBLY THINGS
Now you can tell the difference between Assembly Halls. One is Assembly Hall, the other is now Skoljdt Assembly Hall. Or Skodjt. Or Skjoltd.
(close enough)
S.S. Assembly Hall? Sassembly Hall? Nailed it.
CRUSTY THINGS
Urban eating pizza photo = photoshopportunity.
#EATING THINGS
Word from Vincent Smith and Tae Odoms with an update on the EATING project many of you contributed to.
Your Moment of Zen:
Bummed about losing the commitment of one 5-star? Have some Jabrill Peppers senior highlights.
And the hudl one is even better!