Dear Diary Hands Over the Badge
Second photo courtesy of MGoBlue.com
Dear Diary,
Someone (*cough* Penn State) once said that Michigan fans act as if our team is playing only itself, i.e we attribute all good things to great Michigan play, all bad things to bad Michigan play; Good luck = return to the mean; Bad luck = somebody on Mount Olympus with a bug up his ass.
Well, today is not that day.
Throughout Saturday, I kept envisioning 3rd-and-7 Denard side-arms or Tate scrambly moxie-ducks turning into the Pick-Six that finally put the Boilermakers ahead. At no point however, even with the worst Michigan defense of my lifetime on the field, did I think our 4-point lead was actually in danger from Purdue's offense, especially after Hope got the silly idea that he should try passing the ball.
I am hereby opening up the MGoWarehouse and donating all of our leftover, unused boxes of
patches to the good people in Black and Gold who managed to depart Ross-Ade Stadium after 3:30 p.m. yesterday without kicking a cat. Don't worry about stocks running low: there's about 90,000 left from the people who walked out of a one-score 2008 Michigan-Northwestern knowing the combination of a sleet monsoon and a mediocre Big Ten defense was too much for an offense made of broken down car parts, duct tape, and the guy in the front row eating fat free pretzels. It happens.
This was 2008 all over again, except it was happening to someone else. At least Danny Hope kind of deserves it.
As for our offense, I'll abide by ruling of the UFRs but my take on the game was that the containment of Rich Rod's Traveling Flag Football Stars and Spread Kings (for lack of a better barnstorming nickname) was about 10 percent Denard's increasingly worrisome accuracy issues (diary by papabear16), 45 percent whatever pissed off Poseidon, and 45 percent Ryan Kerrigan = Brandon Graham only maybe better at football.
Nuclear Disarmament Poll
My personal meme for Jonas Mouton has been to compare him to some sort of devastating yet unstable goblin weapon that is capable of causing unfair levels of damage to your opponent, but so long as he is on your side there is an almost equally likely chance that he will explode spectacularly on friendly targets. In video games and the like I have generally avoided such weapons, then become enraged when they're used against me to effectiveness.
After seeing Mark Moundros trying to fill Mouton's spot for one game – a game by the way that featured the statistically best defensive performance of the year – I'm ready to go back to Weapon X. The UFR will know for sure, but the supposedly stable Moundros didn't really differentiate himself that much from Obi Ezeh on live watch. I'm interested to know what you folks think. Poll time:
Public Service Announcements
Before moving on to the others, a couple of abuses of power public service announcements:
Last year I was very proud to see the visible level of MGoInvolvement in this annual charity event. Basically we go to two Detroit homeless shelters on Saturday, Dec. 4, and throw a Christmas party for the kids while the parents shop for gifts among donated items. We need volunteers and gift donations, and specifically I am casting about for a functional photo printer and a place that makes bagels who would like to donate bagels for 200 people, maybe plus cream cheese but I won't press that. One thing you can do is buy a gift on Amazon (which gives Brian credit) and have it sent to one of the parties.
History majors, remember when you were spending 90 percent of your life reading coursepacks and deleting e-mails from Kathy Evaldson?
Kathy is still there, and is currently trying to get a good design locked down so new History students can walk around in cool t-shirts. Current plans are to have them available for alums/current students on a specific time and day because they really don't have the time to get into shipping and selling online. The ones they are currently considering are pathetic, but Kathy has given MGoBloggers a shot at coming up with better. Get something to Kathy by November 17 to have your design put in.
Recruiting Fans: I….I Didn't Know.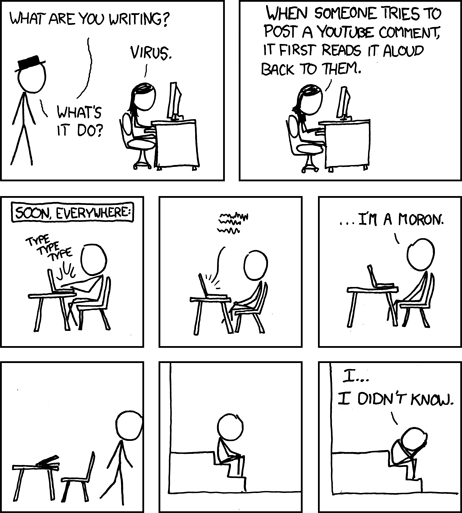 xkcd.
Saginaw native and Tennessee commit DeAnthony Arnett is taking his talents out of Michigan, but not before giving the closest followers of his recruitment the Randall Monroe treatment. The four-star receiver spent his commitment eve posting twitvids of him committing to all of the following:
USC
Michigan
Central Michigan
Tennessee
Slippery Rock
The University of Michigan State
University of Cal
The kicker: on the last video DeAnthony unveils what I'm pretty sure is, verbatim, the script for the entire production, which was taken directly from Internet message boards:
To everyone who filled threads on this site and elsewhere with responses to the effect of "Arnett's an attention whore," I think you're wrong: he's just clever and has an ironic sense of humor. In fact, just to spite you all, and because this is bar none the best mockery I've seen yet of the Internet's sordid obsession with college football recruiting (in which I'm a participant), I'm naming DeAnthony the Diarist of the Week.
What, like the MGoDiarists didn't have anything good this week?
Oh, they did…
Things Strategic/Tactical/Fundamental
If wasn't being a dick and giving the award to a future Tennessee wide receiver, it would have gone to maizedandconfused for his Must-Read analysis on tackling over UConn, ND, MSU, and Iowa:
A few notes from the individual analysis:

Kovacs is by far our best tackler, with Mouton, Johnson and surprisingly Gordon #15 as the 2,3,4 respectively. 
Of the guys on this list, the biggest surprise was Martin, however I think it is important to remember that this tackling eff. calculation puts weight on total tackles made, and Martin gets doubled. A lot. (in review of my stats, Martin only missed 3 tackles total, with 2 by bad form)
In the two games Demens played, he was an absolute tackling machine.
Ezeh really cannot tackle.
Of course tackling doesn't do any good if the opponent has an eligible receiver on your 1-yard line and your nearest defender is in the Delta Quadrant.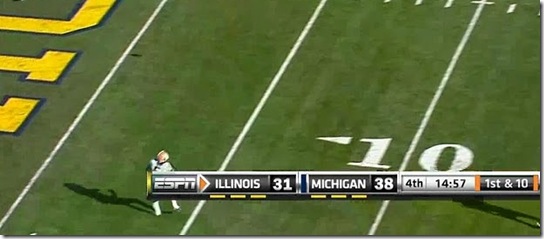 I claim this great expanse in the name of Lincoln
Hey, remember when RB wheel routes were hand-wavingly open against us and stuff? Well dnak438 wasn't about to wait for Brian or other Brian or Not a Girl Named Brian to picture-page the thing and took the initiative…
Avery, meanwhile, has taken the outside receiver into the center of the field.  T. Gordon doesn't stay with LeShoure, presumably because he sees Pollard in the flat. The result is that LeShoure is wide open.
It's a two-for-one PP, as both the original and the just-as-awful sequel make it in:
Same mistake as Wheel of Doom #1: Avery (red arrow) is following the inside receiver who is running a post, leaving vast amounts of green behind him. Mouton is on the 13 yard line, stopping the in route of the outside receiver.
For the record, the lady with the shrill voice in my section who finds things "UNACCEPTABLE" found both of these plays "UNACCEPTABLE." Shrill Lady is angry, Mr. Robinson; what are you going to do about it?
And because we can't get enough of Picture Pages around here, Chris of Dangerous Danger Logic that is Dangerful (We're from Danger!) has obliged us with two more Moving Picture Pages this week, one on the Snag Package, and another on Michigan's adjustment to Illinois blitzing behind the optioned DE.
While we're on tactics, Blue_n_Aww takes a look at whether Michigan should have gone for two points after scoring in the 2nd overtime:
I did a bit of research and found a study that showed that the team that starts on defense wins about 52.25% of the time in the third overtime and later. You can find the study here. And, looking at M's kicking statistics I've found that the team is 46/47 on extra point attempts, 98%. I used that for our success rate in this spot. So when we kick the extra point we'll win .4775*.98= .468. So if we can convert the 2pt conversion 47% of the time, we should go for 2.
papabear16, as linked above, discussed Denard's mechanical issues and how fixing those might make him a Heisman candidate again next year.
We also get a collection of scrape and contain plays for discussion from tasnyder01, who, diary-wise, is still pretty raw, but he's starting to use the WYSIWYG. Campbellian patience is urged.
Things Statistical
Wow did things get stat-y this week. In chart form:
Grid of Expectation
Etc.
This epic diary from Billy Shears was front-paged because the guy who owns this blog is the kind of person who will constantly foist The Smiths on his friends because he has seen Morrissey's hidden genius and believes the rest of us will be able to listen to that crap and pick out the ideas that sparked alt rock and post punk while ignoring the bleeding of ears. Also: it really captures the feel of this season (right down to the part where you're squinting and trying imagine how these concepts will coalesce into a National Championship season eventually).
Those who have been enjoying monuMental's weekly Windows backgrounds will delight to see how one of these artistic masterpieces comes together:
bklein09 makes the case for Denard to win the Heisman this year, and a statistical glance like this does make a hell of a case. But the picks, man. The picks.