Dear Diary is Getting Better All the Time
Dear Diary,
I used to be mad at my school. The defensive play was not cool. But I can't complain.
Sports fans and pundits often make the mistake of treating the last contest as too exemplary of the current state of things. Michigan's offense isn't so good to typically put up 500 yards on an okay Big Ten defense by halftime. Maybe its defensive mean isn't giving up 65 points after three overtimes. We probably won't give up five turnovers, or leave receivers on our 1 yard line with acreage of openness like -- what was it, two, three times? -- in every game.
But I will say that yesterday's 67-65 triple-overtime victory over Illinois is Michigan 2010 in extremis: the defense isn't going to stop anybody; kickers will miss; and with Tate or Denard, our offense won't stop unless it stops itself.
Sgt. Barwis's Lonely Harts* Club Band
White Boy, if you're out there, GET HER BACK TO WORK! You're our only hope.
4th quarter, man! Remember when not too long ago we were rooting for a team that routinely struggled to hold a two-score lead in the 4th quarter**? If it's possible to overstate the transition from Massey-Eat-Pizza to Eeeeee Barwis!, surely this blog will get there without me, but how happy were you, when the rounds of this game starting piling up like a Rocky Balboa fight, that we were the guys with the wolf-man's conditioning program?
This is a Rich Rodriguez team: more deserving of admiration than awe. It's both by design, and a design flaw, because Justin Turner giving 80 percent is probably better than Ray Vinopal's 110% effort, and the going theory is that we don't have Turner because 80 percent of anything doesn't get to play for Michigan these days. It's inspirational, and maddening, and really young, and it apparently can beat an average Big Ten team 67-65 in triple overtime.
I don't need a reason to root for Michigan, but I like to have one. I rooted for Lloyd because a man who could coach football and speak intelligently about Emerson was unique and good. Rich Rodriguez's team earned their playing time not just be being better than the other guys, but trying better. They are the ones who went through Barwis hell. They are the ones who stayed.
-------------------------
*   Cause they've all got HART, get it?
**  and when 7-5 was a "Year of Infinite Pain?"
-------------------------
Beating Illinois 67-65 isn't an end, unless it is made so. We have a sophomore offense and a freshman defense, and regardless of what traspired yesterday or in the next month, we have very good reason to think we'll be better. Let me show why...
Do You Need Anybody?
This comes from a conversation this week in response to an excellent diary by I Blue Myself about the huge leap Michigan is expected to take next year, simply by returning most of what's already a very good offense, and the defensive starters being more than a few months from senior prom.
Allow myself to quote... myself:
Would you trade Schilling, Webb, Dorrestein, Mouton, Banks, and the backup NTs and MLBs for another year of experience for Denard/Tate, the entire RB corps., Koger, the entire receiving corps., the other three offensive linemen plus all of their young backups? Maybe.

Would you trade them for that plus a magic wand that gets Jibreel Black and Craig Roh 40 lbs. heavier, puts another year under (and within) the belts of the young and hyped linebackers, transforms freshman DBs into sophomore corners, and transforms James Rogers into Troy Woolfolk. Um, yes please.
This got me thinking about when the last time we expected such a leap. I know this place likes charts, so I made a big one (er...three) for other recent annual transitions. What it does is try to put a value of performance that Michigan attained from each position in the years 2006 to '10, and project that of next year.
The positions are weighted, so like out of 56 "points" of performance that the offense can attain, 8 are attributable by the quarterback, 6 by the running backs, 5 each for linemen, etc. A 100-percent score for any given position is what you would expect from a well-scouted 4-star upperclassman. Ryan Van Bergen is a 100-percent positional fulfillment. The thinking goes that a team getting RVB production at every spot is the kind that can beat any team in the country.
For guys like Brandon Graham '09, there's an extra point awarded beyond the positional weight. A team full of these guys would not only be able to beat any team, but would be favored to do so. But that's not our expectation, and I'm trying to create an expecation percentage. Think of it as the chance that a given team will be an average (Illinois) Big Ten team.
The full spreadsheets are here (same link) so you can see how I rated everybody. Tabs at the bottom get you to different pages. Feel free to argue my numbers. Below are the conclusions:
|   | 2006 | 2007 | 2008 | 2009 | 2010 | 2011 |
| --- | --- | --- | --- | --- | --- | --- |
| Returning O%: | 80.36% | 62.50% | 21.43% | 73.21% | 46.43% | 91.07% |
| Returning D% | 69.64% | 48.21% | 62.50% | 33.93% | 44.64% | 73.21% |
| Offense: | 83.93% | 72.32% | 38.39% | 56.25% | 77.68% | 83.04% |
| Defense: | 96.43% | 80.36% | 67.86% | 57.14% | 42.86% | 73.21% |
| Total | 91.96% | 78.13% | 54.91% | 59.38% | 62.95% | 80.80% |
The returning numbers are the weighted percentage of returning starters by position, so if a quarterback's coming back, that's 14% of the offense returning, whereas a returning fullback is 1.7% of an offense returning.
So if nobody gets hurt or transfers or makes a major regression, etc., we can look at the 2011 team and say they will about as good as the last Lloyd team. The point is that we're set up next year for a huge year-to-year progression:
|   | '06 to'07 | '07 to '08 | '08 to '09 | '09 to '10 | '10 to '11 |
| --- | --- | --- | --- | --- | --- |
| Off. Change | -6.5 | -19 | +11 | +12 | +4 |
| Def. Change | -9 | -7 | -6 | -8 | +17 |
| Total | -15.5 | -26 | +5 | +4 | +21 |
Chart:
And Rocking Horse People Eat Marshmallow Pies
Am I fooling myself? I'm certainly worried about  it. After all, this was said by Brian:
So… yeah. Michigan's defense improves in real, non-running-in-place terms. Maybe not much. But given the schedule they should claw their way to slightly above average, just like the offense.
...in the 2009 defensive preview. That preview projected improvements in BG, Ezeh, Mouton, Steve Brown replacing Thompson, Warren getting healthy, and Woolfolk taking over FS. It expected Mike Martin as a sophomore to be about as good as Taylor as a senior, Cissoko as a sophomore to be equivalent to Morgan Trent as a sophomore, Mike Williams to be on par with Charles Stewart, and then dropoffs from Will Johnson to RVB and Tim Jamison to Herron. How did that work out?
Better than expected: RVB being okay, and Roh being a better Jamison than Herron.
About as expected: Graham Beast Mode, Brown being good at linebacker, Woolfolk at FS when he could be a free safety, Martin.
Worse than expected: Ezeh>Ezeh, Mouton>Mouton, Warren>Warren, Cissoko=Trent, M.Williams=Stewart
Nothing in that preview mentioned a walk-on playing safety, Mike Williams being worse than said walk-on, J.T. Floyd as the best cornerback option opposite Warren, or the nuclear test site that was free safety.
I ran this again, using expectations as of the previous November, to see if this overrating of the future was endemic.
Offense:
|   | 2006 | 2007 | 2008 | 2009 | 2010 | 2011 |
| --- | --- | --- | --- | --- | --- | --- |
| O-Expected | 75.00% | 84.82% | 52.68% | 63.39% | 72.32% | 83.04% |
| O-Actual | 83.93% | 72.32% | 38.39% | 56.25% | 77.68% | 83.04% |
| Diff | +10 | -14 | -16 | -8 | +6 | 0 |
Defense:
|   | 2006 | 2007 | 2008 | 2009 | 2010 | 2011 |
| --- | --- | --- | --- | --- | --- | --- |
| D-Expected | 89.29% | 75.00% | 73.21% | 69.64% | 62.50% | 73.21% |
| D-Actual | 96.43% | 80.36% | 67.86% | 57.14% | 42.86% | 73.21% |
| Diff | +8 | +6 | -6 | -14 | -22 | 0 |
Total:
|   | 2006 | 2007 | 2008 | 2009 | 2010 | 2011 |
| --- | --- | --- | --- | --- | --- | --- |
| T-Expected | 83.93% | 81.70% | 65.63% | 68.30% | 70.09% | 80.80% |
| T-Actual | 91.96% | 78.13% | 54.91% | 59.38% | 62.95% | 80.80% |
| Diff | +9 | -4 | -12 | -10 | -8 | 0 |
It is, especially the last couple of years. This is the result of all of the attrition and busts and whatnot. Each of these years we've been expecting Mouton and Ezeh to turn their respective lights on. We figured Martin would remain healthy. We figured the backfield this year would have a senior 2nd team Big Ten candidate (Woolfolk) opposite a sophomore blue chip (Turner) at corner, a 4-star sophomore (Emilien) or maybe a 5-star freshman at deep safety, and for Kovacs to be the worst, rather than the best, player in the backfield. Voila: minus-22.
Considering this exercise, I am starting to think the problem is not in our expectations for the future, but in a serious problem, particularly on the defensive side of the ball, to meet generally conservative expectations for improvement. Injuries to the defense's best two players can't be helped. Obi and Mouton should have some noticeable improvement. Your 4- and 5-star defensive backs (Cissoko, Emilien, Turner, Dorsey) should, as of mid-way through their sophomore years, be...I dunno...if not on the field, at least on the friggin' roster.
This:
has destroyed so much goodness in the world that it would take a herculean effort by incredibly talented, system-perfect, quickly trained and generally healthy offensive players coached by a football genius to make up for it. (more about that in a minute).
The point of this is to see whether we should expect such disappointments again next year, and adjust accordingly. Here's the things that I am expecting to go right:
Mike Martin returns, is healthy and an NFL-ready beast (+3)
Jibreel Black makes a sophomore jump (+1)
Roh makes a Junior jump, and is used at DE instead of LB (+2)
Two of Jones/M-Rob/Furman/Fitzgerald/Herron are as good as Mouton and Obi have been this year (hold)
Demens improves as a junior, isn't Ezeh in Sept-Oct (+2)
Gordons become sophomores (+1)
Kovacs remains Kovacs-ian (even)
Woolfolk replaces James Rogers (+4)
Floyd/random sophomore 3-star project is the soft corner instead of, like, a guy who was a high school QB this time last year (+2)
Dime and nickel backs are sophomores, exist (+2)
That's 17 improvement points, not including any surprises or freshmen playing. Most are some version of replacing a guy who has played his position for two months going to a guy who has been there a year or more. Injuries will knock that back some since we are thin all over the place. But if I even yank that down to 11, we're talking about the same improvement the offense had between 2008 and 2009.
(flip the disc for Side 2)
Man, I was mean but I'm changing my scene
As for the offense, well, it is awesome, and next year will most likely be even better. It is filled with very talented sophomores and juniors who are a perfect fit for a system run by an offensive genius.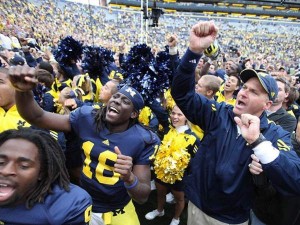 When discussing the Decimated thing, part of the Rich Rodriguez exhoneration argument has been the suggestion that RR didn't really have time to do much recruiting in the month and a half between his hire and Signing Day. Except in that time he did this:
Created (out of thin air) a rich talent pipeline into the heart of SEC country (Pahokee, man)
Built an entire depth chart at slot receiver (Odoms, Roundtree, T-Rob, Feagin)
Added the two best offensive linemen, Omameh (beat out Ohio State) and Barnum (1st on OG depth chart) to a class that already had four highly regarded recruits (O'Neill, Wermers, Mealer, and Khoury).
"Snake Oiled" last-minute commitments from Mike Shaw and Roy Roundtree, now our best running back and receiver, respectively, away from conference rivals Penn State and Purdue.
Chased the No. 1 recruit in the country (Terrelle Pryor) down to the wire.
Added Taylor Hill (transferred almost immediately) and J.T. Floyd (not a great player, but a great teammate and certainly an important part of this current team) to the defensive class.
Kept almost all of Lloyd's recruits (anyone shedding a tear for Weinke?) from changing their commitments.
Not to mention helping Michigan come out with its best offensive performance all year in the Capital One Bowl, [Edit: I can't substantiate this] building his staff, and helping unheralded Lloyd recruit Elliot Mealer and his family through a devastating and tragic car accident which, without RR's intervention at that time, might have claimed another victim.
So, no, it's not that Rich Rod didn't have enough time to recruit defensive players in 2008; it's that his priority was the offense, which was in immediate and desperate peril. Other than landing a 4-year quarterback, he did a damn fine job of it too.
My point is this: our offense is as good as our defense is bad, and Rich Rod is as responsible for the first as he is for the second. Indications are strong that next year will be significantly better, and also a better indication of what a true Rich Rod Era will be like.
See the People Standing There
Who Disagree and Never Win
One thing you can say about the Michigan fanbase is that a devastating loss is always good for a lot of written material, and since the Toledo loss in '08, this of course comes with a lot of coach firing speak. The official Rich Rodriguez re-election campaign doesn't really begin in earnest until next season, but we've got punditry and opinion polls already so what the hell...
The Anti-ROD camp (in order of argument strength):
M16 Makes the argument that our offense is ridiculously good thanks to our current head coach, except when he looks at the numbers, the offense really isn't all we're making it out to be:
Points per game: 20th
Time of Possession: 92nd
Third Down Conversions: 61st
Red Zone Efficiency: 51st

These statistics were not cherry-picked from a group of low ranking stats. Instead, I chose four random stats that I feel are extremely important in terms of offensive performance. In light of these statistics, it is clear that our offense is not some unstoppable force. It is good. But it isn't the "we score like our hair is on fire every time we touch the ball" machine that some on this board make it out to be. Not even close.
I was gearing up to debate M16 based on "just gotta wait, man -- the offense is all sophomores" but then against Illinois our offense looked a hell of a lot like an unstoppable force that scores like our hair is on fire every time we touch the ball (except when we turn it over). Also: no kicker (hence FG attempts = empty red zone trips). His Point 2 asks rhetorically why should RR be able to build a competent defense when he inherited one then ran it into the ground? To this, I have no answer except "maybe he can but we need to get him a real coordinator who either runs a 3-3-5, or has position staff who run his system."
cm2010: Lives in Cornhusker Country, and though he makes no claim as to RR's job, he makes some eery comparisons between Bill Callahan and Rodriguez.
Both programs clearly improved offensively from year to year, delivering on their promise to improve offensively. However, for both the other side of the ball was a different story. Here are the points allowed per game (excluding 1AA opponents) for both programs:

Bill Callahan                                                   Rich Rodriguez

2004: 28.1 ppg                                                2008: 28.9 ppg

2005: 22.3 ppg                                                2009: 29.45 ppg

2006: 19.2 ppg                                                2010 (through PSU): 29 ppg

2007: 37.9 ppg                                                2011: ?
Steve in PA: Is "done supporting" Rich Rod, but not at firing stage. He says my Decimated Defense series is dead, which like that's just your opinion, man. But we'll come back to that, because the point Steve actually makes is about situational statistics and how they have been noticeably depreciating over time, something which he attributes to coaching quality:
Some aspect of this defense would have to improve, right? I mean Lloyd left RR an empty cupboard and he's had time to bring in his recruits and a coordinator that fits his scheme. How are they gashing this defense? Is it run or is it pass?
As to DD interpretation, I wrote him a long reply, then I wrote a long e-mail exchange with jamiemac that basically said the same things but a little better, so here's that (cleaned up from iPhone typos):
DD did what it was supposed to at the time, which was to provide a one-line answer for M fans asked why Michigan's defense sucks. It kind of became a one-word answer to why Rich Rod isn't at fault because MGoBloggers are the fanbase's main proponents of Rodriguez, but that was never its intention.
Note: I didn't copyedit this one like I do the others (despite some overblown warnings of grammar problems at top) because I thought that probably wouldn't be appropriate for me to edit someone who was being critical of my articles. The thing is [sic].
superstringer: There's some platitudes about Michigan not being tough enough for the Big Ten [flinches] but other than that this lurker-turned-poster makes a perception-is-reality case that the bad press under RR evaporates with a good hire, and more importantly, Jim Harbaugh is momentarily poachable -- which he might not be once USC gets sick of Kiffin-ing itself. Harbaugh at Michigan could reunite the fanbase, would get a bunch of media love, and would probably start with a good season because RR has a ton of talented freshmen and sophomores who are only bad because they're freshmen and sophomores.
I guess if you're sure that Harbaugh can win in '11 with RR's players, uphold our program's standards, and build something just as well as RR, a perception case makes some sense in a Siuan Sanche was good but it's worth breaking the Tower to get Egwene Al'Vere kind of way.*
victorsandbest: A comparison between Nebraska in Year One under Bo Pelini and Rich Rod, who started that same year. Like Michigan, Nebraska was losing a lot of senior starters.
In 2007 Bill Callahan's team went 5-7; in 2008 Bo Pelini went 9-4. I don't know if I'm ready for a change at HC, but all the transition will hamper us/ we can't improve talk has to stop. I know that we have A LOT of underclassmen in the secondary and Nebraska didn't, but those same upperclassmen were terrible for Nebraska then vastly improved the next year.
I Blue Myself: Similar thing, comparing corn state coaches who have had success to Rich Rod, except this time it's Barry Alvarez at Wisconsin and Kirk Ferentz at Iowa. Both needed to get to Year Four before their programs were really something, but without that huge dropoff at the start.
CRex: Not happy. He makes a good point about other Big Ten coaches and their records over the first three seasons at their respective programs. Then he goes and ruins it with ranting about things that the front page has already dismembered (like why he shouldn't have run a Pro-Style offense in '08, or how Threet =/= Navarre because Navarre could throw a screen pass.
So don't vote for Rich Rod because the defensive economy is still in shambles even though he's had three years to fix it, and he's soft and gives us a bad reputation around other 'nations,' and he's like all of those other corn state coaches, but not the good ones.
-------------------------
* No, I'm not all that comfortable with the comparisons between what I'm reading now and what Brian is probably reading right now, but FTR I've got DFW's essay collection up next in the queue so don't give me any bloody flaming fish guts.
-------------------------
The Pro-Rich camp:
Well, there's me (have you been reading?), most of the mods, and of course Brian, so when the Mainstream MGoBloggers are already making the case for this camp, there hasn't been a real need for pro Rich Rod punditry. But there's some...
Communist Football: Of course the champion of the proletariat would be on our side, because all he likes is offense, lots and lots and lots and lots and lots of offense. The commy took a break from Denard Watch and discovered that among Big Ten coaches in ever, Rich Rodriguez is heading towards a few offensive records himself. Then he reminds us that almost this whole record-breaking offense returns next year, longer of breath, and one year further from DEATH.
heckdchi: Does a DD-like rundown of the current defensive depth chart and explains where a lot of the suck is probably coming from:
Nobody is happy with these results. Few people want to hear or have the patience to continue to hear, "its early," "they're young," "give him time."  But this is simply the truth of the situation at this time.
ToughD: Has a short, post-Illinois read that shows that the defense is apparently adjusting at halftime, because teams aren't scoring on us as much then. Is this an argument for ...GERG? ToughD doesn't draw conclusions.
The only two with really appreciable differences in scoring, however, are Penn State, which did the Grouchy Old Big Ten Coach thing where he gets a lead and then puts it in neutral until the opponent looks mildly threatening; and Illinois, which the only reason they scored less in the 2nd half was because we didn't turn the ball over three times in a row in the 2nd half. Plus, in the first half they had a receiver hand-wavingly open at our 1 yard line and no pressure on the quarterback; in the 2nd...a receiver hand-wavingly open at our 1 yard line. In overtime...yeah this theory doesn't pass the eye test.
Where do the Voters Stand?
Well, actually, the major polling sites don't really track college football fanbases and their feelings on coa.....hold the phone....well wouldn't ya know it but the_white_tiger has a poll in the field. If the election were held today:
Questions #1-3: Should Rich Rodriguez be retained after the season? (Answers sorted by final records given in each question). 

| Response: | 7-5 | 6-6 | 5-7 |
| --- | --- | --- | --- |
| Yes | 81% | 57% | 23% |
| No | 8% | 24% | 53% |
| I'm not sure | 11% | 19% | 24% |
He has been keeping this thing going, and was front-paged twice this week for usefulness. We'll keep an eye on this, and it's not really scientific, but in the most important election this week, the_white_tiger, by one electoral vote (mine), is your Diarist of the Week.
Fun is the One Thing That Money Can't Buy
You meet a hideous creature in the woods of Indiana. It looks
like Wilford Brimley and accuses you of cheating...
It was a good week in MGoHumor, which big extra thank you's to these guys because I ended up not cutting anything after Penn State.
The road of life has many options, some which lead you to Pasadena, others to wherever they're hiding John L. Smith these days. In fact, you might even say it's kind of like an RPG. So here's one, brought to you by bronxblue (of the Coast), that all the kids will be playing until Michigan is a Big Ten co-champ playing on New Years Day:
With the night still young, you have a couple of options.  If you…

A)  Give in to your growing ennui and curl up in the fetal position on the couch and watch reruns of Say Yes to the Dress with your wife/girlfriend, GOTO ENNUI.

B)  Rage against the world by grabbing all of the alcohol from your refrigerator, including that novelty six-pack of Thanksgiving-style beer your uncle gave you in 2008, and dump it all into a bucket and chug away, GOTO BLINDER.

C)  Fire up the laptop, jump on mgoblog.com, and go through every new Board and Diary post and blanket agree/disagree with the sentiment, GOTO ADDICT.
The horror that was Penn State was recapped again by bronxblue in -- what else -- horror movie posters.
Michigan entered Happy Valley the day before with a mission: to exorcise last year's and win that all-important 6th game and become bowl eligible after two straight losing seasons.
jajaja23 found yet another Google Wave chat between our coaches, this time concerning the results of the NCAA investigation into Michigan's investigation into the Free Press''s investigation into Michigan's practices.
 HaRRd Edge:  "I'unno. WWDBD?"

*TortoiseAndTheHair has entered the chat*

 ADBrandon: 

"Good morning gentleman. Rod, I'm glad you're continuing to live by the mantra we discussed."

*Rosenberg4AD would like to enter the chat*
*Rosenberg4AD has been denied entrance to the chat*

 TortoiseAndTheHair:

 "Holy crap. It's Thursday. Why didn't anybody tell me? Did the feller with the amazing hair win?"

 TortoiseAndTheHair: "

Hair like this:

"

 YouDontKnowJACKson:

"That hair is more amazing that of a baby seal born in the divine glow of purity swathed in light.
And finally, MaizeAndBlueWahoo snuck into the Detroit Newsapers office and uncovered the next great expose of the Detroit Free Press, where Rosenberg alleges Michigan has been commiting clear NCAA rules violations like starting Taylor Lewan a half-second early on occasional offensive plays.
Messrs. K and H. Assure the Public
Their Production Will Be Second to None
It's time for the Grid of Expectation. Note: apologies for leaving out Brian on the last one. FWIW he was wrong [:(]. Here's some more people who were wrong but with a different parentheses [:)]...
Grid of Expectation:
When You've Seen Beyond Yourself
People did math, and as usual, the MGoCommunity MGo-Ate it MGo-Up.
The most useful is a short but packed treatise on tackling technique, where maizedandconfused went through every tackle attempt by Michigan during the Iowa and MSU games. Findings:
Upon watching again, specifically focusing on tackling, the difference between our D and a Big Ten D is that ours seems to lack that killer instict, getting the ballcarrier to the ground regardless.
Blue_n_Aww showed that Michigan would have been smart to onside kick after the 15-yard facemask penalty, so long as we believed there to be a 25 percent chance of getting the ball.
Hypothesis: A normal kickoff will result in the opponent starting, on average, about the 25 yard line. Because we got to kick from the 45 rather than the 30, Penn State's expected starting field position from a normal kickoff (touchback) would be only about 5 yards worse. However, an onside kick from the 45 would probably result in PSU's ball at about the 50. Or we get it back, and the chances of us getting it back are actually greater than the increase Penn State gets from 25 free yards.
A lot of MGoReaders are calling for some onside kicking. In this situation, I think Penn State might have been looking for it, but even so, what are the chances do you think that 25 yards will make a difference to our defense? In general, I'd love to see us onside kicking once per game, especially against Wisconsin and Ohio State, because the chance of getting the ball back without their offenses scoring is slim. Then again, our kickers can't even kick field goals, and our kickoff team can't stop a return before it gets to the 40, and now we want them spending practice time on onside kicking? Man, so many holes.
The Mathlete gave us a post-Penn State wrap-up minus pitchforks. Things went south:
Meanwhile, tf explained why those of him who are saying the offense doesn't seem to be all that good are doing so because we go on long stretches of not scoring, turning it over, etc., when it matters, and then getting two or three Tate touchdowns when the game's well out of reach.
The data (courtesy of ncaa.org) showed that Michigan doesn't score TDs as regularly as the heavyweights like Nevada, TCU, Boise State, and Oregon (all over 50%), but at a 42.4% TD rate, Michigan did rank 12th among the top 20. With 13% of UM drives ending in turnovers, they were pretty much middle of the pack (and ahead of Oregon -- the gold standard in my book -- at 13.3%), and having 4.3% of their drives end in failed fourth down conversions was again more or less middle of the pack.
To this I say go back and watch Michigan's 2003 offense, which was our last really good offense before this year, and remember all the times you'd forgotten when Michigan would try and miss deep on 1st down, run Perry for 2 yards, then have Navarre wing one to tacopants. Even great offenses don't score all the time. The fourth downs are because we can't kick field goals, and giving the ball to their offense is begging to be scored on, and we have, of late, been losing in the 4th quarter, so we take bigger 4th down risks.
On the other hand, the turnovers, man. You're right about the turnovers.
The Dangerous Chris Danger of Dangerous Logic (We're from Danger!) took my advice and kept up the fantastic Moving Picture Pages thing. By the way, I got his name wrong last week, because long names get cut off. His real name is Chris of Dangerous Logic. You are allowed to call him anything that uses "Chris" and "Danger."
Picture pages that moved this week:
Danger: people in Michigan costume playing bad defense. Not suitable for children and freshman defensive backs.
Birthday Greetings Bottle of Wine
A couple of people need shout-outs this week:
The band! The band! The BAND! Epic Half Time Show. Request: next year do the same exact thing, except do it to DARK SIDE OF THE MOON! Remember, start on the third lion roar.*
jamiemac, Seth (other other Seth, not other Seth), and The Mathlete, but especially jamiemac: thanks for the whiskey and cookies and uh...did my friends change the kid's diaper in your vehicle or were they messing with me?
The Michigan lady fan who turned 90 on Saturday. First person I've met that when I mention "the National Championship Season," to respond "Which one?" which, we need to change this.
The men and women of the U.S. Armed Services. No, I'm not a Marine, was never in the Army, never served in the Navy, and am not a member of the Coast Guard; I was just really really stiff and didn't want to sit down (Made me look a little like a military man.) Thank you, by the way, for, you know, doing what you do.
-------------------------
* If you haven't tried this, they do line up, but midway through the movie you realize the album is over and you're just sitting on your couch eating Doritos and watching The Wizard of Oz.
-------------------------
Nothing to Say But What a Day
The schedule wallpaper for this week was:
Good to have MonuMental back in business.
Hope you all enjoyed the show.
...
...
...
......
.......
.........
.........................!
DONG!
(never could be any other way).