Dear Diary Fought in the Big One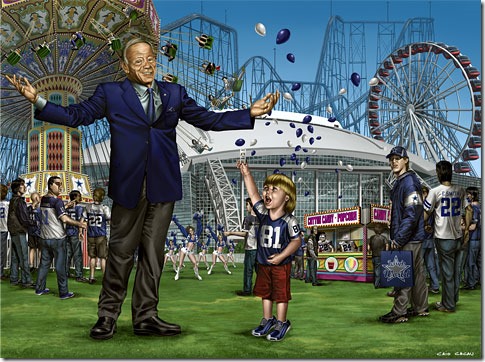 (pic via Dawg Day Afternoon; need help finding the artist)
This week I saw a photo of Jerryworld with its floor removed in preparation for 2013 tourney games, and I was reminded of the horrific things that must be buried in that dirt: the blood from a terrible Indian battle, bits and pieces of Woodson's collarbone (Superbowl XLV) and Denard Robinson's shoulder dislodged by Dee Milliner, perhaps the remains of five hookers.
Among various banners this basketball team has been asked to carry, one is a flag of redemption for Michigan's other sports. Given the site and the stage, sure why not the Alabama game too? The last trip to the Dallas/Ft. Worth/Arlington parking lot from hell dismantled every shred of hope and excitement for the last year of Denard. Now another former Big Ten coach who moved South and built a pro factory of mauling blue chips could end our association with Burke. ClearEyesFullHart starts with Bill Self's Illinois teams to preview tonight's Sweet 16 matchup with Kansas.
If this trip doesn't work, there may be an opportunity in 2015.
Excelius in'dome'ine. Say hello to stopthewnba, who received a points advance so he could post another attempt to get all statistical about the "domes hurt shooting" meme. This is of course super-relevant to Michigan in Jerryworld tonight since we're very much the shootier squad. The data haven't gotten any larger, however there's knowledge gained:
In four of the past five seasons, among Sweet Sixteen teams, one of the top two teams that increase their scoring average in the tournament over their regular season average made the Final Four.  Similarly interesting is that in four of the past five seasons, one of the bottom two teams who score LESS in the tournament than their regular season average also made the Final Four:
I think I found the sampling bias in that: the further you go in the tournament the tougher defenses you will happen upon. The teams who score way above their normal rates those who "got hot" and they of course will go further, but good teams who are playing at the same level they did all year should see their scoring rate dip both due to the improved quality of defenses, and the fact that defenders are more rested thanks to all the advertising breaks. What sold this diary to me was the Excel sheet he attached, which gives me an opportunity to try out my new embedding plug-in:
That work? Sweet.
Pipkins Dominates the Michigan Drill. This was on the boards but it' the diary of the week, easy. Michael Scarn took the "Michigan Drill" I referenced last week and broke down how Ondre Pipkins did it right. The drill heavily favors the offense: a defender has to beat a blocker and contact the runner. A snippet:
As he makes contact with Bosch, Pipkins has already driven off his right foot as well, generating more power and force into Bosch.  His hands have shot inside very quickly and, as we'll see, will allow him to control Bosch.
When I watched this earlier I didn't want to over-emphasize because I thought Bosch probably true freshman'd something. He did, but Pipkins was able to use his technique mastery to take advantage of that. Read this if you want to know what Hoke is talking about when he gets defensive liney.
Goal by goal. Relive the wonderful Saturday and ultimately disheartening conclusion to hockey's last-ditch CCHA run via your last goal-by-goal analysis until probably sometime next year (hopefully MGoBlueline will start in November). Lost with the championship game was the glory of the semifinal against Miami (NTM), which itself can be a pleasant memory to keep from an otherwise unpleasant season.
You should hold a hat ceremony too! I gave The Michigan Men's Football Experience the recruiting profile treatment:
If you are participating I highly encourage you to take the opportunity to mock the recruiting system as well.
Etc. LSAClassof2000 calculated the chances of various matchups occurring in this tourney, and you can follow the charts as games get decided; Ohio State's victory last night raised the likelihood of Michigan facing them in a championship to…I can't tell but it's like 5% or something. Sweet 16 Wallpaper by jonvalk. Blockhams uses a semicolon incorrectly.
[The Best of the Board, after the jump]
NUH, UH UH UH UH UH UH!
I usually don't include the links threads because Brian covers in UV, but he missed this. This one's C-Webb during a Mavs broadcast letting everyone know who'll be in town this weekend without, you know, giving away that he ever went to college. Now that he's finally learned how to follow the Orwellian disassociation rules without sounding awkward, his time in the box is nearing its end: starting this May everyone's allowed to say what happened happened again.
For the record, I really hate any NCAA penalty that strikes records; the point of history is to be as accurate as possible and putting lines through official records or telling everyone to pretend, for example, that the Fab Five never happened just confuses statisticians and the like; anyone whose opinion might be swayed already knows what happened. What they should do instead is cap the school's coaching salaries—most places hit with actually major major violations have to go find a new coach, and if you can only offer $200k to the whole staff you won't be able to Urban Meyer or Lane Kiffin your way out of sanctions. Related: thread on Oklahoma paying $350k for Jerry Montgomery.
MICHIGAN WAS AT OKINAWA IN '45
The B-24 that is. The Yankee Air Museum is looking for someone from the 43rd Bomber Group ("Ken's Men"), 64th Squadron in dubya dubya two who can tell us why and how Michigan Stadium ended up on the nose of a Flying Boxcar. The plane's nickname was "Michigan" and the nose artist was the guy who did most o the famous nose art. MGoShoe identified a '41 program cover that might have provided inspiration. LSAClassof2000 found a newsletter for the 43rd group from c. 1994 so this search has gone on awhile. I hope they find their answer—the last non-sitting fun thing my paternal grandpa ever got to do was the Yankee Air Museum took him up in a B-17 like he flew in in the war.
More gold from this thread: Ohio nose art on a plow by LSA Aught One:
Also in obscure WWII in pop culture trivia, Beilein is related to the Niland brothers, the family the Saving Private Ryan story was (partly) based on. Beilein's maternal uncle Tom Niland, former LeMoyne coach and later one of the ADs who gave SMU the death penalty, was first cousins and of an age with the famous brothers. Warren "Skip" Muck of Band of Brothers grew up with the clan and was best friends with Fritz (the one who was brought home) and Tom. Remember that story he tells in the HBO series about swimming the Niagara river? Tom was in on that swim. Tom also fought in the 101st before founding his own little family dynasty of basketball coaches.
A bone: my maternal grandfather served as a captain with Patton and whatever the paratroopers might say their "rescue" wasn't accomplished easily. There, I got both grandpas in.
GAINING PRIORITY POINTS
Softball is finally done with the long southern tour and playing in frigid Ann Arbor. Wagner's back, and she and Dreisinga helped put a hurt on Bowling Green. Reminder: these games are a hoot to attend and softball season tickets are still the cheapest way to up your Priority Points. Speaking of those, Priority Points for football tickets and the like have been reassessed—alumni and letterwinners are the big winners. You don't get points for going to swimming, but just so you know junior Connor Jaeger just won us a national championship in the 500-yard freestyle.
OT: THINGS TO KNOW ABOUT SOCCER
Here's the most epic OT thread about Soccer ever, as superstringer submitted what would basically be front-page material if this was a U.S. soccer blog (don't give Brian any ideas). It's a discussion of the current round of World Cup qualifiers (is "quallies" a word? It sounds like something the Brits would happily contribute). Stringer put together a matrix to parse through the vast differences in schedule difficulty so far between the competitors.
I know very little about FIFA but thanks to serendipitously being scheduled during the same time I was trying out ESPN360 on my new cable-less setup, I got to watch the snowy last bit of the U.S.-Costa Rica game in Denver and knew what they were talking about in this accidentally highly educational thread regarding' Costa Rica's complaint. Please nobody tell Hinton that's why I sounded intelligent in my tweet.
ETC. The Glen Rice '89 jersey has arrived, is way more awesome than my pathetic attempt to recreate it for Halloween a few years ago (you can guess what Misopogal was). A pretty neat hype video. People take Markus Knight's S&C class.
Your Moment of Zen:
Mourn the end of THE STREAK, yes, but first there was a good part: