Dear Diary, Can You Read My Mind?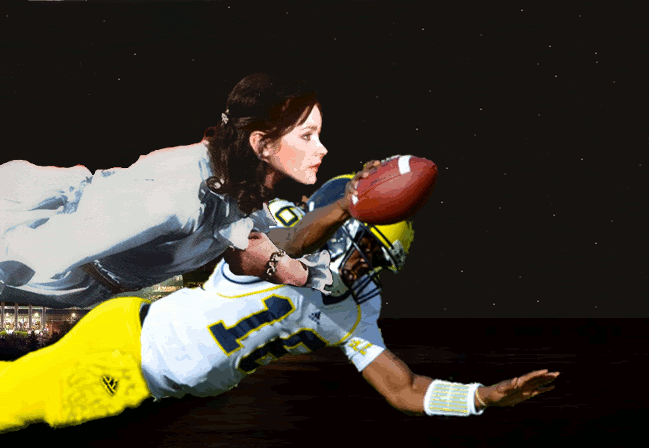 Wondering why you are all the wonderful things you are.
Don't tell Danny Hope, but there was more than one hard-G GIF animating the boards this week. The Flying Denard Photoshop thread, as cropped by blue95, was almost as fruitful as the Lewan twosie and worth your visit. Denard can be seen attacking imperial walkers, pulling Santa's sleigh, riding Falcor, and traveling via DeLorean back to 2011 to screw Tommy Rees. Drkboarder wins two internets for that last. More from the board later; first diaries.
They can be a great people, Kal-El, if they wish to be. In case you missed it among the 10/10/2012 post-a-thon, turd fuguson's graphic representation of the B1G 2013 classes is quite helpful so long as you can resist the urge to defrag it:

Why do so many people have to die for the crime of the century? The newest addition to the weeklies is a preview of the opponent's defense, Illinois being the flavor du semaine. This is death by trident, the guy I bumped for his Purdue front 7 preview last week. He followed up with the Purdue secondary after that. The Illinois one covers personnel, stats, and a lot of scheme: You'll recognize some of Ohio State's terminology on this one. He nailed the thing about Supo Sanni. He also brought up the thing about how this is another game Toussaint dominated last year, not that they're all that likely to try the same "force Denard beat us with his legs" gambit that worked so well for Purdue. Diarist of the Week, this. Other weeklies:
ST3: Inside the Box Score was quickly disabused of any notion that the Purdue game was closer than it looked. Revel.
Enjoy Life: Statistics and FEI Prediction is starting to come back to common perception, with Michigan ranked 24th overall. And here's a weird thing that shows just how far we've come: the defense is ranked ahead of the offense. Turnover Analysis shows just one forced fumble all year, which may be keeping the recovery rate depressed.
That's Clark, nice: A program. A wallpaper.
[After THE JUMP, the board produces an NFL depth chart of Wolverines, and we grieve for some heavy losses to the world of sports.]
Best of the Board
WILL BE MISSED
A lot of sad news came in this week, and each guy got a tribute from the board as MGoUsers shared their memories. For each I chose one response to speak as eulogy:
Beano Cook passed away at 82. M-Dog:
Beano picked Penn State to trounce Michigan in the 1997 game at Happy Valley.  It was him, I believe, that said Michigan should just send the band because it won't make any difference. … I was at that game and Beano was broadcasting updates throughout the day from the ESPN booth outside the stadium.  After the game, a bunch of us Michigan fans went over there and taunted the hell out of him.  We sang the Victors loudly every time he tried to talk.  Finally he just gave up and pretended to be our orchestra conductor whenever we would sing. He made it up to us by telling us that he would vote us #1 the next day over FSU and Nebraska. That placated us, so from there on out when he would speak we would shout "We love you, Beano!".
Tom Coyle, a member of Bo's first recruiting class and co-captain of the 1972 team passed away at 62. tzwolverine:
Met Tommy some years back when he lived at Wamplers Lake in the Irish Hills. Spent many an evening with him at the Starlings Nest Restruant/Bar. Loved playing golf with him, he could hit the ball a mile. Prayers to him and his family
Alex Karras, Hawkeye, Lions great and guy who got to punch a horse passed
away at 77. Mgrowold:
When I was 12 years old I went to Cranbrook and back in 1971 the Detroit Lions used to practice on the same fields until their first game we did (believe it or not) … Anyways one day I twisted my ankle or something and had to go up to the locker room before practice was over. As I entered the empty locker room (or so I thought) to shower and wait for my mom to pick me up I literally got knocked over by a VERY mad Alex Karras who was swearing and shouting at me all the way out of the locker room and down to his car.  I had no clue what was going on but knew he was really pissed off at something and I was the beneficiary of his anger. I was more than a bit scared I might add.

I found out later that night he'd been cut by the Lions that day.  My guess is I was the first person he saw after he was told.
Budd Lynch, 95, the PA guy for the Red Wings, has joined the hockey gods. When Michigan fans thanked him for announcing the last minute in the period, he was one of the few to reply "you're welcome."
Chuck Pagano was diagnosed with Leukemia. Hoke ordered 50 shirts for #chuckstrong.
ALSO WILL BE MISSED
J.T. Floyd's dreds, Craig Roh's flow, Boise State's cow, Oklahoma's dignity…
SOONERS ALSO ARE ND
This was produced by a company called RomanMedia.tv, referring to the musician Roman Johnson. His taglines are "We get people excited about your company" and "We're committed to bringing engaging tactics to your business." If you are serious about engaging people to be excited about your brand commitments, what you need is your own pop music; I mean look what it's done for sex and partying! Those so far afflicted by similar artists peddling similar engaging tactics now include Indiana basketball, Purdue, Mizzou, Vanderbilt, and of course Notre Daaaaame, oheeoheeoh. Compliance:
And yet Alaska-Fairbanks has hockeybear. I don't get it.
THE ALL-WOLVERINES NFL TEAM:
Build an NFL roster of Wolverines currently in the league. It's a simple exercise, but am I really the only person who did this with like every Madden franchise?  The difference between my last Madden team and this is there are plausible safeties in Stevie Brown and Ryan Mundy. Tell me you saw that coming, 2006 me who had Jeremy LeSeur and Marlin Jackson back there! Related: Moleskyn linked to the WN article tracking Wolverines in the NFL stats.
JUST DON'T PICK SOMEONE WHO FALLS DOWN A LOT
Centers can't wear non-lineman numbers anymore, so we need somebody other than Mealer/Miller to wear All-American Gerald Ford's 48, apparently. I don't like this rule—the whole point is to make it easier for the refs to call illegal guys downfield which they never call anymore anyway (see: West Virginia's offense). Even so, there are special dispensations given out often enough and I can't see why NCAA wouldn't consider this a worthy exception—like are there hundreds of former presidents who wore numbers that would now be illegal at their schools that we can't keep track of them all? If someone (MSU) complains, tell them to call when their guy's building a presidential library. Lol.
DENARD RECORD WATCH: NOW WITH MORE CLOSERER
One way to get back on track is to wrack up 235 yards against Purdue. He needs about 72 yards per game counting a bowl; a Big Ten Championship appearance would make it all but certain.
ETC. What happens when you combine hurry-up with MANBALL? Meet every fan of college football. Thorin's Every Snap Videos unmasked.
Your Moment of Zen: