Dear Diary Already Made a List
User 'jonvalk's tribute to the seniors. Anime Novak needs moar blood. And blue hair. Gotta have blue hair.
First to anyone in Ann Arbor, I hope you're safe from the heavy stuff last night, when mother nature decided to go all Notre Dame on State Street while drafting Haylie Wagner to hail softballs upon ye. That thread also has a video of people watching a tornado from the disc golf course at Hudson Mills. I'm sure the bathroom's safe guys.
Of the century all time recently. The storm of the century is the worst segue ever into the last week's two weeks' three weeks' (sorry: vacation) discussions of all-century things that took place in the last 30 years or so. The all-times are collected by 'justingoblue', who went around the internet to collect a comprehensive list of Michigan championships in all sports. Brian's query on an MGoBlog Hall of Fame led to a diary by 'Tom from AA' with year by year nominees. And 'saveferris' took us back to the year Ferris Bueller came out (1986) to relive the Super Bowl Shuffle, Never-Nervous Purvis, and one of Bo's best teams, featuring Harbaugh and Morris and Rivers and Elliot. I've got three Diarists of the Week(s) to give out, and one goes to saveferris to encourage him to keep doing these.
The basketballs. Hoops nerdery these days seems to revolve around two questions: can I write the definitive piece on Rasheed Wallace, and three-pointers. On the second we've got you covered by ehatch who absolutely drained a Diarist of the Week(s) by parsing through available data to find out if more than 20 treys starts to negatively affect your offensive efficiency. Conclusion:
So as we go into the post season:

Cackle with knowing glee if Michigan is driving the basket
Worry if we draw a zone team that forces us to shoot a lot of 3 pointers.
There was also a temporally useful rooting guide for selection sunday 'mistersuits' deserves some credit for. OHIO, or THE University of OHIO, or whatever you know the green one, was one of the cackle with glee draws.
All the recruits.
It is a period of in-state war.
   Michigan staffers, striking from an arboreal
  hidden base, have won their first victory against
  the evil empire of Port-a-Cool defecators. During the
   battle, Rebel spies managed to steal highly rated recruits
from the heart of the Empire with enough talent to destroy
the entire Big~Ten Conference.                                                       
    Pursued by the Empire's sinister lackey, Darthtonio, King Hoke races home
    aboard his starship (hey we have to spend the budget on something), custodian
of the stolen talent that can save the Wolverines and restore freedom to the galaxy…
Let's let 'maizedandconfused' tell you what happens next. I promise no gungans or Jake Lloyd.
Michigan has locked up what's already an end game Top 5 class (Ace's conf update) almost a year before NSD. I'm at a loss for appropriate metaphors and thus devolving into a puddle of ectoplasm that relates everything to Star Wars. This is eee-cause if you put the last year in recruiting against your expectations, the only thing comparable is Memorial Day Weekend of '77. At least there's 'turd ferguson' to provide composite rankings from the sites that have bothered to even rank guys this early.
At this rate we're going to have to put up the 2014 Offer Board pretty soo…what? 'Bluestreak' already did that.
The hockeys. There's four great articles, all by the last Diarist of the Week(s), CenterIce, most linked to and discussed already by Brian in his hockey columns or bumped by me. But here they are again in case you missed them.
: A look at the line combinations and whether they're working.
: A recap of each player's performance during the regular season.
: Notre Dame Picture Pages
: A preview of that game.
The LAX. Here's 'MaizeAndBlueWahoo' with Michigan Lacrosse at the half-way point of its inaugural varsity season. He has efficiency stats. Efficiency stats? Srsly? Siri: set reminder, watch a friggin' lacrosse game already.
Etc. At first 'BlueDragon' was like "tennis?" and then he was like "tennis!!!" If you can Google things, please help The Mathlete. We will all benefit. Blockhams can't tell the difference between Ohio and OHIO; Blockhams get romantic after B1G titles, Blockhams rock the RVB flow. Silly Blockhams.
-----------------------------------------
Best of the Board
ALL THE BANNERS (ALL THE BANNERS!)
'Wolverine Devotee' is trying to redesign Crisler's banners to go with the new digs. I like the idea of offsetting Cazzie (the only retired number) and putting Sweet 16 and Elite 8 appearances on collective banners. These were emailed to Dave Brandon who promptly wrote back "NEEDS MOAR Ms!!!!"
WD also stumbled upon the '98 Big Ten championship banner that upperclassmen held over my head for matriculating after the year of money sport awesome. Since basketball was wiped from the books* the search is on for the best year ever. 'AC1997' is defining this as football/basketball, so I guess the standard is '88-'89: 9-2-1 with close shouldn't-a-been losses to #1 and #2, and won the Rose Bowl, plus the hoops NC.
Lastly in banner bannerism, some guy thinks the "Hoke Springs Eternal" banner is due for a three-sport update. If you come up with a good one the dude will abide.
YOU'RE DOING IT WRONG
The limits of my computer skills are I subscribe to the NewEgg newsletter and once installed Ubuntu: not high. But even I got this xkcd: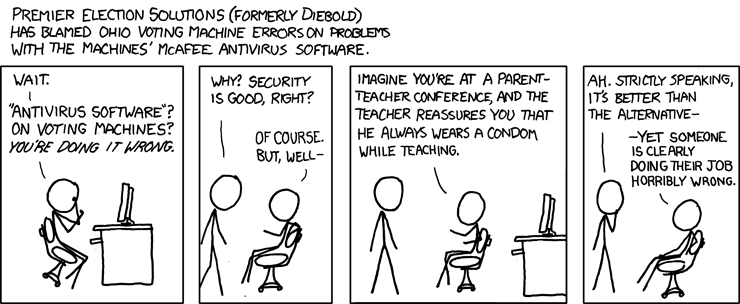 … so it's scaring the hell out of me that the people who are actually in charge of machines that everyone in the world wants to break into are all like "dude, Microsoft Security Essentials—it's free!"  Fortunately for democracy the University of Michigan is here to hack through the hack software they put in e-voting machines. I'll let 'DubbaEwwTeeEff' take it from here:
The news articles at the time reported that they had hacked the system to play "The Victors" after a vote was cast - but that was only the first sign of infiltration. They also managed to add an "OWNED" picture to the logout page, discover the authentication codes for every DC voter, and modify every ballot to be write-ins for fictional computers and robots.  (Bender beat Skynet for head of the school board.)
Several other schools were trying but were fended off by the Michigan students, proving once again that the best way to protect the sanctity of our republican system is to have Wolverines protecting the voting machines. I've been saying this a long time.
A BETTER SON OR DAUGHTER TO A BETTER SON OR DAUGHTER
Sometimes when you're on, you're copying When You're On:
That's Catholic Central with the homage to Paul's preview of 2009. HT 'Denarded'.
PAIRWISE PAIRWISE PAIRWISE AHHAHAHAHAHAH
If you're obsessive over figuring out scenarios for College Hockey Plinko Tournament 2012, or you just get perverse joy from having Michigan come up a 1 seed all the time, USCHO has the pairwise predictor up. User 'goblue7612' puts up a worst case scenario and challenges you to see if you can knock us from the 1 seed. User 'turd ferguson' could drop us as low as 6th in a world where Miami beats Bowling Green in the CCHA championship Saturday. I'm planning on being at the Joe tomorrow night so please let's not (Michigan plays BG in the semifinal at 8:00 tonight).
STILL ADDICTED TO SOFTBALL LINES
Wagner/Speierman/Driesenga: MGoBlue.com
Our ridiculous (read: awesome) pitchers are ridiculous (read: awesome):
| Player | ERA | W-L | GS | CG | SHO | IP | H | R | ER | BB | SO | OBA |
| --- | --- | --- | --- | --- | --- | --- | --- | --- | --- | --- | --- | --- |
| Haylie Wagner | 1.66 | 12-2 | 11 | 9 | 3 | 81.1 | 55 | 19 | 15 | 14 | 53 | 0.191 |
| Stephanie Speierman | 1.83 | 1-0 | 2 | 1 | 1 | 15.1 | 13 | 5 | 4 | 6 | 17 | 0.220 |
| Sara Driesenga | 2.60 | 4-5 | 11 | 3 | 1 | 62.0 | 64 | 34 | 23 | 18 | 29 | 0.261 |
I didn't update after the Oklahoma game last night but these stats are good through the 2-1 victory over Notre Dame in Game 1 of the Judi Garman Classic. (Update: they lost to Okla, but the stats are hardly different). They need the bats (including Wagner's) to give them some support. Next week the gals come home to start Big Ten play.
ETC. Check in with your football background on this thread by 'jasputan.' Sparty copped "Facepalm" guy with "Owmyoccipital" guy; he gets photoshopped. People with umich.edu accounts spent a night ignoring Reply-All email etiquette to pass around MGoMemes. Kids these days—I went to school before people respected the awesome power of reply-all. And we used PINE.
-----------------------------------------
* In light of UNC and Ohio State recently joining the ranks of teams which O'Brien is helping me remember anew, it's as good a time as any to remark again that I hate this particular form of "punishment." I get that it's shaming for the ineligible player and the program but in essence it's a group of America's best academic institutions rewriting history.
-----------------------------------------
New Weekly Feature: Your moment of zen: