Coaching Clinic Notes: Offense
The second half of Craig Ross's recap of the coaching clinic.
Borges and the Offense
Borges, unlike Mattison, obsessed over last year's tape. This makes sense since the O was pretty effective for much of the year, and he wanted to evaluate what he had (particularly on the OL) to see what changes they might need to make. He noted (in a presser) that he felt that the zone blocking from RR's tenure wasn't a lot different from the style he prefers, but then said that they wouldn't do a ton of zone. It is a part of the offense, but it sounds like it is like power was last year—a changeup. Borges has a lot more problems than Mattison even though we assume offense is going to be much better than the defense, because he actually has something that asks him to adapt.
Hoke made it clear that the "signature play" (their words, more than a couple of times) would be "power." This is often out of a 21 package [ed: 2 RB, 1 TE—usually a standard I-form] with the FB kicking out/protecting the edge and the play being run through the A gap, with the backside guard pulling through the gap. Here's what it looks like. The diagrams below were created by Borges when he was OC at Auburn and are found in Bill Mallory's (and Don Nehlen's) book Football Offenses and Plays: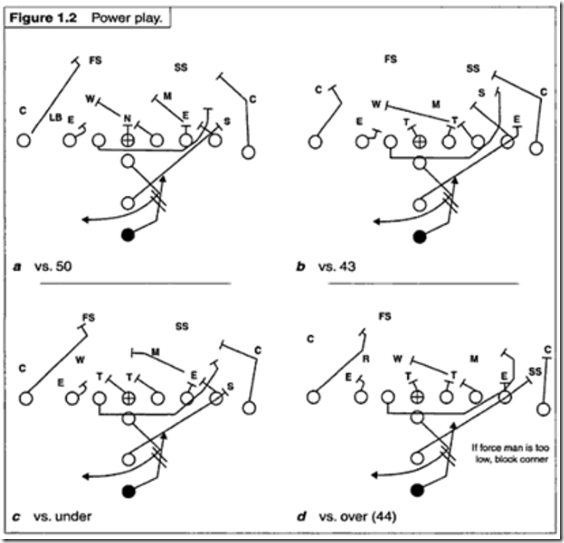 [ed: Here's an excellent Smart Football primer. Also here is another diagram. Key player is the guy just to the left of the X representing the center:
That's actually a counter play that the Steelers used for a 75-yard touchdown in a Super Bowl a few years back. It's not "A-gap"—A gap would go right next to the center.
This won't be entirely unfamiliar. Michigan pulled guys last year. This Picture Pages covers a "down G" play—like power but with the playside guard pulling outside of the TE/tackle. Here's the C and frontside guard pulling against Indiana:
Here's an actual backside G pull on a power inverted read veer pickle sandwich (or something… Rodriguez's run game forced me to figure out/invent lingo every week):
Plenty of college spread teams use power. Here's seven minutes of it:
Yes, I am slightly obsessed with this. Also whenever this topic comes up I hear EA Kirk Herbstreit's disembodied head say "he used POWER… he used POWER… he used POWER." I'll stop now since this editorial aside is turning into its own post.]
Ideally, the back is reading the WILL who will be spilling over to the playside once he determines he has no gap responsibility on his side. If the Will pursues hard the back can even cut back to the weakside of the formation. Borges has said that they won't be in 21 and 22 personnel running power 14 times a game, but Hoke had a slightly varied message.
This Spring, power for the most part sucked against the #1 D, but it is clear that this is their primary running play. They run the Wildcat in a similar fashion. That has pretty much not been very good either.
The Borges article in the above book remains vital. My guess is he is still using slice plays: the slice pass, the naked boot and the wide zone. Funk says he has run the power for 25 years (he doesn't seem that old) but he likes to run some zone also. He says, a la Landry, Bo and Lombardi, that they like to practice power more than it is used in games so that "the kids have seen everything a defense can throw at you and they are always prepared—we want to get to where they are always comfortable in blocking the play, regardless of defense." Funk also said they will "never check to power" but they might check out of it.
On a personal level, Hoke has an extremely high regard for Funk. He implied that SDSU wasn't very tough or fundamentally sound in 2009 but by 2010 Funk had created a different deal. Hoke says that Funk is the best OL coach in the country and, I have to admit, he is incredibly impressive.
At this point I don't know what to think. I thought the offense was sketchy in the Saturday scrimmage. I thought offense was sketchy in the spring game. OK, Molk didn't play a lot. Lewan didn't play at all. These are two of our top three guys on the line. In both events the O was still working on reps as much as anything else. But I didn't think either QB looked comfortable in this offense. Did the offense, really, look any better than the offense with Steve Threet in Year One of the Years of Complete Implosion? And, weren't we running against the personnel that was the worst D in History last year? Well, everything has morphed. Wasn't the D playing against a pretty damned good O from last year? Uh, yeah, except it was running a completely different system. [ed: DUCK!]
My sense/conclusion, though it is more mist than light, is that the D has truly improved. Part is experience. Part is growth by the younger guys, the natural progression. Part is Mattison and the HC's focus on defense, not offense. Part is a scheme that gets guys in the right places. My sense/conclusion is also that the offense will decline, perhaps massively. Now, it is early. But doesn't it feel like, as RR in Year One, that we are pounding a lot of square pegs into round holes? Doesn't it feel like we have taken the best weapon in college football and hamstrung him? I can't be right.
[ed:
]
Special Teams
Place kicking remains a debacle. I have watched this a lot. These guys just can't do it. If the frosh (Wile) isn't the starter this fall we are (again) in trouble. Think four downs—not that I have any problem with that on just about any place on the field. But if you ain't playing four downs from down 1—different deal. And, since no one but Pulaski High School is, well, we gotta get better here.
Hagerup, of course, isn't a problem. He should be a better punter than last year and he was competent last year. He gets great hang time and doesn't chunk them often. [Ed-M: provided whatever kept him out of the bowl is now behind him]
Punt returns: The coaches have tried a different idea re: training. Instead of hassling and bumping the returner (something I thought would have worked pretty well) the coaches are turning them around pre-punt and then forcing them to find the ball in the air, post punt. Another drill has them catching the punt with another ball tucked in one arm. Seems to be working or, at least, I didn't see Junior, Dileo or Gallon drop one. Even when being turned around or holding another ball. Better than last spring. I will predict improvement here, for whatever reason, or only because it can't continue.
KOs and returns I haven't witnessed. Or, if I did, it wasn't much and it didn't register.
Overall
As an abstraction I could not (and still don't) believe the offensive transition will go well in the short term. Now, Borges seems a very sharp guy. I have no concerns about his intelligence, experience or ability. His OL coach, Darrel Funk, is awesome: off the charts smart and personable. He seems less obsessed than Hoke about smashmouth football. He wants to be physical, but concedes that spreads are viable. He reminds me of Carr. Carr wasn't a believer in zone blocking but was willing to be convinced and DeBo (plus Alex Gibbs) were able to convince him. Funk seems confident in his ability to teach any style. I am convinced he could teach anything, also.
I have zero issue with the hiring of this group. I am impressed. They stress that they never belittle or embarrass a player. Criticisms are constructive and positive. But they are more classical football guys who have inherited a lot of spread offense pieces. In this, I don't see 2011 as much different than 2008. Lotsa round offensive pegs in square holes. In the long run, I have no doubt that Hoke will put high quality football on the field. But this might be three years away.