Brady Hoke Presser 4-13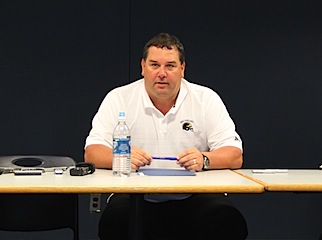 Notes from Brady Hoke's final press conference before the Spring Game. Photo from file.
Weekend Festivities
Spring game - not enough depth to have a draft "and that would be what we'd wanna do, have the seniors draft." 1s will go against 1s, 2s against 2s. "We'll keep a score of some sort, but there's no scoreboard anyway." Winners get steaks, loser get hot dogs. The teams tied last Saturday. Scrimmage - "It will go until I think we've done enough plays."
Offense and defense will both be on the field the whole time. Al will coach the offense, Greg defense. "So that they can get the mechanics of gameday and getting the plays and personnel in and all that," Borges has been away from the field in the last couple practices.
Alumni returning - "It's great to have all these guys back. I think they've got close to 85 for the flag game they're gonna play. We've got over 300 coming in Friday night for a team meeting."
Team meeting: "We're gonna have a conversation. You know. We're just gonna talk about Michigan football." Introduce the new staff to the former players, and talk about how they're accountable. Current players will not be present.
The Team
Held out Saturday - Woolfolk, Floyd, Lewan, Demens, that's about it. Shaw and Molk are both back. Woolfolk has done very little. "He's done some individual drills and stuff like that. He maybe has taken a few snaps in 1-on-1 and a few snaps in 7-on-7." Floyd is behind in his recovery compared to where Woolfolk is.
Hoke always participates in hands-on coaching "I couldn't just walk around and watch stuff."
"We're heading down the home stretch of spring, obviously. We've got two days left to keep evaluating." Mindset, mentality, etc. will still be evaluated in the final two days. "We've made some progress in some of those areas but we're a long way from being the football team we want to be in the fall."
Koger, Herron, RVB leaders. Hard for Molk to assert himself since he's been out so much. "Your definition of a leader can vary. It doesn't have to be a vocal guy."
There's better communication, especially on defense, at this point than there was at the beginning of spring. It starts with communicating changed fronts. "I think that there's a pride that those guys are starting to feel as a defense." Defensive communication - "I think Ryan [Van Bergen] has done a really good job. I think he gets it." Cam Gordon and JB Fitzgerald, Kovacs, Carvin Johnson have been vocal out there.
Defensive coaching chemistry: "It's great. It's like they've coached together forever... As soon as recruiting was over, we started those meetings, how you wanna coach it, how you coach it."
"I think we're OK" with how much they've gotten done this spring. Really depends on how the next two practice days go. "I usually like to compete in 2 minute offense/defense] 3 or 4 times throughout the spring." They'll work that in earlier in fall camp to make sure they get it done.
Individual evaluations with every player, with Hoke and their coordinator and their position coach. "Expectations, where they're at, what they need to do. Where their weight needs to be when they report. What their role right now will be in the fall... The evaluations at the end, believe me, they'll be very specific."
Freshmen contributing this fall: "Really haven't thought about it much yet." Depth concern at OL and DL might provide some opportunities, but it's too early to say. Corner? "Maybe. We'll see. Greg Brown's really, in the last week and a half he's really stepped up." Courtney Avery has stepped up as well.
Lloyd Carr - "He's been over. Hasn't been to a practice, but he's been in and we've talked a little bit. Coach Moeller has been around a little bit, and Coach Hanlon is here every day [laughing]."
Positions
Denard and Devin: "I think Devin is a very talented guy and I think he's learned the offense well. I think he's got a good handle on it. There's some consistency we've gotta coach better with." QBs will organize 7-on-7s in the summer. What will Denard take into the summer to work on? Footwork issues, ball mechanics, play action game. He needs to settle his feet on dropbacks. "The mental aspect of getting you in the right plays" based on safety alingment, defensive fronts, etc.
Running back - "I think Hop's had a pretty good spring... Toussaint's been pretty steady." Mike Cox hasn't practiced as much because he has a class during Tuesday practice time "so that doesn't help him." Smith has played well. Incoming freshmen will have a chance to step in. "Hopkins is a guy right now who has been probably the most consistent." He can also line up at FB and do some things there.
Tight ends - they have the guys to run what they want. Koger was out early in spring "but he didn't miss much." He's been good on the line, Ricardo's more of a "move guy" right now. "I think the 4 guys you mentioned [Moore and Watson] all have done a good job in the offense, and that will be an important part of what we do offensively."
Molk - "He's been doing some individual, and then yesterday he did more of some of the team stuff." With Lewan out, Huyge has played both tackle positions, Schofield has been good, Ricky Barnum has been kicked out to tackle a few times. "You have 7 or 8 guys who will form kinda the nucleus of the group."
Rocko Khoury has gotten a lot of good snaps. Omameh has taken most RG snaps, played a little bit at RT. "A guy like David who's played a lot of football, sometimes you need to give snaps to more of those other guys."
Barnum: "I tell ya, Ricky's a good football player. He's a tough kid, he's a smart kid, he plays with good technique. That's why he's a good football player." He's been as consistent as any player up front this spring.
Defensive Linemen: Mike Martin - "He's done a good job. We're doing a couple different things with him." "I think think Will Campbell has made strides, but the consistency has to be there. You know Quinton, I think he's going to be a good football payer here at Michigan."Jibreel Black "Jibreel is a guy that, as his body composition changes a little bit, he's gonna be a good football player. I think him and Craig at the rush have had pretty good springs." Roh has progressed better than they thought this spring.
Linebackers - "Marell's done a pretty good job. We moved Brandon Herron back to a Mike." Mike Jones and Brandin Hawthorne at Will. "Cam Gordon's getting better, and I think Cam will have a very good summer." Jake Ryan also at Sam. Those six plus JB Fitzgerlad who "has started to come along a little bit."
Safety situation is fluid. "Carvin Jonhson, I would say of anybody, and Kovacs" know the defense best. Marvin Robinson has also come in and made plays, along with Thomas Gordon.
Kicking game: "I think it's a work in progress." Everything from snapping, to punting, etc. needs to continue improving. Long snappers are competing. Placekicking is a "huge competition with 4 guys in there." Seth Broekhuizen, Kris Pauloski, Jeremy Ross, and Brendan Gibbons. They kicked 14 or 15 times during last week's competition at the stadium. "They haven't been there probably as much as we'd like for them to." The field is the same indoors, the elements are the only difference. "We've got a lot of work to do in that area of it." Wile will get a chance to compete when he comes in. [Author's note: those two statements weren't said back-to-back, so don't read too much into it. Hoke said every freshman has a chance to compete for playing time].