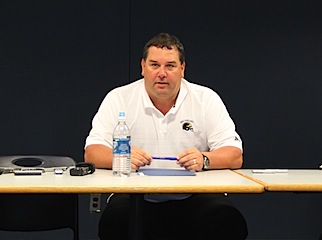 Notes from Brady Hoke's meeting with the media today. Photo from file.
News
Ray Vinopal is no longer with the team. "Ray decided to go back Youngstown. You know, that issue's more a family issue."
Injuries: Christian Pace is doing individual drills only. "Molk's the other guy who hasn't done anything but some individual. He'll be fine by Tuesday." - hamstring tweak. Troy Woolfolk is doing a little group work, mostly individual. JT Floyd doing less group stuff than Troy. Mike Shaw is doing alternate conditioning things. Next week, he'll do more with the cast on. "I think we're OK health-wise. I don't think we're anything of real significance yet."
"We wouldn't play a game" for the spring 'game' with the team's current injury level. Would do more situational scrimmage-type stuff. With only 11 more practice days, "I doubt if we'll play a game game. I'd like to, but we don't have enough depth."
No new position changes. There may be some later in the spring when they've had more of a chance to evaluate.
During the spring, "we'll put [a depth chart] out. Nothing's given. You're gonna have to earn it." If you end spring as a starter, you better keep working over the summer, and in fall camp, because you have to earn your job.
Wants to install 50-60% of offense and defense in spring (Al Borges would like to get 65% of the offense in). You can install more in the fall as you're gameplanning. "Once we get the power play down, then we'll go to the next phase. You know, because we're gonna run the power play." [ed: This is a very MANBALL quote.]
Individual Positions
QBs: "I think both of them have done a good job. I think you look at, the different things are a little more under center, obviously. The ball mechanics and footwork... all those technical things that go along with it. So, I think they've both done a good job, they're both very capable of being tremendous quarterbacks in this offense."
RBs: "I wouldn't wanna say any of them's any better than the other ones. Vince [Smith] has done a good job, [Stephen] Hopkins has come on, Fitz [Toussaint] had a good day in there with a couple good runs, and Michael Cox is a guy that has some outstanding ability, and we've just gotta keep progressing with him."
Fullbacks: "We don't have a lot of fullbacks." Hopkins works out well at FB "for a lot of the old 49ers stuff" with split backs. Hoke wants fullbacks to block so hard they "come in at about 6-3, and leave the program at 6-1." Wisconsin fullbacks get shorter as the years go on.
WRs: "They have to do both" block and catch. They have the most bodies there and at safety. Lots of competition, so guys they have to block well and catch well to see the field.
Lines: "We just don't have a whole lot of bodies there... That's always, up there, because you need a lot of bodies on both sides." They need to address it in future recruiting. With Molk and Pace out, Rocko Khoury is getting most snaps at center. Patrick Omameh is getting a lot of reps with limited line depth.
Defensive line: "There's some guys who have played some significant minutes and downs up there that we've gotta get 'em better when you talk about the fundamentals of playing the position." Quinton Washington ("he shows up") and Richard Ash ("has made some progress") are doing well, you expect the 2 seniors to step up. "I think Will [Campbell] had some real good plays the other day, and he's gotta have more of those than bad plays."
Kicking game: "They're doing OK. We haven't gone full-bore into it... They have their specialists but we put a little live rush on them and those kinds of things yesterday." All the different elements (snap, hold, kick) need to come together.
INTENSITY
There have been three practices so far, one in pads. "I've liked the tempo that we played with. I like how the guys are flying around to some extent. We've still got a lot that we've gotta get better at, and playing fanatical as a team."
"We're not playing as fast as we will" due to the nature of learning. Still pleased with the competition level. Guys come in wanting to improve every day.
How to cultivate a competitive atmosphere: "You do that by rewarding guys who play well, and guys who don't play as well, you maybe don't get as many snaps." In their situational drills (red zone, etc.), "There's consequences for losing." There is competition within positions and also offense v defense.
Smooth transition for Denard? "I think so." He sometimes has issues with rushing the footwork, but both QBs have handled it really well. Once in a while, Denard shows off those feet. "If you leave a little crease in there, he can go get it."
How have players responded to practice intensity? "They haven't come to see me about it. I guess it's been OK."
Etc.
Any spring surprises? "Not yet. I think it's way too early to make any comment, to be honest with you. We're just really scratching the surface, in my opinion." General thoughts: "I think there's a little more, I think good and bad... You want to see some guys be a little more physical and a little more sudden in some of the things they're doing. At the same time, there's some other guys who have done a good job of being physical and the things that you're looking for."
By the end of spring, "We'll never be where I want us to be. Period. I know me." It's typical here, like it was with BSU and SDSU, they know where the team is starting and where they want to be when they finish spring. "We're where I thought we'd be right now, and where we thought we'd be."
There's a learning curve "paralysis by analysis" when installing new O and D. You see it more on the defensive side of the ball (which is by nature reactive). "From an offensive standpoint you may see it when the guys up front start movement patterns." Players over-thinking new plays, technique, etc. being a little different. "They're hungry, and they wanna learn. We just gotta keep as coaches doing a good job of being teachers."
Fundamentals and techniques of positions are the critical areas. Every position needs to know proper alignments, line splits, etc. Effort and toughness do not have any wiggle room for being less than perfect. The techniques and schemes are new, but effort and toughness do not change. How big is the gap between what players are doing and it should be done? "I don't know. The Grand Canyon size, right now." Players want to be coached and do it the right way. Guys who have played a lot might be further along, but may be slower learning a different way to do things.
They have 1-on-1 padded drills, not necessarily tackling all the time. "You're only limited to a certain amount [of full-contact practices], so you've gotta cherish those dates."
Had to move practice to 5:30 in the morning [ed: !!!] on Monday because 40-some players had Monday afternoon class. "Morning is my favorite time of day, but i worry about the other end of it for the kids" from an academic perspective.
It's important to practice outside in fall, but not so much in spring. "Previous experience here has told me you may get 6 times at the most to get out in the 15 days." The new indoor facility allows full kicking game, you can throw full deep routes without hitting the ceiling.