1/8/2010 – Michigan 4, Western Michigan 3 – 11-10, 6-7 CCHA
1/9/2010 – Michigan 6, Western Michigan 1 – 12-10, 7-7 CCHA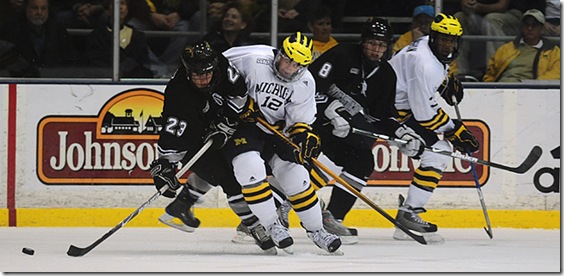 So. For the first time since November—when they swept the Showcase—and the second since October—when they swept Lake Superior—Michigan has come out of a weekend of hockey having inched closer to an NCAA tournament bid.
The emphasis should be on "inch." Western Michigan is one of two terrible teams in the CCHA, currently tied with Bowling Green with ten points, eight behind a great messy pack of basically .500 teams stretching from 10th place Northern Michigan to 4th place Alaska. Michigan doesn't need to win 82 percent of its remaining games to have a good shot at an at-large bid… they need to win 80. There is still a very long way to go. But this is a Michigan team that's handed Bowling Green one of their three wins on the year. Any fully deserved 6-1 win is a step in the right direction.
Yes, Michigan had their a requisite terrible breakdown when Steve Kampfer stepped up to check one of the Broncos and came up with air. Yes, this lead to the usual good scoring chance on which you can't exactly blame Hogan for the goal even if you'd like to try. And yes, there was the usual array of dumb penalties. This time the feature was deserved five-and-a-game for boarding to Lee Moffie.
If those were the only problems the team had, though, this would be just another year of questionable defensive decisions and frustrating penalties that melt from your memory in the aftermath of territorial superiority, crazy goals and Hobey Baker candidates. Red Berenson's teams have taken lots of bad penalties and made lots of bad decisions on defense for as long as I've been watching Michigan play, and no one's cared much because the other end of the ice looks like those nuts in Texas having Christmas.
Michigan is lacking in Trans-Siberian Orchestra-worthy flash this year and currently idle 23rd—barely better than average in a 58-team D-I—in scoring offense. That, and maybe some terrible luck, have been the problem. Would you believe that Michigan is 9th in scoring defense? You probably don't. Scroll down. They are.
I think Red coaches his charges to assume their superiority and play like the hockey equivalent of last year's Oklahoma Sooner's squad: fast and lethal, with lots of opportunities each way. The assumption is that increasing the number of opportunities for each team to show their quality will benefit Michigan. Too many times this year the plan has worked just fine except for the part where the shots on goal become shots in the goal. The aggression has led to a lot of B-grade chances either way. Michigan doesn't have the skill to finish those, or the goalie to stop them.
On Saturday, Michigan looked like you'd expect a Michigan hockey team to look against Western Michigan. Sometimes if you squint your eyes and Carl Hagelin is on the ice—all over the ice—it's possible to see the hazy outline of the team that earned a #1 seed in the tournament last year instead of the one that peppered the Air Force goalie to zero effect while kicking off kick off the most random tournament ever played.
If they can do that the next two weekends against steadily increasing competition from Alaska and Ferris State, then it might be time to dust off the hopes everyone stuffed in the basement and told to shut up after that Bowling Green game.
BULLETS
Tristin Llewellyn continues his vacation on the bench, which is probably for the best. I'd have to start assuming I just knew zero about hockey if he kept seeing time. Moffie might get a rest for next weekend after his major, though.
Also: Brandon Burlon (I think) had one of the outright dumbest penalties I've seen at Yost when he was coming off the ice and checked the hell out of a Western player on the way. He was killing the Moffie major and was a fifth guy on the ice: hello too many men. Hello 5-on-3 for two minutes. Western didn't score, but that was pretty nervy. (For the record, I still think Mike Komisarek grabbing a puck and throwing out of the defensive zone is worse. One: that was an NCAA tournament game at Yost. Two: the opponent (SCSU, I think) scored on their 5-on-3. Three: Komisarek could have dropped it and used that stick thing they give the players.
Moffie was livid after said major, angrily jawing with any official who came within 10 feet of him. He would have gotten a misconduct if he wasn't already being shown the gate. Bonus points to the off-ice official who kept the door to the Michigan locker room open long enough for Moffie to turn around and scream several more indeterminate things before finally disappearing.
A friend of mine thinks AJ Treais has a huge tell: he lifts his left leg before he starts doing fancy stuff. That makes his stuff less fancy.
About halfway through the last game, Berenson put his lines in a blender, looking for any combinations that seemed to work. It's clear at this point that the #1 line is whichever one Hagelin is on, and his partnership with Rust puts a ton of pressure on opponents trying to break out of the zone.
Caporusso's tendency to shoot through four opposing players was actually fairly effective against Western, but for the bulk of the year it's just resulted in lost possession. Against better opponents I fear we'll see a return to form.
No offense to Ben Winnett, but the fact that Red has put him at the point on the power play is symptomatic of the lack of star power on this year's team. Previous forwards on the point have been guys like Hensick or Cammalleri, real hockey ninja types. SAT analogy time: Winnett : Michigan PP point :: Chauncey Billups : NBA finals MVP.
Sparks is the winner of the fourth-line-walk-on-be-Danny-Fardig battle; he and Glendening are getting serious amounts of time now. Sparks has been playing on the power play—another symptom—and Glendening was Red's second choice on the Moffie major after Hagelin.