Blind Squirrels
10/21/2012 – Michigan 12, Michigan State 10 – 5-2, 3-0 Big Ten
Upchurch
Denard Robinson is 13 of 29 for 143 yards; he's run 20 times for 96 yards. His team is down a point and has managed to turn 120 seconds into eighteen without moving the ball anywhere near plausible field goal range. A few drives ago Jeremy Gallon was as wide open as you can be on third and goal and Denard blasted it hard and behind the guy—if it was to keep it away from a defender it was because the throw was late—or Michigan would lead by three.
Behind me, some Michigan State meathead has spent the better part of four quarters screaming "throw it, Denard, huh huh huh." Juggalo Nation, reprazent.
"Is this guy really a QB I'll say my mans vento is a better QB lol. S/O to my boy vento by the way."

-Denicos Allen, MSU linebacker, on Denard and MSU walk-on QB Tommy Vento, 9/1/2012
Michigan has second and eleven but more importantly they have seventeen seconds to get in field goal range. State shows a three man rush but also sends Denicos Allen; Allen stunts inside Will Gholston, who Lewan has nerfed, and hits Ricky Barnum at full speed. Barnum gives ground—a lot of ground. Allen is flying up into the pocket, where Denard would be.
Denard has started to roll.
"DENARD IS SOOOO BAD! And it makes me feel so good."

-Kyle Artinian, MSU safety, 9/1/2012
The roll is bad. The roll takes out most of Michigan's routes, spends time Michigan doesn't have, removes downfield possibilities Michigan desperately needs. In the stands, my heart sinks. I have seen this script before, not just watching Michigan, but watching everyone. Michigan's win probability is sinking like a stone with every step Denard takes outside the pocket.
Denard stops. The roll steps have gotten Roy Roundtree a bracket, and made the middle of the field lonely.
Barnum has continued shoving Allen past everything. Gholston, lined up against Lewan, is as relevant to the play as I am. Denard sets his feet.
"I can play quarterback for the school in blue."

-Jamal Lyles, MSU linebacker, 9/1/2012
Denard decides setting his feet is not for him. He starts moving up in the pocket as the State nose tackle sheds Elliot Mealer.
Dileo's head is in a better spot to tackle someone than Gholston
As all of this has occurred with half the people on the field, the other half have been fighting hand-to-hand in remote locations. Drew Dileo has started outside, then come inside of MSU safety Isaiah Lewis. Lewis is tracking, in decent position. Dileo is entering a window between two underneath defenders. It's huge since Denard's temporary roll has caused Max Bullough to chase Roundtree—the roll truly was doomed.
Denard is moving up in a pocket that is less a pocket and more a space occupied by a no-longer-blocked Michigan State defender by the moment. He has not rolled. He is stepping into the future, whatever it brings.
Denard cocks, and throws. The stadium stops. The throw has to be on a line, at Dileo's chest. It's 20 yards downfield. As each frame ticks by, universes begin and end.
"Even a blind squirrel can get a nut ever once in a while...,"

-Nick Hill, MSU running back, 9/1/2012
It's in the number—not numbers. Drew Dileo only has one. It's #9. Denard uses the enclosed space in that number as a bullseye.
Michigan rushes to the line to spike the ball. Mark Dantonio watches Michigan execute a maneuver that cost him a game last week when his team went all John L Smith on it.
After…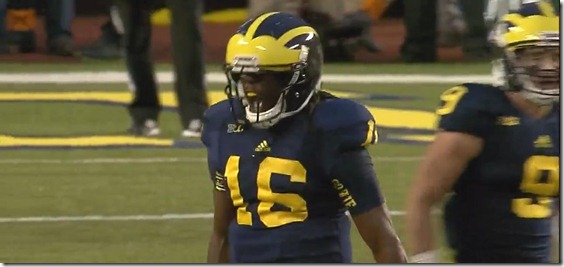 I keep thinking about how this clown beat us in the clutch. Sure, we beat ourselves, but for all the times we've shit on him for his arm or lack of, what did he do in the final minute?

Pride comes before... DAMN IT!

-Venomous G. Duck, 10/21/2012
…I mean, the guy knows. He's heard it all, whether he'll admit it or not. In this game the defenses dominated as both quarterbacks struggled to about 5.6 yards per attempt. The difference: Denard outrushed MSU's offense by himself and threw a meaningless interception on an end-of-half Hail Mary while Maxwell chucked one into Kovacs's chest after Michigan State had been set up with good field position. Run and armpunt that, homeboy.
"We've beat Michigan the last four years. So where's the threat?"

-Mark Dantonio, 4/18/2012
The remainder of Michigan State's season is a choice between not going to a bowl game and helping Michigan make the Rose Bowl.
Michigan State found a few nuts when one Michigan coach hung on too long and a second employed Greg Robinson, and couldn't wait to tell everybody every day all day. In the aftermath, they're asking Brady Hoke if they're as important as Ohio State and saying it's a real rivalry and it's level footing now, because Michigan is apparently also busy cutting off recruiting coordinators for no apparent reason and talking trash because Michigan State is losing a game. The little brother thing keeps getting brought up because it is the truest thing anyone has ever said about a 100-year-old football program.
Whatever. Michigan is rounding up a selection of ass-kickers and has its sights set on bigger things than one game against a program that's never been in a BCS bowl and hasn't seen Pasadena in 25 years. It doesn't matter if MSU or Iowa is Iowa. What matters is in Schembechler Hall, and MSU players watching Michigan play Alabama know it.
------------------
After the game, DenardX tweeted something about walk-on quarterbacks. 
Me and the rest of the QBs after the game with our home boy Paul Bunyan!!! #GoBlue @teamdgizzle @rbellomy
As of press time, Denicos Allen has not given a shoutout to his boy Tommy Vento.
Media
Eric's photoset:
Parkinggod highlights:
Other highlights from a guy named noonkick. Field level end of game video:
Presser videos from mgovideo: Hoke,  Lewan/Roh/Roundtree, Dileo/Gibbons, Roundtree is going to love that Paul Bunyan trophy yo. MVictors photos. Maize and Blue Nation photos.
Bullets
Upchurch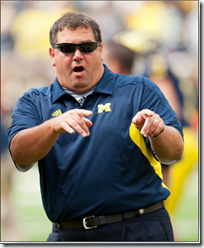 Brady Hoke Epic Double Point Of The Week. Come on down, Drew Dileo. You caught over two-thirds of Denard's passing yardage and are now The Threat. Viva slot receivers.
Honorable mention: Jake Ryan (obvs), JT Floyd (they tried but could never bust him), Greg Mattison (I mean, my God), Denard Robinson (HEYYYY COLUMN LADY), Taylor Lewan (Tom Lolston), Kenny Demens (LeVeon Bell, welcome to 2.6 YPC), Jordan Kovacs (ditto).
Epic Double Point standings.
3: Jake Ryan (ND, Purdue, Illinois)
2: Denard Robinson (Air Force, UMass)
1: Jeremy Gallon(Alabama), Drew Dileo (Michigan State)
Upchurch
DEE-FENSE. That image above is just perfect. LeVeon Bell crapped out 2.6 yards a carry against OSU… and 2.6 yards a carry against Michigan. That's all DL stuff and while the Michigan State line had the services of Dan France, they were out two of their three starters for most of the OSU game and did not have Treadwell much; Treadwell went the whole way against M and AFAIK Ethan Ruhland did not make an appearance. Dion Sims was gimpy; other than that it's basically the same performance against the same team.
Bell never got caught behind the line, which makes the 2.6 YPC even more impressive since Michigan didn't RPS their way into any TFLs. Michigan won the battle on third and short against LeVeon Bell. Thumbs up.
CLOCK MANAGEMENT. That was verbatim tweet I sent out Saturday and holy pants, WTF. Some of that was crappy luck and crappy decisions—Toussaint catching the Butterfield/Breaston memorial DON'T YOU DARE CATCH THAT pass, Denard checking down in the first place, but at one point the entire stadium was on its feet screaming SNAP THE BALL at once after Michigan let almost 20 seconds run off the clock for no apparent reason. Michigan had already burned nine seconds before the review on the Denard third-and-two lunge; they burned off a few more before snapping the ball.
If this was a one time thing it would be a one-time thing; after last year's Iowa two-minute debacle it's an issue. I don't think this is much on the players when they're looking to the sideline for a call, especially after Michigan burned two timeouts in this game just trying to get the playcall in.
Michigan huddling for half the playclock is killing me. There's no reason to do it, it doesn't seem to help their attempts to audible out of obvious blitzes, and their lack of practicing at tempo is an obvious detriment when they need to go fast.
Jake Ryan crazy thing of the week. This is not actually the Maxwell sack pictured at right, which came about after Ryan went around the 250-pound Bell like he was not there for Michigan's only TFL of the week. Though that was pretty awesome, you guys.
Even so, the crazy thing Ryan did this week was facing down three blockers on a screen that MSU had set up like whoah, trashing the guy who peeled off to deal with him, and holding Michigan State to seven yards. Michigan booted state off the field on the subsequent third and short.
Totals: 10 tackles, 8 solo, Michigan's only sack. HE'S SLIGHTLY GOOD YOU GUYS SRSLY
JT Floyd. It was clear once MSU started taking regular shots downfield that they had identified JT Floyd as the weak spot on the Michigan defense, but he held tough. The catch-and-YAC five yard hitch first downs from the Purdue game were eliminated entirely; he got beat deep by a step or two each time but was in good enough position that the throws had to be perfect lest he pull the press Michael Floyd and live (or "trail") technique.
The throws weren't perfect, and the only long completions Maxwell managed were against Thomas Gordon (bad play by him on a ball he would have had a play on if he found it) and Raymon Taylor (got an interference call and gave up an admittedly spectacular completion late). Floyd got off without issue.
What's more, MSU's big idea to get a touchdown on short yardage was to line up a fullback over Floyd and run Bell at him. Floyd held up, got the edge, kept leverage at the numbers, and prevented Bell from getting outside, whereupon Desmond Morgan helped him tackle. The guy had a target on his back all day and came through with flying colors.
Fumbles. Are a bitch.
Upchurch
Somehow Michigan did not recover this one, nor the other one, despite having nothing but Michigan players surrounding the Spartan who clutched the ball like it was a nugget of gold.
NOW DO YOU BELIEVE ME NOWWWWWW
Denard, my man. I am totally down with the whole "not getting torn limb from limb by defenses" thing, but…
Upchurch
…dude, there is a time and place to put your body on the line and turning your 44 yard run late in the fourth quarter into 50 is it.
Denard's bad throw to Gallon. Eric got a great shot of it: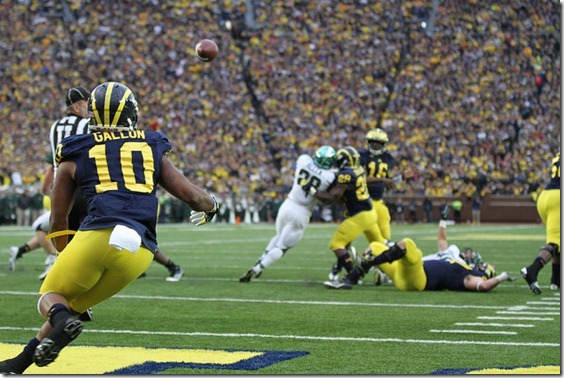 Upchurch
Watching the replay, Denard is throwing it in the heart of the window between the two linebackers. Gallon should be sitting between the two guys; he overruns it a bit. My thinking here is influenced by seeing Borges at that coaches clinic, where he mentioned that he wants his QBs to hold up his receivers against zone coverage.
Still, probably at least 75% Denard. He's rifling that at a guy barely ten yards downfield so his margin for error is extremely small; he doesn't read the fact that he is wide, wide open and he can just soft toss it to him.
Matt Wile: most useful backup kicker ever. Matt Wile may not have displaced Keith Stone Sasquatch Brendan Gibbons as Michigan's starting kicker but he's the best third-most-important kicker since I've been watching Michigan football. He:
kicks most kickoffs into the endzone
is a pretty effective pooch-punter
had a good plain-old punting record last year when Hagerup was jittery
nailed a 48-yard field goal that, along with all other field goals, was the winning margin.
If either kicker got injured he'd step into their shoes. Michigan should be fine on the kicking stuff for a while now. Note foregone pun.
Hagerup confidence : 2012 :: Gibbons confidence : 2011. Whatever happened with Hagerup last year to tack a four-game suspension on to his OSU suspension from 2010 led to a lot of shanks and mortifiedpunter.gif. After a couple of Sugar Bowl shanks, Wile displaced Hagerup for the rest of the game.
At that point it was writin' off time, like Gibbons after 2010. When Hagerup was still atop the depth chart in September, that made people suspicious. It wasn't alarming like Gibbons since Wile was around and fairly established, but it was only 50-50 to stick. Stuck it has. Hagerup's averaging 47.5 yards a kick and would be fourth nationally if he had enough punts to qualify.
Special teams coach: do we have one or not? The fake punt was… frustrating. Michigan's trying to set up a return, which you can't really do against a spread punt anyway, and they're playing a team that loves nothing more than faking punts and field goals. Somehow this combination results in three guys leading the punter and blocking no one at all. Michigan's even got a designated special teams/TEs guy, but they can't cover or block on punts and they got gashed for 30 yards by a punter. WTF.
Michigan did get a big return out of Gallon at the end of the first half but even that emphasized the difference in punt coverage. Gallon had to split two unblocked guys and then run laterally past a second wave. Meanwhile the one Hagerup punt that was not a 48-yard, five-second-hang unreturnable moonball was a free 15 yards for the punt returner since MSU doubled a gunner and no one else on that side of the ball got downfield.
Whatever they're doing with the kickers is great… but is that anything other than hot babes visualization exercises? I'm not sure. Everything else is questionable at best.
Upchurch
Game theory bits. There wasn't a whole lot of interest from my eyes but a couple of decisions have sucked up post-game airtime.
MSU threw on second down on their last drive. Not even close: right call. LeVeon Bell was averaging 2.6 yards a carry and had just been stuffed for nothing. Maybe you want some slants or a hitch or something instead of what they threw but you can't assume Michigan is going to run the worst successful two minute drill ever. All running on second down accomplishes is spending a Michigan timeout; getting the first down ends the game.
Michigan punted on fourth and seven from the MSU 42 early. Did not have a problem with this. Not in true no man's land, yardage pretty big, and if you're in the kind of game that ends 12-10 puntosaur technology is the right tech.
MSU attempted a 38-yard field goal on fourth and one from the 21. This was debatable—one of reasons puntosaur tech makes sense is that even if you get the first down you're probably kicking anyway. Is MSU going to score a TD? Eh… probably not. A 38-yarder is well within the range in which you expect your established PK to hit it. Even so… that was fourth and capital-S Short. If MSU is intimidated by Michigan's short yardage defense… well, I get that. Probably a mistake but in a puntosaur game I get it.
The assumption you're making on those early calls is that you are in a puntosaur game. IME, that was clear from the get-go.
Oh for crap's sake. Dollars to donuts this is new LSJ beatwriter and slappy Graham "Alex Carder Best Quarterback In The State™" Couch:
I don't know if you guys saw after the game, but I almost got trampled out there. [MGo: -_______-] Have the fans ever trampled the field like that after a Michigan State win? Is this rivalry getting to the level of Ohio State?
[update: Heiko says it was a photographer, not Couch; stuff below stands.]
No, and no.
Couch derided Junior Hemingway—yup, Junior Hemingway—for his classlessness after the game in a tweet, going so far as to hashtag his tweet "#classless," because he interpreted Michigan's rush to get a Paul Bunyan trophy that was on the sideline last year but not this year as taunting. He's since deleted the tweet, because nothing goes better with stupidity than cowardice.
BONUS: This blog already has a "Graham Couch's laughable homerism" tag from his days covering WMU.
Pom poms. I thought I was good when the guy three rows in front of me was an Air Force veteran—so said his hat—who would clearly rather eat glass than wave a pom-pom, but then some Ladies who Just Wanted To Have Fun ended up two rows in front of me. At some point I had to say "please don't wave those so high" because I couldn't see the field, at which point they said "it's a football game" and I said "I KNOW I WOULD LIKE TO SEE IT."
I don't know, man. This isn't an old man thing, it's just… if there are pom poms it is a guarantee that some dip in front of you will forget that there are people behind them and act affronted when you say there are people behind them. This is amazingly consistent in my and my friends experience: ask the kind of person who waves a pom-pom during actual football plays to not do that and you will be subjected to a "whateva, I do what I want" style rant and petulant extra-vigorous pom-pom shaking. And yet if I was to take the pom-pom and stuff it down the pom-pom waver's throat, I would be the one removed from the stadium.
Pom poms suck, because society.
Special K. False hope is worse than death.
What the incentive program should be. Any student who wasn't in the stadium at kickoff shouldn't be allowed to buy tickets next year. I mean, seriously: a 3:30 kick for the only decent home game all year and the upper 20 rows of the student section are half-full means the student section is too big.
Here
We had Witvoet's crew for the game. After calling a penalty on State, he let Hawthorne have it. I'm not sure what Brandin did, but I'm just glad he didn't draw an unsportmanlike penalty call.

* The officials let it be known early that they weren't going to stand for any shenanigans this year, calling Lewan for a somewhat touchy late hit. I wish they would have sent a message by calling a penalty on the team responsible for all the shenanigans last year, but they kept things under control, so no complaints.
bronxbblue has a new thing called Best and Worst:
Best:  "It's an in-state rival. But we have bigger expectations"

I'm sure this is a bit of coach-speak, but it is also something that needed to be said. Since, oh, the Eastern Michigan game, I don't think most people saw MSU as a legitimate Big 10 championship team. The offense was too crippled by a porous line, poor WRs, and a somewhat-shaky QB to keep pace with teams like Wisconsin, UM, OSU, and Nebraska. The Iowa game cemented their ceiling for the year at 7-8 wins, even with an elite defense.

Outside of the Alabama game, though, UM's ceiling was never defined.  Notre Dame was a tough loss but one that felt more self-inflicted than the team meeting a superior opponent. Purdue and Illinois proved only that UM was probably as good as Louisiana Tech and and Marshall. MSU, frankly, was not going to validate UM's season, but only give them another breakpoint from which to calibrate their potential.

And that's what Hoke encapsulates in this statement.  He recognizes that MSU is a rival and the game mattered, but this wasn't the season.
Elsewhere
Spartanfreude section. The "Post Your Big (Jail) House experience" thread is pretty good from an M standpoint—no one reports much untoward aside from some verbal sparring, and even that is pretty tame.
I was in Section 8 and saw some arguing going on. On the way back to the car had 3 assholes walking in back of us talking shit like everyone above said, "Little brother put back in his place again", "Leveon Bell for Heisman....", "130 seasons of football and 900 wins", "UM is back in their rightful place". This yapping went. on for the whole walk thru the golf course. Mind you that I took my 74 year old dad to the game. I finally blew. Stopped in my tracks and had a few words. That slightly shut them up.
A 74-year-old man had to listen to people describe how many wins Michigan had acquired, and was exposed to the opinion that Michigan State is not as good at football as Michigan. #thugs
This Guy:
Cut my hand open, Michigan fans threatened to "throw me out of the stadium" for cheering, got my backpack stolen, bought macaroni salad on the walk home. Typical saturday. Also I got called ugly a lot. I'm like a 6 let's be real.

Edit: in retrospect, I probably swore around children a lot more than I should have
Also This Guy:
It's an awful place. Will never return after my last visit in 2010, when I had to be retstrained from attacking Walvies who kept telling me to go back to jail. Nothing about the experience is fun, no matter the result.
And this guy made TWIS but you get a taste early:
Rolled out of bed today more upset and sick than last night

This sucks. Facing the world this week with every UM drag sporting that cocky arrogant grin, wearing their colors -unwashed.
I hate this.

Many if you rcmb'rs are too you to remember all the games from late 80's until Dantonio era.... I hate this week. I can't wait for the first one to offer some sort of mild apology or winning with fg's... Kill.
That is the same This Guy who complained about the Michigan fans who had the audacity to tell him the game would be close and Michigan wasn't good last week. If this man was ever exposed to a real taunt his head would disintegrate into a fine mist.
Blog folks. HSR:
Spock: Well, Michigan was quite fortunate to have won that game.

Kirk: Woooo!  Don't care!  Wooooo!  Woooo!  Woooo!

Spock: Four field goals is hardly the offensive output necessary over the long term to win the Big Ten Championship.

Kirk: Don't care!  Don't care!  Woooooo!  Woooo!  What the Dileo?!?  Wooo!
As J. Lehman was interviewing Hoke during pregame (above), I heard a woman on the sideline (with a sideline pass mind you) gesture over to Hoke and ask, "Is that the coach?". I gave the Jim Halpert stare to anyone who wanted it. And a lot of guys wanted it.
BWS points out that Michigan passed on 7 of 26 first downs, and only 5 of 22 before the two-minute drill. The lack of a reliable play action option really hurt in this one. I'm not sure why Michigan can't throw outs to their slot receivers.
The MZone has wallpaper and shiny helmet taunting. Five takes from MNBN. Holding the Rope. Maize and Go Blue. TTB.
The Only Colors has postgame react from the MSU perspective:
There aren't going to be any four-game winning streaks in this rivalry again for a long time. ("It takes four years. Of course it will be a long time." Shut up, guy). MSU will get the favorable schedule U-M has enjoyed for the next two years, and both teams are starting to stockpile talent. (If you bring up recruiting rankings, I'm going to punch you).
MSU fans are still clinging to the recruiting-rankings-are-meaningless thing. They're in for a harsh reality check once Michigan's recruiting rankings are paired with something other than crippling attrition, lackadaisical talent evaluation, and crappy coaching. Maybe not next year, when Michigan's breaking in a new quarterback and the upperclass talent levels are still relatively even, but after that… back to the salt mines, Sparty. Or maybe Alabama, OSU, and USC are only good because of their helmets.
SBN's Bobby Big Wheel was randomly at the game and randomly ended up on the field and wrote a thing defending being on the field:
…most college kids use "if it feels good, do it" as their main decision-making rule, not a six-factor test. Thus, a few jumped on the field. At first, I smiled and wondered how I'd get out of the stadium, but more people started jumping the fence. Michigan Stadium goes out instead of up, and the student section seems to run 100 rows deep. So, I learned that when you have a mile of drunk, yellow-clad college kids behind you and someone says you're rushing the field, you're rushing the field.

That's how I, a 28-year-old, job-having person, rushed the field at Michigan Stadium. And I did it con gusto. I joined in the chants, yelled "wooooo!" a lot and got my picture taken with the band. It might have been the rum and "Coke" (I suspect that the mixer was either another type of rum or a non-poisonous brand of varnish) that I'd been taking swigs of during the game, but it was still a fantastic experience. Please keep in mind that I have no ties to the University of Michigan beyond a sister in grad school there. Never mind that; running around a football field makes you feel alive.
I have to admit I rolled my eyes at the field-rush, which was epic in its half-assery. The first students over the wall waited for the team to leave the field, basically, and then it was a slow trickle as only 30-40% of the people in the front row at any particular juncture actually wanted to get on the field. The contrast from last year's OSU field rush to this one was appropriately vast.
Q: I can't remember anyone ever rushing the field outside of the 1997 OSU game before the two incidents mentioned above. Can anyone else?
The HSR is figuring out what's going on in the game based on Ace's ability to keep all of his veins in his head. Dr. Sap's decals go to Dileo, Floyd, and Gibbons, plus others. Brady Hoke's Pet Viking reprazent. MVictors did this:
MVictors is pretty cool, yo.
There is another Wangler. Not Jack Wangler. Another another Wangler. Michigan picked up a commit from a guy who makes Logan Tuley-Tillman seem small.
Media folks. Nesbitt column. Baumgardner explains what happened at the end of the game with the "classless" business hopeless unprofessional slappy Couch mentioned:
Moments after Michigan's 12-10 win over Michigan State on Saturday in Ann Arbor, Lewan, teammate Roy Roundtree and a host of other Michigan players rushed the field and sprinted toward the Spartan sideline.

They were, of course, searching for the famous Paul Bunyan Trophy. But the effort was futile.

"This was my first time beating Michigan State, so I don't know how this works," Lewan said, believing Michigan was supposed to receive the trophy from MSU after the game. "I ran over there to get the Paul Bunyan Trophy, because I remember (MSU having it on the field once before).

"I didn't see him until I went into the locker room. ... I think they were upset about it."

The Michigan victory brings the trophy back to Ann Arbor for the first time since 2007, even if it wasn't brought onto the field Saturday.

After beating the Wolverines for a fourth straight time last season, Michigan State players were seen celebrating with the massive trophy on the field at Spartan Stadium. On Saturday, though, the exchange was more low-key -- it was done somewhere inside the stadium tunnel, and the trophy was waiting for the Wolverines in their locker room after the game.
More classless behavior.
Wojo. Gibbons called the attempt to ice him "pointless." You've come a long way, baby. Chengelis no doubt jinxes Gibbons.
Michigan is 20th in both polls. Jennings on The Threat, who is a football player. Grades. Numbers. Avoiding predictability.