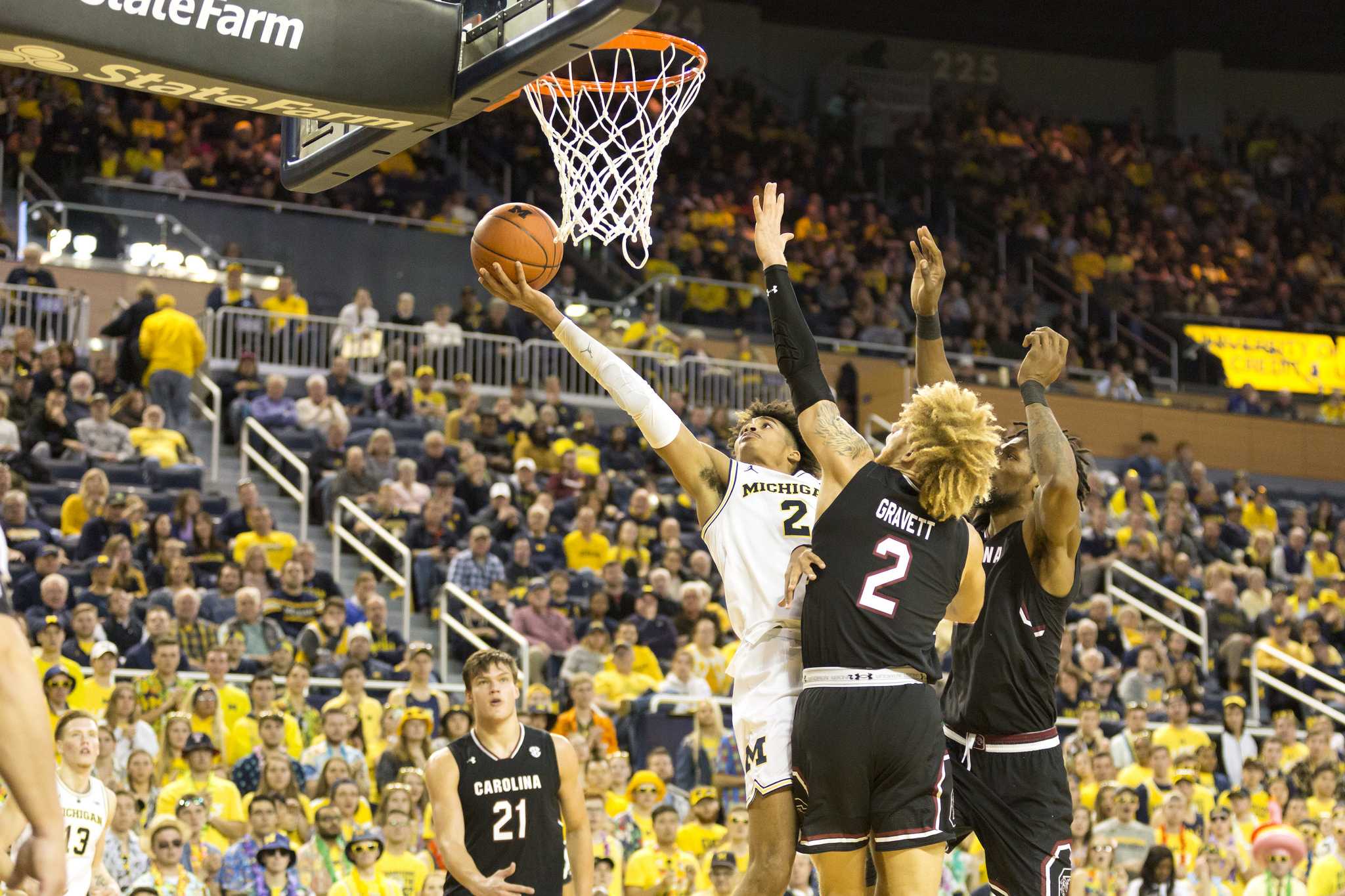 Basketbullets: South Carolina
Sometimes I don't have a column. In these times: just bullets.
12/8/2018 – Michigan 89, South Carolina 78 – 10-0
A sloppy outing ends in an eleven point win as Michigan is clearly better, so that's nice. Items:
The un-Michigan game. Michigan 1) rebounded almost half their misses, 2) turned it over 16 times, 3) made 77% of their free throws, and allowed the bricklayers on the other team to shoot 53% from two. This was very un-Dude. Certain things did make sense in the recent history of Michigan basketball. South Carolina got up just 11 threes, didn't go to the line much, and Michigan burned the nets themselves.
The New York Football Knicks. Man, when South Carolina commits a foul it is not subtle. Iggy got flying shoulder thumps immediately preceding most of his FTAs. Michigan hit the bonus with about 12 minutes left in the second half and that felt late. In the first half I kept looking up at the scoreboard to see which South Carolina player had just earned an autobenching only to find out that Martin was rotating his guys so thoroughly that none of the hacking removed key players for long stretches. Both Alanzo Frink and Felipe Haase had three fouls in about ten minutes. Silva fouled out late; five other guys had two fouls.
Jon Teske got some back when he trucked Silva:
[Barron]
That was deemed a charge; at least Teske got his money's worth.
Illuminati Charles Matthews. Matthews was 2/4 from two, 2/4 from three, 2/4 from the line, and had 2 DREBs and 4 OREBs. Spooooooky.
The defense slowly comes back to earth. Michigan's early two-point D was always going to be unsustainable and things are creeping back up. The good news is that folks are still posting items about Michigan's defense in relation to some of the best in the last decade of college basketball; the bad news is that Michigan's regressing back towards the mean faster than those defenses:
Michigan's defense may end up relatively normal (in historical terms) after all. Then again, UM's been amazing at either offense *or* D in literally every game, except @ Northwestern. Very Beilein-y. pic.twitter.com/4HJo5f8Kma

— John Gasaway (@JohnGasaway) December 9, 2018
All of those teams had giant block rates. The only reason all three didn't finish first is that 2015 Texas (20%!) beat out 2015 Kentucky (18.2). Last year's MSU (18.5) team had Jaren Jackson (sometimes) and also finished first. Michigan is currently 115th—not bad, but not a number that is going to see you finish the season with a historically good two-point D.
Even if the absurd two-point D was a bit of a mirage, Michigan's D is still very very good in a sustainable fashion. They're forcing more "other twos" than anyone other than San Diego. They're 9th in the country at preventing threes from getting up, and are still top 50 at preventing the opponent from getting to the rim. Teske may not be a super elite shotblocking center but he's also averaging just 3.3 fouls/40, which is a major part of Michigan's #1 ranking in free throw rate allowed.
Michigan is going to be a very good defense. They probably aren't going to be #1 at the end of the year. If they are it's going to be because they're pretty good at two point D and funnel everyone inside the line.
[After THE JUMP: on the other hand this is still a Beilein team.]
[Barron]
But the offense has awoken. South Carolina has a lot of size and a good defense that Michigan put up 1.25 PPP on, which is their worst outing of the year by some distance. (#2 was, er, Stony Brook.) The only issue was the spate of turnovers in the first half. Other than that: 60% from two, 42% from three, a ton of threes, and 30 FTAs. (Also a bunch of OREBs but that's unlikely to translate going forward.) The horrible three point shooting that marked Michigan's first two games is now another game further in the past as Michigan players not named Zavier Simpson are on a hell of a hot streak. During this four-game stretch of major conference opponents:
Simpson is 0/10.
All others are 39/82.
Simpson and Matthews are poking their heads just above 100 in ORTG; the rest of the team is in the 120+ range except Brooks, who's at 111.
Like last year, one of the projects Michigan can embark on as the season progresses is shifting to a more balanced usage pattern. Poole poured in 26 points on 15 shot equivalents in this game and finally got his usage above 20 for the first time since the GW game in which he was 5/8 from three. Part of that was four turnovers, but he also had four assists. Last year Michigan managed to get MAAR up. Poole's currently sitting at 19% and should probably be the second guy at 25% instead of Matthews.
[Barron]
I guess we gotta talk about it. Austin Davis was briefly inserted for another opponent run, emphasis on "brief". He got just four minutes. In those four minutes he fumbled the above pass under the basket out of bounds and left his feet on a Frink shot fake with the shot clock running down; Frink duly got a layup. He did have a mansome offensive rebound.
Davis is now getting much internet ire about his existence, some of which gets directed my way as the chief and perhaps only remaining member of the Austin Davis Can Play Ten Minutes A Game And It Will Be Fine club. I'm not quite ready to issue a proclamation dissolving said club, but I also have eyes. Davis's main issue is that the offense bogs down when he's in the game because it doesn't feel like anyone trusts him with the ball. Pick and roll action doesn't buy you much if it's a Donnal situation and you feel like getting the big the ball under the basket isn't going to result in a good scoring opportunity.
Yes, Michigan should try to activate the Brandon Johns backup plan over the next three games, but they should also try to give Davis some minutes in case this is a sample size issue and he is a functional human basketballist. I'm guessing the answer is "not really" but stranger things have happened.
[Barron]
A gentle critique of Ignas Brazdeikis, Esq. Brazdeikis was 0/4 from three and a couple of those were transition looks where he was unable to come to a full stop before rising up. Those clanked, and are an insight into his big spot-up vs off-the-dribble HS shooting splits. If he's set, he's excellent; he may have a harder time scrubbing all his momentum to go straight up than some other players, because he's beefy.
The other critique you might have: assist rate. He got a shot blocked in this game when his drive to the bucket drew help defense. He managed a couple assists in the Big Ten games but his rate is still below 10. That's going to be a slight brake on the offense if their highest-usage guy is taking contested shots instead of finding open guys.
Otherwise: yes.
Fun with projections. Michigan is a Kenpom dog in just two games the rest of the way: @ Wisconsin, where they're 48% to win, and @ MSU, where they're 42%. Michigan's projected to be 26-5, 15-5. Bart Torvik's system is even more gung-ho, projecting 16-4. They're #1 in NET, FWIW.
With a strong Big Ten and victories against Villanova and UNC in the rear view, Michigan will put together a bear of a resume if they perform to the levels they're projected to. Torvik projects Michigan will have a 9-3 record against quadrant one opponents and a 7-1 record against quadrant two. Even if they disappoint they'd have to fall off a cliff to not get a real nice seed. I've been futzing with Torvik's "Teamcast," which allows you modify his current tourney projection by inserting various win and/or losses, and it's really hard to get Michigan lower than a two-seed with any reasonable projection. 12-8 conference records still spit out Michigan as a two.
If Michigan does perform to projection they'll be a no-doubt 1-seed. Bonkers.
Is it weird that Beilein and Martin seem to be bros? I think it's weird.
[Barron]
Seems like an odd couple situation.
[Barron]
But they seem to be 100% total bros.