The Ball Goes *IN* the Hoop, Guys!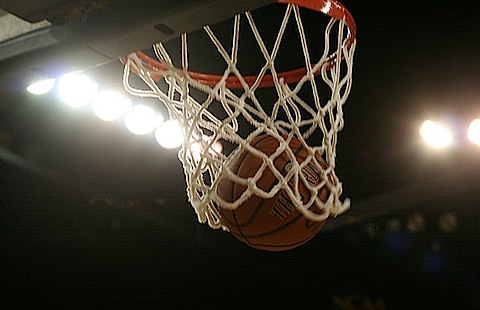 The Michigan basketball team has struggled mightily so far this season, especially given the top-15 expectations that were (probably unfairly) heaped on them in the preseason. With two superstars returning and only two walkons, a backup point guard, and a Canadian leaving the team this was supposed to be a tournament team at the very least, and more likely a Sweet 16 squad.
So, uh, what happened?
There are two primary culprits for Michigan's struggles: defense and three-point shooting. Figuring out the defense is a task for another day (and for someone who knows much more about basketball strategy than I do), but shooting is a little simpler. It's also very important for Michigan, since the Wolverines hoist 42.9% of their shots from behind the arc.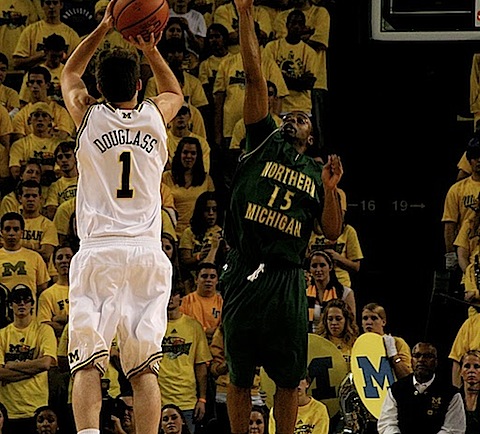 There are two primary factors that play into a shot's likelihood of going in. The first is shot selection. If a player manages to shoot only when he is wide open, it's more likely that he will make those shots, no? Last year at Varsity Blue, I UFRed basketball games, and graded shot selection 1-3 based on how open the shooter was. Manny Harris was the only player who was consistently putting up shots from bad positions, and based on purely anecdotal evidence, I'd say that's probably the case again this season.
The second factor that plays a big role in shooting is the ability to actually knock down shots. If you left Ben Wallace wide open at the top of the key on every play, he wouldn't make many shots (and that's why teams do this). The same is not true for, say, Dirk Nowitzki. Talent is not something that varies from game to game. Players go through hot and cold streaks, but Stu Douglass is as good as he is, and isn't likely to get much better or much worse at shooting the three in one offseason. So is there reason to believe that anyone has shot below his ability so far this year? Sounds like time for a—
Chart?
Chart. Players are sorted by 2008-09 percentage
Michigan 3-Point Percentages
Player
2008-09 %
2009-10 %
Eric Puls
.750
.000
CJ Lee
.365
-
Kelvin Grady
.361
-
David Merritt
.351
-
Zack Novak
.344
.281
Laval Lucas-Perry
.344
.361
Stu Douglass
.335
.231
Anthony Wright
.333
.167
Manny Harris
.327
.289
DeShawn Sims
.317
.375
Zack Gibson
.233
.222
Jevohn Shepherd
.190
-
Matt Vogrich
-
.462
Darius Morris
-
.200
So what does it mean? On the face, it would appear that Michigan lost most of its best shooters, but that isn't actually the case. Puls, Lee, Grady, and Merritt all had few attempts (Manny and the two Indiana guys were the only people to shoot over 100 3-balls, and LLP would have gotten there if he'd played the whole season), so there is something to be said for sample size. The better takeaway is that Only Laval Lucas-Perry and DeShawn Sims are shooting better right now than they did last year, and most guys have seen a precipitous dropoff. It would be nice to get Matt Vogrich more attempts, but his defense has been poor so far this year.
Unless guys are exclusively taking horrible shots this year (and John Beilein said Wednesday that poor shoot selection may play some role in the shooting struggles), the bad shooting is an anomaly. They're sometimes painful to watch, but stick with this team, and things will probably turn around.